Baseball Picks Daily Fantasy
Expert Advice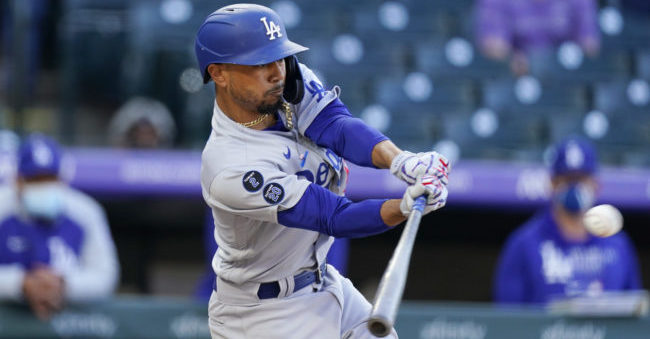 DraftKings and FanDuel MLB Picks for Friday 4/15/22 - Main Slate
Now's your chance to get DFSR PRO, which will give you access to our MLB, NBA, PGA, NHL, and NFL optimizers and our new player lab! Get started for free by clicking the button below.
Pitchers
Carlos Rodón FD 10100 DK 9800
Opponent - CLE (Zach Plesac) Park - CLE
FD - 37.7 DK - 20.91
I hate the matchup against Cleveland but just about everything else is working for Rodon. For starters, if his first game of the year can be believed, then the 2021 stats weren't a fluke at all. In his first outing with the Giants, Rodon came out and struck out 12 batters in just five innings. It was a lights-out performance that solidified the idea that the changes he made in his approach were going to carry over to this season. Frankly, it was awesome. If he is operating on this ace level, and it sure seems like he is, then the price is simply too low independent of who he has to face while on the mound. The Giants are -153 road favorites in this game with the over/under set at 8. It's still a good spot and we might look back and wonder how we're ever getting Rodon this *cheap*.
Freddy Peralta FD 9900 DK 10000
Opponent - STL (Miles Mikolas) Park - STL
FD - 37.01 DK - 20.11
On the other side of this coin was the first game from Freddy Peralta. He struggled some out of the gate, walking four batters in his first four innings against the Cubs. Sure, he struck out six batters as well in that stretch, as a reminder of his swing-and-miss stuff. But the control is definitely a concern. I don't mind the matchup against the Cardinals here though they don't strike out a ton as a team (17% this season, fourth-least in the majors). But like Rodon, I do think we are still buying a bit low on the potential K upside just because of his track record.
MacKenzie Gore FD 6400 DK 5000
Opponent - ATL (Kyle Wright) Park - ATL
FD - 27.78 DK - 13.74
If looking for a speculative play with some upside, Gore might be the guy. He's set to make the start for the Padres, replacing Blake Snell in the rotation. The 23-year-old has been one of the top prospects for years and this will be a chance to start realizing some of that potential. He has elite swing and miss stuff in his bag and has flashed it in his limited time in the minors. As always with this, there is real risk that the Padres don't throw him a ton of pitches or that he just has first-start jitters. But he's practically the SP minimum on DraftKings and the Padres are actually favorites in his first start.
Catcher/First Base

Freddie Freeman FD 3600 DK 5100
Opponent - CIN (Vladimir Gutierrez) Park - CIN
FD - 15.67 DK - 11.81
The Dodgers have the highest implied run line on the slate at 5.7, more than either of the two teams going in Coors. For starters, it's because they are facing Vladimir Gutierrez and his career 5.14 xFIP. The righty has struggled to generate almost anything on the strikeout side and does end up walking batters at an above-average rate. Freeman has gotten off to a fine enough start, though has failed to go yard in his first 32 plate appearances. No matter, the power will come and this lineup is about as loaded as you will get in baseball. He's still a value on both sites and has made contact in 80% of his plate appearances so far this season.

Vladimir Guerrero Jr. FD 4600 DK 6000
Opponent - OAK (Daulton Jefferies) Park - OAK
FD - 16.03 DK - 12.07
He's lower here only because of the price. Guerrero is one of, if not the, best young hitters in the game and has started the season like gangbusters, with four home runs already in his first 28 plate appearances. He won't keep up that pace for sure, but this is also a guy who hit 48 long ones last season, so there's for sure massive upside on the power. The Blue Jays, like the Dodgers, are in a tremendous spot and one would think they will be two of the most popular stacks on the day. You are paying for the privilege of course, but that's because the offenses, especially at the top, are elite.
Second Base

Brendan Rodgers FD 3200 DK 3700
Opponent - CHC (Marcus Stroman) Park - CHC
FD - 12.15 DK - 9.32
Rodgers should be hitting third for the Rockies on Friday when they face Stroman and this is a team with the second-highest implied run total on the day thanks, in large part, to hitting in Coors. Rodgers has been dreadful to start the season, but we will often remind you, that shouldn't influence your decisions to all that big of a degree. The righty had an .800 OPS last season, and the 37% K% this season is almost definitely going to come down based on his historical performance. We are getting him at a discount on both sites, but especially DraftKings.
Kolten Wong FD 2600 DK 4100
Opponent - STL (Miles Mikolas) Park - STL
FD - 11.18 DK - 8.6
Wong remains in the leadoff spot for the Brewers, where he should stay at least for the short-term in this lineup. It's been a slower start to the season for the lefty, but there are reasons to think that we are still buying him at a discount, especially on FanDuel. He's always been tough to strike out, and this season is putting the ball in play a little less than 80% of the time. Mikolas looks for contact and Wong should have the ball in play all game here. There is a bit of speed upside on the stolen bases and one would think some of the power will still come back around.
Shortstop

Trea Turner FD 3700 DK 5700
Opponent - CIN (Vladimir Gutierrez) Park - CIN
FD - 16.14 DK - 12.43
We'll say this often, but shortstop isn't usually a spot to try and punt away. There are just too many elite bats at the position from a fantasy perspective. Turner is definitely one of those guys, having gone for 28 home runs and 32 stolen bases just last season. Things have gotten off to a slow start this time around, but it's only served to keep the price moderately in check. Considering how much contact Gutierrez allows, fading Turner here I think is actually a pretty tough bargain. The Dodgers are in just too good of a spot against the weaker righty.

Bo Bichette FD 3900 DK 5200
Opponent - OAK (Daulton Jefferies) Park - OAK
FD - 14.56 DK - 11.21
As I said, you really don't want to pay down at shortstop. Not with this many dudes who can seriously rack up fantasy points. Bichette is another one who hasn't quite turned it on yet this season but remember this is a dude who went for 29 home runs and 25 stolen bases last year, putting up a mid-800s OPS while striking out less than 20% of the time. Daulton Jeffries has been terrible through his first 22 major league innings (5.32 xFIP, terrible K rate) and there's not a whole bunch of reasons to assume he'll get a lot better. This is a good spot for the Blue Jays.
Third Base

Josh Donaldson FD 3100 DK 5100
Opponent - BAL (Jordan Lyles) Park - BAL
FD - 13.73 DK - 10.23
The Yankees are, for now, committed to hitting Donaldson in the leadoff slot in the order even though the results haven't really been there for the first week-plus of the season. He's striking out a lot and not generating much of anything. But the baseball season is long and we can't use these small sample sizes as any great indicators of future performance. When you are hitting in front of Judge, Rizzo, Stanton, and Gallo, there is upside almost no matter what. And Donaldson has enough of a track record to get the benefit of the doubt here.

Max Muncy FD 3100 DK 4400
Opponent - CIN (Vladimir Gutierrez) Park - CIN
FD - 15.93 DK - 11.78
He's still just priced too low on both sites and we need to take advantage while the getting is good. To start the season, Muncy has walked (18.5%) more than he's struck out (14.8%), a testament to the patience he's shown over the years. Considering he's hit 35+ home runs in three of the last four seasons, the power should come all the way around as well and he's close to a lock for me in cash games against a weak righty in Gutierrez.
Outfield

Mookie Betts FD 3800 DK 5300
Opponent - CIN (Vladimir Gutierrez) Park - CIN
FD - 16.4 DK - 12.34

George Springer FD 4100 DK 5200
Opponent - OAK (Daulton Jefferies) Park - OAK
FD - 15.04 DK - 11.3
I'm putting these guys together because they are both hitting leadoff for their respective teams who have the highest implied ru totals on the day. The Dodgers and Blue Jays are going to be popular stacks for a good reason and these two make an interesting coin flip scenario about which way to go with lineups. In some ways, we might be able to keep it easy to just hedge and play them where each is cheaper (Betts on FD, Springer on DK). They are both power/ speed threats, have great plate appearance expectation, and are playing against decidedly mediocre arms.

Joey Gallo FD 2700 DK 4200
Opponent - BAL (Jordan Lyles) Park - BAL
FD - 13.01 DK - 9.49
Gallo continues to come way too cheap to start the season, especially on FanDuel where he's sub $3k. Sure, he's been awful to start the season so far considering he's struck out 33% of the time in his first 24 plate appearances. The OPS is sitting under .500 and he's on the struggle bus for sure. But he's still showing patience (20%) walk rate and we know this guy has as much power upside as anyone in the game when things are right. I'm fine getting him at a relative discount here, especially in the matchup against Jordan Lyles.
Cody Bellinger FD 3100 DK 2800
Opponent - CIN (Vladimir Gutierrez) Park - CIN
FD - 12.66 DK - 9.49
Bellinger is another one, like Gallo, that we are being dared into playing because of the price. For Bellinger, it's on DraftKings where he's basically a punt play at this point. A lot of that is warranted though considering he's had a season-plus of struggles. But could he be turning it around this year? Early signs are pointing positive with the walk rate up and a (very) early OPS around .900. Again, there's still reason to limit the optimism considering just how very bad he was last year, but he's in a great lineup and is coming cheap.
FREE EBOOK
SECRETS TO CRUSHING DAILY FANTASY FOOTBALL!
DON'T SET ANOTHER LINEUP BEFORE YOU READ THIS BOOK.