Baseball Picks Daily Fantasy
Expert Advice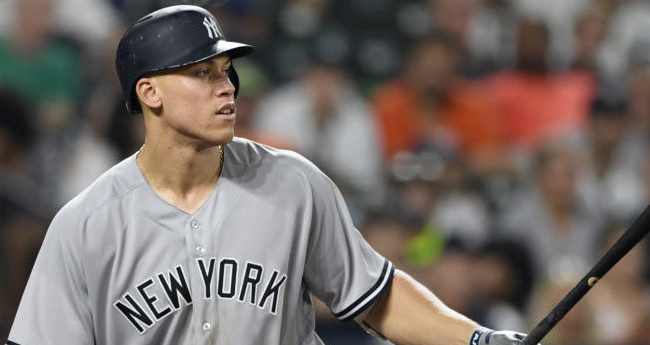 DraftKings and FanDuel MLB Picks for Sunday, 4/17/22
The opening week was bizarre, but we're starting to get back into the groove. Grinding every day is essential when it comes to MLB DFS, and that's tough when we have small sample sizes to deal with. The good news is that these rotations and lineups are finally solidifying, making things much easier on us going forward. We feel like we have a good read on this Sunday card, so let's go ahead and get into it!
Now's your chance to get DFSR PRO, which will give you access to our MLB, NBA, PGA, NHL, and NFL optimizers and our new player lab! Get started for free by clicking the button below.
Pitchers
Alek Manoah FD - P 10000 DK - SP 10000
Opponent - OAK (Adam Oller) Park - TOR
FD - 39.83 DK - 21.71
Manoah had a fantastic rookie season, and it looks like he's on his way to becoming an ace. The big right-hander had a 3.22 ERA and 1.05 WHIP in his impressive rookie campaign and added a new pitch to his repertoire. He presented it in the opener, holding a potent Yankees lineup scoreless across six innings of action. To say this is a step down in competition would be a drastic understatement, with Oakland owning the worst lineup in baseball. That has the Alek and the Blue Jays entering this matchup as a -250 favorite, with the A's projected for just 3.5 runs.

Zack Wheeler FD - P 10200 DK - SP 10200
Opponent - MIA (Elieser Hernandez) Park - MIA
FD - 38.28 DK - 20.61
How weird is it to see two pitchers at the same price on both sites? That really doesn't matter, but it's a completely random occurrence. In any case, Wheeler is the most expensive player on the board, and rightfully so. The right-hander registered a 2.78 ERA and 1.01 WHIP across 213.1 innings last season, striking out 247 batters! He showed glimpses of that in his shortened debut, surrendering just three baserunners across 4.2 one-run innings. He threw 65 pitches in that game, and it should have him ready for 80 here. That's really all he needs against Miami, with the Marlins ranked 29th in both runs scored and OPS while owning the worst xwOBA in baseball last season. In his previous three starts against them, Wheeler has allowed just five runs across 20 innings while flirting with a 1.00 WHIP.
Nestor Cortes (FD $8400/DK $8200) has been fantastic filling in over the last two years, providing a 2.77 ERA and 1.06 WHIP since the start of last season. That's why he's a -190 favorite against a terrible O's lineup.
Catcher/First Base

C.J. Cron FD - 1B 4200 DK - 1B 4200
Opponent - CHC (Drew Smyly) Park - COL
FD - 14.28 DK - 10.73
I want to preface this by saying that we had Cron ready to go in this section before he went nuts on Saturday night. The big man launched two bombs on Saturday and collected three RBI. That's the guy we've seen for a few years now, with Cron compiling a .370 OBP, .542 SLG, and .912 OPS since 2020. Those absurd averages are even better at Coors Field and even better against left-handers! In that same span, Cron has a .998 OPS against southpaws while generating a 1.018 OPS at home. Drew Smyly will surely put a smile on Cron's face, too, with the lefty providing a 5.03 ERA and 1.42 WHIP since 2019.
Frank Schwindel FD - 1B 3400 DK - 1B 4300
Opponent - COL (Austin Gomber) Park - COL
FD - 10.43 DK - 8.01
Don't worry, we won't have every position filled with Colorado and Chicago bats! These are actually our only recommendations from that game, with Coors Field being a haven for DFS profits. A guy like Schwindel will surely thrive there, flirting with a 1.000 OPS since being called up last season. His numbers against lefties are truly ridiculous, totaling a .329 AVG, .404 OBP, .684 SLG, and 1.088 OPS against them since the beginning of last season. We love that in Coors, with Schwindel picking up a hit in all three games of this series. Austin Gomber is not a guy we're worried about either, amassing a 1.32 WHIP for his career.
In terms of catchers, Salvador Perez is an easy play against a weak lefty.
Second Base
Brandon Lowe FD - 2B 3600 DK - 2B 5700
Opponent - CHW (Vince Velasquez) Park - CHW
FD - 12.05 DK - 8.99
Lowe is pricey, but this guy has earned it with his elite power. Getting that sort of pop from a second baseman is a huge bonus on its own, but this is simply one of the best power hitters, no matter the position. He has a .346 OBP, .533 SLG and .879 OPS since 2020. Lowe has actually done most of that damage against right-handed pitching, tallying a .367 OBP, .562 SLG, and .928 OPS against them in that same span. That's why he bats in the heart of this potent Rays lineup, and these guys could definitely abuse a pitcher like Velasquez. The Chicago journeyman has a 5.98 ERA and 1.50 WHIP over the last three seasons.
Kolten Wong FD - 2B 2600 DK - 2B 4100
Opponent - STL (Dakota Hudson) Park - MIL
FD - 10.53 DK - 8.1
Wong is not the most exciting option out there, but he's a fantastic salary saver at the weakest position. Any leadoff hitter in this price range is a great option, especially when they're atop a lineup that's projected for nearly five runs. That alone makes Wong worth a shot, but he's been an above-average hitter in his career whenever he faces right-handed pitching. Since 2017, Wong is hitting .270 against right-handers while falling just shy of an .800 OPS. That's really all you can ask for from a player this cheap, especially since he faces Dakota Hudson and his 1.32 career WHIP.
Shortstop

Gleyber Torres FD - SS 2400 DK - 2B 4400
Opponent - BAL (Bruce Zimmermann) Park - BAL
FD - 10.24 DK - 7.84
It's silly to assume that a player owns a team, but there's no bigger ownership of a player over a team that Torres to the Orioles. In 54 career games against the O's, Torres has a .346 AVG, .425 OBP, .681 SLG, and 1.106 OPS. That's a huge sample size of smashing baseballs, and it's really no surprise with how bad this Baltimore pitching staff has been. Bruce Zimmermann is another one of those gas can arms, providing a 5.02 ERA and 1.44 WHIP for his career. He also happens to pitch from the left side, which is remarkable since Torres has a .508 SLG and .860 OPS against them for his career.
Bobby Witt Jr. FD - SS 2800 DK - 3B 2600
Opponent - DET (Tyler Alexander) Park - KC
FD - 10.49 DK - 8.06
Witt has really struggled in his first two weeks at the Major League level, but it's just a matter of time before he becomes a stud. In 123 games at the minors last season, Witt collected a .290 AVG, .361 OBP, .575 SLG, and .936 OPS. Those are good numbers no matter what, and it doesn't even consider his 29 steals. That elite power-speed combo has made him one of the top prospects around, and DFS people genuinely believe he'll be $1,000 more on each site in the coming months. We also don't mind that Witt has the platoon advantage from the right side, with Alexander amassing a 4.15 ERA and 1.30 WHIP for his career.
Third Base

Josh Donaldson FD - 3B 3100 DK - 3B 4600
Opponent - BAL (Bruce Zimmermann) Park - BAL
FD - 11.97 DK - 8.92
We always love to exploit guys with notable splits, and Donaldson is undoubtedly one of those. For his career, JD dons a .383 OBP, .562 SLG, .291 ISO, and .941 OPS with the platoon advantage in his favor. Those are literally All-Star caliber averages, and it's likely to continue in this matchup. We already talked about how bad Zimmermann has been, and it has the Yankees projected for five runs in this tasty spot. You might be worried that Donaldson is getting too old, but he had a .943 OPS against left-handers just last season.
Hunter Dozier FD - 3B 2500 DK - 1B/OF 2600
Opponent - DET (Tyler Alexander) Park - KC
FD - 9.18 DK - 6.98
This is my riskiest recommendation of the day, but the Royals are a really sneaky stack. This is one of the most underrated lineups in baseball, and they should do well against left-handers all season. Guys like Witt, Perez, Mondesi, and Dozier all bat from the right side, and that's bad news for an atrocious pitcher like Alexander. Dozier is the best value of the bunch, sitting below $3,000 on both sites. Since 2019, Dozier has a .449 SLG and .770 OPS. Those numbers are pretty good from such a cheap player, and it looks even better with Hunter getting to hit from the right side.
Outfield

Aaron Judge FD - OF 3900 DK - OF 5500
Opponent - BAL (Bruce Zimmermann) Park - BAL
FD - 14.59 DK - 10.91
If we're going to stack Yankees, Judge must be a considerable part of it. This guy has been a monster since he put on a Major League uniform, collecting a .280 AVG, .390 OBP, .562 SLG, and .952 OPS since his rookie season. That's a lengthy stretch of dominance, with Judge posting even more absurd numbers against lefties. In fact, Judge has a .387 OBP, .614 SLG, and 1.001 OPS against southpaws since 2020. He's quite simply one of the best hitters in baseball in one of the best spots possible. We also can't forget to mention Giancarlo Stanton because he's smashed southpaws throughout his career and could go off in this majestic matchup, too,

George Springer FD - OF 4000 DK - OF 5000
Opponent - OAK (Adam Oller) Park - TOR
FD - 15.14 DK - 11.37
We talked about how dangerous the Yankees lineup can be, but the Blue Jays lineup might be even better. Springer is the stud atop it, and he could be in for a career year. He was already an All-Star in Houston, generating a .362 OBP, .522 SLG, and .884 OPS since 2017. Those crazy averages earned him a massive contract in Toronto, and he's rewarded them with a .558 SLG and .911 OPS. The matchup with Adam Oller might be the best part of this, though, with the Oakland arm never pitching above Single-A before this season. He showed that in his debut, allowing five runs across 1.1 innings. Look for these Blue Jays to bludgeon the youngster and for Springer to be the ring leader.
Aristides Aquino FD - OF 2400 DK - OF 2100
Opponent - LAD (Andrew Heaney) Park - LAD
FD - 11.53 DK - 8.66
Aquino has struggled in the early going, but we're encouraged that he's finally getting a full workload. This guy has been stuck on the bench for most of his Cincy tenure, but he's always shown elite power when given the opportunity. In fact, Aquino has 32 homers and 15 doubles in just 446 career at-bats. That's an amazing rate of power, and it makes him a good punt play against a weak lefty. Andrew Heaney has a 4.91 ERA and 1.27 WHIP since 2017, struggling with right-handed bats throughout his career. That's big with Aristedes getting the platoon advantage here, especially since he's flirting with the minimum on both sites.
image sources
Yankees Orioles Baseball: (AP Photo/Nick Wass)
FREE EBOOK
SECRETS TO CRUSHING DAILY FANTASY FOOTBALL!
DON'T SET ANOTHER LINEUP BEFORE YOU READ THIS BOOK.