Basketball Picks Daily Fantasy
Expert Advice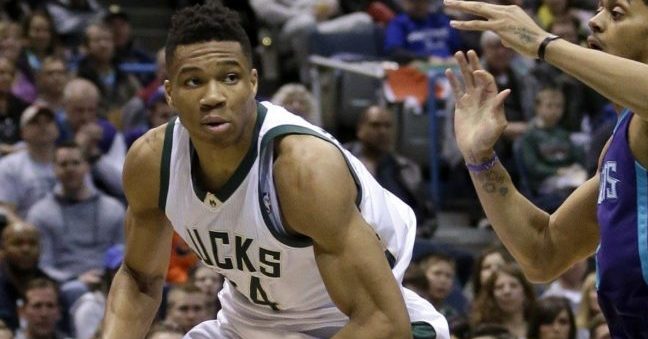 DFS NBA Picks for FanDuel and DraftKings - Playoffs Wednesday 4/20/22
Head on over for your chance to get DFSR PRO, which will give you access to our NBA FanDuel and DraftKings optimizer, NFL optimal lineups, and our NHL Optimizer. Plus our new player lab! Get started for free by clicking the button below. START YOUR FREE TRIAL NOW! First time with NBA or NFL? Be sure to read our free NBA and NFL Ebooks on building lineups, general strategy, and more. We've got you completely covered.
Point Guard / Shooting Guard

Jrue Holiday FD - $7400 DK - $7600
Opponent - CHI
Proj Pts FD - 43.75 DK - 46.83

Zach LaVine FD - $7700 DK - $7200
Opponent - MIL
Proj Pts FD - 40 DK - 42.05
This does feel like the game we want to have the biggest piece of on this slate considering the matchups, the total, and the fact that there are middle-tier guys who are set to run a ton of minutes. We have to make hard choices on these three-game playoff slates where the starters and superstars for every team are set to see the lion's share of the minutes and the fantasy output. It's just the way of things at this point and we can't fit every big-money play into lineups. Holiday ran close to 40 minutes in the first game and that should be the case from here on out. He had a balanced line of 15 points, six rebounds, and six assists, taking the second-most shots on the team with 16. I don't think he's in the class of the Kyrie Irving's or James Harden's, but he's priced so far below those guys that he makes for a better dollar-for-dollar play.
And then there is Lavine who is coming even cheaper and should see minutes pushing up towards 40 minutes as well if the game can stay close. That latter part is the real question, but I think we can take the risk. He struggled some from the field in Game 1, going 6-19 and just 2-10 from three, finishing with 18 points and 10 rebounds. Again, like Holiday, that he is coming in the middle tier instead of the upper makes it easier to fit the salary and work in other plays who also have high floors. We can't take a total stars and scrubs approach here considering there really isn't much in the way of punt plays.

Khris Middleton FD - $6800 DK - $7400
Opponent - CHI
Proj Pts FD - 39.95 DK - 41.44
Middleton played 39 minutes in the first game of the series, finishing with 11 points, six assists, and five rebounds, an underwhelming stat line to say the least. But he struggled from the field, going 4-13 and 1-7 from beyond the arc. That isn't likely to continue knowing what we know about the Bucks' wing. The game was a lower-scoring affair in general, something that is also not likely to continue. Of anyone on the Bucks, I think his minutes' floor is the highest because of what he brings and if that's the case, the FanDuel price is really just about too cheap to pass up. Milwaukee has the highest implied total on the slate.

Alex Caruso FD - $4400 DK - $4300
Opponent - MIL
Proj Pts FD - 26.45 DK - 26.59
On these smaller slates in which superstars are critical to fit into lineups, we need to find cheaper plays where we can. Caruso is one of those opportunities, coming in the lower $4K range on both sites. He played 33 minutes in the first game, a lower-scoring affair, and that was even getting into some foul trouble. I think the floor on the run is much higher if the fouls don't pile up. Like we said about him last time he played, he doesn't have huge upside because he's so far down in the offensive pecking order, but that's built into the price and he contributes just enough across the rest of the line to put him in as a cash game play.

Danny Green FD - $4100 DK - $3600
Opponent - TOR
Proj Pts FD - 22.11 DK - 22.47
Danny Green is another one, like Caruso, that I could see us fitting into lineups because he offers savings we need to spend up for the serious big money guys. Green can, for sure, just run cardio in any given game, staying on the court for ages, not doing a whole lot. But he's coming so cheap here that I think we can take the risk considering the scenario. He played 38 minutes last time out, scoring 11 points, adding three blocks+steals, and three assists as well. Considering the Sixers are without Matisse Thybulle in this game because of the vaccine requirements in Canada, the minutes should be up there once again for Green, making up just safe enough.
Small Forward

Giannis Antetokounmpo FD - $11400 DK - $10900
Opponent - CHI
Proj Pts FD - 63.61 DK - 65.4
Giannis was his usual dominant self in Game 1 of this series, finishing with 27 points and 16 rebounds in just 34 minutes. He makes for a very tough fade here and I do think he should be at the center of cash game builds on this slate. The regular season, MVP-like regular season numbers speak for themselves and he has as high a floor as anyone on the slate, and really as anyone in the NBA. And Chicago, on the defensive end, really has no answer for him either, lacking the requisite size and athleticism to keep up with him over the course of the game. The goal will be to fit Giannis with another one of the big-money guys which will be a bit tough.

DeMar DeRozan FD - $8500 DK - $8300
Opponent - MIL
Proj Pts FD - 47.6 DK - 48.23
DeRozan played nearly the entire time in Game 1 of this series and one would think that's going to be the Bulls' plan from here on out in this series. They will need everything and more from DDR in this one if they stand any kind of chance against the Bucks. DeRozan took a whopping 25 shots in that game, but struggled to get anything to go down, making only eight and finishing with 18 points, eight rebounds, and six assists in his 43 minutes. There is room for upside on the scoring though if this is going to be the run and the usage. He's just too good in that respect. The price on both sites is still a bargain, and while DDR isn't quite a superstar, the fantasy side of things looks promising at these price points.
Power Forward/ Center

Joel Embiid FD - $10400 DK - $10600
Opponent - TOR
Proj Pts FD - 61.4 DK - 63.33
An undersized Raptors team hasn't had much in the way of answers for Joel Embiid over the first two games of the series with the Sixers' center averaging 25 points and 13 rebounds so far in this series. That he's only registered one defensive stat feels a bit off-kilter as well and there would seem to be room for upside even at these higher price points. With Philly looking to take a 3-0 lead in this one I think they continue to put their collective feet on the gas and it isn't like Toronto grew more big bodies over the last couple of days. They are just too small in the frontcourt and that's an advantage for Embiid.

Tobias Harris FD - $6900 DK - $6700
Opponent - TOR
Proj Pts FD - 35.43 DK - 36.16
Harris has had an excellent series so far, averaging 23 points, eight rebounds, 3.5 assists, and some defensive stats through the first two games. The big news for him is that he's averaged 38 minutes a game over the first two despite both games essentially ending in a blowout. That would seem like good news if we could get one that stayed close because one would think those minutes would push up and over 40 in that scenario. Considering his prices on both sites, I think we are getting him at a pretty nice value and his skillset clearly lines up with staying on the court a bunch in this series, giving him a solid floor.
Al Horford FD - $7600 DK - $6400
Opponent - BKN
Proj Pts FD - 40.94 DK - 42.7
Horford is a good deal on DraftKings, especially where he's coming just a bit too cheap for what he brings to the table. He played a ton of minutes in the first game of the series and was excellent on the defensive end of things where the Celtics will really need him in this series. But he filled it up from a fantasy perspective as well, finishing with 20 points and 15 rebounds in his 41 minutes of run. Theis getting in foul trouble helped in this respect, but I think the plan is to run Big Al a ton here and that's going to give him a high floor. Plus it will serve to play Drummond off the court, thereby helping the rebounding numbers.
I do think you can still consider Daniel Theis (FD 4300 DK 4400)
GRAB A FREE TRIAL OF OUR PROJECTION SYSTEM, AND CHECK OUT DFSR PRO!
FREE EBOOK
SECRETS TO CRUSHING DAILY FANTASY FOOTBALL!
DON'T SET ANOTHER LINEUP BEFORE YOU READ THIS BOOK.