Baseball Picks Daily Fantasy
Expert Advice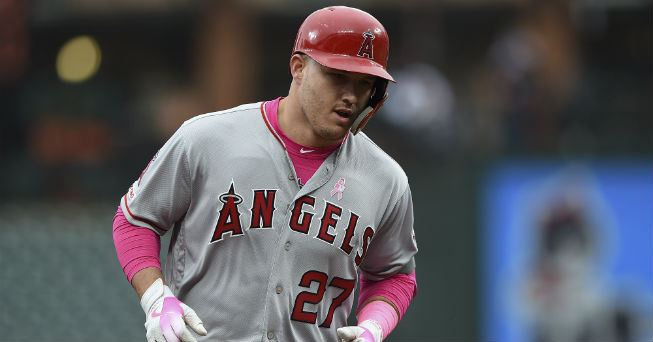 DraftKings and FanDuel MLB Picks for Friday 4/22/22 - Main Slate
Now's your chance to get DFSR PRO, which will give you access to our MLB, NBA, PGA, NHL, and NFL optimizers and our new player lab! Get started for free by clicking the button below.
Pitchers
Tarik Skubal FD 7900 DK 8600
Opponent - COL (Antonio Senzatela) Park - DET
FD - 33.32 DK - 17.84
Skubal started to realize some of his prospect potential last season and that's been able to carryover early on into this campaign. Through his first two outings the young lefty has a 10:1 K:BB rate and has looked excellent to start the season. Getting the Rockies out of Coors is a huge advantage here and Skubal is coming in as a -141 home favorite with the over/under sitting at 8. That gives the Rockies one of the lowest implied run lines of the day and Skubal is coming cheap enough on both sites. Running him in cash would give us a lot of flexibility with bats.
Reid Detmers FD 6700 DK 7700
Opponent - BAL (Bruce Zimmermann) Park - BAL
FD - 29.9 DK - 15.24
Detmers is coming as one of the biggest moneyline favorites on the day at -187 and it's for pretty good reason considering the matchup. The Orioles are one of the worst offenses in the league, ranking 28th in team wOBA so far this season while striking out 27% of the time, the second-most in the league. This lines up real well for the the young lefty Detmers who's struck out close to a batter an inning through his first 28 major league innings. It's a bit speculative for sure, but he's coming so cheap I think we can easily take the risk here considering the matchup and the K upside.
Strongly consider Justin Verlander (FD $10500 DK $10500) on both sites. He's a -172 home favorite though draws a tougher matchup against the Blue Jays.
Catcher/First Base
Darin Ruf FD 2600 DK 2400
Opponent - WSH (Patrick Corbin) Park - WSH
FD - 12.59 DK - 9.46
It sure doesn't look like we are ever going to get a return to the Patrick Corbin of 2018 and 2019. That guy hasn't been around for a while and he's struggled to start this season as well with a 4.79 xFIP, a load of walks, and a K-rate below his career averages. Ruf has stunk so far this year, but this is a guy who's crushed lefty pitching in his shorter career. He has a .392 wOBA, 150 wRC+ and .927 OPS against southpaws. Run should hit second in the lineup with the lefty on the mound and is coming very cheap on DraftKings.

Max Muncy FD 3200 DK 5100
Opponent - SD (Nick Martinez) Park - SD
FD - 12.47 DK - 9.21
Muncy has been terrible to start the season and that's led to a price drop on both sites, but especially on FanDuel. It's worth noting that a lot of what is happening with him is bad luck seeing as how the .129 BABIP is about as low as you'll ever see and this is still a guy walking (18%) more than he's striking out (14%). That's such a great sign for the patience, and Nick Martinez brings in a career 5.18 xFIP over his 425 innings in the majors. This guy is just the definition of below-average and Muncy is a bargain right now.
Second Base

Ozzie Albies FD 4000 DK 4600
Opponent - MIA (Trevor Rogers) Park - MIA
FD - 13.27 DK - 10.18
Albies has been raking to start the season with five home runs already following up on the 30 he hit in 2021. He's walking at a 9.5% rate, higher than his career averages and the .189 BABIP would suggest that he's actually running very bad in that department. This is to say, he's still a relative bargain and as a switch hitter, Albies is going in the much better side of his splits here. He's crushed lefties for his career with a 148 wRC+ and .952 OPS which is about 200 points higher than what he's done against righties. I really like Albies on DraftKings.
Brandon Lowe FD 3400 DK 5400
Opponent - BOS (Michael Wacha) Park - BOS
FD - 12.59 DK - 9.4
Lowe is struggling some to start the season, but like some of the other guys we've written up today, he's had bad luck along the way. The .206 BABIP is about 100 points lower than his career number and the 18% Hr/FB rate is below his career average as well. Lowe crushed 39 home runs last season and this year he's striking out at just 21%, easily the best number of his career. That's going to line up well against Wacha who's merely an average arm.
Shortstop

Trea Turner FD 4000 DK 5600
Opponent - SD (Nick Martinez) Park - SD
FD - 13.13 DK - 10.11
Turner has started this season a bit on the slower side with only one home run so far and just three stolen bases. That's well off the pace he had last year when he finished with 28 long balls and 32 stolen bases. I have no doubt things pick up for the shortstop considering the career track record and he's been one of the better fantasy performers over the last couple of seasons. Like we said with Muncy, Martinez is such a below-average arm and the strikeout expectation is greatly reduced in this matchup.
Jack Mayfield FD 2900 DK 2600
Opponent - BAL (Bruce Zimmermann) Park - BAL
FD - 8.52 DK - 6.49
We are really going to get into the Angels' top of the lineup here shortly, but I think we can make a speculative play with Mayfield, especially on DraftKings where he's coming very, very cheap. The light-hitting shortstop has actually been pretty good to start the season so far though the plate appearances have been rather limited. He had a little pop last season with 10 home runs total, though struggled to put together an all-around season. He is better against lefties for his career though and we are getting him so cheap that it will help fit some of the pricier bats and arms.
Third Base

Anthony Rendon FD 3000 DK 4500
Opponent - BAL (Bruce Zimmermann) Park - BAL
FD - 12.16 DK - 9.15
Taylor Ward FD 2400 DK 3700
Opponent - BAL (Bruce Zimmermann) Park - BAL
FD - 10.15 DK - 7.7
We might be looking to stack some Angels on this slate considering they have the highest implied run line of any team not named the Yankees. Anthony Rendon and Taylor Ward should hit three and four in the lineup facing off against the lefty Bruce Zimmermann. That's an excellent spot for both of these guys all things considered. Rendon has struggled over the last couple of seasons since coming to the Angels with an OPS hovering around .700. That definitely isn't what they thought they were getting when he signed a huge project. But this is a guy who has a career .900 OPS against lefties with a .379 wOBA. If we want to bank on the career success, then this is too low of a price for Rendon in the better side of his splits.
Ward, for his part, has had a strong start to the season with an early OPS in the 900s. It's in limited plate appearances and his career numbers are considerably lower so we need to temper expectations some. But he's projecting to hit cleanup against the lefty Zimmermann and Ward has been considerably better in that side of the platoon over the course of his career. His OPS is almost 100 points higher in that split. If the Angels' batting order shakes out this way then I think Ward makes for an excellent cheaper bat on both sites.
Outfield
Shohei Ohtani FD 4300 DK 6300
Opponent - BAL (Bruce Zimmermann) Park - BAL
FD - 15.34 DK - 11.49

Mike Trout FD 4200 DK 5900
Opponent - BAL (Bruce Zimmermann) Park - BAL
FD - 15.33 DK - 11.34
Like we said with Rendon and Ward, the Angels are in a good spot against Zimmermann and these are the two bats we want to prioritize from the lineup. Ohtani hasn't come out of the gate quite as hot as last season, but that was a nearly record-breaking tear so there isn't all that much to worry about. He is worse against lefties for sure, but Ohtani still has an .821 OPs and 119 wRC+ in that split for his career. Zimmermann has a career 4.36 xFIP, walking more than three batters per nine and striking out less than a batter per inning.
And Trout is, well, Mike Trout. He's returned to superstar form early in this season with a .971 OPS out of the box, walking and striking out at the same rate (16%) and just generally causing pitchers problems once again. He's been better against righties for his career, but he's been elite in both splits. He's tagged lefties to a .971 OPS and .398 wOBA. These guys are expensive but it's for good reason and one has to like the Angels stacks today.
Austin Slater FD 2200 DK 2400
Opponent - WSH (Patrick Corbin) Park - WSH
FD - 12.55 DK - 9.61
As with Ruf at the top, the Giants are in a good spot against the lefty Corbin and the first couple of guys in the projected lineup are coming very cheap. Slater is near the minimums on both sites and should hit leadoff for San Fran. From a fantasy perspective, Slater was solid last season, hitting 12 home runs and stealing 15 bases over his 306 plate appearances. And for his career, Slater has a .829 OPS which is almost 200 points higher than what he's done against lefties. I love him as a punt play as long as he's at the top of the lineup.
GRAB A FREE TRIAL OF OUR PROJECTION SYSTEM, AND CHECK OUT DFSR PRO!
image sources
AP_19132837167109 Trout: AP Images
FREE EBOOK
SECRETS TO CRUSHING DAILY FANTASY FOOTBALL!
DON'T SET ANOTHER LINEUP BEFORE YOU READ THIS BOOK.