Baseball Picks Daily Fantasy
Expert Advice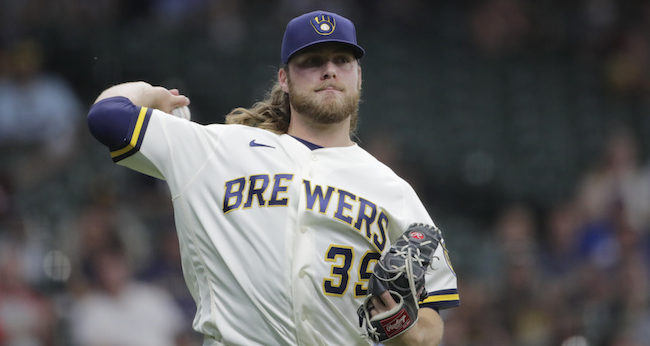 DraftKings and FanDuel MLB Picks for Sunday, 5/1/22
This is one of the first times all year where it feels like we're back in the everyday grind. The past few weeks have been a bit of a mystery with the way offenses have struggled, but we're getting our grasp on what the baseball landscape will look like. We have numerous teams hitting around .200, and it's becoming clear that the pitchers are in charge right now. We have two of those aces as our pitching recommendations so let's go ahead and start there!
Now's your chance to get DFSR PRO, which will give you access to our MLB, NBA, PGA, NHL, and NFL optimizers and our new player lab! Get started for free by clicking the button below.
Pitchers

Corbin Burnes FD - P 10700 DK - RP 10200
Opponent - CHC (Marcus Stroman) Park - MIL
FD - 44.64 DK - 25.05
Burnes is the most expensive player on the slate, but he's worth every penny. The 2021 NL Cy Young winner finished last season with a 2.43 ERA and 0.94 WHIP. He's been better in the opening month of this season, tallying a 1.75 ERA and 0.74 WHIP. His strikeouts are what make him so dangerous, though, collecting 33 across 24.2 innings this year. That should be easy to duplicate against Chicago, with the Cubbies owning one of the worst lineups in baseball. That was on full display when Burnes compiled a 1.35 ERA, 0.75 WHIP, and 16.2 K/9 rate in three games against them last season. Not to mention, he enters this matchup as a -200 favorite, with Chicago projected for just three runs.
Joe Musgrove FD - P 10400 DK - SP 9600
Opponent - PIT (Mitch Keller) Park - PIT
FD - 41.6 DK - 22.41
Musgrove had an incredible 2021 season, and he's definitely carried that form into this year. The former Pirate had a 3.18 ERA and 1.08 WHIP last season and has backed it with a 2.16 ERA and 0.88 WHIP this year. Those are astounding numbers, and it's led to Joe scoring at least 34 FanDuel points in all four starts this year. The best part of this is the matchup with his former team. The Pirates were bottom-five in runs scored, OPS, and xwOBA last season and have just as bad of a lineup this year. The oddsmakers agree, making Musgrove a -190 favorite in a game with a 7.5-run total.
Logan Gilbert (FD $9300/DK $9400) has an ERA below 0.50 ERA and is obviously a great play against a terrible Marlins lineup.
Catcher/First Base
Eric Hosmer FD - 1B 3400 DK - 1B 5200
Opponent - PIT (Mitch Keller) Park - PIT
FD - 8.88 DK - 6.85
Hosmer is starting to get expensive, but he's one of the best hitters in fantasy right now. The former Kansas City All-Star is hitting .397 this season, en route to a .468 OBP, .574 SLG, and 1.042 OPS. Those are the best averages of his career, and it doesn't even include another dinger on Saturday. That form makes him tough to fade no matter the matchup, but this one is fantastic. Mitch Keller has a 6.62 ERA and 1.64 WHIP this season, which has sadly lowered his disastrous career numbers. It also gives Hosmer the platoon advantage from the left side, with Hoz posting a .367 OBP and .820 OPS against righties since 2020.
Andrew Vaughn FD - 1B 3000 DK - OF 4300
Opponent - LAA (Michael Lorenzen) Park - CHW
FD - 9.96 DK - 7.55
Vaughn is one of the top hitting prospects in baseball, and he's finally showing us why. An injury to Eloy Jimenez opened up the door for an everyday job, and Andrew has responded with a .283 AVG, .367 OBP, .566 SLG, and .933 OPS. Those incredible averages are less surprising when you dive into Vaughn's .384 OBP and .832 OPS in the minors. That makes him an attractive option at this price because this matchup is far from scary. Michael Lorenzen is toeing the rubber for the Angels, and his 1.36 career WHIP is no reason to fade him.
If you need a catcher, Gary Sanchez is a solid choice against a lefty.
Second Base

Ozzie Albies FD - 2B 3900 DK - 2B 5400
Opponent - TEX (Taylor Hearn) Park - TEX
FD - 13.98 DK - 10.71
Stacking the Braves will be one of the optional strategies out there. This team is projected for nearly five runs, sending out a bunch of dangerous righties against a weak lefty. That southpaw is Taylor Hearn, pitching to a 7.47 ERA and 1.98 WHIP this season. Those numbers arent far off of his ugly career averages, and it puts all of these dangerous Braves bats in play. Oz is one of the best options of the bunch, amassing a .489 SLG and .810 OPS since the beginning of last season. He's also got some sneaky speed, and we certainly don't mind that Albies has a .548 SLG and .887 OPS against lefties since 2020.
Tommy Edman FD - 2B 3400 DK - 2B 5300
Opponent - ARI (Zach Davies) Park - STL
FD - 10.35 DK - 8.1
Edman's value was in the toilet when Dylan Carlson took over the leadoff spot, but Edman has recaptured that role with his sparkling play. The speedy second baseman has a hit in 15 of 19 games this season, generating a .318 BA, .416 OBP, .515 SLG, and .931 OPS. He's also one of the league leaders with five steals, and he's going to continue to provide elite counting statistics atop this talented Cards lineup. They should go off against a soft-thrower like Zach Davies, with the D'Backs righty registering a 5.69 ERA and 1.56 WHIP since the start of last season.
Shortstop

Xander Bogaerts FD - SS 3700 DK - SS 5100
Opponent - BAL (Jordan Lyles) Park - BAL
FD - 11.51 DK - 8.75
Xander is the most underrated superstar in baseball. This guy produces year after year, and he's always one of the safest bets for a .300 AVG, .400 OBP, .500 SLG, and .900 OPS. He's gotten off to one of the best starts of his career, hitting 377 through the first four weeks of the year. He's also got his OPS north of .900, and it's clear that he will go off with Rafael Devers, JD Martinez, and Trevor Story surrounding him in this lineup. The matchup with Jordan Lyles is the icing on the cake, with the O's righty totaling a 5.21 ERA and 1.44 WHIP across 1,167 career innings. How does that guy still have a job?

Gleyber Torres FD - SS 2800 DK - 2B 3400
Opponent - KC (Daniel Lynch) Park - KC
FD - 9.78 DK - 7.49
Torres has struggled at times this season, but this pricing is too low. We're really encouraged by his recent form, hitting .333 over his last five games while providing an OPS north of 1.000 in that span. That's the guy we've been waiting to see, and some confidence might be the thing to get him going. The main reason we're willing to use him here is this matchup, with Torres tallying a .354 OBP and .812 OPS against lefties since 2020. Daniel Lynch is far from a scary lefty, accruing a 5.25 ERA and 1.55 WHIP across 84 career innings.
Third Base

Manny Machado FD - 3B 4200 DK - 3B 6200
Opponent - PIT (Mitch Keller) Park - PIT
FD - 11.9 DK - 9.02
Machado always gets off to hot starts, and he's gotten off to another incredible opening month. Manny is hitting .388 through the first four weeks, providing a .451 OBP, .588 SLG, and 1.039 OPS as well. He's also got four steals, and it's clear that the Padres will let him run whenever he wants. Those season-long numbers are impressive, but he's got a .550 OBP, and 1.300 OPS over his last 11 games played. Don't fade someone that hot, especially since he faces a pitcher with a 1.64 career WHIP.

Josh Donaldson FD - 3B 3200 DK - 3B 4700
Opponent - KC (Daniel Lynch) Park - KC
FD - 11.43 DK - 8.52
We just talked about how the Yanks are one of the best stacks out there, and JD would be a significant piece of it. He's one of the only ones who's a good value, and it's hard to understand why. He typically bats second against southpaws, and he's been slaughtering them throughout his 10-year career. In fact, JD has a .381 OBP, .556 SLG, .288 ISO, and .937 OPS, with the platoon advantage in his favor throughout his career. That's tough to overlook from such an affordable player, and his recent splits aren't far off of that either, despite his recent struggles.
Outfield

Mike Trout FD - OF 4300 DK - OF 5900
Opponent - CHW (Dallas Keuchel) Park - CHW
FD - 15.08 DK - 11.16
This guy is truly amazing. Trout has been the best hitter in baseball for a decade, and he's amid another fantastic season. He's actually leading the league in OBP and OPS, providing a .447 OBP, .694 SLG, and 1.141 OPS through the first 18 games of the season. We've seen him do this for years, and it's likely to continue here against a lefty with a 9.00 ERA and 2.40 WHIP. Trout has faced Dallas Keuchel in 48 at-bats, delivering a .436 OBP and .978 OPS against him. That's no surprise since Trout has the platoon advantage from the right side, and it'd be hard to imagine him not getting on base at least once or twice in this sensational spot.

Giancarlo Stanton FD - OF 3400 DK - OF 4900
Opponent - KC (Daniel Lynch) Park - KC
FD - 12.14 DK - 9.08
It feels like Stanton is always in here when I write. The simple fact is, he's too cheap for someone of his ability. There's no better bet for a homer on any given slate, with Giancarlo regularly leading the league in hard-hit rate and exit velocity. Those elite peripherals show in the standard statistics, with Stanton slugging his way to a .547 career SLG. Matching that with his .273 ISO makes him one of the most dangerous bats in the game, and he's always been a bigger threat against lefties. In fact, Stanton has a .387 OBP, .607 SLG, and .994 OPS against lefties in nearly 1,200 at-bats against them.

Marcell Ozuna FD - OF 3100 DK - OF 4600
Opponent - TEX (Taylor Hearn) Park - TEX
FD - 11.81 DK - 8.95
Ozuna has remained way too cheap all season long. This masher ranks Top-3 in hard-hit rate and barrel percentage this season, batting in the heart of this astounding Atlanta lineup. We already talked about how good of a matchup Hearn is, with the lefty falling just shy of a 2.00 WHIP. That seems likely to continue against these righties, with Ozuna looking like the best value of the bunch. Since 2020, Marcell has a .558 SLG and .907 OPS with the platoon advantage in his favor and has always been better away from home.
FREE EBOOK
SECRETS TO CRUSHING DAILY FANTASY FOOTBALL!
DON'T SET ANOTHER LINEUP BEFORE YOU READ THIS BOOK.