Baseball Picks Daily Fantasy
Expert Advice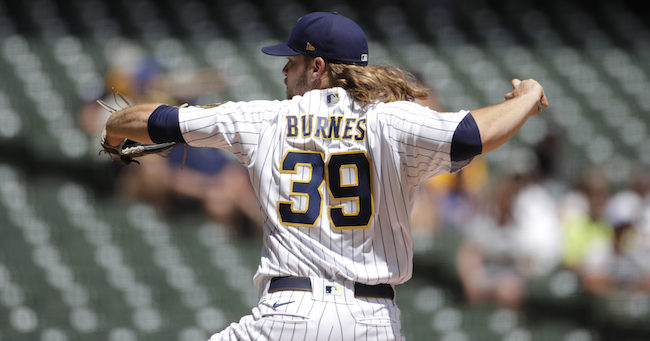 DraftKings and FanDuel MLB Picks for Wednesday, 5/18/22
The fantasy baseball season has been terrific! It's been fun watching these pitchers and lineups adapt to the new environment, but it feels like the offenses are starting to come around. Baseball is all about grinding away night after night, and we have to do the same thing as these players. It's not always going to work out every night, but putting yourself in the best position to succeed should put you ahead of the pack. These articles are a good starting point for any slate, and we love the pitching recommendations for this card. With that in mind, let's start with last year's NL Cy Young winner.
Now's your chance to get DFSR PRO, which will give you access to our MLB, NBA, PGA, NHL, and NFL optimizers and our new player lab! Get started for free by clicking the button below.
Pitchers

Corbin Burnes FD - P 10300 DK - RP 10000
Opponent - ATL (Max Fried) Park - MIL
FD - 41.37 DK - 22.94
Burnes took down NL Cy Young honors last year, but this has been one of the best pitchers in baseball for three years now. CB has a 2.25 ERA and 0.93 WHIP since 2020. His strikeout numbers are even more impressive, recording 379 whiffs across those 272 innings. We love that when looking at his recent form, throwing at least six innings in each of his last six starts en route to a 1.33 ERA, 0.71 WHIP, and 11.7 K/9 rate in that span. Some of you might be worried about a matchup with the defending champs, but they rank 21st in OBP and dead-last in K rate this season. The most strikeout-heavy team facing one of the best strikeout pitchers makes Burnes one of the safest plays out there.

Sonny Gray FD - P 8200 DK - SP 6700
Opponent - OAK (Daulton Jefferies) Park - OAK
FD - 41.25 DK - 21.95
This DraftKings price is silly. Gray has been an $8K player on both sites for most of his career, totaling a 3.61 ERA and 1.22 WHIP in his nine-year career. That's pretty good, and we love this recent resurgence, registering a 3.49 ERA and 1.16 WHIP since 2019. His Ks have been on the uptick, too, striking out 452 batters across those 381 innings. His pitch count was held back earlier on, but 82 pitches in his most recent outing mean he should be close to a full workload. That looks even better with Sonny slinging a 2.16 ERA and 16.2 K/9 rate over his last two starts. Facing Oakland in a revenge game is the icing on the cake, with the A's ranked dead-last in runs scored, OBP, OPS, and xwOBA in one of the most pitcher-friendly ballparks around.
Drew Rasmussen (FD $8000 DK $7900) has a 2.67 ERA and 0.92 WHIP this season and enters this fantastic matchup as a -190 favorite.
Catcher/First Base

Freddie Freeman FD - 1B 4000 DK - 1B 5100
Opponent - ARI (Zach Davies) Park - LAD
FD - 14.37 DK - 10.83
Freeman is always one of the safest options on every slate. This guy is a guarantee for 100 runs, 100 RBI, 30 homers, and a .300 AVG at the end of every season. Many people believe those numbers will get higher in the heart of this ridiculous Dodgers lineup, and Freeman is showing glimpses of how special he can be. Over his last 28 games played, Freddie has a .333 AVG, .439 OBP, .549 SLG, and .988 OPS. Those are obviously some of the best numbers in baseball, and we don't anticipate Davies to slow him down. The soft-throwing righty has a 5.35 ERA and 1.52 WHIP since the start of last season and will surely struggle with a lefty bat like this.

Rhys Hoskins FD - 1B 3600 DK - 1B 3300
Opponent - SD (Blake Snell) Park - PHI
FD - 12.38 DK - 9.19
Hoskins is risky with his volatility at the plate, but we always want to use him when he's hot. That appears to be the case right now, with Rhys totaling .325 AVG, .650 SLG, and .991 OPS over his last nine games played. That's the power stud we've been waiting to see, but we think he's an even better option with the platoon advantage in his favor. Hoskins has a .386 OBP, .597 SLG, and .983 OPS against left-handers since 2020. The name Blake Snell is a scary on the surface, but he's struggled his way to a 4.06 ERA and 1.28 WHIP in that same Hoskins span.
Wilson Contreras is one of the hottest hitters in baseball, and he's always worth a shot in your catcher slot on DraftKings.
Second Base

Wilmer Flores FD - 2B 3400 DK - 1B/3B 3200
Opponent - COL (Kyle Freeland) Park - COL
FD - 13.39 DK - 10.22
I always remember Wilmer for the game where he was crying because he thought he got traded, but it's funny because he's been on multiple teams since then. With that said, he's established himself as one of the best platoon guys in baseball over recent years. Flores has a .278 AVG, .511 SLG, and .835 OPS against lefties since 2020. That's a fantastic total from a player well below $4K on both sites, putting him in the heart of this solid Giants lineup. They're one of the highest-projected offenses on this slate, and it's no surprise with Freeland sporting a 4.91 ERA and 1.58 WHIP this season.

Ian Happ FD - 2B 3300 DK - OF 3800
Opponent - PIT (Mitch Keller) Park - CHC
FD - 10.69 DK - 8.04
Happ has developed into one of the best bats in this Cubs lineup, hitting third in nine of Chicago's last 10 games. The damage he's done is even more impressive, accumulating a .400 OBP so far this season. He's also done much better against righties throughout his career, totaling a .345 OBP, .471 SLG, and .816 OPS against them since 2020. All of that is rough news for Mitch Keller, compiling a 6.61 ERA and 1.53 WHIP this season after posting a 6.17 ERA and 1.79 WHIP last year. Those horrific averages make the Cubs one of the sneakiest stacks of the day, and Happ would have to be a significant part of that. Happ has walloped Keller throughout their careers, putting together a .625 OBP, 1.077 SLG, and 1.702 OPS in 16 at-bats against him.
Shortstop

Bo Bichette FD - SS 3400 DK - SS 5300
Opponent - SEA (Marco Gonzales) Park - TOR
FD - 11.27 DK - 8.67
Bo has struggled to get going this season, but it looks like he's starting to find it. The slugging shortstop is hitting .313 over his last 16 games, tallying a .484 SLG and .847 OPS. That's more like the stud we saw last season, with Bichette collecting 29 homers, 25 steals, 121 runs, and 102 RBI in one of the best five-cat seasons you'll see. Hitting in the heart of this bludgeoning Blue Jays lineup is the reason why he accumulates so many counting statistics, and it seems likely since he gets the platoon advantage against a lefty here. It's no scary lefty either, with Marco Gonzales pitching to a 1.53 WHIP this year.

Gleyber Torres FD - SS 2500 DK - 2B 4300
Opponent - BAL (Jordan Lyles) Park - BAL
FD - 9.33 DK - 7.15
If you don't already know, Torres has made a career by killing the Orioles. This has been the worst pitching staff for a decade, with Gleyber putting together a .330 AVG, .408 OBP, .641 SLG, and 1.049 OPS in nearly 250 at-bats against them. We expect those numbers to continue against Jordan Lyles, with the righty establishing a 1.51 WHIP since 2020. He's quite simply one of the worst arms in baseball, and it's going to put the Yankees in line for at least five runs. That makes Torres way too cheap, especially since he has a .480 OBP and 1.091 OPS over his last six games played.
Third Base

Anthony Rendon FD - 3B 2900 DK - 3B 4700
Opponent - TEX (Dane Dunning) Park - TEX
FD - 9.91 DK - 7.45
Rendon is one of the best hitters in baseball, and it's just a matter of time until he starts rolling. It could be starting now, with Anthony accruing a .297 AVG, .366 OBP, .514 SLG, and .879 OPS over his last 10 games played. That's pretty much the guy we've seen for five years now, and it means he's about $500 too cheap with the ticker pointing upwards. The matchup with Dane Dunning isn't too bad either, with the Rangers righty producing a 4.40 ERA and 1.39 WHIP since the start of last season.

Ke'Bryan Hayes FD - 3B 2800 DK - 3B 4300
Opponent - CHC (Drew Smyly) Park - CHC
FD - 8.73 DK - 6.73
This is one of the best two-way players around, and it's just a matter of time before he becomes a stud at the plate. He's showing flashes of what he could become, collecting a .391 OBP and .791 OPS this season. That's fantastic when you see that this third baseman has some speed, establishing himself as a genuine 20-20 threat. The best part is that he faces a crappy lefty, with Smyly surrendering a 4.98 ERA and 1.43 WHIP since 2019. Not to mention, Hayes has a .355 AVG, .429 SLG, and .919 OPS against left-handers this year! Good luck finding that from another player in this price range!
Outfield

Aaron Judge FD - OF 4400 DK - OF 6100
Opponent - BAL (Jordan Lyles) Park - BAL
FD - 13.6 DK - 10.17
It's tough to fade Judge right now. The big man had nearly three homers on Monday night and has been crushing the ball like that for weeks. In fact, Aaron is leading baseball with 14 dingers, tallying a .384 OBP, .692 SLG, and 1.076 OPS. His numbers this week are even more insane, providing a 1.485 OPS over his last seven games played. We can't expect him to do this for the remainder of the season, but it's hard to fade such a talented hitter when he's this hot. We already talked about how bad Lyles has been, and it would make Judge a pivotal piece to this Yankees stack.

George Springer FD - OF 3900 DK - OF 5100
Opponent - SEA (Marco Gonzales) Park - TOR
FD - 12.78 DK - 9.6
Springer has quietly been one of the best hitters in baseball since his Houston days, and it's scary to think what he could do atop this lineup. Toronto might have the best offense in baseball, and Spring is a major reason why. The masher has a .359 OBP, .497 SLG, and .854 OPS for his career. That's hard to do for a decade, and all of those averages are even higher this season. His counting numbers should be elite atop this Toronto lineup, and it's always rough for a lefty to have to face all of these righty mashers. Not to mention, George's splits are much better against lefties as well, flirting with a .900 OPS against them!
Darin Ruf FD - OF 3100 DK - 1B/OF 3400
Opponent - COL (Kyle Freeland) Park - COL
FD - 14.55 DK - 10.93
The Giants are one of the best stacks on the board. These guys are relatively cheap, and they get to play in Coors Field. That has them in line for 5-6 runs, and Ruf would have to be a big part of that. He's been crushing left-handers throughout his career and remains way too cheap in the best hitting environment in baseball. Let's start with those splits, with Darin donning .385 OBP, .551 SLG, and .936 OPS against lefties since 2020. Those are absurd from a player this cheap because most players in this $3K price range barely get off the bench. Facing Freeland's freefalling numbers is the cherry on top of this Ruf sundae.
FREE EBOOK
SECRETS TO CRUSHING DAILY FANTASY FOOTBALL!
DON'T SET ANOTHER LINEUP BEFORE YOU READ THIS BOOK.