Baseball Picks Daily Fantasy
Expert Advice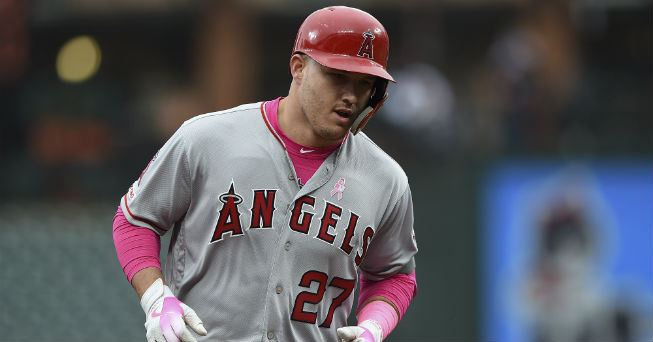 DraftKings and FanDuel MLB Picks for Wednesday, 6/22/22
I don't know if I've seen a more wild day of baseball than we did on Tuesday. There were a ton of extra-inning games that kept me up all night. I'm happy to stay up and watch late-night baseball, though, because I'm a night owl already! It has me excited to keep rolling here because my Angels stack went on a nice GPP run. With that in mind, let's kick things off with the guy toeing the rubber for the Halos here!
Now's your chance to get DFSR PRO, which will give you access to our MLB, NBA, PGA, NHL, and NFL optimizers and our new player lab! Get started for free by clicking the button below.
Pitchers
Shohei Ohtani FD - P 10000 DK - SP 8500
Opponent - KC (Daniel Lynch) Park - LAA
FD - 39.48 DK - 21.57
Shohei went nuts with the bat on Tuesday, collecting a career-high eight RBI thanks to a couple of home runs. You already know this is one of the frontrunners for MVP because his arm is just as impressive as his bat. The right-hander from Japan has a 2.60 ERA, 1.02 WHIP, and 10.2 K/9 rate over his last nine starts. That's pretty much the guy we've seen throughout his career, with Shohei slinging a 3.47 ERA and 1.14 WHIP. All of that makes him tough to fade against Kansas City, with the Royals ranked 26th in OPS, 27th in runs scored and 25th in wOBA. That has Ohtani entering this matchup as a -210 favorite, with KC projected for only 3.5 runs.
George Kirby FD - P 8800 DK - SP 6600
Opponent - OAK (Paul Blackburn) Park - OAK
FD - 35.79 DK - 19.15
What is DraftKings thinking here? Kirby should be an $8K player on both sites, and he's just $6,600 over on DK. I truly don't know why that's the case because this rookie has a 3.56 ERA and 1.14 WHIP. That looks even better when you look at his control, posting a 41:5 K/BB rate this season. That's the guy we saw in the minors, amassing a 2.34 ERA and 1.03 WHIP at that level. This is simply one of the best arms in baseball, and he could be an ace in years to come. That would make him a worthy play against anyone, but Oakland ranks bottom-three in runs scored, OBP, OPS, wOBA, and xwOBA. That's why he's a -140 favorite in a game with a 7.5-run total.
Keegan Thompson (FD $6600 DK $7200) faces the Pirates, and any formidable pitcher facing Pittsburgh is in play.
Catcher/First Base

Paul Goldschmidt FD - 1B 4100 DK - 1B 5400
Opponent - MIL (Eric Lauer) Park - MIL
FD - 11.65 DK - 8.83
Goldschmidt is the clear frontrunner for NL MVP at this point, and it's scary just how hot this dude is right now. The former Arizona All-Star has a .376 AVG, .446 OBP, .695 SLG, and 1.141 OPS over his last 55 games. That's the best two-month stretch from any player all season, and his splits are even better. In fact, Goldy has a .458 OBP, .813 SLG, and 1.356 OPS with the platoon advantage in his favor this year. His career OPS against lefties is approaching 1.000, and he's facing a struggling southpaw here. Eric Lauer is taking the mount for Milwaukee, amassing a 5.81 ERA and 1.59 WHIP over his last five starts.

Ryan Mountcastle FD - 1B 3400 DK - 1B 3800
Opponent - WSH (Patrick Corbin) Park - BAL
FD - 10.99 DK - 8.39
If you haven't been stacking against Patrick Corbin every time he takes the mound, you should find a different hobby. He's simply been one of the worst arms in baseball this season, and we'll dive into his disastrous numbers later on. Let's talk about Mountcastle, though, because he's one of Baltimore's future studs. This powerful first baseman has a .269 AVG, .485 SLG, and .804 OPS since making his debut. His numbers were expected to be even higher, and it's just a matter of time before he's a .900 OPS hitter. His splits are a significant reason why, registering a .479 SLG and .833 OPS against lefties since the start of last season.
Willson Contreras (FD $3600 DK $4800) has been the best catcher in baseball this season and should thrive against a journeyman like Jared Eickhoff.
Second Base
Trevor Story FD - 2B 3800 DK - 2B 5000
Opponent - DET (Tarik Skubal) Park - BOS
FD - 12.34 DK - 9.36
Story is one of the streakiest hitters in baseball, and he might be starting a new hot streak. The slugging second baseman has a hit in five straight games, collecting two doubles, two homers, six runs, and six RBI in that span. That's the stud we saw in Colorado, with Trevor tallying a .525 SLG and .853 OPS for his career. The reason we really like him here is that he gets to face a lefty, with Story providing a .295 AVG, .373 OBP, .597 SLG, and .970 OPS against southpaws since 2020. Skubal is undoubtedly a scary southpaw, but no one is safe in a place like Fenway Park against this lineup.
Jazz Chisholm Jr. FD - 2B 4000 DK - 2B 5300
Opponent - COL (Chad Kuhl) Park - MIA
FD - 11.42 DK - 8.75
Jazz has developed into one of the best young players in baseball, and it's fun watching him work every night. The middle infielder has 13 homers and 11 steals this season, backed by a .518 SLG and .831 OPS. That power-speed combo is one of the best around, and we love it since he has a .553 SLG and .880 OPS over his last 13 games played. Getting to face Chad Kuhl is intruguing, too, with the Rockies righty totaling a 1.42 WHIP in what's been a disappointing career. We love that because almost all of Chisholm's damage has come against righties, tallying a .587 SLG and .931 OPS against them this year.
Shortstop

Javier Báez FD - SS 2800 DK - SS 4000
Opponent - BOS (Michael Wacha) Park - BOS
FD - 9.12 DK - 6.99
Baez is having the worst season of his career, but this pricing is getting ridiculous. This guy was $1,000 more on each site for most of his career, and it's just a matter of time before he gets back to that player. We're seeing flashes of it recently, coming into this matchup amid a six-game hitting streak. He's also got six extra-base hits and two steals in that span, returning to the 25-homer, 15-steal guy we've become accustomed to. All of that makes him a good value going forward, and we're certainly not worried about him facing a pitcher who has a 4.62 ERA and 1.38 WHIP since 2019.
Oneil Cruz FD - SS 2700 DK - SS 2700
Opponent - CHC (Keegan Thompson) Park - PIT
FD - 8.56 DK - 6.59
If you follow baseball closely, you've surely heard about this kid getting called up by the Pirates. In his first three innings with the Buccos, he set season-highs for this team in hard-hit rate, sprint speed, and throwing velocity. Some of that isn't important for fantasy, but three hits and five RBI through the first two games show the sort of potential this kid has. Cruz had a .284 AVG, .503 SLG, and .860 OPS in the minors since 2018, averaging about 30 homers and 35 steals per 160 games played. This is simply going to be one of the best players in baseball for years to come, and these DFS sites clearly don't understand by this ludicrous pricing. Keegan Thompson is far from terrifying, too, totaling a 1.33 career WHIP.
Third Base

Nolan Arenado FD - 3B 3700 DK - 3B 5100
Opponent - MIL (Eric Lauer) Park - MIL
FD - 11.43 DK - 8.65
We already talked about how much Lauer has been struggling, and it makes all of these Cards bats fascinating plays. Stacking Arenado and Goldschmidt is the way to go because these guys hit in the heart of this dangerous order. Much like Goldy, Nolan has been slaughtering southpaws throughout his career. In fact, Arenado has been flirting with a .550 SLG and .900 OPS against lefties throughout since his days in Colorado. That's all you can ask for from a player in this price range, especially since Nolan has an .875 OPS over his last 11 games.
Patrick Wisdom FD - 3B 2300 DK - 3B 3500
Opponent - PIT (Jerad Eickhoff) Park - PIT
FD - 9.37 DK - 7
Picking third basemen was tough on this slate, but Wisdom is one of the best values on the board. This guy could get struck out three times in a little league game, but he'd hit a ball 450 feet in the other plate appearance. Patty Barrels has a .494 SLG , .256 ISOand .802 OPS since the beginning of last season. That power potential is unbelievable from such a cheap player, particularly in such a pristine matchup. Jared Eickhoff is making his debut for one of the worst pitching staffs in baseball, pitching to a 5.41 ERA and 1.52 WHIP since 2017. That makes the Cubs one of the sneakiest stacks on the board, and Patty would be a major piece of that, typically batting third.
Outfield

Mike Trout FD - OF 4400 DK - OF 5900
Opponent - KC (Daniel Lynch) Park - LAA
FD - 17.12 DK - 12.67
Taylor Ward FD - OF 2900 DK - OF 4300
Opponent - KC (Daniel Lynch) Park - LAA
FD - 14.87 DK - 11.27
It's wild that we haven't gotten into this Angels stack yet because this offense dropped 11 runs on Tuesday and have a tremendous matchup against Daniel Lynch. The Royals lefty has a 5.19 ERA and 1.53 WHIP this year, which are sadly better this his career ERA and WHIP. Numbers like that make Los Angeles one of the best stacks on the board, with these righties looking like the best options.
Trout's numbers speak for themselves, establishing himself as the best player in fantasy over the last decade. He's hot right now, too, collecting eight homers and 15 RBI over his last 12 games played. Not to mention, he's got a .485 OBP, .685 SLG, and 1.170 OPS against southpaws this year.
Ward's numbers are not too shabby either, posting a .312 AVG, .409 OBP, .571 SLG, and .980 OPS in what's been a breakout campaign. He's also got the platoon advantage from the right side and should lead off for one of the highest projected lineups on this slate. Ward is the best value but Trout is one of the best raw points plays on the slate.
Trey Mancini FD - 1B 2900 DK - 1B/OF 3300
Opponent - WSH (Patrick Corbin) Park - BAL
FD - 10.44 DK - 7.98
Austin Hays FD - OF 3100 DK - OF 4100
Opponent - WSH (Patrick Corbin) Park - BAL
FD - 11.18 DK - 8.6
We foreshadowed the pitiful Patrick Corbin numbers earlier on, so let's dive into that. The left-hander has been one of the worst pitchers in the league, providing a 6.59 ERA and 1.78 WHIP this season. That makes it hard to understand why he's still pitching, especially since he has a 5.75 ERA and 1.56 WHIP since 2020. Getting to stack a cheap offense against a pitcher like that is a godsend, and Baltimore is a better offense than many people might think.
These two are a major reason why, with Mancini maintaining a .272 AVG, .467 SLG, and .802 OPS for his career, while Hays has a .268 AVG, .457 SLG, and .780 OPS since 2019. Their splits are even more impressive, with Trey totaling a .288 AVG, .493 SLG, and .851 OPS against them since 2020, while Austin has accumulated a .281 AVG, .503 SLG, and .832 OPS in that same span. Good luck finding that sort of production from such cheap players in such a tasty matchup.
image sources
AP_19132837167109 Trout: AP Images
FREE EBOOK
SECRETS TO CRUSHING DAILY FANTASY FOOTBALL!
DON'T SET ANOTHER LINEUP BEFORE YOU READ THIS BOOK.