Baseball Picks Daily Fantasy
Expert Advice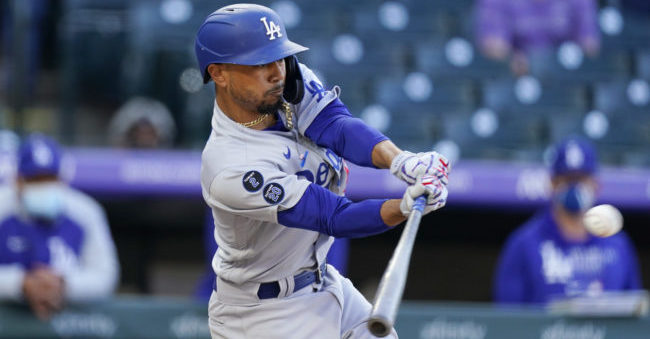 DraftKings and FanDuel MLB Picks for Wednesday, 9/21/22
There are only two weeks left in the regular season! That sounds crazy because it felt like I was drafting my season-long drafts just a few months ago. Time flies when you're having fun, and that's always the case with baseball going on every day. This is another Wednesday card, though, and that means every team is in action. It also means the games are spread throughout the day, so we'll do our best to use teams in the two main slates. With that in mind, let's get started with the 2021 AL Cy Young.
Now's your chance to get DFSR PRO, which will give you access to our MLB, NBA, PGA, NHL, and NFL optimizers and our new player lab! Get started for free by clicking the button below.
Pitchers

Robbie Ray FD - P 10000 DK - SP 9600
Opponent - OAK (James Kaprielian) Park - OAK
FD - 45.5 DK - 25.19
It was a rough start to the year for Ray, but he's been all Seattle fans could hope for in the second half. Despite allowing five runs in his most recent outing, Ray has a 2.85 ERA, 1.06 WHIP, and 10.4 K/9 rate across his last 17 starts. He's actually scored at least 37 FanDuel points in all but four of those, and that should be easy to reach against Oakland. The A's rank bottom-three in runs scored, OBP, OPS, wOBA, and xwOBA. That's on full display when you see that Ray has registered a 2.41 ERA, 1.07 WHIP, and 13.5 K/9 rate in their three matchups this year. We also don't mind that he's a -200 favorite, with the A's projected for just three runs.
Dustin May FD - P 8200 DK - SP 8700
Opponent - ARI (Madison Bumgarner) Park - LAD
FD - 38.07 DK - 20.21
It's just a matter of time before May becomes an ace in this league. The youngster has shown flashes of it, maintaining a 3.46 ERA and 1.00 WHIP in limited time this year. He also threw five no-hit innings in his most recent outing, and the pitch count is the only thing keeping him from being a $10K player. He's still thrown at least 82 pitches in three of his last four starts, and as long as he does that, May should be in line for a quality start. Arizona is a good matchup for just that, with the Diamondbacks ranked 22nd in OBP and 21st in OPS. The oddsmakers love May, too, making the Dodgers a -300 favorite, with the D'Backs projected for just 3.5 runs.
Bailey Ober (FD $7100 DK $7700) is a good GPP play behind his 3.49 ERA and 1.16 WHIP. He also gets to face a 25th-ranked Royals offense as a -150 favorite.
Catcher/First Base

Pete Alonso FD - 1B 3900 DK - 1B 5200
Opponent - MIL (Adrian Houser) Park - MIL
FD - 12.2 DK - 9.12
The second half of the season has not been kind to Alonso, but the slugger is starting to find it. The All-Star is now up to 36 homers after a bomb on Tuesday, giving him five dingers over his last 12 games. He's also got a .381 OBP and 1.014 OPS in that span, doing damage in the heart of this stingy Mets lineup. Milwaukee is usually a tough matchup for opposing hitters, but Houser is their one weakness. The right-hander has a 4.85 ERA and 1.49 WHIP for the year, with NY projected to score five runs. If they score five, you better believe Pete will be a pivotal piece to this stack.
Jose Miranda FD - 1B 2600 DK - 1B 3700
Opponent - KC (Daniel Lynch) Park - KC
FD - 9.06 DK - 6.98
I genuinely don't understand this pricing with Miranda. This youngster has broken out in the heart of the Twins lineup, and he's still being priced around a bunch of slap-hitters. Miranda is far from that, maintaining a .270 AVG and .770 OPS for the year. He's been even better as of late, posting a .365 OBP and .798 OPS across his last 22 games. That consistently earns him the three-hole in this lineup, which is brilliant since they have one of the best matchups on this slate. Not only does Miranda have the platoon advantage, but Lynch has a 5.15 ERA and 1.59 WHIP.
Will Smith (FD $3100 DK $5400) should bat cleanup for the Dodgers, who are one of the best stacks against a washed-up Madison Bumgarner.
Second Base

Marcus Semien FD - 2B 3900 DK - 2B 4800
Opponent - LAA (Tucker Davidson) Park - TEX
FD - 12.04 DK - 9.1
The Twins are my favorite cheap stack of the day, but the Rangers are the best option on the board. They face the worst pitcher on this slate, and we'll dive into Tucker Davidson's numbers later on. Semien is the best option of this Texas stack, picking up 23 homers and 24 steals in another power-speed demo. He actually had 45 homers, and 15 steals last year, batting atop this Texas lineup. He's been playing like that for months, collecting 23 dingers and 21 steals across his last 105 games. He's been mashing over the last week as well, totaling a .462 AVG and 1.405 OPS across his last six games. He also bats from the right side against Davidson and we'll dive into his numbers shortly.
Jeff McNeil FD - 2B 2900 DK - 2B/OF 4200
Opponent - MIL (Adrian Houser) Park - MIL
FD - 9.01 DK - 6.93
Man, this pricing with McNeil is maddening. This is one of the best pure hitters in baseball, and he's projected to bat third for one of the highest-projected lineups on this slate. That alone makes him an immense value in this price range, especially since he comes into this matchup rolling. Over his last 12 games, McNeil has a .491 OBP and .900 OPS. He's also one of the only lefties in this Mets lineup, amassing a .328 AVG, .379 OBP, and ..843 OPS against right-handers this year. If you want to stack the Mets, McNeil needs to be in your lineup!
Shortstop

Carlos Correa FD - SS 3500 DK - SS 5400
Opponent - KC (Daniel Lynch) Park - KC
FD - 10.72 DK - 8.11
Correa is another one of those guys who got off to a slow start, but he's been playing like an All-Star since the break. The former All-Star has a multi-hit game in nine of his last 17 games, providing a .411 AVG, .716 SLG, and 1.155 OPS in that span. That's one of the best stretches of his career, and it should continue against a pitcher with a 5.00 ERA and 1.50 WHIP. It also gives Correa the platoon advantage from the right side, collecting a .399 OBP, .534 SLG, and .932 OPS against left-handers this year. Not to mention, Correa has collected a .524 OBP, .611 SLG, and 1.135 OPS in 21 at-bats against Lynch.
Gunnar Henderson FD - SS 3400 DK - 3B/SS 3900
Opponent - DET (Matt Manning) Park - BAL
FD - 9.65 DK - 7.37
The one thing that these DFS sites don't understand is prospects. Whenever a player gets called up, they just give them these cheap price tags and wait until they blow up. Gunnar looks like a can't-miss prospect, accruing a .416 OBP, .531 SLG, and .946 OPS at the minors this year. He also had 19 homers, and 22 steals across those 112 games, looking like a true power-speed threat. Many prospects struggle early on, but Henderson has a .313 AVG, .371 OBP, and .902 OPS through his first 18 games. He also hit leadoff on Tuesday, and if that's going to be a regular thing, he needs to be $1,000 more on both sites. In addition, he's got the platoon advantage against a righty who's got a 5.03 ERA across his last four starts.
Third Base

Justin Turner FD - 3B 3400 DK - 3B 4700
Opponent - ARI (Madison Bumgarner) Park - LAD
FD - 12.95 DK - 9.77
It feels like every Dodger hitter is hot right now, but no one is mashing quite like Turner. The former All-Star has raised his average 60 points since the start of July, tallying a .379 AVG, .454 OBP, .625 SLG, and 1.079 OPS across his last 51 games. That's two months of raking, and we certainly don't mind that he gets the platoon advantage against MadBum. Not only does Bumgarner have a 5.01 ERA and 1.48 WHIP, but Turner has faced him 84 times. It's just a .750 career OPS against him, but these two are headed in different directions, and Turner is on the right side.

Josh Jung FD - 3B 3100 DK - 3B 2200
Opponent - LAA (Tucker Davidson) Park - TEX
FD - 9.57 DK - 7.29
This is another prospect who's way too cheap. Jung is one of the top prospects in the Rangers organization, totaling a .311 AVG, .381 OBP, .538 SLG, and .919 OPS throughout his minor league career. He hasn't quite found that form in two weeks at this level, but a .550 SLG and .800 OPS shows the sort of power potential this guy can provide. His biggest asset here is that he gets the platoon advantage against Davidson. The Angels lefty has allowed 11 runs across his last two starts, earning him a 6.96 ERA and 1.78 WHIP for the year. He's also got 27 strikeouts to 30 walks, and it's hard to understand why the Angels continue to feed him to these MLB wolves.
Outfield

Mookie Betts FD - OF 3500 DK - OF 6000
Opponent - ARI (Madison Bumgarner) Park - LAD
FD - 15.99 DK - 12.03
This is slightly off subject, but how crazy is it that the Red Sox let this guy walk? Betts is the ideal face of any franchise, and he's now the leader of the best team in baseball. Hitting leadoff for this All-Star lineup is enough reason to use Betts on any slate, with the perennial All-Star accumulating a .274 AVG, .548 SLG, and .893 OPS in a typical Mookie season. He's also got a .912 OPS across his last 56 games, and he's simply one of the best fantasy producers in the sport leading off for this club. We already discussed how MadBum's been struggling, which is bad news since Betts has a .391 OBP, .642 SLG, and 1.033 OPS against left-handers this year.

Joc Pederson FD - OF 2700 DK - OF 5100
Opponent - COL (Germán Márquez) Park - COL
FD - 12.21 DK - 9.17
Jock Jams always seems to go off in Coors Field. Most hitters go nuts in that hitter's haven, surrendering the most runs in baseball. That horrific pitching staff is a significant reason why, with Marquez maintaining a 6.78 ERA and 1.58 WHIP at home this year. That's par for the course, with the Giants projected for more than five runs in this game. If they surpass that, Pederson is one of the best values batting third for this lineup. Joc has been mashing recently, producing a .321 AVG, .418 OBP, .571 SLG, and .989 OPS across his last 22 games. In addition, he's got a .345 OBP, .522 SLG, and .867 OPS against righties this year.
Adolis García FD - OF 3700 DK - OF 4600
Opponent - LAA (Tucker Davidson) Park - TEX
FD - 10.61 DK - 8.09
We've already included plenty of Rangers earlier on, but we need to get their cleanup hitter in the mix. Garcia is one of the best dual threats in the sport, collecting 25 homers and 24 steals this year. That gives him 56 homers and 40 steals since the start of last year, and there are simply not many players stuffing the stat sheet like that. Adolis has been seeing the ball well recently, too, generating a .270 AVG, .480 SLG, and .823 OPS across his last 39 games. He's also one of these righties that benefit from facing Davidson, who's possibly the worst starting pitcher in baseball right now.
FREE EBOOK
SECRETS TO CRUSHING DAILY FANTASY FOOTBALL!
DON'T SET ANOTHER LINEUP BEFORE YOU READ THIS BOOK.