How to win at Daily Fantasy Sports without spending all day doing research
Are you sick of reading picks articles that seem to regurgitate the same advice without leading to consistent winning?
Well, we've created a special partnership with the Outside Pitch Sports Network to bring you a free three day trial of our lineup construction tool (which has been used by more than 3,000 people since we created it), and after that, for 10% off our normal rate. And you can get that price for life.
And Let's face it. In the Daily Fantasy Sports industry, you get a lot of pretty similar advice. There's a reason for this, of course... on a given night, there are typically 15-20 players that are a clear cut above the other options. To really dig deeper, and have those huge scores? You're going to need more.
If you're already convinced that you want a free 3 day trial to our NBA (and soon - our MLB) projections for every single player for every game (and after that it's just $13.50/ month or less than 50 cents a day), enter your info below. You'll be able to get started right away. If not, keep reading.


As someone who makes these picks every day, I want to let you in on a little secret. All of us who make these picks on a regular basis do so BEFORE we actually make our lineups. There are a lot of reasons for this, but most of it comes down to not wanting to do the work twice. So much happens over the course of a day that it would be pretty silly to set lineups, and then make picks, and then set lineups again.
This leads to an interesting problem for the casual reader of daily fantasy sports information.
Very often, you can't construct an entire lineup with only players you find in a "picks" article!
So, as a reader, you start to scramble. You try to do your own guesswork. Which PF for $6,200 or less do I like best on FanDuel? Were Jimmy Graham's 16 touchdowns a fluke last year, or can I count on him to produce that kind of upside again this year? Ugh. We've all been there. And we've all sat there at the end of the night, and thought... "WHY DID I START THIS GUY!?!?!"
Well, we now have a solution for you.
We're prepared to give you full access to the system that produces our basketball, football, AND baseball picks for Draftster, DraftKings, and FanDuel on a day to day basis.
What this means is that you can see, for yourself, exactly what our system projects for every single player in the NBA AND in the NFL. You'll have access to a sortable, web-integrated spreadsheet (examples below), as well as an interactive web-integrated table (examples above) which will allow you to tinker and fiddle until you produce the lineups that looks perfect to you.
________________________________________________________________________________________________________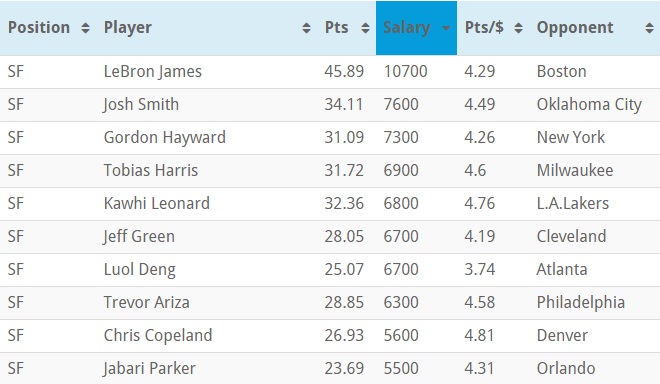 It's time to make your own advice.
And don't just take our word for it - we're constantly receiving tweets from folks who are making cold, hard cash by using our picks:
Why pay for this service? In Daily Fantasy Sports, it all comes down to having an edge that your opponents don't have. Everyone has access to the free stuff, and everyone reads the same articles. With our tool? You can peek behind the curtain and get that extra edge that can turn near misses into cashes, and decent cashes into huge scores.
Try it now, for free, for 3 days. You start seeing the cash flow in? After that, you get access to our system for FanDuel, DraftKings, and Draftster. No mess, no BS. Just access to the system that can turn you from fish to shark.