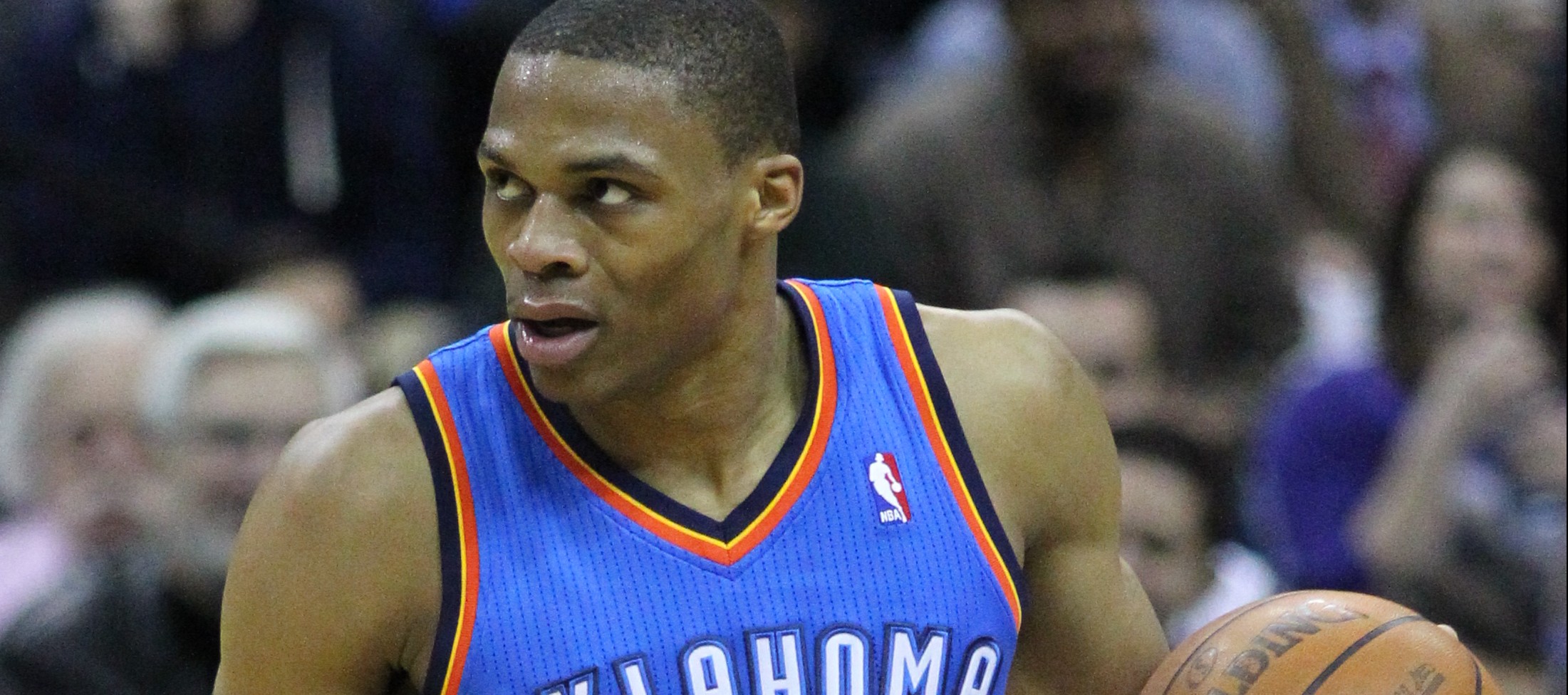 Daily Fantasy NBA Picks for FanDuel and DraftKings - 10/21/17
Now's your chance to get DFSR PRO, which will give you access to our NBA optimizer, our NFL Optimizer, and our new player lab! Get started for free by clicking the button below.
First time with NBA or NFL? Be sure to read our free NBA and NFL Ebooks on building lineups, general strategy and more. We've got you completely covered.
Point guard

Russell Westbrook FD - $11300 DK - $11100
Opponent - UTA
Proj Pts FD - 55.33 DK - 57.1
The question going into Thursday night's opener for the Thunder against the Knicks had us asking with the addition of Carmelo Anthony and Paul George to OKC would we still see the same Russ we've come to know and love, or would his usage take a hit? The answers being yes and yes. Despite seeing a 25% drop in his usage (27.8% as opposed to 40.8% last season) Russ still did his thing for the fantasy owners posting his first triple double with 21 points, 10 rebounds and 16 assists in 33 minutes of court time, 32 of which he shared with either Melo, George, or both. It's still early, and one game certainly isn't an indicator of any trends but the fact remains, Westbrook is one of the most exciting figures in the NBA today, and regardless of who you surround him with when he hits the court he runs the show. If his teammates are taking the shots, he'll be right there dishing out the assists and snagging the rebounds, and he still is priced at a bargain compared to what we were spending on him at last seasons peak. All things considered Westbrook is a necessity in any cash lineup and is always a GPP threat with upside for days.

Malcolm Brogdon FD - $5500 DK - $5000
Opponent - POR
Proj Pts FD - 28.65 DK - 28.67
Okay, I'm going to put my personal feelings aside here, (despite the fact that Embiid and Saric were both deserving regardless of playing time) and talk up the reigning Rookie of the Year Malcolm Brogdon. Brogdon is far from a game changer, but what he is, is a solid contributor on offense who presents a high floor at a value price. Brogdon saw 41 minutes of play on Wednesday in Boston for the season opener, and dropped 19 points while picking up a rebound and four assists. Despite nearly 10 fewer minutes against the Cavaliers last night, he managed to match his production. It's clear the offense in Milwaukee runs through Giannis, and Brogdon is a point guard in name only. That also draws a lot of the coverage on to Giannis leaving Brogdon wide open at times to do his thing. As long as he is going to continue to see run in at least the low to mid thirties Brogdon is a steal at these prices and I doubt it's long before we see them start to rise, so now is the time to get in while the value is ripe.

Eric Bledsoe FD - $7400 DK - $7400
Opponent - LAC
Proj Pts FD - 36.58 DK - 37.52
Eric Bledsoe's ankle was a big question mark going into lock last night against the Lakers before quote tweeting a simple "ha" in response to a report of his questionable status. The game is yet to tip off as I write this, so it's too early to comment on how Bledsoe performed, or if his ankle had any effect on his production against the Lakers. In the Suns first game against Portland on Wednesday night Bledsoe looked good and stuffed the stat sheet nicely with 15 points, 4 rebounds and three assists, while mixing in a block and two steals on the defensive side but crushed any chance he had at paying value by giving up the ball five times in 29 minutes. It's a frustrating trend for Bledsoe who's averaged 3.4 turnovers a game over the past three seasons and can certainly crush any potential upside he may have, in cash games though, Bledsoe remains a solid play particularly at these prices which are likely to rise quickly.
If Dennis Smith Jr's left knee is serious enough to warrant missing another game, consider Yogi Ferrell against the Rockets.
Shooting Guard

Dion Waiters FD - $5800 DK - $5600
Opponent - IND
Proj Pts FD - 33.4 DK - 34.33
The Heat host the Pacers in South Beach tonight, and though Miami are solid favorites Vegas doesn't see it getting too crazy out of hand, which means Dion Waiters, should be able to replicate the 38 minutes he put up in Wednesday night's debut in Orlando. He finished that game posting 15 points and dishing out four assists, despite tweaking his ankle several times. This is the same ankle that dogged Waiters throughout the year last season, and could wind up catching up with him at some point. The Heat had two days off, and Waiters was able to rest the ankle so I'm not overly concerned with it impeding him. These two teams are jumping out as two of the faster paced teams in this early season, so there could be plenty of opportunity for Waiters, and as long as he can protect the ball from Victor Oladipo he could easily pay value.

Buddy Hield FD - $5000 DK - $5400
Opponent - DEN
Proj Pts FD - 26.06 DK - 27.62
After parting ways with Boogie Cousins, the Kings were content with tanking out the latter part of the 16-17 season, giving their young faces a chance to audition for spots on the years squad. Buddy Hield was one of those faces and clearly he passed the test. He averaged 23 minutes last season shooting .426% from the field and .391% from beyond the arc. He dazzled in the season opener against James Harden and the Rockets on Wednesday, scoring 19 including 3-7 three pointers, 5 rebounds, 4 assists and a steal in 32 minutes. He should continue to see extended run as long as Bogdan Bogdanovic is sidelined with that ankle sprain, and is a solid cash game play who brings tons of upside to his game. I'll have exposure to Hield everywhere in what's forecasted as one of the higher scoring affairs of the evening.
Terrence Ross FD - $5100 DK - $4400
Opponent - CLE
Proj Pts FD - 24.86 DK - 24.82
Through the first two games of this season Terrence Ross has averaged nearly 6X points per dollar in his fantasy production. He followed up an impressive debut against the Heat with a so-so performance in Brooklyn. These two games are a perfect summary of what Terrence Ross is to the world of daily fantasy. An average player, who at this price point can give you solid production and safely pay value, while at times throwing out flashes of upside. I'm confident we will see the safety against the new look Cavaliers, still trying to figure out how Dwyane Wade and Derrick Rose fit in alongside Lebron and Kevin Love. As it stands now Wade hasn't fit in too well, with only two blocks and steal in his first two games, while turning the ball over seven times, so the upside could easily present itself as well. Ross is an excellent play in all formats which is exactly how I will deploy him.
Small forward

Kyle Anderson FD - $4800 DK - $4600
Opponent - CHI
Proj Pts FD - 27.38 DK - 25.38
Kawhi Leonard will miss a second straight game with that quad injury, which means Kyle Anderson will step up into starting SF spot for the Spurs once again, after putting up a near 6X performance on Wednesday against the Timberwolves. Anderson was just a rebound shy of a double double in that game, dropping 12 points and picking up an assist and a block. San Antonio are solid favorites in this game, and though it should be a low scoring contest, If Anderson can match or exceed the 29 minutes he ran the boards against the Wolves, he should have no trouble putting up significant value against a Bulls team that has been below average defensively at the three to start out the season.

Joe Ingles FD - $4500 DK - $4500
Opponent - OKC
Proj Pts FD - 24.18 DK - 24.53
I just don't see any need to spend up for LeBron or KD tonight, when there is more than enough value at small forward in the lower tiers. Enter: Joe Ingles. Ingles gives you upside for days without breaking the bank. Through his first two games this season he has averaged 33 minutes and paid over 6.5X at these prices. He was 5 for 8 from the field last night while hitting 4 of 5 from three point land, and averaging four rebounds, 4.5 assists, and two steals per game. It's quite an impressive start for Ingles who was rather quiet in the preseason, and if this type of production continues it won't belong before we see the price climb, so now is the time to get in while he promises excellent value with plenty of potential upside to boot.
Wilson Chandler FD - $5500 DK - $4900
Opponent - SAC
Proj Pts FD - 30.66 DK - 31.7
Wilson Chandler followed up a lackluster preseason with a lackluster showing against the Jazz on Wednesday to open the season. In 34 minutes he failed to hit double digits in any category, scoring 9 points, with 2 rebounds and an assist, 1 block and a steal. Despite that, the system loves Chandler tonight at the Nuggets host the Kings. Despite the early struggles, Chandler is priced just too low as a starting small forward who shot .461% from the field last season, his best showing since the 2012-13 season, while averaging 6.5 rebounds and two assists per game. The Kings have been tough on opposing threes to start the season, but the Nuggets are expected to walk away with this win in one of the night's higher scoring games. I don't know that I'd roll Chandler in cash games until I see some consistent production, but at his price he certainly has the ceiling we look for in large tournaments.
Power forward

Giannis Antetokounmpo FD - $11300 DK - $10800
Opponent - POR
Proj Pts FD - 57.4 DK - 57.08
We have to spend all of that money we saved at small forward somewhere right? Welcome to power forward, where unlike last season when this position was usually a wasteland where we searched desperately for punts, we have several studs to choose from. If you've managed to save enough for the greek freak, then it goes without saying, he is an excellent way to to drop a hefty chunk of salary and still expect solid fantasy production. Through an average of 37 minutes in the first two games, Giannis produced to the tune of 5X PPD at these salaries and is showing no signs of letting up. He posted a double double in Boston in Wednesdsay's opener, scoring over 30 points in both games to date. Despite only giving the rock up twice last night against the Cavaliers, the turnovers still remain a concern as evidenced by the five Wednesday in Beantown but the positives far outweigh the negatives here. The system loves it some Alphabet here, as he comes in as the top raw point projection on the day, and is the best way to spend over 10K of your salary in cash games.

Paul Millsap FD - $8000 DK - $7000
Opponent - SAC
Proj Pts FD - 40.7 DK - 40.26
If you just don't quite have the salary to spend on Giannis, the system thinks you can do just fine pivoting down a tier to Paul Milsap. From a PPD perspective, Milly and the Alphabet are almost identical in their projections. Millsap left us underwhelmed in his Nuggets debut against the Jazz on Wednesday with a 19/6/1 line which was made even worse by his coughing up the ball 5 times. Despite the poor showing in game one, if Millsap continues to see run in the thirties, he's got a proven track record now in his twelfth season and should quickly acclimate himself to his new surroundings. Once he starts dropping treys, and begins protecting the ball better, we'll see a quick return to form for Millsap. I prefer Giannis in all formats, but if you need the savings I can see the case for Millsap in cash games though I prefer him more in tournaments where if people sleep on him based on one poor showing in a Nuggets uniform, he could go low owned enough to put someone's lineup over the top.

LaMarcus Aldridge FD - $7600 DK - $7700
Opponent - CHI
Proj Pts FD - 37.66 DK - 37.33
LaMarcus Aldridge followed up an excellent preseason with a 38 minute double double opening to the season against the TimberWolves. He ended the night 9-21 from the field, 1-2 from three, and 6-7 from the line with ten rebounds four assists and two blocks. He certainly benefitted from Kawhi Leonard being out, and will continue to capitalize on the opportunity until Kawhi returns. Tonight he'll face a depleted Bulls front court that is without Bobby Portis and Nikola Mirotic giving LMA the opportunity to continue to capitalize on the usage Kawhi leaves on the court while paying 6X if not more once again. Aldridge has the safety and the upside to pair well with either of the guys above.
Center

Jonas Valanciunas FD - $6200 DK - $
Opponent - PHI
Proj Pts FD - 36.1 DK - 36.97
Last season Jonas Valanciunas averaged 8.8 shots in 25.8 minutes of run time, so needless to say his opening night performance against Robin Lopez and the Bulls was somewhat surprising. Valanciunas finished the contest with 23 points and 15 rebounds along with two assists and two steals for an almost 8X PPD showing. Tonight he and the Raptors host the Sixers. Coach Brown has already said Joel Embiid will not play tonight, so Philly takes a big defensive hit there. If Wednesday night's showing from JV was just a flash in the pan, it could flash once more against this young Philly team, still trying to find it's identity, while resting it's star center. However, if it's a sign of what is to come from Toronto's big man this season, then it won't be long before we see the price begin to climb, either way, tonight is an excellent night to roll Valanciunas in all formats with a high floor, and even higher ceiling.

Nikola Jokic FD - $9000 DK - $9300
Opponent - SAC
Proj Pts FD - 49.69 DK - 51.66
In case you haven't caught on to it yet, the system loves the Nuggets tonight. The reason being they're playing the Kings, a young team with no real identity, who have shown through the first two games that they're a defense to target, particularly against the front court, where they're one of the most generous defenses against opposing big men in the early going of the season. The Nuggets are also solid favorites in a game forecasted for 216 total points. Nikola Jokic should put out a solid fantasy showing against Willie Cauley-Stein following a quiet opening performance against the Jazz. In 35 minutes in Utah Jokic only managed to drop 7 points and his only saving grace was the 12 boards and 8 assists he was able to contribute in the loss. On nights like this when the shot just isn't falling Jokic can benefit greatly from the addition of Paul Millsap to the roster. Despite the poor showing, Jokic is a player who spent the majority of last season as a 10K+ center, and I suspect it won't be long until he finds his way back to top tier territory, making now the time to get in before the price corrects.

Kevin Love FD - $7600 DK - $7500
Opponent - ORL
Proj Pts FD - 38.83 DK - 41.89
I was curious how the move to the five was going to work for Kevin Love, and after game one on Tuesday against Boston I was thinking coach Lue may have made a mistake in shifting Love to center, despite putting up a double double, the 15 points and 11 boards was all he did in 28 minutes of court time. He certainly looked much better last night against the Bucks, not only picking up a second double double (17 points, 12 rebounds) but rounding out his night with 6 assists and 2 blocks as well. The six turnovers through the first two games is worrisome, but if Love can fill the stat sheet on a nightly basis as he did in Milwaukee, then he should have no problem paying value at these prices as he continues to see benefit from the departure of Kyrie. If it's value you seek at the five, then all you need is Love.
GRAB A FREE TRIAL OF OUR PROJECTION SYSTEM, AND CHECK OUT DFSR PRO!
image sources
Wizards v/s Thunder 03/14/11: By Keith Allison from Owings Mills, USA (Russell Westbrook) [CC BY-SA 2.0 (http://creativecommons.org/licenses/by-sa/2.0)], via Wikimedia Commons