Baseball Picks Daily Fantasy
Expert Advice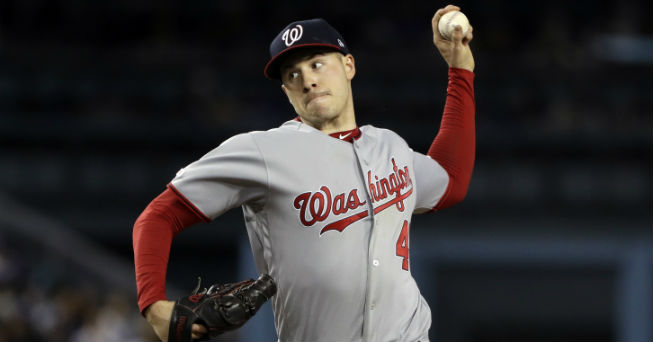 DraftKings and FanDuel MLB Picks for Monday 5/20/19
Some of you spend Sunday evening getting your Game of Thrones on. Around here, we made sure you were set with value plays for
FanDuel
and
DraftKings
MLB contests. Priorities baby!
Now's your chance to get DFSR PRO, which will give you access to our MLB and NBA optimizers and our new player lab! Get started for free by clicking the button below.
Pitchers

Patrick Corbin FD - P 10800 DK - SP 10900
Opponent -
NYM (Drew Gagnon)
Park -
NYM
FD
- 34.68
DK
- 18.84
The Nationals are struggling this season, but it's tough to blame Corbin who's performed well since coming over in the offseason as a free agent. He's striking batters out at a 30% clip (10.6 K/9) with an 3.56 xFIP only about a half run higher than the 2.91 ERA. On Monday, he'll face the Mets who are striking out about 29% of the time against lefties this season. They rank around middle of the pack in terms of wOBA in that split, but this still lines up as a plus matchup for the lefty. There's no early line on this game, but I'd expect Corbin to open at something like a -170 road favorite against the lowly Mets and
Wilmer Font
.
Luke Weaver FD - P 9600 DK - SP 8500
Opponent -
SD (Chris Paddack)
Park -
SD
FD
- 34.22
DK
- 18.1
Weaver struggled to maintain his rookie season numbers last year with the Cardinals, spiking a 4.46 XFIP with the K's dipping below eight per nine. But he's bounced back this season after coming to the Diamondbacks in the
Paul Goldschmidt
trade. Weaver is back up to a 26% strikeout rate and the walks are under 6%, good for a 4.5:1 K:BB ratio. These are all such positive signs for the young arm. He gets to take on the Padres in a great pitchers park in San Diego against a team that ranks 25th against righties and strikes out 25% of the time. He's an underdog in this matchup (+125) but he's also coming a bit cheaper than Chris Paddock who he's facing.
J.A. Happ FD - P 8300 DK - SP 8000
Opponent -
BAL (Andrew Cashner)
Park -
BAL
FD - 31.22 DK - 16.52
Happ's been inconsistent to start the season, posting a dramatically lower K rate than he had in Toronto. While the walks remain relatively in check, the K rate has dipped below the 20% mark, to 18.5% the lowest of his career. He'll get a chance to make some strides in that category on Monday against a Baltimore team that strikes out 28% of the time against lefties and ranks 27th in the league in that split (4th to last). Happ is a -185 road favorite against the Orioles here.

Catcher/First Base

Luke Voit FD - 1B 3800 DK - 1B 5200
Opponent -
BAL (Andrew Cashner)
Park -
BAL
FD - 12.49 DK - 9.46

Kendrys Morales FD - 1B 2200 DK - 1B 3400
Opponent -
BAL (Andrew Cashner)
Park -
BAL
FD - 11.25 DK - 8.53
Both Voit and Morales were in the Yankees' lineup on Sunday with Voit hitting third (playing 1B) and Morales hitting fifth (DH-ing). This could be the look the Yankees use going forward after getting Morales who was designated for assignment by the A's. Voit isn't the 1K OPS guy he flashed in limited plate appearances last season, but he's still a competent hitter with an .869 OPS, .287 ISO and 13% walk rate this season.
Meanwhile, Morales clearly wasn't getting the job done in Oakland, with the OPS sitting in the .600 range on the season. But he still has patience (11% BB rate) and is tough to strike out (15% K%) so far and he gets a solid hitter's park in Camden Yards for Monday. Slotting into the middle of the Yankees' lineup has its benefits (though the A's were no slouches) and I'm still somewhat bullish Morales's fantasy chances going forward.
If
Manny Banuelos
is on the mound for the White Sox, then you have to strongly consider both Yuli Gurriell and
Tyler White
coming on the cheaper side of things on
FanDuel
and
DraftKings
. This is the better side of both their splits.
Second Base
Rougned Odor FD - 2B 2900 DK - 2B 4300
Opponent -
SEA (Mike Leake)
Park -
TEX
FD - 12.05 DK - 9.22
Odor has (correctly) moved down in the Rangers' order after struggling to start the season while also dealing with some injuries. But Texas comes with a fantastic run line on Monday against
Mike Leake
(who we will get to shortly) and Rougned's struggles have led to him coming near punt prices on both sites. There's still some power upside (six home runs in his first 128 plate appearances) and he should see plenty of RBI chances with the bigger bats hitting in front of him. You're, of course, concerned with the 34% K rate, but that's less in play against an arm like Leake's.
Daniel Descalso FD - 2B 2300 DK - 2B 3100
Opponent -
PHI (Jake Arrieta)
Park -
CHC
FD - 8.57 DK - 6.42
The Cubs move their lineup around a great deal, so it's not always a sure thing you can predict Descalso's slot in the lineup ahead of time. He's hit anywhere from second the seventh this season. Descalso hasn't been all that impressive this season, but the Cubs got him for the patience and moderate power he had with Arizona last season when he had a .353 OBP and .300 ISO. If he's around the middle of the lineup against Arrieta on Monday then he makes for an interesting punt play at a weaker position. Strongly consider
DJ Lemahieu
who works well in any Yankee stack (which could be the way to go for cash).
Shortstop

Gleyber Torres FD - SS 3500 DK - 2B/SS 4800
Opponent -
BAL (Andrew Cashner)
Park -
BAL
FD - 11.65 DK - 8.88
Speaking of possibly just rolling Yankees' stacks in cash, Torres rates as one of top overall main slate shortstop options. Though I'd like to see him hitting a little higher in the lineup (he hit sixth on Sunday) Torres still brings one of the stronger offensive games to the position. He already has eight home runs on the season and in his first 165 games, he's knocked 32 dingers with an .822 OPS. The walks don't seem to be coming around (4.6% this season) which limits his floor, but that's built into his price somewhat. He also face
David Hess
and the 5.70 xFIP in a hitter's park.

Carlos Correa FD - SS 4000 DK - SS 5200
Opponent -
CHW (Undecided)
Park -
HOU
FD - 10.18 DK - 7.67
Assuming the Astros face the lefty Banuelos on Monday, there's a strong case to be made for just paying all the way up for Correa. With Altuve out of the lineup, Correa's moved up to the cleanup slot against lefties and is having a bounce back season. 2018 saw him with only 15 home runs in 468 plate appearances and he finished with a disappointing .728 OPS. This season it's all back on track. He already has 10 home run to go with a .927 OPS. The HR/FB rate is back to what we saw in 2017 so I don't even want to call the power run hot at this point. His 48% hard
contact
rate is the best of his career and he's making his case once again as the best offensive shortstop in baseball. Beckham
Third Base

Alex Bregman FD - 3B 4300 DK - 3B 5600
Opponent -
CHW (Undecided)
Park -
HOU
FD - 11.38 DK - 8.57
Though it hasn't been the case this season, Bregman has torched lefties for his career with a .914 OPS and 148 wRC+ in that split. He's very tough to strike out (14%) and has a .385 wOBA.
Manny Banuelos
(the listed starter at the time of this post) does have some K stuff, but also walks more than five batters per nine. The Astros have one of the highest overall run lines for a reason and the top of the order could be a tough fade on this slate. But because of the early season gains, these guys are, to a man, coming very expensive.

Asdrubal Cabrera FD - 3B 2900 DK - 3B 3800
Opponent -
SEA (Mike Leake)
Park -
TEX
FD - 12.24 DK - 9.36
Cabrera isn't going to hit near the top of the order, but he's coming at a cheap enough price in a solid spot that this is a place we an consider rostering him in cash games because of the team line and price. He has some power and the patience has been there in the past.
Outfield

Joey Gallo FD - OF 4200 DK - OF 5700
Opponent -
SEA (Mike Leake)
Park -
TEX
FD - 14.96 DK - 11.02
Nomar Mazara FD - OF 3500 DK - OF 4100
Opponent -
SEA (Mike Leake)
Park -
TEX
FD - 12.7 DK - 9.67
Willie Calhoun FD - OF 3000 DK - OF 4500
Opponent -
SEA (Mike Leake)
Park -
TEX
FD - 12.23 DK - 9.41

Shin-Soo Choo FD - OF 3800 DK - OF 4900
Opponent -
SEA (Mike Leake)
Park -
TEX
FD - 13.39 DK - 10.15
We haven't talked all that much about the Rangers' bats mostly because almost all of their value comes from the guys who qualify in the outfield. On Monday, we'll likely see at least three of these guys (and maybe all four) find themselves in the top five slots in the Texas lineup. Honestly, it might end up being tough figuring out exactly who to use if we can't go all four.
Mike Leake allows a fair amount of flyballs in just the kind of park that will punish you for keeping the ball up in the air. Gallo is the clear stud of this group, OPS'ing over 1K right now with 13 home runs already on the season. He's on pace to top 40 home runs again and has shown more patience at the plate this season with a 19% walk rate. He's expensive, but has as much upside as anyone on the slate.
Meanwhile, the rest of the group depends a bit on batting order. The Rangers have put Calhoun in the second slot against righties and he's paid huge dividends early in the season. He's still coming cheap on both sites relative to opportunity and would likely be something of a chalk play if he's in that spot again.
Choo and Mazara are priced correctly, but would round out Rangers' stacks in their own right considering the plus matchup and great park.
Aaron Hicks FD - OF 3400 DK - OF 4200
Opponent -
BAL (Andrew Cashner)
Park -
BAL
FD - 13.37 DK - 10.05
Hicks is coming off a career fantasy year that saw him hit 27 home runs, steal 11 bases and finally find an everyday role rather than just a platoon guy. But starting the season on the IL has meant he's come back slow before finally *breaking out* on Sunday with his first home run of the season while also walking twice. He should be good to go going forward and hasn't been price corrected for his slot in the lineup or the matchup against Andrew Cashner on Monday.
GRAB A FREE TRIAL OF OUR PROJECTION SYSTEM, AND CHECK OUT DFSR PRO!
image sources
AP_191301419247881: AP Images
FREE EBOOK
SECRETS TO CRUSHING DAILY FANTASY FOOTBALL!
DON'T SET ANOTHER LINEUP BEFORE YOU READ THIS BOOK.