Baseball Picks Daily Fantasy
Expert Advice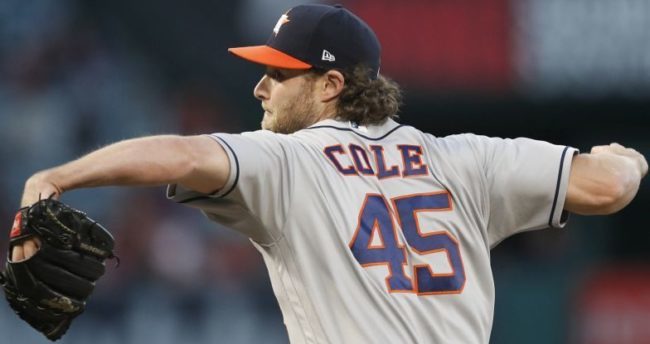 DraftKings and FanDuel MLB Picks for Tuesday 6/25/19
Now's your chance to get DFSR PRO, which will give you access to our MLB and NBA optimizers and our new player lab! Get started for free by clicking the button below.

We've had some fantastic baseball up to this point and we're miraculously approaching the halfway point of the season. Many people complain about how long the season is but it always flies by way much quicker than you realize. It's been a phenomenal season for our projection system too and we're going to look to build off of that momentum here.
Pitchers

Gerrit Cole FD - P 11500 DK - SP 11500
Opponent - PIT (Trevor Williams) Park - HOU
FD - 43.45 DK - 24.41
Many people will use Max Scherzer against the Marlins but we're going to pivot and save a little money with Cole. The simple fact is, this guy is arguably the best strikeout pitcher in the league right now. That's evident by the fact that he leads the Majors with a 39 percent K rate and 148 Ks in total. That's backed up by an xFIP in the 2.50 range, which simply tells you this is one of the best pitchers around. Facing Pittsburgh is nothing we need to worry about either, with the Pirates ranking 20th in runs scored, 21st in wOBA and 24th in xSLG. That's why Cole enters this game as a -270 favorite.
Madison Bumgarner FD - P 8300 DK - SP 8200
Opponent - COL (Undecided) Park - SF
FD - 34.66 DK - 18.45
Bumgarner isn't the same guy that we've become accustomed to in his hall-of-fame career but he's still too good to be priced in the $8,000 range. What we like about him here is that he gets to pitch at home, with Oracle Park ranking as one of the best pitching parks in the Majors. That's crystal clear when you see Bumgarner's 2.77 ERA, 1.07 WHIP and 9.1 K/9 rate at home throughout his career. The Rockies are traditionally terrible on the road too, ranking last in road OPS so far this season after hitting 28th in that statistic last year.
Strongly consider Shane Bieber (FD $9800 DK $10800)against the Royals.

Catcher/First Base

Carlos Santana FD - 1B 4000 DK - 1B 5300
Opponent - KC (Glenn Sparkman) Park - CLE
FD - 13.17 DK - 9.82
Not many people are giving Santana the credit he deserves, as he's consistently been one of the best hitters in the AL over the past decade. That's evident by his .366 career OBP and .813 OPS. Those are big numbers in themselves but he's actually in the midst of one of his best seasons ever. In fact, Santana is hitting .292 while providing a .957 OPS. Those are obviously career-highs and it says a lot about how good he's been this season. Sanatana is traditionally better against righties too, posting a .586 SLG and .981 OPS against them this season.
Edwin Encarnacion FD - 1B 4000 DK - 1B 5200
Opponent - TOR (Clayton Richard) Park - CLE
FD - 12.39 DK - 9.22
With the Yankees facing a weak lefty, we have to ride some Bronx Bombers. The main reason for that is because of Richard, with the Blue Jays lefty posting a 7.46 ERA and 1.74 WHIP so far this season. That doesn't even take into consideration that he has more walks than Ks and this is simply a recipe for disaster against all of these potent righties. Encarnacion may be the hottest one of the bunch, collecting 10 homers and 18 RBI over his last 18 games. Not to mention, Encarnacion has traditionally been better with the platoon advantage in his favor.
If you're in need of a catcher, both Robinson Chirinos and Gary Sanchez are fantastic options with their stellar form and good matchups.
Second Base
Jason Kipnis FD - 2B 3000 DK - 2B 4100
Opponent - KC (Glenn Sparkman) Park - CLE
FD - 11.54 DK - 8.78
Kipnis has been doing some serious damage the last two weeks and it's a wonder why his price remains so low. Not only does he have an average approaching .450 over his last eight games, Kipnis is also providing three homers and 11 RBI in that span. That simply means he's one of the hottest hitters in the game and we love that he has an OPS approaching .800 for his career against righties too. The matchup against Glenn Sparkman is tasty too and we'll go more in-depth on that in our shortstop write-up.

Robinson Cano FD - 2B 2800 DK - 2B 3200
Opponent - PHI (Jake Arrieta) Park - PHI
FD - 10.61 DK - 8.12
This guy is really tough to endorse the way he's playing but we're simply going to bet on the talent prevailing. This is a hall-of-fame bat who has a wOBA near .400 and a career ISO around .200 and he simply shouldn't be this cheap. Dating back to 2017, Cano has an .846 OPS against right-handed pitching and that's actually been one of his worst stretches of his storied career. That means he's an elite hitter with the platoon advantage in his favor and we'll bet on him getting closer to $4,000 on DK.
Shortstop

Francisco Lindor FD - SS 3900 DK - SS 5100
Opponent - KC (Glenn Sparkman) Park - CLE
FD - 15.23 DK - 11.62
Alright, we gave you a little foreshadowing on why we like the Indians, so let's get into Sparkman. The 3.62 ERA may look like a solid pitcher but this dude has been incredibly lucky. That's evident by his .364 xwOBA, 5.26 xFIP and 5.28 SIERA. Those statistics tell us that he has some negative regression headed his way and that's a scary thought against one of the hottest offenses in the league. Lindor is a major reason why this club is rolling offensively, with the slugging shortstop averaging 12.3 FD points per game this season. That's simply too good of a rate from someone priced below $4,000.

Alex Bregman FD - SS 4000 DK - 3B/SS 4600
Opponent - PIT (Trevor Williams) Park - HOU
FD - 14.47 DK - 10.9
We definitely want to get some Astros in there against Trevor Williams and Bregman is unquestionably the cream of the crop. We're talking about a guy with a .388 OBP and .910 OPS, as the move to the leadoff spot should only add to his value. Playing in Houston is huge too, with Bregman posting a .950 OPS at Minute Maid Park since the beginning of last year. Williams allowing seven runs in the last start could be a sign of things to come, as this is a pitcher who's outperformed his peripherals for way too long.
Third Base

Hernan Perez FD - 3B 2300 DK - 2B 3300
Opponent - SEA (Marco Gonzales) Park - MIL
FD - 11.09 DK - 8.67
Perez isn't the sort of guy who's going to win a tournament for you but he's way too cheap with the upside he presents. The numbers are not going to pop off the page for Perez but he's been very successful against lefties throughout his career. In fact, the utility man is posting a .779 OPS against southpaws since 2017. That may not sound like a special number but you won't find another guy who's this cheap providing those sorts of numbers.
Tommy La Stella FD - 3B 3100 DK - 2B/3B 4100
Opponent - CIN (Tyler Mahle) Park - LAA
FD - 12.42 DK - 9.56
La Stella has shockingly been one of the best power hitters in the AL this season and it's simply hard to argue with this sort of production. This dude is hitting .298 with a .498 SLG and .848 OPS. Those numbers destroy his career averages and it's clear he's made some serious adjustments at the plate. What we like here is that he gets to face a righty, with La Stella generating a .536 SLG and .899 OPS against right-handed pitching so far this season.
Outfield

Lorenzo Cain FD - OF 3000 DK - OF 4200
Opponent - SEA (Marco Gonzales) Park - MIL
FD - 14.43 DK - 11.23

Ryan Braun FD - OF 3000 DK - OF 4400
Opponent - SEA (Marco Gonzales) Park - MIL
FD - 13.63 DK - 10.4
The Perez play was definitely a hint at this, as Milwaukee is one of our favorite stacks on the board. The reason for that is because of Marco Gonzalez, with the Brewers sending out a bunch of potent righties against him. Marco simply hasn't been the same pitcher he was at the beginning of the year, with the Mariners southpaw pitching to a 5.95 ERA and 1.49 WHIP over his last nine starts. So, let's get into why we love these Brewers bats. Cain has actually really turned things around recently, averaging 14.7 FD points per game across his last four fixtures. He's been much better against lefties too, posting an .869 OPS against them since 2017. Those numbers are impressive but Braun's career numbers against lefties are bonkers. In fact, Braun has a .956 career OPS with the platoon advantage in his favor.
Shohei Ohtani FD - OF 3500 DK - OF 4700
Opponent - CIN (Tyler Mahle) Park - LAA
FD - 13.08 DK - 9.87
Ohtani really deserves more credit for what he's doing in MLB, as he's truly a once in a generational talent. His pitching accolades from last season are incredible but his hitting statistics are right there too. Since joining the Angels, this guy actually ranks Top-20 in the league in both OPS, wOBA and xwOBA. That's a monstrous hitting profile and he's an absolute stud against righties. Over the last two years, Ohtani is providing a .604 SLG and .969 OPS against right-handed pitching,
GRAB A FREE TRIAL OF OUR PROJECTION SYSTEM, AND CHECK OUT DFSR PRO!
FREE EBOOK
SECRETS TO CRUSHING DAILY FANTASY FOOTBALL!
DON'T SET ANOTHER LINEUP BEFORE YOU READ THIS BOOK.