Basketball Picks Daily Fantasy
Expert Advice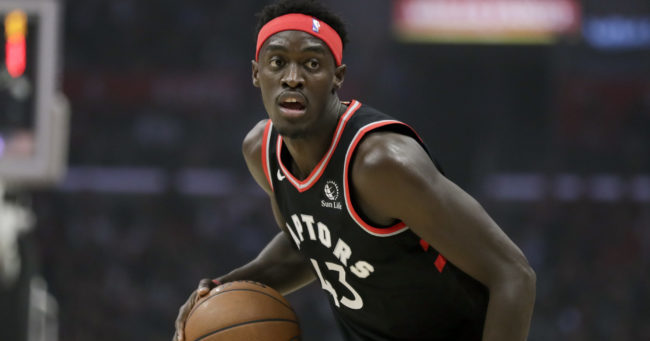 FanDuel NBA Picks and DraftKings NBA Picks - Thursday, 1/30/20
Head on over a for your chance to get DFSR PRO, which will give you access to our NBA FanDuel and DraftKings optimizer, our NFL Optimizer and NHL Projections as well. Plus our new player lab! Get started for free by clicking the button below.
First time with NBA or NFL? Be sure to read our free NBA and NFL Ebooks on building lineups, general strategy and more. We've got you completely covered.
Point Guard

Kemba Walker FD - $7900 DK - $7900
Opponent - GS
Proj Pts FD - 44.91 DK - 46.49
Jayson Tatum hasn't been officially ruled out just yet, but if he is, the remaining Celtics will all be in play once again. It's a tricky situation with these guys, since they will basically all be over-priced once Tatum and Brown are both playing alongside one another. For now, though, we'll assume that Tatum's shots are still up for grabs, and that makes Walker a great play. He's averaged 22 shots in his last three games as opposed to the 17 he's averaged all season long, and that increased usage justifies the increased price here. Golden State is also an all-world match-up, allowing the second most fantasy points per game to opposing point guards this season. On a shorter slate he looks like a grade A play.

Kyle Lowry FD - $7400 DK - $7500
Opponent - CLE
Proj Pts FD - 40.68 DK - 42.16
The Raptors are 10 point favorites over the Cavs here, and while we just saw the starting Raps lose minutes in a blowout of the Hawks, we also saw them mostly pay their current prices. Lowry is cheap relative to his season long production specifically because the Raptors have been involved in a handful of blowouts recently, and while that's in play here, the discounted price likely makes up for it. Lowry looked excellent against the Cavs' young back court in both of their prior two meetings, averaging 22 points and 9.5 assists in those two contests. He looks like a high floor play with sneaky ceiling if this game manages to stay close.
Also considered: De'Aaron Fox.


Shooting Guard

Fred Vanvleet FD - $7300 DK - $7700
Opponent - CLE
Proj Pts FD - 42.64 DK - 42.83
VanVleet's fantasy production this season looks awfully similar to Lowry's, and given that we're getting him at nearly the same price in the same great match-up he's a tremendous value as well. One thing our system seems to be keying in on early are lineups that include a lot of these excellent mid-range plays instead of going a pure stars and scrubs route. While there are a lot of good plays in a similar price range, I'll happily grab FVV against a Cavs team that's allowed the third most fantasy points per game to opposing shooting guards this season.
Devonte' Graham FD - $6600 DK - $7700
Opponent - WAS
Proj Pts FD - 35.84 DK - 37.87
Graham's recent struggles have led to an over-corrected price on FanDuel, and while the DraftKings price hasn't moved much he's just a bargain on FD. Don't let the bad game against the Knicks fool you too much - he played 35 minutes in spite of being ruled out earlier due to illness, and most of his difficulties can be attributed directly to being sick. As of this writing the illness doesn't seem to be a concern, and getting him at full strength against this hapless Wizards team looks amazing. The Wiz are fresh off of letting Middleton and the Bucks light them up for 88 first half points, and Graham and the Hornets should be able to cash in on their league worst defensive efficiency and 5th highest pace.
There are honestly a lot of good shooting guard options tonight. I wouldn't complain about rostering Marcus Smart or Lou Williams either.
Small Forward

Jaylen Brown FD - $6600 DK - $7400
Opponent - GS
Proj Pts FD - 38.23 DK - 39.1


Gordon Hayward FD - $6400 DK - $7500
Opponent - GS
Proj Pts FD - 36.75 DK - 37.53
If you're starting to see a trend in this article, don't be too proud of yourself, because it really is a pretty obvious trend. The Celtics are all just a little bit too cheap if Tatum's shots are available to be spread amongst the other starters, and it leaves us with a playable option at nearly every position. If I had to pick one here it'd be Jaylen Brown, who surprised us by playing 40 minutes in the Miami game. If he's that healthy he's probably $1,000 too cheap on FanDuel, and should be a cash game staple as a result. Hayward has been absolutely money on these prices with Tatum out of the lineup as well, and you can justify running two small forward Celtics today without a doubt.

Pascal Siakam FD - $8600 DK - $8400
Opponent - CLE
Proj Pts FD - 44.25 DK - 45.05
Gasol's absence just enshrines Siakam's role even further, and I just don't see how either Cedi Osman or Kevin Love can contain him here. While he missed the last Cleveland/Toronto match-up, he put up 33 points against them in the one prior, and we could be in store for a similar effort tonight. Siakam has averaged around 5x points per dollar on these prices all season, and putting him in a plus match-up means we can probably expect a little bit extra from him tonight.
Power Forward

Serge Ibaka FD - $5600 DK - $7100
Opponent - CLE
Proj Pts FD - 39.44 DK - 41.2
Ibaka is arguably the clearest play of the night with Gasol already ruled out. He put up a 24 and 10 in just 27 minutes against Atlanta, and he rates to see even more action with Gasol missing the entirety of this one. It's a great match-up against Love and Thompson, who have yielded top 5 fantasy totals to both opposing power forwards and centers this season. The FanDuel price is a joke, though it does get a little closer on DraftKings.
Daniel Theis FD - $5200 DK - $6100
Opponent - GS
Proj Pts FD - 31.66 DK - 30.01
More Celtics and Raptors! Perhaps it would have just been easier to write two sentences about how good a spot these two teams are in and call it a day, but then I wouldn't have hit my word limit for this article. I kid. I called Ibaka the easiest play of the day, but honestly, Theis might be even easier. While he benefits from Tatum's absence as much as anyone, we're really in the market for Theis thanks to Enes Kanter being out as well. In the three games that Kanter has missed Theis has averaged 31 minutes, 13.75 pts, and 8.7 rebounds. That's fantastic production on a $5,200 price tag, and I just don't see how you get away from him in a terrific match-up with the Warriors.
Center
Marquese Chriss FD - $4800 DK - $4500
Opponent - BOS
Proj Pts FD - 33.17 DK - 32.35
Speaking of the Warriors, I think you might need to play one at center tonight. Chriss started and played 31 minutes against Philly, and while he basically scraped out 5x points per dollar on these prices in that game the Philly front court poses a much more difficult match-up than what's left of the Celtics. No Tatum and Kanter would leave the C's sorely lacking in size, and while there is plenty of blowout risk here regardless I think you'll see Chriss paying these prices in short order.

Montrezl Harrell FD - $6600 DK - $6900
Opponent - SAC
Proj Pts FD - 33.15 DK - 32.72
We haven't mentioned any Clippers yet, but Harrell seems like as good a place as any to start. He's been destroying teams on both ends of the floor, and putting up huge fantasy totals in spite of losing minutes to blowouts (last game) and foul trouble (the game before that). A blowout is very much in play here with the Clippers sitting as 11.5 point favorites, but that oddly shouldn't affect Harrell as much as some of the other big guys on the Clips since he comes off the bench anyway. I think I prefer Chriss (assuming he starts), but Harrell is a great DraftKings play at the very least.
GRAB A FREE TRIAL OF OUR PROJECTION SYSTEM, AND CHECK OUT DFSR PRO!
FREE EBOOK
SECRETS TO CRUSHING DAILY FANTASY FOOTBALL!
DON'T SET ANOTHER LINEUP BEFORE YOU READ THIS BOOK.