Basketball Picks Daily Fantasy
Expert Advice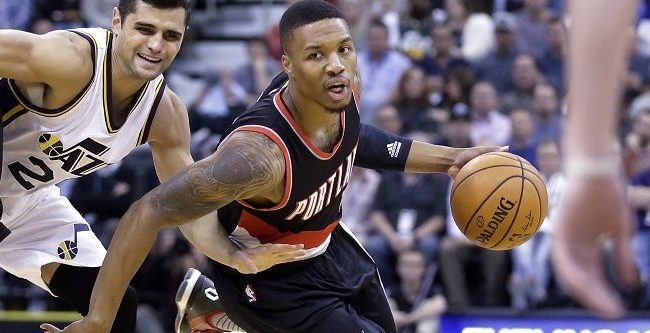 FanDuel NBA Picks and DraftKings NBA Picks - Tuesday, 2/4/20
Head on over a for your chance to get DFSR PRO, which will give you access to our NBA FanDuel and DraftKings optimizer, our NFL Optimizer and NHL Projections as well. Plus our new player lab! Get started for free by clicking the button below.
First time with NBA or NFL? Be sure to read our free NBA and NFL Ebooks on building lineups, general strategy and more. We've got you completely covered.
Point Guard

Damian Lillard FD - $10900 DK - $10300
Opponent - DEN
Proj Pts FD - 52.18 DK - 54.49
What to do with Damian Lillard? Well, if this Redditor is to be believed, he has accounted for more points over the last six games than any player ever has in a six game period. That's pretty good. The last slate where I wrote about Lillard I said that players don't tend to fundamentally change at the stage where Lillard is in his career, but it certainly looks like he may have done just that. You can't count on the ridiculous accuracy from deep, but the fact that he's shooting 29-30 times in normal games while also dishing 10+ assists can't be ignored. It's also working - the Blazers have won 5 of their last 6 games against very tough competition. Denver qualifies as a tough opponent, but I don't think it's crazy to just ride this Lillard hot streak.

Austin Rivers FD - $4000 DK - $3600
Opponent - CHA
Proj Pts FD - 24.31 DK - 24.74
Our system is really hoping that two things align here. First, Westbrook needs to sit. Second, Rivers needs to be healthy enough to play (he missed Monday's practice with an illness). If those two things do come together, though, Rivers is an auto-inclusion as the most clear value play on the slate. I think it's likely enough that those come together for you to plan for that as of this writing.
Also considered: Eric Bledsoe.
Monte Morris is an interesting big tournament play, as he saw all the minutes you could want even with Gary Harris returning last game. Harris did come off the bench, though, so if he returns to the starting lineup Morris becomes a lot less appealing.
Shooting Guard

James Harden FD - $11600 DK - $12000
Opponent - CHA
Proj Pts FD - 65.29 DK - 68.04
With an incredible bounty of big money options tonight, you're going to be making some tough decisions. I just don't see how Harden isn't the first big money guy to go into the lineup, though. With Westbrook off the court this season Harden has a 46% usage rate and a 45% assist rate. Which is to say, he's ending 46% of his possessions himself while also assisting 45% of the remaining possessions - for a total of 67% of all of the Rockets' possessions. I can see arguments for cutting any of the other big money plays, but not for cutting Harden if Westbrook sits.

Khris Middleton FD - $7200 DK - $7300
Opponent - NO
Proj Pts FD - 41.5 DK - 43.19
Another strong case for Harden tonight is how quickly shooting guard falls off after him. I'm generally hesitant to recommend non-Giannis Bucks when Giannis is playing, but I might just be ready to give it a go today. Middleton has been pairing his typically solid scoring with better rebound and assist numbers recently, and it's a delightful match-up with a Pelicans team has has played the fourth fastest pace with the 8th lowest defensive efficiency. I'm more worried about blowout risk than Vegas, who sees the Bucks as just 6.5 point favorites heading into New Orleans. But on a four game slate with two other obvious blowouts with the Lakers and Rockets I don't think I can avoid all of them.
Also considered: Cody Martin, who has seen 27+ minutes in back to back games with PJ Washington sidelined.
Small Forward
Eric Gordon FD - $4900 DK - $5300
Opponent - CHA
Proj Pts FD - 33.18 DK - 35.17
Another play that's based largely on Westbrook's absence, though you can make a stronger case for Gordon in a normal game script than you can Austin Rivers. He's been sitting at around 5x-6x points per dollar recently anyway, and will become the number two option in the offense if Capela and Westy are off the court again. Throw in a great match-up with Charlotte and I don't think you can avoid running him if the increased opportunity is there.

Miles Bridges FD - $5400 DK - $5300
Opponent - HOU
Proj Pts FD - 30.02 DK - 30.33
After Gordon things get pretty difficult. I can see a compelling case to make Giannis your second small forward, but I am also starting to get worried that I'm just running out of money. If you're as worried about that as I am, I think Miles Bridges is pretty reasonable here, but only if PJ Washington sits. Bridges has averaged 35 minutes and 17 shots over his last three games, which is a lot of run for a $5,000 player. And while blowout risk is a concern here, it's worth noting that the Hornets have lost their last three games by a combined 50 points. It doesn't appear this way at first glance, but I think Bridges is cash game viable.
A quick note on paying up: Both Giannis and LeBron are in play here, but the fundamental question on this short slate is whether you want to be paying up at small forward.
Power Forward
Jerami Grant FD - $6100 DK - $5700
Opponent - POR
Proj Pts FD - 31.75 DK - 31.24
Grant is just what the doctor ordered on this tiny slate. He's affordable based on his recent production, he's in the game with by far the tightest point spread on the slate, and he's playing the most minutes per game on his team. He's fresh off a game where he played 40 regulation minutes against Detroit, and with Michael Porter ruled out of this game as well I think you roll Grant back out there with a very clear conscience.

Zion Williamson FD - $7100 DK - $7100
Opponent - MIL
Proj Pts FD - 36.23 DK - 37.33
I have to admit that I feel a little bit gun-shy on this one. While I believe strongly that Zion will be an $8,000 player by the end of the season, this is contingent upon him rounding into 33-34 minute rotations and being in reasonable game scripts. Based on his recent minutes trajectory I am confident in the minutes, but I am concerned about the game script here. I still think you ultimately trust Vegas' 6.5 point spread, and lean into Zion based on how thin this position is. More fun with Reddit stats: 81.3% of Zion William's shots either go in or are rebounded by Zion Williamson. Generational talent. Enjoy it, y'all.
Also considered: Anthony Davis, and very strongly! But he might be my third favorite big money play tonight, and I don't know if we have enough punt support to get him in there.
The Spurs ran Trey Lyles for 25+ minutes in each of their last two games, and if you think that trend continues he's a very interesting option at essentially the minimum price.
Center

Hassan Whiteside FD - $9100 DK - $8500
Opponent - DEN
Proj Pts FD - 45.41 DK - 44.95
As we get to center we're looking at an expensive Whiteside as much on his own merits as a lack of great options at the position elsewhere. Some will want to consider Jokic, but I don't know that I can spend even more money on just as questionable a play. And to be fair, Whiteside has been truly incredible playing alongside Super-Dame during this great 6 game stretch. He's averaged 19 points, 14.8 rebounds, and 4.5 (!) blocks over the Blazers' last six games, and they'll want to lean on his size in a tough match-up with Jokic. I don't know that you can afford it, but Whiteside is a very defensible cash game play here.

Brook Lopez FD - $5800 DK - $5300
Opponent - NO
Proj Pts FD - 32.54 DK - 30.38
The realist in me wonders if we're going to be able to afford the premium plays at other positions and play Whitside, so we might have to make a concession with Lopez here. It's not so bad, really. In close games Lopez will play 31-33 minutes, and he's averaged almost paying value on these prices over the course of the season. New Orleans has been a top ten match-up for opposing centers this season, and if Lopez lets you get the truly great big money plays elsewhere you have to give him a long, hard look.
GRAB A FREE TRIAL OF OUR PROJECTION SYSTEM, AND CHECK OUT DFSR PRO!
FREE EBOOK
SECRETS TO CRUSHING DAILY FANTASY FOOTBALL!
DON'T SET ANOTHER LINEUP BEFORE YOU READ THIS BOOK.