Baseball Picks Daily Fantasy
Expert Advice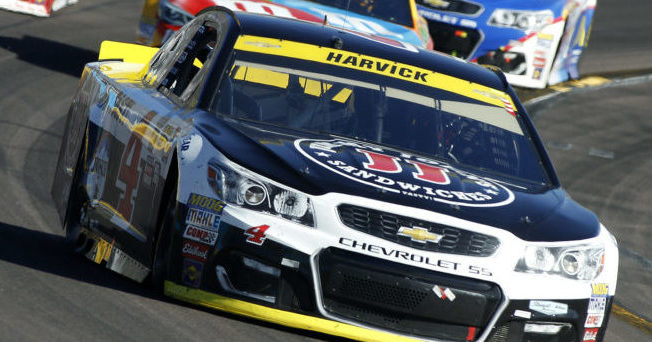 Daily Fantasy NASCAR Preview & Picks for DraftKings and FanDuel - Return to Racing at Darlington
Chris Durell will be bringing you his weekly race breakdown, top trends, and top targets to help you cash on DraftKings and FanDuel. He also provides a comprehensive cheatsheet looking at current and career track history, current form, fantasy averages, trends, practice/qualifying information, and then puts it all together with a customizable model. Get your copy in our member's chatroom.
Premium DFSR members get access to my expert sheets as a part of their membership. That's a $10 value every single month, just for signing up for a DFSR membership! Want my sheets on their own? Head on over to my Patreon Page.
Return to Racing at Darlington
It's finally here and I have close to the same kind of feeling as Daytona week as we have pretty much went through an entire second offseason. NASCAR will be one of the first sports back in action this weekend at Darlington which will start a stretch of four races for the Cup Series in 10 days on two tracks(Charlotte the other). Like I mentioned in my "NASCAR Update Article", there will be no practices as these will be one-day events and the only race with qualifying will be the Coca-Cola 600 at Charlotte next Sunday. As of Monday, May 11, NASCAR has yet to release how qualifying will work but my guess is that we will have this data days before the race giving us plenty of time to analyze the data and build lineups.
There will be an added variance from a fantasy perspective with the return to racing with no practice or qualifying but given we have playing iRacing DFS which was a whole new level of variance, I am not worried at all. It's all about the data and we have lots of it here at Darlington and in NASCAR in general. Let's dig in and look at some of the data leading up to the race and make sure to tune in Sunday morning for the pre-race/pre-lock Live show on my YouTube channel.
Darlington Raceway
Track - 1.366 Mile Oval Intermediate
25° of Banking in Turns 1 & 2
23° of Banking in Turn 3 & 4

Last 10 Winners at Darlington
2019 - Erik Jones(started 15th)
2018 - Brad Keselowski(started 13th)
2017 - Denny Hamlin(started 9th)
2016 - Martin Truex Jr.(started 8th)
2015 - Carl Edwards(started 12th)
2014 - Kevin Harvick(started 1st)
2013 - Matt Kenseth(started 7th)
2012 - Jimmie Johnson(started 2nd)
2011 - Regan Smith(started 23rd)
2010 - Denny Hamlin(started 8th)

Track History 
Darlington is one of the toughest tracks on the circuit as it is abrasive and tough on tires and it is also tough to get cars setup to consistently run well on both ends of the track which are banked differently. The cream usually rises to the top here at Darlington so let's dig into some of the numbers.
Over the last two years, there have been just two drivers(Brad Keselowski, Kevin Harvick) with Top 5's in both races, Brad picking up his first career win here in 2018. It has been Harvick who stands out the most, however, when looking at a larger sample size. He returns to the "Lady in Black" with seven straight Top 10 finishes including a win, six Top 5's, and has a series-leading 567 laps lad over the last 10 races here.
Looking at that same 10 races sample size(going back to 2010), there is no way to ignore the consistency Kyle Busch has shown us. He doesn't have a win in this time, and only one career win total(2008), but leads the series(those with 5+ races) with a 6.4 average finish and podium finishes in two of his last three at the track. Joe Gibbs Racing, as a whole, has been consistent here starting with Erik Jones who won here last year and has finished Top 10 in all three races in his young career. Denny Hamlin is coming off a career-worst 29th place finish last year but has 11 Top 10's in 14 career races here and is one of just two drivers with multiple wins at the track. Martin Truex Jr. has been the least consistent of the four JGR drivers but won here in 2016 and has three Top 10's in his last five trips.
Kurt Busch leads all Chevy drivers in the field as he returns to Darlington with Top 10's in three straight and four of his last five races here. Like JGR, Penske has been very strong here, and Joey Logano returns with Top 5 finishes in three of his last five and has the 5th best average finish(8.6) in the field over the last five races here.
From a value perspective for fantasy, two drivers stand out starting with Austin Dillon who is coming off a 10th place finish here last year and in six career races has five finishes of 16th or better and no finish worse than 22nd(2nd trip). Returning to the track after a full recovery from a scary crash in Daytona is Ryan Newman who has the 10th best average finish over the last five races(14.0) and 9th best over the last 10 races(12.7).
Track Type History
For track type history, I went back to the start of last season when the new downforce package was introduced. With the Las Vegas race earlier this season, this gives us a 13-race sample size and something I will be looking at closely and weighing this week with no practice or qualifying data.
Seven drivers have a win on a mile and a half with the new package and four of them have multiple wins. Two of those drivers are Penske teammates Brad Keselowski and Joey Logano who have each won twice and are also one of four drivers with six Top 10's in the 13 races. The other two drivers with multiple wins are JGR teammates Martin Truex Jr. and Denny Hamlin. JGR is also the only team where every driver on said team has a win since the start of last year on a mile and a half as Kyle Busch and Erik Jones both have one win. Kevin Harvick joins that group with one win and also leads all drivers with 10 Top 10 finishes and an average of 64.8 DK/69.2 FD points per race.
Two Chevy drivers in Kurt Busch and Alex Bowman make up the final winners on this track type since the start of last season. Bowman has the edge in terms of consistency with a 10.2 average finish over the 13 races while Kurt Busch posted a 13.1 average finish.
Current Form
The start of the 2020 season saw Ford come out of the gates hot. Despite not yet entering Victory Lane, Kevin Harvick leads the Cup series points standings and is the only driver with a Top 10 in all four races. With 159 laps led(2nd most) he also leads all drivers with an average of 58.3 DK.63.5 FD points per race. While Harvick leads in points, Joey Logano leads the series with two wins(Las Vegas & Phoenix) and led 50+ laps in both.
Denny Hamlin won the Daytona 500 but that has been Toyota's only win and combined they have just five total Top 10 finishes among them. Kyle Busch has led just 14 laps this season but on a positive note, he does come in off back to back Top 3 finishes.
When looking at DraftKings scoring, Chase Elliott sits second with an average of 55.8 points per race and has a series-leading 186 laps led. He also comes in hot with back to back Top 7 finishes. It has been a very positive start for Hendrick Motorsports as whole to start the 2020 season. Alex Bowman may only have one Top 10 finish but it was a win at Fontana. Jimmie Johnson was involved in a crash at Daytona and finished 35th but bounced back with a 5th, 7th, and 12th in the last three races.

Early Targets
*These picks come before we have qualifying data so be sure to refer to my sheet for final qualifying order and top picks for the race on Sunday.*
Kevin Harvick
He is #1 in my model right now and has a terrific combination of track history and season form. I get that form was over two months ago but the #4 car was easily the most consistent with a Top 10 in each of the first four races. Now he must be licking his lips knowing there are going to be three races at Darlington this season as he returns with seven straight Top 10's, six of which were also Top 5's and throw in a win to boot. You could say Harvick knows how to tame the track dubbed "Too Tough to Tame".
Brad Keselowski/Joey Logano
Like I mentioned earlier in the article, Team Penske definitely had it clicking early in the season as Logano picked up two wins while both drivers have also led over 110 laps each. They are also two of just four drivers with multiple wins on mile and a half tracks since the start of last season(13 races). Then there is track history where both drivers have three Top 5 finishes in the last five races here, Keselowski getting his first career win here in 2018. Finally, I love the prices as they are 5th and 6th in DraftKings salary on Sunday.
Austin Dillon
With the way they are running qualifying on Sunday, Austin Dillon will start somewhere between 13th and 24th and that works in the mid $7K price range. He returns to Darlington with excellent track history with a 12.5 career average finish over six career races with two Top 10's.
Ty Dillon
A couple of things stand out with the younger Dillon brother. Like Austin, he has some nice track history with a 20th, 21st, and 13th place finish in his three trips here. What I like the most is the potential place differential upside as the #13 team is 25th in owner points meaning he will start somewhere between 25th and 36th. Stay tuned for qualifying draw leading up to the race.
FREE EBOOK
SECRETS TO CRUSHING DAILY FANTASY FOOTBALL!
DON'T SET ANOTHER LINEUP BEFORE YOU READ THIS BOOK.