Baseball Picks Daily Fantasy
Expert Advice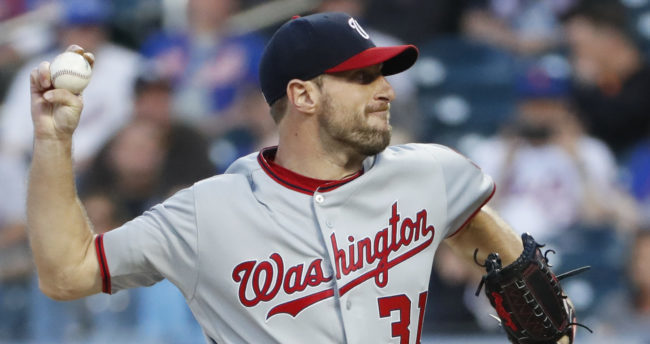 DraftKings and FanDuel MLB Picks for Tuesday 8/10/20
Tuesday's slate has plenty of ways to go with high-priced aces but also a game in Coors. There are a number of ways to go with value all around.
Now's your chance to get DFSR PRO, which will give you access to our MLB, NBA, PGA, NHL and NFL optimizers and our new player lab! Get started for free by clicking the button below.
Pitchers

Max Scherzer FD - P 10700 DK - SP 10800
Opponent -
NYM (Rick Porcello)
Park -
NYM
FD
- 42.88
DK
- 24.47
This could be a little risky seeing as how Scherzer left his last start after only one inning against the Mets. It turned out to be hamstring tightness, but the ace will take the mound again on Tuesday against these same Mets. Through his first 13.2 innings this season, Scherzer has struck out 22 batters but also issued eight walks. I suspect the control to settle in as the season goes on and he's easily the best pitcher going on this slate. He opens as a -140 road favorite against the Mets so the win odds aren't as high as we usually see with Max. But the K stuff wins out in cash games.

Ross Stripling FD - P 8300 DK - RP 7900
Opponent -
SD (Garrett Richards)
Park -
LAD
FD
- 35.49
DK
- 19.01
I'm encouraged by the pitch counts on Stripling over the first three games, topping 90 pitches in two of the first three. He projects to strike out right around a batter per nine and has always had solid control, walking only two batters per nine in his 400 major league innings. He's the best money line win odds pitcher on Tuesday as a -182 home favorite against the Padres. San Diego is striking out about 25% of the time this season though it's worth mentioning they have the second-best team wOBA to start, trailing only the Yankees. That included a trip to Coors, so the number should come down as the season moves along.

Dylan Bundy FD - P 9700 DK - SP 9700
Opponent -
OAK (Mike Fiers)
Park -
LAA
FD - 32.16 DK - 17.08
Dylan Bundy
has been locked in to start this season, looking like a fantastic pick up for the Angels in his first three games. He's averaging more than seven innings per start, and has a 12.5:1 K:BB ratio thanks to 10.38 K's per nine. He's changed his approach since pitching with the Orioles, reducing the fastball rate to under 40% (55% for his career) and relying more on the slider and other breaking stuff. The change has worked. He's been the surprise arm to start the season.

Catcher/First Base

Miguel Cabrera FD - 1B 2900 DK - 1B 2400
Opponent -
CHW (Gio González)
Park -
DET
FD - 10.67 DK - 8.19
If trying to fit some more expensive pitchers and the bats at Coors, we are going to have to dig into some value bats in some spots. The Tigers will face Gio Gonzalez who's been a walk machine this season, giving up more than five free passes per nine and sporting a 5.41 xFIP through his first two starts. Cabrera was terrible last season but is "bouncing back" (so to speak) early on here with a high .700s OPS and four home runs in his first 54 plate appearances. This isn't the Miggy of old of course, but he isn't priced like it either. He's still hitting in the middle of the order and the Tigers are in a good spot.

Luke Voit FD - 1B 2900 DK - 1B 4200
Opponent -
ATL (Touki Toussaint)
Park -
NYY
FD - 12.43 DK - 9.33
With
Giancarlo Stanton
out of the lineup now for the Yankees, Voit moves up in the order and should be hitting now worse than sixth even against the righty Toussaint. Voit has been platoon neutral for his career, putting up a 133 wRC+ and .862 OPS against righties. The Yankees have a fantastic run line going into this game even against Touki who has a solid K rate. But they are all coming on the cheaper side which makes them cash game viable.
Second Base
Tommy La Stella FD - 2B 2500 DK - 1B/2B 3300
Opponent -
OAK (Mike Fiers)
Park -
LAA
FD - 9.67 DK - 7.42
Man, this season hasn't started the way
Mike Fiers
probably thought it would. Through his first 16 innings he's struck out a total of five batters. The 2.81 K/9 is as bad as you'll ever see and I'm even factoring the small sample size. He's just been trash. La Stella should be either one or two in the lineup for the Angels on a day where their expected run line is one of the highest of the slate. He's walked 8 times in his first 50 plate appearances good for a 16% walk rate as compared to the 6% K rate. He's always relied primarily on
contact
(85% of the time last season) but is adding even more patience this season. A great cash play.
Howie Kendrick FD - 2B 2500 DK - 1B 4100
Opponent -
NYM (Rick Porcello)
Park -
NYM
FD - 10.44 DK - 8.04
Rick Porcello
is far removed from his 2018 Red Sox season in which he was striking out about a batter an inning. Now it's about seven batters per nine over the last two seasons and the walks have ticked up this year as well. That could be a real problem facing someone like Kendrick who made
contact
80% of the time last season and is coming off a career-high .967 OPS. That's something of an outlier, but he's still a tough out and is coming cheap against a pitcher who's clearly in decline.
Shortstop
Trevor Story FD - SS 4200 DK - SS 6100
Opponent -
ARI (Zac Gallen)
Park -
COL
FD - 15.09 DK - 11.42
Look, I know it doesn't take a whole lot to just write up Rockies' bats when the teams are playing in Coors, but that's just the state of affairs these days. The Colorado game has an 11 over/under and only one other game is even in double digits. Story hit his sixth home run of the season on Monday though again it came against yet another lefty the Rockies have faced. He's much worse in the reverse platoon and I suppose that's some cause for concern. But we are still getting the game with the highest total and Story has as much upside as anyone at the position.

Tim Anderson FD - SS 2700 DK - SS 4100
Opponent -
DET (Tyler Alexander)
Park -
DET
FD - 12.54 DK - 9.77
Anderson is set to come off the IL on Tuesday and it should be just in time to hit leadoff for the White Sox against the lefty
Tyler Alexander
. The latter has spiked the K's to start the season, but that's mostly in relief roles. Anderson has a 121 wRC+ in this split for his career with a dramatically reduced strikeout rate and .348 wOBA. The power/speed combo at the top of the order makes him ideal for cash games because the floor remains high even if the walk rate is nonexistent.
Third Base

Eduardo Escobar FD - 3B 3700 DK - 3B 3900
Opponent -
COL (Kyle Freeland)
Park -
COL
FD - 12.85 DK - 9.77
Escobar gets to hit in Coors against
Kyle Freeland
on Tuesday and that feels way to good to pass up at this
DraftKings
price. Frankly, it feels like a mistake for a guy who should be in the middle of the order and has been much better against southpaws for his career. Escobar has a 105 wRC+ and .774 OPS in this split, the latter is 50 points higher than what he does against righties. He's coming very cheap on DK against Freeland who induces a lot of groundballs but struggles to strike anyone out.
Yandy Díaz FD - 3B 2500 DK - 3B 3000
Opponent -
BOS (Martin Perez)
Park -
BOS
FD - 9.58 DK - 7.34 Diaz is in a great spot against the left
Martin Perez
on Tuesday. The former is significantly better against lefties for his career with a 126 wRC+ and .836 OPS in that split to go with a solid 13% walk rate. Perez is trash with a K rate fewer than seven K's per nine to start this season and an xFIP hovering around 5.00 over the last two seasons. This is a spot to stack the Rays for sure, especially the righties with the Monster looming in right.
Outfield

David Dahl FD - OF 3400 DK - OF 5500
Opponent -
ARI (Zac Gallen)
Park -
COL
FD - 13.9 DK - 10.61
The Rockies have faced lefties in their last five games which is part of the reason Dahl's season numbers look so bad. He hasn't hit a home run yet this season and the OPS is sitting right around .600 through his first 62 plate appearances. But with the Rockies facing righty Gallen in Coors, he could start to turn things around. That being said, as stated Gallen does have some K stuff, putting down almost 11 batters per nine for his career and close to 12 to start this season. It isn't ideal, but this is still Coors and Dahl is coming off of back-to-back mid-.800s OPS seasons.
Shohei Ohtani FD - OF 3000 DK - 1B/OF 4700
Opponent -
OAK (Mike Fiers)
Park -
LAA
FD - 13.24 DK - 10.03
As stated with La Stella, Fiers has been trash this season and the Angels are looking very good as a stack. Ohtani has struggled to start the season, spiking the K rate at 34%, but he has gone yard three times in his first 44 plate appearances. He's coming off two seasons of a .925 OPS and .848 OPS so it would seem better days are ahead of him this time around. We are getting him on the cheaper side of things on
FanDuel
especially considering the matchup.
Hunter Renfroe FD - OF 2800 DK - OF 3300
Opponent -
BOS (Martin Perez)
Park -
BOS
FD - 10.56 DK - 7.93
Renfroe should hit in the middle of the lineup for the Rays on Tuesday against
Martin Perez
and that's a good thing for our lineups. The former has crushed this split for his career with a .901 OPS against lefties and a .372 wOBA. He walks 11% of the time against southpaws and is awfully tough to strike out at only 20%. For a cheaper play on
FanDuel
and a steal on DK at $3300, this is a great spot to load up in cash games.
GRAB A FREE TRIAL OF OUR PROJECTION SYSTEM, AND CHECK OUT DFSR PRO!
FREE EBOOK
SECRETS TO CRUSHING DAILY FANTASY FOOTBALL!
DON'T SET ANOTHER LINEUP BEFORE YOU READ THIS BOOK.