featured Daily Fantasy
Expert Advice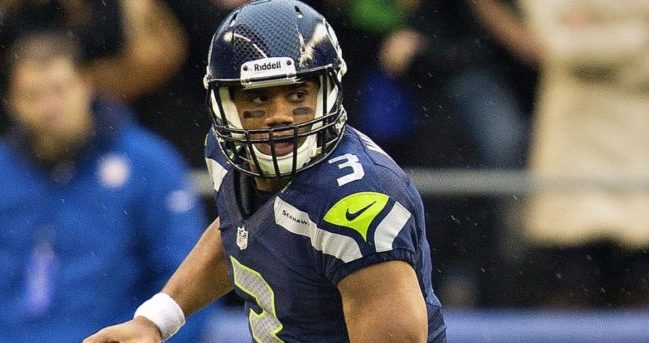 Daily Fantasy Football Cash Game Picks for FanDuel and DraftKings Week 1
Football season is back! For now. Hopefully forever. With a lot of off season movement and no preseason this has to be the weirdest set of week 1 picks ever, so let's get to it.
Want access to the projections that power these picks? For a limited time we're offering a free one week trial to all the sports that we cover - that's optimal lineups for NFL, NBA, NHL, and MLB - for the same low price. Get started now!
Quarterbacks
Russell Wilson FD 8400 DK 7000
Opponent ATL
Proj Points FD - 21.63 DK - 21.86
Wilson comes out of the gate playing in the game with the second-highest total (49) on the road against the Atlanta Falcons. He'll get dome conditions against the Falcons who ranked 21st in defensive DVOA against the pass in 2019. Wilson threw for the sixth-most yards in the NFL last season despite attempting about 100 or more fewer passes than anyone else in the group above him. His passing yards and passing touchdowns per attempt were easily the best in the league. He loses Doug Baldwin, and the Seahawks still love to run the ball, but Wilson is just so damn efficient, throwing only five interceptions last season while ranking sixth in quarterback rushing yards. It will cost you, but he's about as safe as it comes.



Teddy Bridgewater FD 6800 DK 5900
Opponent LV
Proj Points FD - 18.59 DK - 19.25
Bridgewater will take over behind center for the Panthers this season after Cam Newton and Kyle Allen have departed the team. Bridgewater walks into an advantageous situation with the best pass-catching running back in McCaffery along with a full complement of wide receiver weapons in DJ Moore, Curtis Samuel, and the newly-acquired Robby Anderson. Bridgewater started five games for the Saints last season in place of an injured Drew Brees and was effective, completing almost 70% of his passes with a 9:2 TD:INT rate. Sure, he has Michael Thomas and Alvin Kamara there as well, but the accuracy has never been an issue even back to his time in Minnesota. This game has the fourth-highest total of the main slate with the Panthers 3-point home dogs to the Raiders. I love the price on Bridgewater here in what should be a close game.



Carson Wentz FD 7700 DK 6300
Opponent WAS
Proj Points FD - 19.59 DK - 20.02 Wentz has to be one of the most slept on quarterbacks in the NFL. No, he hasn't turned into a Russell Wilson/Lamar Jackson/Deshaun Watson type, but he's still awfully good. In his last five games last season Wentz averaged 302 yards and 2 touchdowns while throwing just 1 interception total that time. He threw for 266 yards and 3 touchdowns against the Redskins and their 27th ranked defense. He also gets DeSean Jackson back for this one, and historians may remember that Wentz and Jackson hooked up for 154 yards and 2 touchdowns in Jackson's only complete game last year. Wentz looks like a great play in all formats.
It's hard to go wrong with Lamar Jackson, but given some of the excellent options at other positions it might be tough to fit him into your cash game lineups. Still, you're getting an $8,000 running back with a solid quarterback, so both the floor and ceiling are outrageous.
Running Backs

Christian McCaffrey FD 10000 DK 10000
Opponent LV
Proj Points FD - 20.21 DK - 22.87
This one doesn't need much in the way of introduction. McCaffrey was just everything last season, topping out at a whopping 428 touches (rushing attempts + targets) a full 56 more than the next closest guy (Ezekiel Elliott - 372). By comparison, that was the same difference between number two and number six on the list. He had 615 more total yards than the next closest guy (also Zeke) and also led the league in total touchdowns. This is all to say, McCaffrey was easily the best fantasy player last season and that really isn't any kind of news. He'll start the season against the Raiders as slight underdogs, but with a big upgrade at the quarterback position. It's a tough pull on DraftKings where the pricing is tighter, but feels like a clear FanDuel play with some savings at the WR position.



Josh Jacobs FD 8200 DK 6800
Opponent CAR
Proj Points FD - 16 DK - 16.8
Stacking the Carolina-Las Vegas game in cash feels like a high floor play with the 47.5 total the fourth-highest of the main slate and a thin spread (LV -3) implying the game should stay close. Jacobs was tied for third in the league in rushing attempts per game at 18.6 and early talk out of camp (for whatever that can be believed) is that he'll feature more in the passing game this season. He'll face a Panthers team that ranked 32nd in defensive rushing DVOA in 2019. He's a good price on both sites and could see higher ownership on both sites considering some of the question marks around other teams' running games heading into the season.



Miles Sanders FD 6800 DK 6300
Opponent WAS
Proj Points FD - 14.52 DK - 15.79
We'll continue with the Philly theme with Miles Sanders, who we're writing up for two reasons. First of all, you should know that he's been dealing with a hamstring issue during training camp, and his status is still not totally ironed out at this point. If he sits, it will open up a really nice spot for Boston Scott or Corey Clement, so keep your eyes peeled there. If he is fully healthy, he's way too cheap for what he can bring to the table. At the end of the season last year we saw the Eagles trusting him with 18-20 carries and 5-6 targets, which is the workload of an $8,000 running back. Throw in the great Washington match-up and he would absolutely be a viable cash game option.


Wide Receivers
Michael Thomas FD 8800 DK 9000
Opponent TB
Proj Points FD - 17.05 DK - 21.24
We understand that you can't just play all the most expensive guys at every position, but since Thomas effectively leads all WRs in our lineup optimizer in total fantasy points and points per dollar it would be disingenuous to not include him here. You know the story by now - he and Drew Brees have an historic relationship when it comes to converting targets into receptions, and last season against the Bucs they hooked up to complete 19 of 23 pass attempts into 296 yards and 3 touchdowns. You just can't go safer than Michael Thomas for cash games.


Tyler Lockett FD 6800 DK 6500
Opponent ATL
Proj Points FD - 13.69 DK - 16.35
Lockett finished 24th among wide receivers in total targets in 2019 and picked things up over the last five games (three regular season, two playoffs) with eight looks per game with a 68% conversion rate. Doug Baldwin retired leaving his 73 2019 targets somewhat up for grabs. I really like the FanDuel price at sub-7K in what should be a shootout with the Falcons. Wilson has a history of spreading the ball out at times, but one has to think that Lockett will be prominently featured given Wilson's lack of time to really get on the same page with some of the other guys.



Jarvis Landry FD 6300 DK 5900
Opponent BAL
Proj Points FD - 11.85 DK - 14.18 Another year of DFS, another year where Jarvis Landry is mispriced to start the season. Last year Landry led the Browns in targets, receptions, and receiving yards, and is coming out of the slot again as the Browns try to shake the stink off of last year's disappointing season. It's not an ideal match-up with the Ravens, but you've got to save money somewhere, and getting Landry at a 10% discount to his production isn't a bad place to begin.


Also considered: Kenny Golladay, who should be in for huge target share this season, and is likely under-priced. We also love DeSean Jackson as a great big upside play.
Tight Ends

Hayden Hurst FD 5300 DK 4300
Opponent SEA
Proj Points FD - 7.51 DK - 9.45
While we're not big on trying to project guys into new situations almost ever, I'm willing to make an exception for Hayden Hurst. He's taking over for Austin Hooper in an offense that is happy to utilize the tight end, and rates out for many as a top 10 tight end option in season long leagues as a result. Pro football focus listed him as the 12th best tight end in terms of receiving grade in spite of being blocked by Mark Andrews. There's some risk here, but getting Hurst on the cheap at a position that's notoriously unreliable looks like a good value.


Zach Ertz FD 6700 DK 5800
Opponent WAS
Proj Points FD - 10.63 DK - 13.06
The top three tight ends that are returning to their former teams are George Kittle, Mark Andrews, and Zach Ertz. Kittle costs $8,000 on FanDuel. Andrews is $7,400. And then there's Ertz, who's just $6,700. Ertz averaged 1.41 fewer FanDuel points than Kittle, and just .23 fewer FanDuel points than Andrews. He's a TE1 that isn't priced like one, and given how few targets Wentz has to any of the other receivers starting this season with the Eagles you have to consider Ertz one of the safest tight ends on the board this week.


The best points per dollar tight end in our system is George Kittle, but there's no way you can afford to go up and grab him in cash games given the existence of guys like Hurst and Ertz, and the lack of great cheap options elsewhere.


Defense / Special Teams
If you've read DFSR in the past, you'll know that we are often trying to toe the line between going cheap at defense and paying up. We usually lean to the cheaper end, but there are certainly times where it's correct to go expensive. We'll list an option at both price points today.


Colts FD 3700 DK 3000
Opponent JAX
Proj Points FD - 7.05 DK - 7.05
The Colts look like the best bet if you're going super cheap at defense this week. With 18.5 implied points, the Jags are tied for the second lowest implied total on the week after the Jets. With all due respect to Gardner Minshew, DJ Chark, and the mix and match running back situation, the Jags will likely own a bottom five implied total on a week in, week out basis until they prove they deserve otherwise. The Colts were a better than average defense last year, and with a reasonable 41 sacks they got after the QB as well. This seems like a high floor, if not super high upside play.


Patriots FD 4600 DK 3200
Opponent MIA
Proj Points FD - 8.82 DK - 8.82
Here's our high upside play, and honestly if you can afford it the floor might be high enough that you can go for it as well. The Pats are missing a few key defensive pieces thanks to Covid (thanks a lot, Covid), but given that they were historically good last season I think we can still trust them. They've got the Dolphins, who are tied with the Jags for the second lowest implied total on the week. The Pats were flat out awesome at creating big DFS plays last year, leading the league with 25 interceptions and ranking 7th with 47 sacks. If you have the scratch left over, they are certainly worth a look.
It might not be crazy to think about the Las Vegas Raiders. The Panthers have just a 22 point implied total this week, and a new quarterback brings in a lot of uncertainty. There's significant risk there, but the Raiders are so cheap that it doesn't seem terrible.


On DraftKings the Washington Football Team (do I really have to write this all season?) are the bare minimum $2,000, and make sense if you just want to throw the position away.
GRAB A FREE TRIAL OF OUR PROJECTION SYSTEM, AND CHECK OUT DFSR PRO!
image sources
Russell_Wilson_vs_Jets,_November_11,_2012: By Larry Maurer [CC BY 2.0 (http://creativecommons.org/licenses/by/2.0)], via Wikimedia Commons
FREE EBOOK
SECRETS TO CRUSHING DAILY FANTASY FOOTBALL!
DON'T SET ANOTHER LINEUP BEFORE YOU READ THIS BOOK.