featured Daily Fantasy
Expert Advice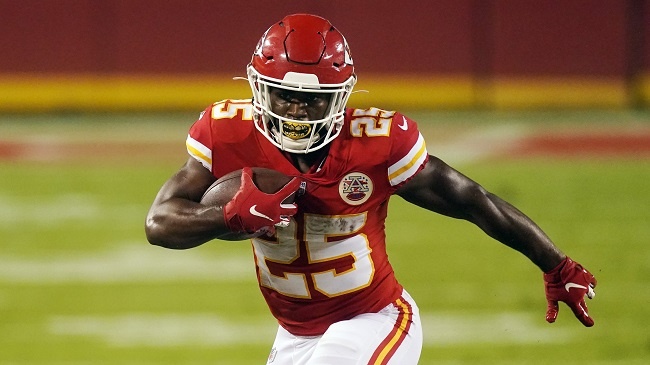 Daily Fantasy Football Cash Game Picks for FanDuel and DraftKings Week 4
Week 3 was a roller coaster, with far fewer injuries than week 2, but plenty of surprises nonetheless. What can we learn from week 3 while not overreacting? Let's go position by position and pin down the best cash game plays right now, understanding that things might change as the week progresses.
Want access to the projections that power these picks? For a limited time we're offering a free one week trial to all the sports that we cover - that's optimal lineups for NFL, NBA, NHL, and MLB - for the same low price. Get started now!
Quarterbacks
Russell Wilson FD 9000 DK 7800
Opponent MIA
Proj Points FD - 26.25 DK - 26.8
I mean what else can you say about the guy at this point? He's been simply spectacular to start this season, exceeding expectations which is pretty amazing considering he came into the year ranked no worse than third in any active quarterback list. He's already thrown 14 touchdowns to only one interception and has completed 77% of his passes. He's *only* fourth in passing yards but that's also because the offense has been so hyper-efficient that they don't need to throw a ton of volume. Among the top-ten quarterbacks in passing yards, Wilson has the second-fewest attempts (103). This week he'll get his easiest matchup yet as a 6.5 road favorite over the Dolphins. Miami held Gardner Minshew in check in Week 3, but gave it up to Josh Allen (QB3) and Cam Newton (QB7) in previous weeks. This is a smash spot for Wilson once again and could be even more so if Chris Carson is out and they rely on the pass even more.
Kyler Murray FD 8400 DK 7000
Opponent CAR
Proj Points FD - 24.29 DK - 25.08
Murray was a chalk play in week 2 on both FanDuel and DraftKings, but disappointed in a surprising loss at home to the Lions. He completed only 23 of his 35 passing attempts and threw three interceptions. He did end up with two passing touchdowns, but the Lions also held him to his fewest rushing yards (29) of the season. Look for a bounce-back game against the Panthers who haven't had to face all that much pressure from opposing quarterbacks to start the season. They've played Derek Carr, Tom Brady, and Justin Herbert in the first three weeks. Murray will offer a different kind of challenge. They are a bottom-third defense and Murray still has a very high floor considering how he scores his points. I'm fine going back to him in cash games this week.

Joe Burrow FD 7400 DK 6300
Opponent JAX
Proj Points FD - 20.79 DK - 21.84
Look, I could have also made a case for Dak Prescott, Josh Allen or even Patrick Mahomes in this last spot, but that would have meant writing up only the expensive quarterbacks and it felt a bit disingenuous. Instead, there's an (albeit small) case for going down in salary in playing Burrow. While the offensive line is a total mess, Burrow has also played well enough in his first three games, throwing for 5 TDs and only one INT. He gets his easiest matchup yet against the Jaguars who've allowed a crazy 80% completion rate to opposing passers this season and 8.5 yards per attempts (4th worst). Burrow is 9th in passing yards to start the season and has shown some scrambling ability with 64 yards and a rushing touchdown. Again, this is riskier than the upper tier of QB, but I think there's upside on the rookie in this matchup.
One other guy to consider this week is Deshaun Watson who's had a brutal run of opponents in the first three weeks against the Chiefs, Ravens, and Steelers. Now he'll face the Vikings at home with the Texans coming in at 29 implied points. Watson is now priced as quarterback eight on both sites thanks to the struggles in the early season. This could definitely be a bounce-back game against an easier opponent.
Running backs
Derrick Henry FD 8500 DK 7400
Opponent PIT
Proj Points FD - 20.52 DK - 21.66
Many were ready to pour dirt on Derrick Henry after he turned a lot of opportunity into very little production in week 2, but his week 3 performance demonstrated that, as always, opportunity reigns supreme in the NFL. Henry had 29 opportunities against the Vikings and converted them into 130 total yards and 2 touchdowns. Vegas doesn't know what to make of this one. The Titans opened as 1.5 point favorites, and the line was immediately bet to Pittsburgh -2. Pittsburgh has looked tough against the run this year, but their strength of schedule has been laughable. They've faced the Giants, Broncos, and the Texans. This will be their first test against a real running back, and Henry should be up to the task.

Clyde Edwards-Helaire FD 7400 DK 6400
Opponent NE
Proj Points FD - 20.06 DK - 21.87
The Chiefs' exciting young rookie running back had another big fantasy day on Monday Night Football against the Ravens, turning his 26 opportunities into 134 yards. CEH didn't find the end zone, but given that level of opportunity the touchdowns should come. There is some concern that his size doesn't lend him to short yardage situations, but his price also doesn't account for any increase in touchdowns equity, which seems like a mistake. The Chiefs are healthy 7 point favorites in this game, and this year's Pats defense doesn't look as tough as last year's. Through three games the Patriots have allowed 4.6 yards per carry, which places them in the bottom half of the league. I'm excited to run Edwards-Helaire out there in cash games again this week.

Mike Davis FD 6300 DK 5700
Opponent ARI
Proj Points FD - 16.2 DK - 19.52
The Panthers shocked the world in week 3 against the Chargers, and a lot of that was thanks to Mike Davis' ability to step pretty neatly into the Christian McCaffrey role. He's not the same talent McCaffrey is, but he and Bridgewater connected for 8 receptions on 9 targets for 45 yards and a touchdown. He was the most targeted receiver in the Carolina offense, and chipped in 13 carries to boot. The Panthers are 4 points underdogs in this game, but Davis is cheap enough and involved in enough of the Panthers' offense that his role looks somewhat secure here. In a week that lacks a lot of obvious savings I like him as a way to get some savings at other positions.
It's not a both sites things, but Alvin Kamara is essentially a lock on DraftKings this week at $8K. The receptions and targets have been out of hand with Michael Thomas out of the lineup. Kamara leads the NFL in DraftKings points per game this season (all players) and has had 23 targets in the last two weeks. In full PPR this is just nuts for a RB. 
Some high upside options: Both Austin Ekeler and James Robinson have big roles in their respective team's passing games, but both are big underdogs who could conceivably lose opportunity if the game scripts goes against them.
Wide Receivers
Tyler Lockett FD 7500 DK 7000
Opponent MIA
Proj Points FD - 17.96 DK - 21.77
The biggest beneficiary of Wilson going to another level this season is Tyler Lockett who is sixth in targets (29) ninth in receiving yards (249) and first in receiving touchdowns (4). He's hauled in 83% of his targets which is second to only DeAndre Hopkins among the top ten. He ranks fourth among wide receivers in DraftKings points per game and has the league's best quarterback throwing to him. The target share is concentrated on Locket and Metcalf in this offense and that isn't set to change anytime soon. Lockett has moved into the elite tier of wide receivers this season.

Amari Cooper FD 7100 DK 6700
Opponent CLE
Proj Points FD - 17.68 DK - 21.47
On a team loaded with offensive weapons, Cooper has still found a way to make his mark this season, leading the team in targets with 35 which also represents the third-highest mark in the league. They've been rather efficient targets too, converting 71% into completions and he ranks 8th in total receiving yards. The zero touchdowns could be run bad considering the target share, though it stands to reason the end zone is always *tough* to come by considering how many receivers Dak Prescott has at his disposal. The lack of touchdowns also has kept the price relatively in check considering the target share so we are also getting him at a slight discount relative to the target volume.

Robby Anderson FD 6200 DK 5400
Opponent ARI
Proj Points FD - 13.67 DK - 16.29

D.J. Moore FD 6800 DK 5600
Opponent ARI
Proj Points FD - 14.49 DK - 17.64
Don't look now, by Robby Anderson has been pretty damn efficient this season since coming to Carolina and pairing with Teddy Bridgewater. The former ranks fifth among WRs in receiving yards (278) and has converted 83% of his targets. That's a top-ten number among what I would deem "qualified" wide receivers, and second only to Hopkins when it comes to the top yards' guys. If you think this new form of Anderson is a little less a down field threat and more a possession guy moving forward then we are getting him at bargain rates relative to his target share and production.
Meanwhile, Moore hasn't had quite the same success rate with Bridgewater under center. The targets are still there to some degree seeing as he ranks ninth overall with 26 and leads Carolina (Anderson has 24). But the conversion rate is abysmal at 54% which is easily the worst among the top group of wide receiver targets. I suspect there's some run bad here considering his past production and Bridgewater's relative accuracy. In that way, I see Moore as a good value this week against the Cardinals.
There are plenty of other wide receivers to consider this week. Keenan Allen saw a ridiculous 19 targets in Week 3 in Justin Herbert's second week under center. If he's going to get back to just being a target monster with a new QB then he enters the discussion as a top-five option.
If Chris Godwin misses time with the hamstring issue then Mike Evans would jump up the list here.
If Justin Jefferson is the new target guy in Minnesota (7/175/1 on nine targets in Week 3) then he's coming too cheap on both sites.
Tight Ends
Jimmy Graham FD 5300 DK 3800
Opponent IND
Proj Points FD - 9.76 DK - 12.08
I hate overreacting to one week of performance, but it's hard to ignore what Jimmy Graham did last week given the circumstances. 7 of Graham's 10 targets came after Foles took over at quarterback last week, and while he had 2 touchdowns, he actually had a few more looks in the red zone that he didn't convert. Tight end is a disaster as usual, so I like grabbing a real talent on the cheap so I can spend up for more known commodities elsewhere.
Jonnu Smith FD 5800 DK 4900
Opponent PIT
Proj Points FD - 11.37 DK - 13.77
Is 2020 the year of Jonnu? Smith was looking fairly touchdown dependent early in the season, but he saw a season high 8 targets against Minnesota, and looks to be an important part of the Tennessee offense. At least while AJ Brown is sidelined. And listen, friends, tight end really is awful again this year.
Here are the target leaders at tight end from last week:
10: Jimmy Graham, Noah Fant (not on the slate), Zach Ertz (not on the slate).
8: Jonnu Smith, Mark Andrews (turned his into 3 catches, and he's very expensive).
And then there were a pile of tight ends with 7 targets. Travic Kelce led all tight ends with 87 yards receiving. But can we really pay $7,600 for him when comparable options are ~$2,000 less? I think it's another week to pay down at tight end.
Defense / Special Teams
If you've read DFSR in the past, you'll know that we are often trying to toe the line between going cheap at defense and paying up. We usually lean to the cheaper end, but there are certainly times where it's correct to go expensive. We'll list an option at both price points today.


Bengals FD 3400 DK 2900
Opponent JAX
Proj Points FD - 5.85 DK - 5.85
It seems like there's a popular cheap play each week, and this week it's shaping up to be the Bengals. There are teams with lower totals than the Jaguars' implied total of 22, but the defenses facing them are a lot more expensive. Minshew has taken a lot of sacks this season (10), and he's even been turning the ball over more with 3 picks and a fumbled lost in his last two. And importantly, defenses are typically a crap shoot, and getting the savings here to spend up at a more consistent position is likely worth it.
Rams FD 4800 DK 3900
Opponent NYG
Proj Points FD - 7.64 DK - 7.64
If you do find yourselves with big time savings (perhaps due to a late injury), the Rams seem sort of like a no brainer. The Giants have by far the lowest implied total of the week at 17.25 (and falling), and have lost all their best skill position players this year. Daniel Jones has had a tough time with his current cast, with an abysmal 2 TDs to 4 INT ratio so far. He's also been sacked 9 times. The sky is the limit for this Rams defense this week.
Some other considerations: Dallas, Seattle, and Minnesota.
GRAB A FREE TRIAL OF OUR PROJECTION SYSTEM, AND CHECK OUT DFSR PRO!
FREE EBOOK
SECRETS TO CRUSHING DAILY FANTASY FOOTBALL!
DON'T SET ANOTHER LINEUP BEFORE YOU READ THIS BOOK.