News Daily Fantasy
Expert Advice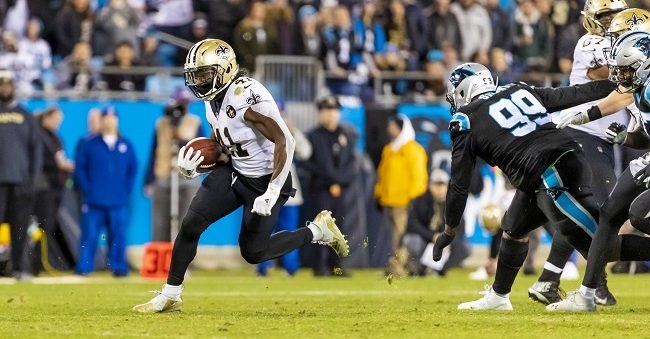 Daily Fantasy Football Cash Game Picks for FanDuel and DraftKings Week 7
Want access to the projections that power these picks? For a limited time we're offering a free one week trial to all the sports that we cover - that's optimal lineups for NFL, NBA, NHL, and MLB - for the same low price. Get started now!
Quarterbacks
Deshaun Watson FD 8000 DK 6800
Opponent GB
Proj Points FD - 22.44 DK - 23.22
Bill O'Brien was fired after Week 4 and that move has had a nearly 1:1 effect on unlocking Watson's fantasy potential similar to what we saw last season. In the last two games, since the firing, Watson has thrown for 359 and 335 yards respectively while also putting up a combined 51 yards on the ground. He also has seven passing touchdowns in that stretch and is the second-best fantasy quarterback over the last two weeks behind only Ryan Tannehill. The price hasn't come up enough for the production and this week he faces a sneaky-bad defensive team in the Packers. They rank 30th in DVOA and 25th against the pass. We ran out Watson in cash last week at low ownership to great results. Here's to running it back this week.
Justin Herbert FD 7500 DK 6400
Opponent JAX
Proj Points FD - 20.27 DK - 21.26
The Jaguars have been the league's worst defense against the pass this season and little changed after last week. Matthew Stafford didn't put up huge numbers mostly because he didn't need to. The game was in hand by halftime with the Lions up by two scores and things rolled downhill afterward. This week we get to take the rookie Herbert against this atrocious defense and it won't cost all that much for the pleasure. Though he's 0-4 as a starter, Herbert has still been efficient through the air with a 69% completion percentage and 9:3 TD:INT rate. He's averaging nearly 300 passing yards per game and has even gotten out and run with four rushing attempts and 14 rushing yards per game. The price is excellent on both sites and even with only four games under his belt, this is still a cash game spot for the rookie.

Joe Burrow FD 7100 DK 5500
Opponent CLE
Proj Points FD - 19.48 DK - 20.49
Kyle Allen FD 6700 DK 5200
Opponent DAL
Proj Points FD - 15.01 DK - 15.79
On DraftKings, where the pricing is tighter, it can often make a lot of sense to really spend down on more speculative quarterbacks in advantageous matchups. That's the case with these two this week. Burrow comes in as a DraftKings play where he's QB18 in price at $5500. The price is down because he's been bad over the last two weeks throwing exactly zero touchdowns and four interceptions. But that was in two tough matchups on the road against the Ravens and Colts respectively. Now it's back at home against the Browns who are a middle-of-the-pack defense on the season. Burrow still has upside at this price considering he's also shown the ability to get out of the pocket and scramble.
Meanwhile, in his second week as a starter for the Washington Football Team, Allen was solid against the Giants going 31-42 (74%) for 280 yards and two touchdowns. This week he'll get the absolute sieve that is the Dallas Cowboys' defense who rank 28th in defensive DVOA and allow the fourth-most opponent plays per game this season. Allen is coming even cheaper than Burrow and considering they've struggled to get much done on the ground, it stands to reason Washington will continue to rely on the pass to stay in games.
Running Backs
Alvin Kamara FD 9300 DK 7900
Opponent CAR
Proj Points FD - 21.32 DK - 24.64

Ezekiel Elliott FD 9500 DK 7800
Opponent WAS
Proj Points FD - 20.92 DK - 23.63
The way things are shaking out right now, it looks like we are going to have a lot of value at the wide receiver position once again. If that's the case, we're going to be in a position to spend up at both quarterback and running back. Alvin Kamara headlines all running backs for us this week, though it's close between him and Ezekiel Elliott. We lean Kamara because his targets are just so damn valuable, but a projection difference like this honestly means that shifting one carry from one to the other would fundamentally change things. We do have to keep an eye on Michael Thomas here, though, because his return would really cut into Kamara's target share. So what do we do in a spot like this?
We hone in on the details. Zeke's carries seem to be absolutely locked in right now (except for you know, the fumbles), with Dallas doing its best to avoid putting its fate in Andy Dalton's hands. The Cowboys also look pretty damned bad, and just got run off the field by the Cardinals. Still, Zeke got plenty of targets to make up for the lost carries, and looks like a sure thing if he can secure the ball better going forward. It hasn't been an issue for him over his career so we think it's a blip. 
Kamara has shown absolutely brilliant upside this year, finally combining his big-time volume with the ability to get in the end zone. While targets tend to be more volatile than carries, that hasn't been the case for Kamara this year. The Saints are also 7.5 point favorites over the Panthers, where Dallas is just a 3 point favorite over the Professional Football Team.
Ultimately, the tale of the tape for our system leans in the direction of Alvin Kamara in terms of absolute projection, but for my money, I feel like Zeke is just a hair safer. I reserve the right to change my mind at this point.

Kareem Hunt FD 7100 DK 6800
Opponent CIN
Proj Points FD - 16.44 DK - 17.99
It's one of the first weeks where our system isn't locked in on three running backs on the main slate, with a lack of great options in the mid-range. Still, I feel pretty enthusiastic about recommending Hunt in what should be a bounce-back game against the Bengals. Hunt got eaten up by the Steelers' defense last week, but honestly, everyone has this year. The game got away from the Browns in a hurry, and Hunt still managed 16 opportunities (targets plus carries). In a game where the Browns are 3 point favorites, Hunt should return to the 20+ touches he had against the Colts. The Browns also handed the ball off to RBs 32 times in these two teams' previous meeting this season. Given the lack of options, I think Hunt is actually pretty solid here.
James Conner FD 7200 DK 6700
Opponent TEN
Proj Points FD - 16.22 DK - 17.69
While we're on the subject of mid-range running backs, I think Conner is also worth a look. He was back in workhorse mode last week, carrying the ball 20 times for 101 yards and a touchdown against the Browns. Benny Snell got 6 carries, but mostly after the game was out of hand - and he vultured a touchdown at that point as well. The Steelers are 1.5 point favorites here, and in a normal game script, we'd expect to see Conner be the definitive lead back. It's somewhat concerning that Chase Claypool has been scoring rushing touchdowns, but as other teams adjust to that possibility I think we'll see Conner getting the bulk of touches down and close. I prefer Hunt but can see the argument for Conner for sure.
A few situations to keep an eye on: Joe Mixon in Cincinnati. We don't have word on his foot injury yet, but if he sits Gio Bernard would be an automatic cash game play. I could also see an argument for playing Justin Jackson, in spite of his relative timeshare with Joshua Kelley last game. He was so much more effective than Kelley on a per touch basis and was much more involved in the passing game. If push came to shove I could see playing him over James Conner if I was just out of money and needed to fill my flex.
A quick note on Clyde Edwards-Helaire: Right now our system assumes that Le'Veon Bell is going to siphon off a few snaps from CEH, but if Bell isn't ready or we get word that he'll be an occasional change of pace back, Edwards-Helaire is much too cheap on FanDuel at $7k.

Wide Receivers

Keenan Allen FD 7000 DK 6200
Opponent JAX
Proj Points FD - 16.11 DK - 19.82
Allen had a rough Week 5 against the Saints, seeing only two targets and 12 total snaps before leaving the game with back spasms. It doesn't seem like an ongoing issue and he should be back for this matchup against the Jaguars. Wide receivers have torched Jacksonville in each of the last two weeks with Kenny Golladay putting up 4/105 last week and Brandin Cooks going for 8/161/1 the week before. Before last game, Allen was averaging a 9/97 on 13 targets per game with Justin Herbert under center. He's a total WR1 in a dream matchup.
DK Metcalf FD 7300 DK 7200
Opponent ARI
Proj Points FD - 16.72 DK - 19.52
Metcalf has 90 or more receiving yards in each of his five games to start the season. He's making up for fewer than double-digit targets per game but just going crazy on yards when he does catch the ball. He ranks among the highest in the league in average targeted air yards at 16.3 and is in a class of his own among that top tier when it comes to the targets. This is the dream spot for a wide receiver with his quarterback consistently targeting him downfield. Metcalf is capitalizing on the opportunity. The Arizona Cardinal cornerback group is rated consistently low across the board and Metcalf should be able to do considerable damage here.

Jamison Crowder FD 6300 DK 5900
Opponent BUF
Proj Points FD - 15.72 DK - 19.4
On per game played basis Crowder is now the league leader in targets with 11.5 per. He's seeing elite target share which goes a long way in making up for the fact that he plays on an absolutely garbage team. But even bad teams can churn out solid fantasy floors and that's the case with Crowder so far. The Jets are going to almost always be playing from behind meaning Crowder should continue to see opportunities to reach a reasonable baseline. The touchdowns aren't likely to follow considering the Jets fail to score in general. But that's what's also keeping Crowder's price in check even though he ranks third overall in DraftKings wide receiving points per game.

Brandin Cooks FD 5900 DK 5200
Opponent GB
Proj Points FD - 14.04 DK - 16.89
While Will Fuller was projected to dominate much of this team's target share after the DeAndre Hopkins trade, he and Cooks have basically split the production this season. Cooks has 42 targets through six games which include a three target, zero reception stinker against the Vikings in Week 4. But the last two weeks have been world-beaters with Cooks putting up 8/161/1 in Week 5 and 9/68/1 in Week 6. The production for the Texans this week is somewhat reliant on who is able to avoid Jaire Alexander, one of the top-rated corners in the league and who draws more Josh Jackson, one of the worst. This could be the story in the difference between Fuller and Cooks this week. But I'll stick with Cooks.

Robby Anderson FD 6400 DK 6000
Opponent NO
Proj Points FD - 15.55 DK - 18.57
Anderson's targets finally tailed off in Week 6 with Teddy Bridgewater looking DJ Moore's way 11 times instead. The former still finished with a respectable 4/77 line but came away again without a touchdown. But this is a guy who has eight or more targets in four of the first six weeks and his 51 looks rank seventh overall this season. This New Orleans CB crew isn't what it used to be with Marshon Lattimore, in particular, tailing off over the last two seasons. His seven red-zone targets still rank top-20 in the league which means there *should* be at least some TD regression coming.
Tight Ends

George Kittle FD 7100 DK 6500
Opponent NE
Proj Points FD - 17.03 DK - 20.57
This year has been hell for tight ends, but Kittle has been a notable exception. He's still not as expensive as Travis Kelce, but he's actually been very comparable recently. He caught 7 of the 10 balls thrown his way for 109 yards and a touchdown against the Rams, and given how difficult things look for the San Francisco offense right now, you'd have to think his role is pretty secure. This Patriots defense isn't the same as last year, and tight end is bad enough that I think you might want to invest a little extra for the safety this week.
Hunter Henry FD 5800 DK 4500
Opponent JAX
Proj Points FD - 10.87 DK - 13.33
I could have listed a number of guys here who all seem pretty much the same to me. There's a big group of tight ends whose value comes mostly down to whether they can find the end zone, who are capable of getting 4-8 targets a game. Last week we were deciding between guys like Austin Hooper and Jonnu Smith, and this week it's looking like Henry will join them in that mix. I prefer Henry to Jonnu because Smith is now more expensive after being bad chalk last week. I prefer him slightly to Hooper based on the match-up, but honestly, it's close. When it comes down to locking my cash game lineups this week I strongly prefer to just pay up for Kittle, especially since there is so much value at wide receiver once again.
Also considered: Travis Kelce, but our system will normally do whatever it takes to avoid playing a tight end for nearly $8k on FanDuel.
Keep an eye on The potentially injured guys like Jordan Akins and Jonnu Smith. Akins sat last week while in the concussion protocol and Darren Fells caught 6 passes for 85 yards and a touchdown. When Smith went down, Anthony Firkser was great last week as well. Either would be a playable option if you found yourself without enough money for Kittle.
Defense / Special Teams
If you've read DFSR in the past, you'll know that we are often trying to toe the line between going cheap at defense and paying up. We usually lean to the cheaper end, but there are certainly times where it's correct to go expensive. We'll list an option at both price points today.


Football Team FD 3800 DK 2500
Opponent DAL
Proj Points FD - 6.11 DK - 6.11
Could this be crazy enough to work? The Cowboys looked awful against Arizona, and while there are a lot of offensive weapons there, they are now beholden to the talents of one Andy Dalton. The Football Team, meanwhile, is 8th in the league in sacks and fourth in defensive DVOA overall. They're also absurdly cheap. I'm willing to hear that I'm being crazy here, but my gut feeling is that they will wind up in our cash game lineups this week.
Steelers FD 4300 DK 3500
Opponent TEN
Proj Points FD - 8.11 DK - 8.11
If you have a few bucks left over, our system thinks you can consider going back to the well with the boys in black and gold this week. The Steelers have had a ridiculously high floor this season on the back of their ability to generate sacks and turnovers, leading the lead in sacks and ranking second in interceptions. This also gives them big upside, as we saw with Fitzpatrick's defensive touchdown last week. Tennessee's 25 implied total is a little scary, but our system believes the Steelers will make up for this with their big play ability.
GRAB A FREE TRIAL OF OUR PROJECTION SYSTEM, AND CHECK OUT DFSR PRO!
FREE EBOOK
SECRETS TO CRUSHING DAILY FANTASY FOOTBALL!
DON'T SET ANOTHER LINEUP BEFORE YOU READ THIS BOOK.