Baseball Picks Daily Fantasy
Expert Advice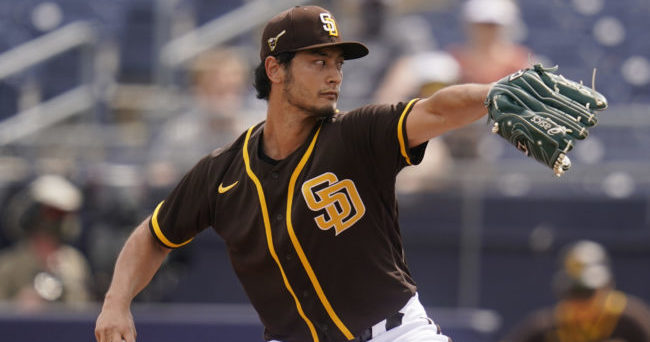 DraftKings and FanDuel MLB Picks for Opening Day Thursday 4/1/21
It's Opening Day in MLB and I can't believe we are back here. It's been a long winter, but the season is set to get underway on Thursday with a full slate of games. We are going to cover the afternoon set for DraftKings and FanDuel. 
Now's your chance to get DFSR PRO, which will give you access to our MLB, NBA, PGA, NHL, and NFL optimizers and our new player lab! Get started for free by clicking the button below.
Pitchers
Yu Darvish FD 10700 DK 10400
Opponent - ARI (Madison Bumgarner) Park - SD
FD - 41.8 DK - 23.31
Darvish is coming off one of his best seasons in the majors which is really saying something for the pitcher who's been mostly dominant ever since coming over in 2012. But a shortened 2020 season saw him strike out more than 11 batters per nine and, most importantly, really limit the walks to under 1.66 BB/9. Control had been the last remaining piece of his repertoire to sort out and he did as much last year leading to a career-best 2.82 xFIP. He makes the shift to the Padres but opens the season as one of the best money line favorite pitchers on the day at -215. This is a great spot at home for Darvish against the Diamondbacks and we could see him as the chalk arm on both sites.
Kyle Hendricks FD 9100 DK 7700
Opponent - PIT (Chad Kuhl) Park - CHC
FD - 37.81 DK - 19.56
Kyle Hendricks doesn't have the make-up of your typical ace pitcher in that he doesn't have tremendous strikeout upside. But he makes up for a lot of that with pinpoint control. He walked an absurdly-low 0.66 batters per nine innings last season which helped him to a 3.78 xFIP on the season. He struck out *only* seven batters per nine but the command meant he didn't run his pitch count up and averaged almost seven innings a start. He opens the season as a -225 home favorite against the lowly Pirates. The one thing we'll wait on is which direction the wind is blowing in Wrigley for this game.
Consider Gerrit Cole (FD $11000 DK $)
if playing the FanDuel slate.
Also Clayton Kershaw (FD $9000 DK $9500)
is coming at a discount because he's opening the season in Coors. It could be worth it to take the risk on him even with the terrible park.

Catcher/First Base
Willson Contreras FD 2900 DK 5000
Opponent - PIT (Chad Kuhl) Park - CHC
FD - 10.75 DK - 8.08

Anthony Rizzo FD 3300 DK 4800
Opponent - PIT (Chad Kuhl) Park - CHC
FD - 11.43 DK - 8.55
Contreras projects to hit second for the Cubs when they open the season, about as high as you'll ever get someone who qualifies at catcher. But that's going to be the case with the righty against Chad Kuhl. He had a down 2020 campaign but is only a season removed from an .888 OPS and 24 home runs. The power spike we saw across the league that season isn't likely to come back, but there's no denying this is one of the best offensive catchers in the game right now and is coming way too cheap on FanDuel if he's hitting in the two-hole.
Meanwhile, Rizzo also struggled last season from an OPS perspective, getting that number only into the mid-.700s when it was all said and done. But he remains one of the better hitters in the league and struck out only 15% of the time last season. He also drew walks 11% of the time but ran very bad in the luck department with a .218 BABIP. Look for a turnaround this season for Rizzo who opens things up against one of the weaker arms going on Opening Day in Chad Kuhl.
Carlos Santana (FD $2800 DK $3600) should be hitting in the cleanup spot for the Royals on Opening Day when they face Kyle Gibson. He's coming pretty cheap on DraftKings at sub-$4K and still draws a ton of walks.
Second Base
Brandon Lowe FD 3300 DK 4600
Opponent - MIA (Sandy Alcantara) Park - MIA
FD - 10.75 DK - 8.08
Second base isn't all that deep a position on Opening Day and honestly, just doesn't have a ton of mashers in its ranks anyway. Lowe spiked a .900+ OPS last season thanks to running a little hot in the power department but also getting his walk rate up to 11% as well. All of the signs are moving in the right direction for the 26-year-old who should hit in the cleanup spot for the Rays to start the season. The matchup against Sandy Alcantara isn't ideal, but this being a day full of aces, it isn't the worst thing in the world either.
Nick Solak FD 2700 DK 2900
Opponent - KC (Brad Keller) Park - KC
FD - 8.63 DK - 6.61
Solak is another second baseman slotted to hit in the fourth spot for his team and he gets one of the weaker arms in Brad Keller to open things up. He wasn't able to repeat his 2019 performance last season with a sub-700 OPS but this is a guy with solid pedigree who pushed the OPS close to .900 in a limited 2019 sample size. He isn't a big power guy but the 10% walk rate does get him on base enough. He's coming very cheap on DraftKings at a weaker position leaving money to spend elsewhere. It's not a huge upside play, but the floor should be there considering the slot in the lineup.
Shortstop
Corey Seager FD 4500 DK 5600
Opponent - COL (German Marquez) Park - COL
FD - 12.73 DK - 9.6
It took us this long to get to a guy hitting in Coors, though this isn't your typical Mile High game with the pitching matchup featuring Kershaw vs. German Marquez. That's keeping the run line a bit on the lower side. But man, Seager at this $4500 price on FanDuel is enticing even with the matchup. He realized his top-prospect upside last season once again with a .943 OPS. That's great for anyone, but it's especially great out of the shortstop position. He has tons of power with 15 home runs in just 232 plate appearances and is so tough to strikeout, going down on Ks only 15% of the time last year. That's the perfect profile for a guy about to take his cuts in Coors.

Adalberto Mondesi FD 3200 DK 5300
Opponent - TEX (Kyle Gibson) Park - TEX
FD - 11.27 DK - 8.75
Mondesi projects to hit third in the Royals' lineup and will face Kyle Gibson who struck out fewer than eight batters per nine last season while walking more than four. The 4.36 xFIP is something we can target on Opening Day and Mondesi definitely has some fantasy upside because of the speed. He's stolen 77 bases over the last two years, which in real games is just about one full season. This is as good a number as you'll see in the game these days and makes up for his overall lack of power. It means he'll have to get on base, which is something of a struggle for the guy. But once there, he's often off to the races.
Update: Mondesi suffered an oblique injury and will not be in today's starting lineup.
Third Base

Justin Turner FD 3500 DK 4700
Opponent - COL (German Marquez) Park - COL
FD - 11.46 DK - 8.66
Again, I don't think we are going to be totally loaded up on Coors guys in this game, but stacking Seager and Turner could make sense with the two hitting 2-3 in the Dodgers' lineup. Turner has been mostly platoon neutral for his career though slightly better against righties in that stretch. He's very tough to strikeout at just an 8% K% for his career in that split. The .364 wOBA in that split for his career is nearly elite and makes for an interesting play against Marquez in this spot.

Kris Bryant FD 3300 DK 5000
Opponent - PIT (Chad Kuhl) Park - CHC
FD - 10.62 DK - 7.96
Bryant is coming off a very disappointing 2020 campaign that saw him mired in some injuries and for an OPS under .700 on the shortened season. He should start this season with a clean bill of health and it wouldn't be a surprise to see him return to the .900 OPS hitter we saw in previous seasons. As is the case with these other Cubs, we are basically just waiting on the wind direction in Chicago to get the runline set.
Outfield

Ian Happ FD 3000 DK 4400
Opponent - PIT (Chad Kuhl) Park - CHC
FD - 11.44 DK - 8.57
Happ has now put together back-to-back excellent seasons and is set to open things up at the top of the order for the Cubs. Over the last two seasons, he's sported around a .900 OPS which last year was aided by a 13% walk rate. If he's able to maintain the patience at the plate then he has a considerable floor and won't be in the $3K range for long on FanDuel. And as we talked about already, Chad Kuhl and his 4.98 xFIP last season with a walk rate over 5.0/ 9 is one of the more exploitable arms on the slate.

Kike Hernández FD 2700 DK 3000
Opponent - BAL (John Means) Park - BAL
FD - 8.03 DK - 6.05
Hunter Renfroe FD 2800 DK 3200
Opponent - BAL (John Means) Park - BAL
FD - 10.28 DK - 7.68
If these guys are hitting near the top of the order for the Red Sox on Thursday then both could come in as solid, cheap options for a deeper slate of games. They will face the lefty Johnny Means for the Orioles who improved his peripherals last season but is still one of the weaker arms going here. Hernandez could hit in the leadoff slot against the lefty as a platoon masher and is coming really cheap on both sites, but especially on DraftKings at $3000. For his career, Hernandez has tagged lefty pitching to a 120 wRC+ and .347 wOBA in that split. If this is the platoon lineup for the Red Sox then he is a lock and load play on Opening Day.
Meanwhile, Renfroe should hit in the 6th or 7th slot in the order, which is a little lower than we like to see for cash games. But he has some patience with a 10% walk rate over the last two seasons and has faired much better against southpaws for his career. He owns a .375 wOBA in that split along with a .912 OPS. This is a great spot for a very cheap play on both sites.
GRAB A FREE TRIAL OF OUR PROJECTION SYSTEM, AND CHECK OUT DFSR PRO!
FREE EBOOK
SECRETS TO CRUSHING DAILY FANTASY FOOTBALL!
DON'T SET ANOTHER LINEUP BEFORE YOU READ THIS BOOK.