Baseball Picks Daily Fantasy
Expert Advice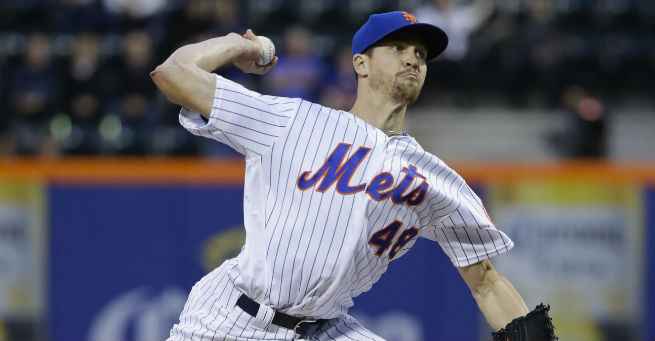 DraftKings and FanDuel MLB Picks for Monday 4/5/21
Now's your chance to get DFSR PRO, which will give you access to our MLB, NBA, PGA, NHL and NFL optimizers and our new player lab! Get started for free by clicking the button below.
Pitchers

Jacob deGrom FD - P 11000 DK - SP 10700
Opponent - PHI (Matt Moore) Park - PHI
FD - 42.1 DK - 24.17
With the Mets' opening day postponed (thanks, Covid), their perennially Cy Young candidate gets to make his opening debut against the rival Philadelphia Phillies on Monday. There is a particularly interesting dynamic at play here concerning the match-up. While the rest of the league is pairing similar starters against one another, deGrom will go up against Matt Moore. Yes, that Matt Moore. The one who hasn't pitched in the Majors since 2019, and hasn't cleared a sub 5 xFIP since 2016. As a result, deGrom is a huge favorite here, and since he's the only thing remotely resembling an ace on this slate, you can sign him up for the highest overall cash game ownership by a mile.
Dustin May FD - P 6800 DK - SP 8800
Opponent - OAK (Frankie Montas) Park - OAK
FD - 39.18 DK - 20.76

Justus Sheffield FD - P 7200 DK - SP 7500
Opponent - CHW (Carlos Rodón) Park - SEA
FD - 29.62 DK - 14.76
After deGrom, it's a big run of fourth starters. Generally, fourth starters are pretty damned bad, and today's crop is no exception. It basically comes down to these two and Frankie Montas, who is probably unplayable on account of going up against the ridiculous Dodgers offense. So where do we lean between May and Sheffield? They are actually fairly similar. Neither has established big-time strikeout stuff at the Major League level, instead relying upon an ability to generate groundballs to support their endeavors. If I have to pick one, I'm going with May. The A's have scored 7 (!) runs in their first three games, and the Dodgers prolific offense means he is more likely than Sheffield to get the win. Still, Sheffield is a pitcher to keep an eye on going forward.

Catcher/First Base

Pete Alonso FD - 1B 3700 DK - 1B 4800
Opponent - PHI (Matt Moore) Park - PHI
FD - 11.21 DK - 8.33
We'll be stacking against Moore as well as we can today, so why not starting with the Mets' mashing first baseman? Alonso has a career .872 OPS against southpaws, and honestly, it looks for all the world like he's running bad against them. He has just a .250 BABIP in his 212 PA vs. lefties, and if that rises to his projected levels (around .280) then we should be looking at a $4,500 player here. Still just 26 years old, our model likes Alonso to return to 2019 form in a hurry, and there's no better way to start doing that than by crushing Matt Moore.
Cody Bellinger FD - 1B 4100 DK - OF 5600
Opponent - OAK (Frankie Montas) Park - OAK
FD - 14.41 DK - 10.74
Bellinger fell off a lot of radars after last year's abbreviated season, but this current pricing is a legitimate joke. Bellinger is still just 25 years old, and put up a 7.8 WAR season just two years ago. He's .120 OPS points better against right handers, and happens to be facing one in Frankie Montas today. Montas is a promising young arm, but aside from his K rate, he doesn't really bring much else to the table. With a 4.17 career xFIP, he's league average at best, and Bellinger should be ready to mash here.
If you must play a catcher, consider Willson Contreras with the platoon in his favor against the corpse of Brett Anderson.
Second Base
Kolten Wong FD - 2B 3200 DK - 2B 3700
Opponent - CHC (Trevor Williams) Park - CHC
FD - 9.71 DK - 7.48
If early season patterns hold, Wong should be batting leadoff against the right-handed Trevor Williams. If Williams' old patterns hold, it should be something of a blood-bath. The Cubs' off-season acquisition has allowed 2+ HR/9 over the last two years en route to compiling an xFIP north of 5. While Wong isn't a world-beater, he does have an OPS .080 points better against righties for his career, and at these prices, getting him in the leadoff spot is almost enough of a reason to play him on its own. He's not an exciting big tournament play, but he should be solid for cash games. You can also consider Keston Hiura if you'd like to tap into a little more upside.

David Fletcher FD - 2B 2900 DK - 2B/3B 4500
Opponent - HOU (Luis Garcia) Park - LAA
FD - 9.84 DK - 7.69
The Astros finally take a break from running out potential Cy Young candidates to give the Angels a crack at a guy they should be able to hit in Luis Garcia. Garcia is a weird prospect who jumped from A+ ball to the Majors last season to little success. His one calling card - his strikeout rate - didn't translate, while his characteristic wildness followed him. Fletcher is not an exciting fantasy option since he has relatively little power and speed, but that's what makes him so cheap, and getting him atop the Angels lineup here against a poor pitcher should help him scrape out value.
Also considered: Jose Altuve, if you find yourself with extra money lying around.
Shortstop

Francisco Lindor FD - SS 3700 DK - SS 4800
Opponent - PHI (Matt Moore) Park - PHI
FD - 11.42 DK - 8.68
We're in something of a renaissance for offensive short-stops, but the one who tops my list today is the new-look Met Francisco Lindor. Like Alonso, Lindor will ply his trade against desperation starter Matt Moore. While Lindor is a switch-hitter, he is about .025 OPS points better against lefties for his career, and he should be in a position to put a real bruising on the hapless Moore.

Javier Báez FD - SS 3400 DK - SS 5200
Opponent - MIL (Brett Anderson) Park - CHC
FD - 11.36 DK - 8.67
While there are a lot of solid shortstop options today, I like taking a slight discount and going for Baez. Having the platoon in his advantage is a huge deal for Baez, who strikes out 5% less against lefties while posting an OPS .125 points higher than them for his career. Anderson, meanwhile, has to be considered a below-average lefty at this point, as he hasn't cleared 6.2 K/9 in 7 years. Mitigating the strikeouts is a huge deal for Baez, and I like him in any format.
Also considered: Tim Anderson and Carlos Correa.
Third Base

Rafael Devers FD - 3B 3300 DK - 3B 5200
Opponent - TB (Michael Wacha) Park - BOS
FD - 12.65 DK - 9.58
With deGrom being the defacto pitching option today, we'll have to find some savings somewhere, and that's why I'm into Rafael Devers. The 24-year-old has wrecked right-handers for a .871 OPS during his short career, which is a good start, but what we really love here is the match-up. The Rays, adorably, think they can rejuvenate Michael Wacha's career. History isn't on their side, with Wacha being 3 years removed from his last sub 4 xFIP. Don't let last year's small sample size fool you: Wacha should be in for it this year.

Kris Bryant FD - 3B 3400 DK - 3B 5100
Opponent - MIL (Brett Anderson) Park - CHC
FD - 11.39 DK - 8.54
By now you know the story on Anderson, so let's focus on Kris Bryant. The Cubs' All-Star third baseman has been a left-hander's worst nightmare so far in his career, posting an astounding .988 OPS against southpaws in 752 plate appearances against them. You're getting MVP level production at considerably sub-MVP level prices, and he's a great inclusion in any format.
Keep an eye on the Mets' starting line-up. If JD Davis bats toward the front of the lineup, he's absurdly cheap at $2,400 on FanDuel, and qualifies at both 3B and OF on FanDuel.
Outfield
Shohei Ohtani FD - OF 2900 DK - 1B/OF 4500
Opponent - HOU (Luis Garcia) Park - LAA
FD - 12.76 DK - 9.61
Our system flat out loves Ohtani today, and the case is very straightforward. He's just too cheap for what he can do against right-handed pitching. He's got an .895 career OPS against righties, should be batting toward the top of the lineup, and the righty he happens to be facing is bad. Don't worry about last year's short season sample size, and play Ohtani in every format.
Austin Meadows FD - OF 3500 DK - OF 4400
Opponent - BOS (Nick Pivetta) Park - BOS
FD - 12.98 DK - 9.85
Meadows is off to a great start this season, hitting home runs in two of his first three games, and has earned the trust of the Rays to hit atop the lineup. The Rays have a sneaky good match-up with Nick Pivetta, who has faded from a top prospect to a guy that Steamer projects for a 5 xFIP this season. The left-handed Meadows has been .068 OPS points better against righties, and looks like a solid cash game option here.
Kyle Tucker FD - OF 3000 DK - OF 4100
Opponent - LAA (José Quintana) Park - LAA
FD - 11.47 DK - 8.69
Tucker is a young stud in the making, with an .840 OPS over his last two season, batting toward the middle of one of baseball's best lineups. He's also been basically platoon neutral, giving him a high floor regardless of what the Angels throw at him here. At just $3,000 he is a great cash game option batting as low as 6th in the order.
Also considered: AJ Pollock, Clint Frazier, and Jackie Bradley Jr.
GRAB A FREE TRIAL OF OUR PROJECTION SYSTEM, AND CHECK OUT DFSR PRO!
FREE EBOOK
SECRETS TO CRUSHING DAILY FANTASY FOOTBALL!
DON'T SET ANOTHER LINEUP BEFORE YOU READ THIS BOOK.