Baseball Picks Daily Fantasy
Expert Advice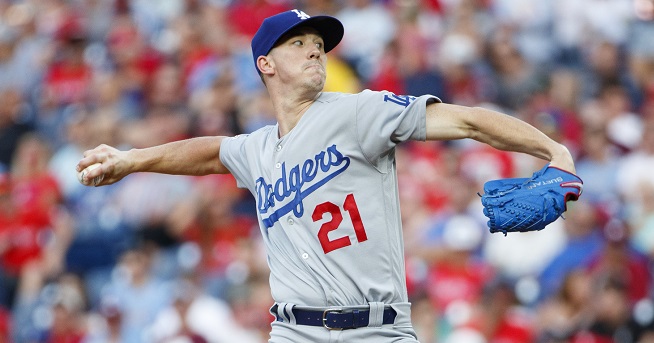 DraftKings and FanDuel MLB Picks for Monday, 5/3/21
Now's your chance to get DFSR PRO, which will give you access to our MLB, NBA, PGA, NHL, and NFL optimizers and our new player lab! Get started for free by clicking the button below.
Pitchers

Walker Buehler FD - P 10200 DK - SP 9600
Opponent - CHC (Kyle Hendricks) Park - CHC
FD - 39.49 DK - 21.78
It's a day without a lot of fantastic pitching options, and I think you could do a lot worse than Walker Buehler. The strikeouts have gone down a tic this year, but his incredible command (.57 BB/9!) has more than made up the difference in terms of his overall effectiveness. The Cubs are not a conventionally fantastic match-up, with a lot of household names in their lineup. They have been about league average in terms of wOBA this season, but importantly, their 27% K rate is the third-highest in the Majors. Buehler and the Dodgers are almost -200 favorites, as well. On a day without many headliners, Buehler should see significant cash game ownership.

Kenta Maeda FD - P 6900 DK - SP 7800
Opponent - TEX (Dane Dunning) Park - MIN
FD - 39.19 DK - 21.08
Maeda has, quite simply, been really bad his year. Basically every available metric paints the picture of an aging pitcher declining. So why would we consider him for cash games? There are a couple of reasons. First of all, while Maeda has declined, he hasn't turned into a true-talent 6.56 ERA guy overnight. He might not be the Cy Young candidate he was last year, but even in this diminished state he's probably league average. With career high BABIP allowed and HR/FB rate, he's due for some positive regression soon. Then there's the match-up. The Rangers have struck out at the 2nd highest rate in the Majors while posting a below-league-average .303 wOBA. It's not without risk, but at these prices we can afford a little risk in our lives.
Also considered: Frankie Montas.

Catcher/First Base

J.T. Realmuto FD - C 3300 DK - C 5300
Opponent - MIL (Adrian Houser) Park - PHI
FD - 10.9 DK - 8.25
I'll often write up a catcher with a caveat like, "If you have to play a catcher, think about this guy." In the case of Realmuto, this is an unqualified recommendation, at least on FanDuel. Realmuto is an on-base machine with more power than you think, and he's going up against a pitcher in Adrian Houser who gives opposing batters a lot of chance to get on base with his low K rate and relatively high walk rate. Now, he also generates a lot of groundballs, but given that Realmuto should be batting toward the top of the lineup he should have plenty of shots at doing what he does best.
Keston Hiura FD - 1B 2300 DK - 1B/2B 3700
Opponent - PHI (Matt Moore) Park - PHI
FD - 10.46 DK - 7.92
This position is usually filled with mashers with huge upside, so it might be a little jarring to see the nearly minimum priced Hiura grace the writeup. Make no mistake - it's been an awful start to the season for Hiura, who has maintained his already high strikeout rate while seemingly giving back a decent amount of his hard contact. But are we really ready to write off a 24-year-old prospect with huge pedigree? I'm not. First of all, it's a very small sample. If Hiura gets the start, he'll go up against what's left of Matt Moore, who has allowed more earned runs than innings pitched this season. If Hiura bats 4th like he did on Sunday, he's well worth the risk in cash games.
Also considered: Brandon Belt and CJ Cron from what should be a high-flying Coors game.
Second Base
Tommy La Stella FD - 2B 2800 DK - 2B 3900
Opponent - COL (German Marquez) Park - COL
FD - 11.5 DK - 8.84

Ryan McMahon FD - 2B 3600 DK - 2B/3B 5100
Opponent - SF (Aaron Sanchez) Park - COL
FD - 11.83 DK - 8.96
When we're seeing prices like these out of a Coors game, we probably shouldn't overthink things. La Stella is a straight-up value play. He'll likely be batting leadoff against the league average German Marquez. Getting the leadoff man for a team that's projected for 5+ runs at $3,800 makes us sort of agnostic to the player himself.
McMahon is a higher upside play, though obviously, you have to pay for it. Sanchez is probably a worse pitcher than Marquez (this year's run-hot ERA aside), and McMahon is clearly a much better hitter than La Stella. He's cutting his K rate while adding to his power, and is in Coors against a poor pitcher with the platoon in his favor. He should see huge ownership here.
Also considered: Cesar Hernandez.
Shortstop

Francisco Lindor FD - SS 3000 DK - SS 5000
Opponent - STL (Adam Wainwright) Park - STL
FD - 11.02 DK - 8.37
This early in the season you're just going to see me writing up a lot of guys who have run bad over small sample sizes. With Mets fans everywhere seeing visions of Carlos Baerga and Roberto Alomar running through their heads, I'm here to tell them to take a deep breath. Yes, the power hasn't been there, but the 12% BB and 12% K rate suggests that his approach is still great, and the .197 BABIP almost has to turn around soon. Adam Wainwright is pitching well so far this year, but I'll take Lindor at this price on FanDuel against anyone but the very best.
Corey Seager FD - SS 3600 DK - SS 4800
Opponent - CHC (Kyle Hendricks) Park - CHC
FD - 12.86 DK - 9.7
It's nice to write up a guy who we don't need to make apologies for. Seager has nearly a .900 OPS against right handers for his career, bats in the middle of a world-beating line-up, and is in the prime of his career. Today he'll go up against Kyle Hendricks, who is a good pitcher, but is off to an extremely terrible start so far this year. Our system likes a number of Dodgers today, so feel free to stack as many as you can afford.
Also considered: Trevor Story.
Third Base

José Ramírez FD - 3B 4100 DK - 3B 5300
Opponent - KC (Jakob Junis) Park - KC
FD - 13.22 DK - 9.94
Like Seager, Ramirez doesn't need a huge introduction. He returned to MVP form last season, and if it weren't for a .224 BABIP this year he'd be on track to be on pace for another MVP level season. Junis, meanwhile, is just a sample-size All-Star. He's a perennial 4.5 xFIP guy with 23 good innings so far this year, and isn't going to scare us off a stud like Ramirez.

Matt Chapman FD - 3B 3100 DK - 3B 4300
Opponent - TOR (Steven Matz) Park - OAK
FD - 11.15 DK - 8.33
Yet another run-bad All-Star that we might need to make room for today, Chapman is off to a very slow start in 2021. The big question is whether last year and this year are harbingers of who Chapman will be forever, or whether the 28 year old can return to the exceedingly solid form he displayed prior. The nice thing about these prices is that we can probably get away with playing him even if he lands in the middle. He'll be batting in the middle of the A's order against the left handed Matz, who is league average at best. I think he's a great cash game play here.
Also considered: Manny Machado.
Outfield

Charlie Blackmon FD - OF 3500 DK - OF 3700
Opponent - SF (Aaron Sanchez) Park - COL
FD - 12.12 DK - 9.27
This price on Blackmon is an abomination. Even if you assume that last year's power dip was real, you're still talking about a guy who has slugged .040 points better against right-handers for his career and been .230 OPS points better at home. As for Sanchez, the ERA is far out-kicking the underlying peripherals, with his xFIP sitting almost 2 points higher than the ERA on the season. I'm happy with Blackmon in any format today.
Eddie Rosario FD - OF 2500 DK - OF 4000
Opponent - KC (Jakob Junis) Park - KC
FD - 11.17 DK - 8.51


Wil Myers FD - OF 2700 DK - OF 5000
Opponent - PIT (Tyler Anderson) Park - SD
FD - 10.49 DK - 7.89
The value train rolls on, as we have a lot of solid big leaguers who are underpriced thanks to early season woes. Rosario is a straightforward value case if he's batting in the middle of the lineup.
Myers' price is just puzzling. He's kind of raking this year? He's got an .800 OPS and is arguably running bad, sitting .020 BABIP points beneath recent levels. He's got a great match-up with the platoon in his favor against Tyler Anderson, a never-has-been who has a 4.23 xFIP. Our system loves a Padres stack today as a result.
Also considered: Mookie Betts.
GRAB A FREE TRIAL OF OUR PROJECTION SYSTEM, AND CHECK OUT DFSR PRO!
FREE EBOOK
SECRETS TO CRUSHING DAILY FANTASY FOOTBALL!
DON'T SET ANOTHER LINEUP BEFORE YOU READ THIS BOOK.