Baseball Picks Daily Fantasy
Expert Advice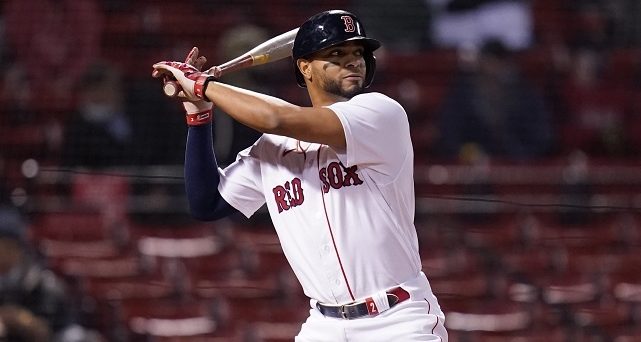 DraftKings and FanDuel MLB Picks for Thursday, 5/20/21
Now's your chance to get DFSR PRO, which will give you access to our MLB and NBA optimizers and our new player lab! Get started for free by clicking the button below.
This might end up being the smallest slate I write about all season. We have a four-game day slate and a four-game night ledger on this traveling Thursday card, and we're going to focus on the night slate beginning at 7ET. That means we have only eight teams in action and one of the smallest player pools you'll see. That's on full display when you see the lackluster pitching options, but that also means there are some fun bats to stack as well. With that in mind, let's kick things off with Vince Velasquez.
Pitchers

Vince Velasquez FD - P 7900 DK - SP 7500
Opponent - MIA (Sandy Alcantara) Park - PHI
FD - 32.89 DK - 17.59
The fact that Velasquez is our top pitcher says a lot about this slate, but I've always been partial to this guy. He had that one 16-K game against the Padres a few years back, and I've been going back to the well ever since. It hasn't always worked, but it has lately. VV has a 2.84 ERA, 1.18 WHIP, and 9.9 K/9 rate over his last five starts. He's done that despite a few tough matchups, and this is certainly far from one of those. The Marlins currently rank 27th in K rate and dead-last in xwOBA. That's no surprise when you see that they're missing Starling Marte, making Velasquez one of the best plays on the board.
Drew Smyly FD - P 7300 DK - SP 8400
Opponent - PIT (Wil Crowe) Park - ATL
FD - 38.07 DK - 20.57
Smyly has been giving me frowns for a while now, but this dude has shown some serious potential in the past and at times this season. In his first four seasons, Smyly pitched to a 3.24 ERA and 1.17 WHIP, which is right on par with what he did in the shortened season last year. A couple of injury-riddled years killed his career numbers, and inconsistencies are the only thing holding him back this year. He's actually got at least 37 FanDuel points in three of his six starts which is an absurd number from a guy this cheap. The best part of this play is the matchup, though, with Pittsburgh ranked 24th in OBP, 29th in wOBA, and dead-last in wOBACON.

Catcher/First Base

Freddie Freeman FD - 1B 4100 DK - 1B 5200
Opponent - PIT (Wil Crowe) Park - ATL
FD - 14.17 DK - 10.6
Freeman earned himself an NL MVP last season and has truly developed into one of the best fantasy assets in the game. That alone makes him a great option on a four-game slate, but he happens to have a fantastic matchup as well. We'll discuss Wil Crowe later, but anytime an unproven righty faces a lefty like this, it's bad news. Since 2019, Freeman has a .312 AVG, .428 OBP, .610 SLG, and 1.037 OPS with the platoon advantage in his favor. He's also been much better at home in that stretch, and that only adds to his intrigue.

Max Muncy FD - 1B 3900 DK - 1B/2B 4900
Opponent - ARI (Riley Smith) Park - LAD
FD - 12.78 DK - 9.41
You might see Muncy's .254 batting average and be far from impressed, but this slugger is amazing. That subpar average is mainly because this dude has such a good eye, generating a .436 OBP for the year. That's obviously one of the best marks in the Majors, and a lot of that damage has come recently. Over his last nine games played, MM has a .525 OBP and 1.202 OPS. That's a truly absurd stretch, and it's a good indicator that Muncy is seeing the ball than any hitter in baseball right now. That's bad news for a righty like Riley Smith, with Muncy having massive splits against righties throughout his LA tenure.
If you need a catcher, Christian Vázquez (FD $2400 DK $4500) is clearly a great option against a lefty.
Second Base

Ozzie Albies FD - 2B 3000 DK - 2B 5100
Opponent - PIT (Wil Crowe) Park - ATL
FD - 11.09 DK - 8.48
We will do everything possible to exploit these unknown pitchers on this slate, and Crowe is definitely one of them. The Pittsburgh righty pitched to a 6.17 ERA and 1.70 WHIP in Triple-A in 2019 and has not shown he can be any better at this level. In fact, Crowe has a 6.52 ERA and 1.72 WHIP in 29 innings at the Majors, putting him in a terrible spot here. That's rough news against this awesome Atlanta lineup, especially with Albies batting third or fourth. Over his last 24 games played, Oz has a .282 AVG and .858 OPS. That's not necessarily special, but it's plenty in such a spectacular matchup.
Gavin Lux FD - 2B 3100 DK - 2B/SS 3600
Opponent - ARI (Riley Smith) Park - LAD
FD - 9.6 DK - 7.29
We mentioned Smith a bit earlier in the Muncy write-up so let's go ahead and get into that. This Arizona youngster has been forced into this rotation, pitching to a 6.83 ERA and 1.69 WHIP. That's actually right on par with what he did in Triple-A, and it's hard to understand why Arizona chose this guy as their call-up. All of that is terrifying news against a lineup like this, and Lux has established an everyday role since Corey Seager went down. He's now started in seven of the last eight days, providing a .400 AVG, .464 OBP, .720 SLG, and 1.184 OPS in that span. We obviously don't mind that Lux bats from the left side against a weak righty like Smith too.
Shortstop

Xander Bogaerts FD - SS 3600 DK - SS 5700
Opponent - TOR (Steven Matz) Park - TOR
FD - 12.5 DK - 9.47
It's quite possible that Bogey has been in every Thursday article I've written this season. He's been productive pretty much every time out, too, getting good matchup after good matchup. Steven Matz has quietly been excellent this year, but his 9.68 ERA and 1.70 WHIP last season really scare us. That's even more concerning with his 6.75 ERA and 1.71 WHIP over his last four starts, showing that regression is on its way. A struggling southpaw facing a guy like Bogaerts is rough news for Matz, with Bogey owning a .342 AVG, .600 SLG, and 1.000 OPS this year. He obviously has even better numbers against southpaws, totaling a .381 OBP and .949 OPS against lefties since 2019.

Dansby Swanson FD - SS 2600 DK - SS 3800
Opponent - PIT (Wil Crowe) Park - ATL
FD - 10.37 DK - 7.87
Picking a second shortstop was about as exciting as going to the dentist. After contemplating for a good 15 minutes, we decided to ride the guy with the best per-dollar projection. That happens to be Swan Song, with the Atlanta shortstop starting to turn his season around. He's actually scored at least 22 FanDuel points in four of his last 11 games, which would be an incredible total from a guy this cheap. We already discussed how good this matchup is, too, and Swanson would be a great fill-in with the rest of these Braves with how affordable he is. We also love that Swanson has an OPS north of .850 at home since the beginning of last season.
Third Base

Justin Turner FD - 3B 3700 DK - 3B 5000
Opponent - ARI (Riley Smith) Park - LAD
FD - 12.07 DK - 9.12
This is the final piece to our Dodgers stack, and it might be the most critical with the way Turner has been swinging the lumber this year. The Red Rocket has a .296 BA, .393 OBP, .500 SLG, and .893 OPS through his first 39 games. That's pretty much the stud we've seen throughout his Dodgers career, and it makes him a great buy in such a tasty matchup. The lack of third-base options makes Turner even more enticing because there are really not many good choices outside of him.
Brian Anderson FD - 3B 2600 DK - 3B 3000
Opponent - PHI (Vince Velasquez) Park - PHI
FD - 7.94 DK - 6.01
Velasquez can be a volatile pitcher, so if you're going to enter multi-entry GPPs, you must have some exposure to a Marlins stack. Guys like Anderson and Corey Dickerson would have to be key pieces to that, with Big Brian raking against righties throughout his career. Since 2019, BA has a .341 OBP, .452 SLG, and .793 OPS with the platoon advantage in his favor. That makes this $3K price tag mind-boggling on both sites and one of the best pairings with these LA and Atlanta stacks. Velasquez definitely has some blow-up potential, too, owning a 1.38 career WHIP. Not to mention, Anderson has an OPS north of 1.200 against Velasquez in 22 career at-bats.
Outfield

Marcell Ozuna FD - OF 3100 DK - OF 4600
Opponent - PIT (Wil Crowe) Park - ATL
FD - 13.42 DK - 10.08
This $3,100 price tag on FanDuel is laughable. Ozuna was one of the frontrunners for NL MVP last season, and he's starting to find his slugger stroke. Over his last 19 games played, Ozuna has a .456 SLG, homering five times in that span. The thing that could get him going here is the fact that he's facing an unknown pitcher like Crowe, with the Braves projected for more than five runs on this short slate. If you can, squeeze in as many Braves and Dodgers into your build.
Hunter Renfroe FD - OF 2500 DK - OF 3700
Opponent - TOR (Steven Matz) Park - TOR
FD - 10.53 DK - 7.87
Renfroe can be tough to trust for DFS purposes, but the power potential is just crazy. We're talking about a guy who has a .478 career SLG and has been slaughtering southpaws as well. For his career, Renfroe has a .361 OBP, .561 SLG, and .902 OPS, with the platoon advantage in his favor. That means he should be at least $1,000 more on each site in these circumstances, making him one of the best punt plays on the board. We obviously don't mind that he's facing a struggling Steven Matz either, in a Triple-A park like Dunedin Stadium.
Corey Dickerson FD - OF 2300 DK - OF 4200
Opponent - PHI (Vince Velasquez) Park - PHI
FD - 7.91 DK - 6.1
Dickerson seems to be a regular in these articles for me, and it's easy to see why. He's made minced meat of right-handers throughout his career and has remained way too cheap on both DFS sites throughout the last few years. Since 2019, Dickerson is hitting .297 against righties, generating an .833 OPS in that span. Those are stellar averages from such a cheap hitter, and it's actually below his amazing career averages. That makes him a great pairing with Anderson if you want to stack the Marlins, especially at this $2,300 price tag on FanDuel.
GRAB A FREE TRIAL OF OUR PROJECTION SYSTEM, AND CHECK OUT DFSR PRO!
FREE EBOOK
SECRETS TO CRUSHING DAILY FANTASY FOOTBALL!
DON'T SET ANOTHER LINEUP BEFORE YOU READ THIS BOOK.