Baseball Picks Daily Fantasy
Expert Advice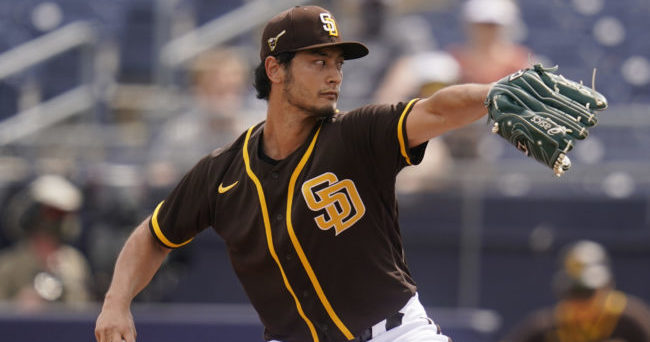 DraftKings and FanDuel MLB Picks for Thursday, 6/3/21
Now's your chance to get DFSR PRO, which will give you access to our MLB and NBA optimizers and our new player lab! Get started for free by clicking the button below.
These Thursday slates tend to be lighter, but we're treated with an eight-game ledger here. I believe that's the largest slate we've had on a Thursday since the opening week, and it's the perfect amount of games. What does need to be monitored is the weather, though. We've had numerous postponements throughout the week, and Mother Nature is doing her best to ruin our DFS fun. With that in mind, let's kick things off with the best pitcher on the board.
Pitchers
Yu Darvish FD - P 11500 DK - SP 10700
Opponent - NYM (Taijuan Walker) Park - SD
FD - 44.33 DK - 24.85
If you haven't watched much Yu, be sure to check him out. This guy is one of the most exciting pitchers in the Majors, throwing out numerous pitches at all sorts of weird velocities. That has jelly-legged numerous hitters throughout Darvish's career, and he looks as sharp as ever right now. Since the beginning of last season, Yu has a 2.08 ERA and 0.95 WHIP while striking out 172 batters across 142.2 innings. Those are obviously some of the best numbers in the league, with Darvish scoring at least 35 FanDuel points in eight of his 11 starts this year. We absolutely love that in a matchup like this, with the Mets ranked 25th in OPS and dead-last in runs scored.
Tyler Anderson FD - P 7200 DK - SP 8200
Opponent - MIA (Cody Poteet) Park - PIT
FD - 31.78 DK - 15.58
I watched many Tyler Anderson starts in his Rockies days, and I always thought he was better than his numbers said. He's shown that for most of this season, collecting at least 21 FanDuel points in all but one start this year. That was a disastrous nine-run outing, and it's quite amazing to see that TA has a 3.51 ERA and 1.11 WHIP in the other nine starts. A lot of that has to do with his home ballpark, with PNC being one of the most pitcher-friendly venues in baseball. We're certainly not worried about him facing Miami either, with the Marlins ranked 25th in OBP, 27th in runs scored, and dead-last in xwOBA.

Catcher/First Base

Miguel Sanó FD - 1B 2600 DK - 1B/3B 4000
Opponent - KC (Kris Bubic) Park - KC
FD - 11.14 DK - 8.23
If you've been reading these articles, you know just how much I love Sano. There aren't many guys with the raw power of Miguel, generating a .489 SLG and .254 ISO for his career. There are only a handful of hitters with better power numbers, and any guy with this sort of power ability is hard to overlook for DFS purposes. His batting average this season is really ugly, but we adore the fact that he has seven homers over his last 18 games played. That's pretty much the story for Sano, and we'll bet on him whenever he has a premium matchup. That's certainly the case here, with Sano getting the platoon advantage against a guy with a 1.34 career WHIP.
Jesús Aguilar FD - 1B 2700 DK - 1B 5000
Opponent - PIT (Tyler Anderson) Park - PIT
FD - 9.4 DK - 7.07
Something is off with these price tags. Anytime you see a $2,300 discrepancy, you need to use that guy on the cheaper site. That happens to be FanDuel here, with Aguilar playing at a $4K level over there for most of the season. In fact, Jesus is one of the league leaders with 38 RBI, posting a solid .778 OPS. That has earned him a regular spot in the three and four-hole for the Marlins, which is scary since he gets the platoon advantage against a lefty here. Against southpaws last season, Aguilar provided a .321 AVG, .390 OBP, .566 SLG and .956 OPS. Anderson is definitely a guy we want to use, but Aguilar is a good contrarian play if you want to make multiple lineups.
Carson Kelly is our favorite catcher option of the day, killing southpaws throughout his career.
Second Base
Tommy Edman FD - 2B 2900 DK - 2B 5000
Opponent - CIN (Vladimir Gutierrez) Park - STL
FD - 9.96 DK - 7.74
Edman is one of those guys that will never look flashy with his style of play, but he's quietly one of the best fantasy producers in baseball. A big reason for that is his speed, swiping 10 bags this year and batting atop the Cards lineup. He's certainly not a one-dimensional guy, though, hitting three doubles and two homers over his last seven games played. That's led to Tommy tallying a .321 BA, .371 OBP, .536 SLG, and .907 OPS over his last 16 games played. That looks even better when considering that he faces a pitcher making the second start of his career after accruing a 5.67 ERA and 1.35 WHIP in two years at Triple-A.
Hanser Alberto FD - 2B 2100 DK - 2B/3B 2500
Opponent - MIN (J.A. Happ) Park - KC
FD - 8.4 DK - 6.67
Anytime you can find someone this cheap, you have to keep them in consideration. Alberto has always been a favorite of mine in these circumstances, crushing southpaws throughout his career. Since 2019, Hanser is hitting .375 with the platoon advantage in his favor, en route to a .502 SLG and .892 OPS. It's not like it's a small sample size either, doing that in 321 plate appearances. That always earned him a prominent spot in this lineup when they face a lefty, and JA Happ is not an arm we're worried about. We'll discuss that more later on in the outfield section! Not to mention, Alberto has a 1.100 OPS in 20 at-bats against Happ throughout his career.
Shortstop
Brandon Crawford FD - SS 2600 DK - SS 3700
Opponent - CHC (Zach Davies) Park - SF
FD - 8 DK - 6.09
It feels bizarre to say this, but Crawford is one of the best all-around shortstops in baseball right now. He's typically been a glove-only type guy, but he's been one of the best hitters this year as well. In fact, BC has a .402 OBP, .618 SLG, and 1.020 OPS over his last 28 games played. That's a substantial stretch to have a sensational run, and it's becoming clear that he's found something in his swing. That makes him really attractive against a weak righty like Zach Davies, with the Cubs starter owning one of the worst K rates in baseball. In addition, Davies has a 4.65 ERA and 1.68 WHIP for the year.
Willy Adames FD - SS 2400 DK - SS 4000
Opponent - ARI (Seth Frankoff) Park - MIL
FD - 8.86 DK - 6.75
Adames is one of those guys that simply needed a change of scenery to become a productive player. We're talking about one of the most highly touted prospects in baseball, generating a .364 OBP and .784 OPS in his final three years in the Minors. While he had trouble showing that ability in Tampa, his early results in Milwaukee are brilliant. Over his last 10 games played, Willy has a .286 BA, .375 OBP, .514 SLG, and .889 OPS. That's something Milwaukee has desperately needed from their shortstop position for years. We love his matchup against Frankoff, too, posting an ugly 9.22 ERA and 1.90 WHIP.
Third Base

Nolan Arenado FD - 3B 3300 DK - 3B 5300
Opponent - CIN (Vladimir Gutierrez) Park - STL
FD - 10.78 DK - 8.13
Here's another former Rockies player thriving outside of Colorado! It's no surprise that Arenado is doing that, though, making multiple All-Star appearances before joining the Cards. Many people were concerned that he wouldn't translate without Coors Field, but he's quieting all of those doubters with his .274 BA, .519 SLG, and .841 OPS. That's vintage Arenado, and it looks even better when you see his .915 OPS since the beginning of May. All of that makes him a great pairing with Edman because we anticipate St. Louis having no problems with a youngster like Vlad Gutierrez.

Josh Donaldson FD - 3B 3200 DK - 3B 4600
Opponent - KC (Kris Bubic) Park - KC
FD - 12.02 DK - 8.9
If you don't already know, Donaldson has literally made a career of destroying southpaws. Since making his debut in 2010, JD has a .385 OBP, .556 SLG, and .941 OPS, with the platoon advantage in his favor. He's obviously not the same guy we used to know and love, but a .392 OBP against lefties this year shows that he still sees the ball well from that side. Kris Bubic has been a nice surprise this season, but his advanced statistics tell us that some negative regression is headed his way, and facing this righty-heavy Twins lineup might be the start of that fall-off.
Outfield

Nelson Cruz FD - OF 3500 DK - OF 5100
Opponent - KC (Kris Bubic) Park - KC
FD - 12.31 DK - 9.21
Let's cap off our Twins stack with the most important piece. That happens to be Cruz, with the 40-year-old playing some of the best baseball in his career. In fact, Cruz has a .301 AVG, .385 OBP, 601 SLG, and .987 OPS since joining the Twinkies three years ago. That's hard to believe from such an old player, but it's clear that he's comfortable as their DH. He's even comfier when he gets to face a left-hander, generating a .438 OBP, .746 SLG, and 1.184 OPS against southpaws since 2019. Those are arguably the best splits in the Majors, and it puts him in play against any lefty.
Dylan Carlson FD - OF 2600 DK - OF 3800
Opponent - CIN (Vladimir Gutierrez) Park - STL
FD - 10.29 DK - 7.85
Don't look now, but Carlson is starting to look like one of the best rookies in the NL. The stud prospect posted a .361 BA, .681 SLG, and 1.009 OPS in his final year at Triple-A and has shown flashes of that recently. In fact, DC has homered in three of his last four games, doing that damage against some of the best pitchers in baseball. That's certainly not the case with a youngster like Gutierrez, and it's important to hop in this train before it gets too expensive. Carlson will eventually be $500 more on each site, and that's only the floor of what could be an incredible career.

Jorge Soler FD - OF 2100 DK - OF 3100
Opponent - MIN (J.A. Happ) Park - KC
FD - 11.59 DK - 8.64
Soler has been horrible this season, but it's lowered his price to some numbers we can't overlook. The slugger was actually about $1,500 more on each site this time last season, and it's no surprise when you look at his power potential. We're talking about a guy who has 60 homers and a .501 SLG since the beginning of 2019. He's also got an ISO just shy of .250 in that span, too, indicating that a power surge is right around the corner. Facing a lefty only adds to his intrigue, with Soler hitting from the right side. Happ is far from a scary southpaw, too, owning a 5.24 ERA and 1.27 WHIP so far this year,
GRAB A FREE TRIAL OF OUR PROJECTION SYSTEM, AND CHECK OUT DFSR PRO!
FREE EBOOK
SECRETS TO CRUSHING DAILY FANTASY FOOTBALL!
DON'T SET ANOTHER LINEUP BEFORE YOU READ THIS BOOK.