Baseball Picks Daily Fantasy
Expert Advice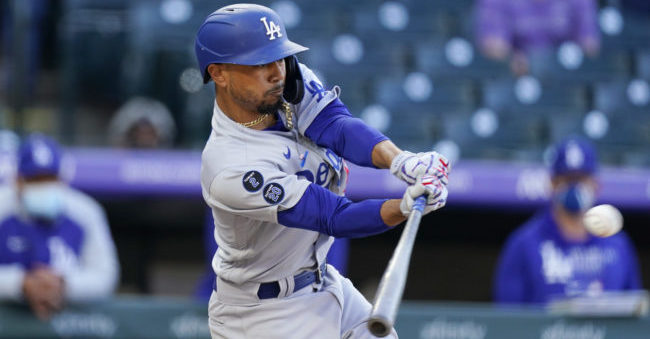 DraftKings and FanDuel MLB Picks for Wednesday 6/9/21
Now's your chance to get DFSR PRO, which will give you access to our MLB, NBA, PGA, NHL, and NFL optimizers and our new player lab! Get started for free by clicking the button below.
Pitchers

Gerrit Cole FD - P 11500 DK - SP 11200
Opponent - MIN (Randy Dobnak) Park - MIN
FD - 42.63 DK - 24.07
Cole has gotten wrecked for earned runs in two of his last four starts but I am not at all concerned, especially considering the lack of pitching on this slate. Outside of those two duds, Cole has been elite this season holding opponents to two or fewer earned runs in 10 of 12 starts, good for a 2.26 ERA/2.34 xFIP, and has not only has he been consistent but also provides a ton of upside with a 36.5% K rate. The matchup is nothing to write home about as the Twins are slightly above average in the split vs. righties(105 wRC+) and overall on the season(106 wRC+) but Cole is still easily the top pitcher on this slate.
Austin Gomber FD - P 9500 DK - 6000
Opponent - MIA (Undecided) Park - MIA
FD - 32.99 DK - 16.3
Stacking Cole with multiple big bats shouldn't be an issue on this slate given the two rookie pitchers who have been terrific lately and both in the $6k range on DraftKings. I will take the cheaper of the two and roll with Austin Gomber who is massively underpriced relative to his FanDuel price. He has definitely had some bumps along the way(gave up 5+ ER twice in three starts) but has been rolling lately holding opponents to two or fewer earned runs in five straight starts and three of those came at home in Coors Field. Tonight he gets a huge park factor upgrade getting a start in Miami vs. the Marlins who have a 88 wRC+ and 28% K rate against southpaws.
Also Consider: Lance Lynn(CHW) who has been terrific all season(2.26 ERA/234 xFIP) but gets a tougher matchup vs. the Jays so is a GPP only play for me tonight

Catcher/First Base

Yuli Gurriel FD 3200 DK 4400
Opponent - BOS (Nathan Eovaldi) Park - BOS
FD - 9.95 DK - 7.63
This game has the highest total(9.5) on the board tonight and a great spot to turn to in all formats. If you are not punting SP2 on DraftKings a balanced approach at the first base is in the cards and it starts with Yuli Gurriel. In the short term, he has been scorching hot with hits in five straight including four multi-hit games(12 for 18 total). Looking at the entire season, Gurriel is also having a career-year entering the night with a .333/.406/.532 slash line and has already driven in 42 runs. At these prices, he is my top play at the position on both sites.
Jared Walsh FD 3400 DK 4100
Opponent - KC (Brad Keller) Park - KC
FD - 11.39 DK - 8.54
Believe it or not, the Angels' offense has actually been better without Mike Trout in the lineup(fire up those terrible overrated takes!). One of the reasons has been the consistent play of Jared Walsh who is breaking out right on schedule after showing flashes a year ago. Coming into tonight he has posted a .297/.362/.555 slash line with 13 home runs and 40 RBI. He also gets a plus matchup vs. Brad Keller who has given up a .304 average and .372 wOBA to left-handed bats this season. Fire up Walsh in all formats.
Second Base
Chris Taylor FD - 2B 3000 DK - 4600
Opponent - PIT (Tyler Anderson) Park - PIT
FD - 9.8 DK - 8.2
The Dodgers are back up top in terms of implied runs on Wednesday and with their lineup adjustment putting expensive and struggling Cody Bellinger down the lineup it opens up a great opportunity in all formats. Taylor is a guy who consistently gets to take his hacks vs. southpaws near the top of the order as he has posted a .442 wOBA/186 wRC+ in the split this season. He also comes in with hits in eight of his last 10 games and at these prices, will be in my player pool in all formats.

DJ LeMahieu FD 2700 DK 4200
Opponent - MIN (Randy Dobnak) Park - MIN
FD - 11.85 DK - 9.16
The Yankees offense has been a disappointment, to say the least, this season but it is impossible to ignore these prices, especially considering they are pushing five implied runs tonight. My Yankees builds and exposure almost always start at the top with LeMahieu who has won batting titles in both leagues and is sitting right near season-low prices opening up a huge buy-low in which we should take advantage. More good news as he gets a plus matchup vs. Randy Dobnak who has given up 17 hits and nine earned runs over his last two starts. I don't think we need to go here for cash but a Yankees stack may not come this cheap again and could also be lower owned.
Shortstop

Carlos Correa FD 3500 DK 5000
Opponent - BOS (Nathan Eovaldi) Park - BOS
FD - 10.67 DK - 8.03
The price is going up with his move up the batting order but still has room to grow as the Astros offense leads baseball in almost all offensive categories. Correa picked up another three hits last night and now has multi-hit efforts in three of his last four and now faces Nathan Eovaldi who brings reverse splits to the table giving up a .338 wOBA and .431 SLG to right-handed bats. This game has the highest total on the board as both teams are in good spots so don't be afraid to get as much exposure as possible in all formats.

Gleyber Torres FD 3100 DK 4300
Opponent - MIN (Randy Dobnak) Park - MIN
FD - 10.21 DK - 7.69
I talked about the Yankees being underpriced above with LeMahieu and Torres is another one that stands out tonight. We are still waiting on those 2018/2019 power numbers to show back up and while we wait it is good news that the average(.275) is on the rise after posting hits in four straight and five of his last six games including four multi-hit efforts. Like I mentioned with LeMahieu, the Yankees are not at the top of my cash-game exposure but I love the GPP upside and potential lower ownership due to recency bias.
Third Base

Justin Turner FD 3100 DK
Opponent - PIT (Tyler Anderson) Park - PIT
FD - 12.37 DK - 9.35
Much like the Yankees, the Dodgers bats are somewhat underpriced as well considering their potent offense. With the struggles of Betts and especially Bellinger, the Dodgers have managed to stay a top offense in baseball and Turner has played a huge role in that with Taylor and Muncy. The average(.266) is down from where it normally sits but the production has been there as he enters the night with a 128 wRC+ with nine home runs, 30 RBI, and 37 runs scored. At these prices, he is my top play at third in cash games and a great addition to a GPP Dodgers stack.
Also Consider: Rafael Devers(BOS) if you have the salary to pay up, Ke'Bryan Hayes(PIT) who has hits in five straight since returning to the lineup, or Gio Urshela(NYY) to add to the buy-low Yankees theme I have discussed throughout the article
Outfield

Mookie Betts FD - OF 3600 DK - 5000
Opponent - PIT (Tyler Anderson) Park - PIT
FD - 15.99 DK - 13.6
It is truly incredible and a testament to their depth that the Dodgers are tied for the league lead in runs while Cody Bellinger and Mookie Betts are hitting .196 and .258 respectively. With that said, Betts price has dropped significantly on both sites and the Dodgers lead all teams in implied runs vs. Tyler Anderson and the Pirates. While the average is nothing to write home about, he is getting on base at a .372 clip and sits with a 130 wRC+ on the season. With an MVP-type player, we have to buy the dip and Betts is in my player pool in all formats tonight.
Alex Verdugo FD - OF 3300 DK - OF 3900
Opponent - HOU (Jake Odorizzi) Park - BOS
FD - 11.71 DK - 9.02

Danny Santana FD - OF 2200 DK - 1B/OF 3200
Opponent - HOU (Jake Odorizzi) Park - BOS
FD - 12.78 DK - 9.72
I am going back to this game one more time before signing off and love the value at the top of the Red Sox order. Let's start with Verdugo who continues to provide the Red Sox with exactly what they hoped for when they acquired him. He hit .300 in the short-season a year ago and has taken it to another level in 2021 by decreasing his K rate by 8% but has yet to see the fruits of that labor with a BABIP that is 70 points lower than last year and 20 points lower than his career mark. I am expecting him to keep getting better so buy-low while you can.
For Santana, there is not a ton of upside here but he has been hitting leadoff and comes very cheap, especially on FanDuel which will aid in loading up on Gerrit Cole tonight.
GRAB A FREE TRIAL OF OUR PROJECTION SYSTEM, AND CHECK OUT DFSR PRO!
FREE EBOOK
SECRETS TO CRUSHING DAILY FANTASY FOOTBALL!
DON'T SET ANOTHER LINEUP BEFORE YOU READ THIS BOOK.