Basketball Picks Daily Fantasy
Expert Advice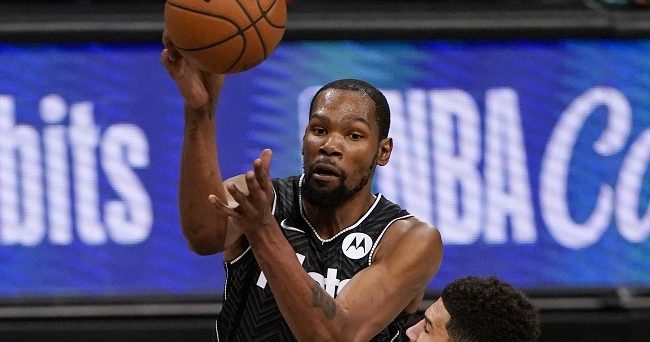 FanDuel NBA Picks and DraftKings NBA Picks - Thursday, 6/10/21
Head on over a for your chance to get DFSR PRO, which will give you access to our NBA FanDuel and DraftKings optimizer, our MLB Optimizer and NHL Projections as well. Plus our new player lab! Get started for free by clicking the button below.
First time with NBA or NFL? Be sure to read our free NBA and NFL Ebooks on building lineups, general strategy and more. We've got you completely covered.
The big question for tonight surround's Mike Conley's status. We're going to proceed with this article as though he's out, but if he winds up playing that throws a significant monkey wrench into things.
Point Guard

Kyrie Irving FD - $9700 DK - $9700
Opponent - MIL
Proj Pts FD - 57.12 DK - 58.23


Jrue Holiday FD - $8200 DK - $7600
Opponent - BKN
Proj Pts FD - 41.81 DK - 42.17
Point guard is really hard tonight. Kyrie and Jrue are really the only safe options (unless Conley sits, more on that in a second), but neither is a classic value on these prices. The expensive price tags only complicate things, as you're playing sub-optimal plays for high price tags. Still, it's not all a disaster. Kyrie has been absolutely up to the task of going up against Holiday, and Holiday himself has a very nice match-up with Brooklyn. We can't expect the Bucks to be this bad (or the Nets to be this good) forever, so I think you just plug these guys in and try to find savings elsewhere.
You'll have to make your own mind up about the Clippers point guards. I'd like to trust Reggie Jackson, but it's terrifying that he saw just 17 minutes in a close game 1.
If Conley is out, Jordan Clarkson is close to a must play if he's going to play 28 minutes and take 18 shots off the bench.
Shooting Guard
Donovan Mitchell FD - $9500 DK - $8900
Opponent - LAC
Proj Pts FD - 45.24 DK - 47.51
With Conley out, Mitchell launched 30 shots into the air en route to 47 points from the field. It's clear that the Jazz think this is the main vector they can attack the Clippers' defense on, and if Beverley is only going to play 6 minutes per game the Clippers clearly don't have anyone to keep him in check. It's tough to spend up everywhere, but Mitchell looks like a must-play.
Bruce Brown FD - $5900 DK - $4200
Opponent - MIL
Proj Pts FD - 24.78 DK - 24.42
Brown was terrific in game two, compiling a 13/6/4 line on 6/10 shooting. In the playoffs we need to take value where we can find it, and while Brown isn't exactly cheap he's pretty much what passes here. If Brown plays a 33+ minute rotation (which he was on pace for), this will look like an absolute steal if you prorate his production as well.
Also considered: Middleton led the Bucks in shots in game two, and if they are going to do anything he'll need to start making some buckets.
Small Forward

Kevin Durant FD - $10700 DK - $10600
Opponent - MIL
Proj Pts FD - 57.44 DK - 58.76
Durant has looked unstoppable offensively, getting to wherever he wants on the floor and doing real damage from all angles. He was surgical in game two, shooting 12-18 from the floor and 4-6 from three. He was also fantastic passing out of the double-team, finding his teammates for 6 assists as well. He's also been engaged on the defensive end, with 5 total defensive stats across two games. Durant looks like the premier pay-up option for me, tonight.

Joe Ingles FD - $4600 DK - $4700
Opponent - LAC
Proj Pts FD - 29.7 DK - 31.59
Ingles isn't a play if Conley winds up being out there, but Ingles looks like a great option if Conley sits. He played 32 minutes in game one, and importantly, he racked up 7 assists. We know he can pay these prices when he has a hand in running the offense, and he really helps us pay up at other positions tonight. He doesn't qualify at SF on FanDuel, but on DraftKings he's a great play there.
On FanDuel, consider Bojan Bogdanovic.
Power Forward

Blake Griffin FD - $5500 DK - $4800
Opponent - MIL
Proj Pts FD - 28.81 DK - 29.9
Blake saw something of a reduced role in game two, but only because the Nets absolutely blew the doors off the Bucks. He was on pace for another double-double had he needed to play his full run, and that should be more than enough to justify these prices. Power forward is, as always, terrible, and Blake becomes basically a must-play for cash games as a result.

Royce O'Neale FD - $5800 DK - $5100
Opponent - LAC
Proj Pts FD - 22.77 DK - 23.15,p>O'Neale is absolutely capable of disappearing entirely, but game one was pretty reassuring when it comes to how he could be deployed in this match-up. You love to see the 36 minutes, and he found himself near the basket often enough to collect 11 rebounds. He's never going to give you 30 points from the field, but he's absolutely capable of a double-double with a few defensive stats, which is all you're asking for here.
If you can afford him, it's do or die time for Giannis tonight.
Center
It's honestly unclear how to proceed at this position at this point. Of all the players that qualify, I'm probably most comfortable with Brook Lopez at his current price. Gobert is really the only other alternative, but the guy took six shots in game 1. I don't think you can trust Zubac for LAC, so you're basically left taking a pretty bad value and hoping for the best.
GRAB A FREE TRIAL OF OUR PROJECTION SYSTEM, AND CHECK OUT DFSR PRO!
FREE EBOOK
SECRETS TO CRUSHING DAILY FANTASY FOOTBALL!
DON'T SET ANOTHER LINEUP BEFORE YOU READ THIS BOOK.