Baseball Picks Daily Fantasy
Expert Advice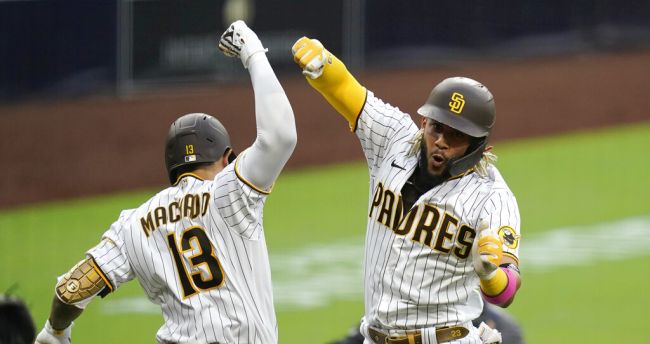 DraftKings and FanDuel MLB Picks for Friday 6/25/21
Now's your chance to get DFSR PRO, which will give you access to our MLB, NBA, PGA, NHL, and NFL optimizers and our new player lab! Get started for free by clicking the button below.
Pitchers
Carlos Rodón FD - P 11200 DK - SP 10700
Opponent - SEA (Yusei Kikuchi) Park - CHW
FD - 35.08 DK - 18.82
While Jacob deGrom is sort of running away with the National League Cy Young at this point, the race is much closer in the American League and Rodon has been near the front since the start of the season. It has been a spectacular comeback story that includes a no-hitter(near perfect game) and he enters the night having held opponents to one or fewer earned runs in 10 of his 12 starts. A lot of the success comes on the back of an elite fastball/slider combination that he throws 82% of the time and helped him to a career-high 36.6% K rate. The prices are near season high's but he gets an elite matchup vs. a bottom 5 offense so fire him up in all formats.
Chris Paddack FD - P 8500 DK - SP 8800
Opponent - ARI (Corbin Martin) Park - SD
FD - 34.42 DK - 18.56
After a rocky April, Paddack has really started to come into form posting a 3.35 ERA and even better 3.24 xFIP over his last eight starts. What really stands out is the K upside he has provided lately with six or more strikeouts in four straight starts including 20 over his last two starts. He now gets an elite matchup vs. a struggling(to put it kindly) D-backs team that has posted a league-worst .280 wOBA, 75 wRC+, and .119 ISO since the start of May while only winning five(5!!) games. Paddack is my favorite SP2 on DraftKings and a nice GPP pivot play on FanDuel tonight.
Also Consider: Alek Manoah(TOR) in a plus matchup vs. the Orioles if he starts. He is still waiting on his appeal decision after hitting Franco in his last meeting with the O's

Catcher/First Base

Yuli Gurriel FD - 1B 3300 DK - 1B 5000
Opponent - DET (Wily Peralta) Park - DET
FD - 15.3 DK - 11.73
It is going to be really hard not to go back to the Astros once again and I don't think we can fade them at this point until they really cool down or get priced out of the park. Gurriel has seen his price go up slowly and finally hit $5K on DraftKings but he is having a better season than Jose Altuve who is $6K tonight. Gurriel is also coming off his fourth straight multi-hit effort and is hitting over .400 since the start of June. Once again my top play at first in all formats, especially on FanDuel where he is still in the low $3K range.
**Update - could be an issue with rain tonight in Detroit so stay tuned to chat for updates as lock approaches**

Luke Voit FD 2500 DK 4400
Opponent - BOS (Martin Pérez) Park - BOS
FD - 13.22 DK - 9.88
It feels like we have been talking about the Yankees being underpriced on FanDuel all season and now Luke Voit joins the conversation. He hasn't been able to carry over any momentum thanks to injuries but things are looking up as he has hits in three straight since returning with two home runs and an RBI in each game. He is projected to hit 5th in the lineup, gets a plus matchup against Martin Perez and the Red Sox, and is underpriced on both sites. Core play in all formats.
Second Base

Jake Cronenworth FD - 1B 3300 DK - 2B 4800
Opponent - ARI (Corbin Martin) Park - SD
FD - 10.11 DK - 7.79
The Padres are red-hot winning seven straight including a huge sweep over their division rivals, the Dodgers. They now get a much more relaxed matchup against the dumpster fire D-Backs meaning we are going to want some exposure. In cash, it is always tough to fit Tatis or Machado but hitting right in between them is some nice value in Jake Croneneworth who had a home run in each game vs. the Dodgers and comes into tonight with a .387 wOBA and 150 wRC+ in June. This is a great spot for the Padres and Cronenworth is my favorite PTS/$ on the team.

DJ LeMahieu FD 3500 DK 4400
Opponent - BOS (Martin Pérez) Park - BOS
FD - 13.64 DK - 10.54
Back to the underpriced Yankees which are all over my radar today. While LeMahieu his price has slowly gone up on FanDuel recently, there has been a big falloff in his price on DraftKings making him a top target at the position from a PTS/$ perspective. Overall, it has been a down season for the two-time batting champ but the good news is that he comes into tonight with hits in seven straight and 11 of his last 12 games including five multi-hot efforts and three home runs. I don't think we need to go there on FanDuel where Cronenworth is cheaper but on DraftKings, he is in play in all formats.
Shortstop

Carlos Correa FD 4100 DK 5200
Opponent - DET (Wily Peralta) Park - DET
FD - 13.24 DK - 9.96
The shortstop position is absolutely loaded at the top with Tatis, Bichette, and Semien all in great matchups but instead, I turn to one of the hottest hitters in the league in Carlos Correa. Loading up on Astros almost daily has been a theme of my articles for awhile now and it's hard to ignore when the sites fail to price them accurately. The prices are finally starting to adjust but Correa is still a bit cheaper than the three I mentioned above and he is hitting .370 in June with a .500(!!!) wOBA and 227 wRC+. Lock and load!
**Update - could be an issue with rain tonight in Detroit so stay tuned to chat for updates as lock approaches**
Third Base

Justin Turner FD 3200 DK 5800
Opponent - CHC (Jake Arrieta) Park - CHC
FD - 13.2 DK - 9.97
The Dodgers get a plus matchup tonight vs. a struggling veteran in Jake Arrieta who has given up four or more earned runs in three of his last four starts and enters the night with a 5.45 ERA/4.74 xFIP on the season. For Turner, the price has reached its peak on DraftKings making it fairly easy to go another direction but on FanDuel it is hard to ignore the price that really never seems to go up. Which is odd as he is having a terrific season to this point with a .371 wOBA, 141 wRC+ with 39 RBI, and 43 runs scored. Now imagine the Dodgers offense hitting on all cylinders. Either way, Turner is my favorite play at third on FanDuel.

Manny Machado FD 3900 DK 5000
Opponent - ARI (Corbin Martin) Park - ARI
FD - 14.88 DK - 11.2
I mentioned the price on Turner on DraftKings and that has me easily flocking to Manny Machado who just finally again hit the $5K range. It should continue to rise given his current form as he enters the night red-hot in June hitting .316 with a .397 wOBA and 157 wRC+ and has already hit six balls out of the park. The Padres also get an elite matchup against the Corbin Martin and the brutal D-backs bullpen.
Outfield

Michael Brantley FD - OF 3800 DK - OF 4500
Opponent - DET (Wily Peralta) Park - DET
FD - 13.2 DK - 10.11
You are likely going to get sick of seeing the Astros written up daily but until they cool down or get priced correctly we have to take advantage. What makes this weirder is the fact they are the #1 offense in baseball and continue to get plus matchup after plus matchup. To be fair, they have started to see some minor increases but not enough, especially for Brantley who comes in with six straight multi-hit games including seven extra-base hits. You know what to do!
**Update - could be an issue with rain tonight in Detroit so stay tuned to chat for updates as lock approaches**
Teoscar Hernández FD 3500 DK 4700
Opponent - BAL (Matt Harvey) Park - BAL
FD - 15.25 DK - 11.46
The Jays have been streaking lately winners of six straight while averaging six runs per game in that stretch. They are a core team for me tonight yet I have left out of the article until the very final pick. That is mostly due to their pricing which makes it nearly impossible to target multiple bats in cash games without sacrificing pitchers. The one bat that is still fairly affordable and my top one-off for cash exposure is Teoscar Hernandez who is the everyday cleanup hitter on a Top 3 offense in baseball.
GRAB A FREE TRIAL OF OUR PROJECTION SYSTEM, AND CHECK OUT DFSR PRO!
FREE EBOOK
SECRETS TO CRUSHING DAILY FANTASY FOOTBALL!
DON'T SET ANOTHER LINEUP BEFORE YOU READ THIS BOOK.