Baseball Picks Daily Fantasy
Expert Advice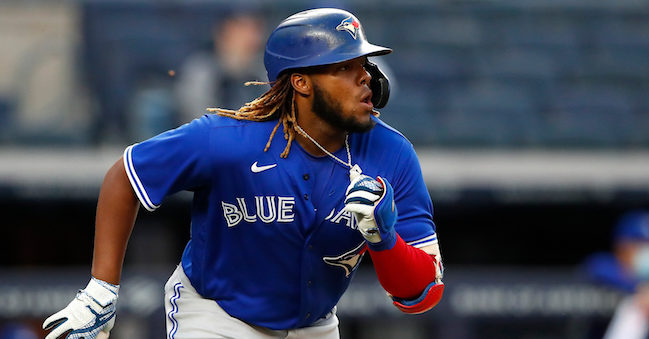 DraftKings and FanDuel MLB Picks for Wednesday 7/21/21 - All Day
Now's your chance to get DFSR PRO, which will give you access to our MLB, NBA, PGA, NHL, and NFL optimizers and our new player lab! Get started for free by clickiang the button below.
Pitchers
Afternoon
Madison Bumgarner FD 7200 DK 10100
Opponent - PIT (Max Kranick) Park - PIT
FD - 32.1 DK - 15.8
After looking like complete toast for the last couple of seasons, Bumgarner has bounced back in some ways to show that he can at least still put guys down swinging. He's striking out more than a batter an inning this year and keeping the walks relatively in check. Sure, the 5+ ERA is bad, but the xFIP is at least a little better in the mid 4's. He also gets the 26th-ranked offense in the Pittsburgh Pirates as a -130 home favorite. It's not overwhelming odds, but this slate is rough with pitching, to begin with.
Main
Lance McCullers Jr. FD 10200 DK 10100
Opponent - CLE (Eli Morgan) Park - CLE
FD - 34.58 DK - 18.6
The Indians are a little banged up right now and McCullers opens this slate as the biggest money line favorite. He's -225 at home here and it puts him at the best win odds for the slate. McCullers is striking out more than 10 batters per nine with the only issue right now being the number of walks he's giving up. But the Indians aren't a great offense by any means and he's in such a good spot for this slate. There are some other good arms here, but we will take the win odds on McCullers.
Julio Urías (FD $9100 DK $9700) could be a popular play here as well.
Catcher/First Base
Afternoon

Pete Alonso FD 3800 DK 5900
Opponent - CIN (Jeff Hoffman) Park - CIN
FD - 14.77 DK - 10.97
The Mets are going to be a pretty easy stack on this slate against Jeff Hoffman who brings a 5.22 xFIP into this game. Alonso isn't on the 53-home run pace we saw in his rookie year, but has 19 through 300+ plate appearances with an .829 OPS. Not completely elite numbers and the price is a little hefty, but the Mets have the highest implied run total here by a healthy margin.
Main

Vladimir Guerrero Jr. FD 4500 DK 6000
Opponent - BOS (Garrett Richards) Park - BOS
FD - 16.19 DK - 12.28
Pitching is at a premium meaning it might be tough to pay up for a lot of bats. But if you are going to do it with one of these guys it should probably be Vlad. He's fulfilling the promise to be one of the best hitters in the game and it is all coming together this season with 31 home runs and 1.096 OPS. He's very tough to strike out and Garrett Richards could be in real trouble against this Blue Jays offense who have one of the highest projected totals on the slate.
Second Base
Afternoon
Kolten Wong FD 2800 DK 4200
Opponent - KC (Brad Keller) Park - KC
FD - 11.06 DK - 8.52
Wong appears locked into the leadoff slot for the Brewers right now which makes him a good value on both sites at these prices. He doesn't take a ton of walks, but he doesn't strike out much either at only 16%. Through his 230 plate appearances there have been flashes of power (seven home runs) and speed (six stolen bases) and he has a low-800s OPS. For the FanDuel price especially, he's a bargain.
Main

Marcus Semien FD 4000 DK 5700
Opponent - BOS (Garrett Richards) Park - BOS
FD - 15.14 DK - 11.47
If we can fit them, we are going to want more than a couple of Blue Jays bats on Wednesday evening. Semien is locked into the leadoff role for Toronto where he's been almost all season and has kept even with the return of George Springer. The OPS has been hovering in the upper-.800s and he's a power (23 home runs) and speed (10 stolen bases) threat through and through. From a fantasy perspective, it's easy to see why the prices are this high. But they are also pretty much worth it.
Shortstop
Afternoon

Fernando Tatis Jr. FD DK 5700
Opponent - ATL (Kyle Muller) Park - ATL
FD - 14.04 DK - 10.62
Like we've said before, if there is a bat that is worth paying through the nose for, it's Tatis. He's just one of the best fantasy producers the game has ever seen and his numbers this season are bonkers. He already has 28 home runs and 22 stolen bases, well on his way to at least a 40-30 season The 1.1014 OPS is among the best in the game and the matchup against Muller is a good one.
Strongly consider Willy Adames (FD $3200 DK $4100).
Main

Bo Bichette FD 3600 DK 5100
Opponent - BOS (Garrett Richards) Park - BOS
FD - 16.25 DK - 12.47
Going 1-2-3 in the Toronto order should be the priority here with Bichette locking into the second spot this season. Like Semien, he is able to produce power and speed and is on his way to a 20-20 season. The OPS isn't at the same levels as his rookie season, but that's fine considering he is able to produce across the stat line. And the Blue Jays have such a good run expectation here that paying up for the top of the order is the way to go. Again, it might be tough if rostering two big arms, but the sacrifices can come somewhere else.
Third Base
Afternoon
J.D. Davis FD 3300 DK 4700
Opponent - CIN (Jeff Hoffman) Park - CIN
FD - 11.94 DK - 9.05
Again, the Mets are the stack here for the early and will likely be the chalk plays across the board. Davis is hitting cleanup for them right now and the righty is easily having the best numbers of his short career in a limited sample size. The OPS is well over 1K though I would caution folks on the .516 BABIP which is totally unsustainable. That being said, the price doesn't even reflect the run-hot nature of the stats and he is still a deal here in the middle of the order for New York.
Main

Yoán Moncada FD 3100 DK 4500
Opponent - MIN (Michael Pineda) Park - MIN
FD - 12.24 DK - 9.27
Pineda has been merely an average arm this season, striking out less than a batter per inning with an xFIP in the 4's. Moncada did go yard on Tuesday evening though his power doesn't look like it's going to get back to the 2019 numbers. That being said, he can get on base with the best of them with a .402 OBP this season. If the power can be there at all then he's a near-elite option, but the patience at least gives him a high floor.
Outfield
Afternoon

Christian Yelich FD 3500 DK 4400
Opponent - KC (Brad Keller) Park - KC
FD - 14.53 DK - 10.9
Pitching isn't going to cost a ton on this slate and Yelich is actually coming at okay numbers on both sites. A big part of that though is his performance this season which has been lacking, to say the least. His OBP is higher than the Slugging which is never a good sign and he's had a major dip in power over the last couple of seasons. That being said, this is Brad Keller he is facing.
Brandon Nimmo FD 3400 DK 4400
Opponent - CIN (Jeff Hoffman) Park - CIN
FD - 13.06 DK - 9.77
Nimmo is among the most patient hitters in the game, walking 16% of the time and getting on-base almost 42% of the time. That's a leadoff hitter if you ever wanted one. He doesn't have a ton of power which has kept the price in the middle tier, but the on-base skills give him such a high floor.
Main

Yordan Alvarez FD 3500 DK 5200
Opponent - CLE (Eli Morgan) Park - CLE
FD - 15.33 DK - 11.43

Michael Brantley FD 3200 DK 3400
Opponent - CLE (Eli Morgan) Park - CLE
FD - 12.97 DK - 9.94
We talked about these guys being mispriced on each site and that's still the case on Wednesday. Alvarez is way too cheap on FanDuel for what he can do considering the OPS is in the upper-800s. The power isn't quite to the levels we saw pre-injury when he sat out the entire 2020 season, but it's still there for sure. Morgan has shown some upside with the arm, but the Astros still have a good run expectation here.
Meanwhile, Brantley just remains one of the best DraftKings bargains and it's been that way almost all season. He doesn't have a ton of power, but he just never strikes out and just has the ball in play seemingly all of the time. He's one of the best contact hitters and baseball.
FREE EBOOK
SECRETS TO CRUSHING DAILY FANTASY FOOTBALL!
DON'T SET ANOTHER LINEUP BEFORE YOU READ THIS BOOK.