Basketball Lineups Daily Fantasy
Expert Advice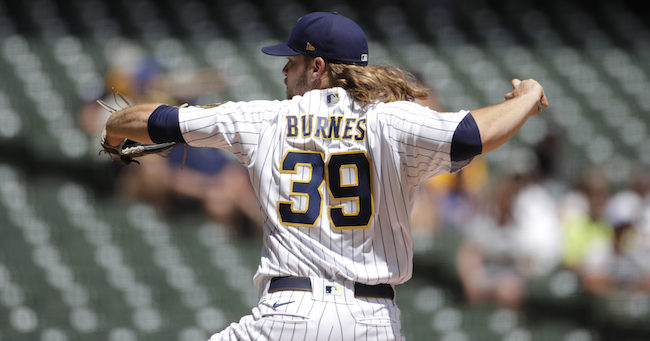 DraftKings and FanDuel MLB Picks for Wednesday, 8/11/21
Now's your chance to get DFSR PRO, which will give you access to our MLB and NBA optimizers and our new player lab! Get started for free by clicking the button below.
I've been away for about a month recovering from ACL surgery, but I'm back and ready to go! The amount of baseball I've watched over the last month is absolutely terrifying, but it has me ready for these final two months of the year. This is a fun slate to kick things off with, too, because we have some absolute aces in some grand slam spots. With that in mind, let's start things off with those arms!
Pitchers

Corbin Burnes FD - P 11000 DK - RP 10300
Opponent - CHC (Jake Arrieta) Park - CHC
FD - 40.37 DK - 23.31
Burnes is third in terms of NL Cy Young odds, and he's earned every bit of it with his ridiculous 2021 season. While the 6-4 record is hurting his case, his 2.39 ERA and 0.96 WHIP certainly is not. What makes him truly special is his ability to strike out hitters, generating a 12.5 K/9 rate for the season. That's obviously one of the best rates around, and it should be easy to roll through a Cubs lineup that just traded Anthony Rizzo, Javy Baez, and Kris Bryant. He actually faced this lineup at full boar once earlier this season and threw six scoreless, two-hit innings while striking out 10 Cubbies.
Kevin Gausman FD - P 10300 DK - SP 9900
Opponent - ARI (Merrill Kelly) Park - SF
FD - 40.84 DK - 22.57
We hate to recommend two of the highest-priced pitchers on the board, but it's pretty much impossible to fade both of these guys. These two studs are Top-5 in terms of NL Cy Young odds, and Gausman has to be one of the favorites with the way he's been carrying the Giants. While his last four starts have been a little down by his standards, Gaus still has a 2.31 ERA and 0.95 WHIP for the year. A 10.7 K/9 rate backs those absurd averages, winning seemingly every time out. That's awful news for Arizona, striking out 29 times over their last two games. They're also ranked bottom-10 in nearly every offensive metric out there and have allowed KG to accrue a 1.42 ERA and 0.90 WHIP in three starts against them this year.
If you want someone cheaper, Tyler Anderson gets to face a 27th-ranked Texas offense and has allowed three runs or fewer in all but three starts this year.

Catcher/First Base

Max Muncy FD - 1B 3700 DK - 1B/2B 5700
Opponent - PHI (Kyle Gibson) Park - PHI
FD - 13.65 DK - 10.05
Muncy is quietly throwing his hat in the ring for NL MVP honors, and it's amazing how valuable this guy has become for the Dodgers. His roster versatility is one of the most impressive things about him, and it's an underrated variable when talking about his DFS value. That's just a small piece of what makes him great, though, batting in the heart of this daunting Dodgers lineup. He's earned the right to hit second in this lineup, totaling a .408 OBP and .951 OPS this season. He's also been better against right-handers throughout his career, which is bad news for a guy that's got a 1.63 WHIP over his last five starts.
Ji-Man Choi FD - 1B 3000 DK - 1B 4000
Opponent - BOS (Nathan Eovaldi) Park - BOS
FD - 9.73 DK - 7.29
Choi is one of my favorite DFS targets, and it makes no sense why he remains so cheap. Ji-Man has established himself as a platoon player, but he's an absolute beast when facing right-handed pitching. In fact, Choi has collected a .389 OBP and .860 OPS with the platoon advantage in his favor this season. That's right on par with his career averages, and it's a major reason why Tampa bats him second or fourth in these circumstances. We really like all of that against a struggling Nate Eovaldi, with the righty registering a 6.35 ERA over his last five appearances.
If you need a catcher on DraftKings, Omar Narvaez will likely bat third or fourth against a struggling Jake Arrieta.
Second Base

José Altuve FD - 2B 4000 DK - 2B 5400
Opponent - COL (Antonio Senzatela) Park - HOU
FD - 14.55 DK - 11.13
Altuve has gotten a lot of crap over the last year, but it definitely hasn't affected his game. On the contrary, Altuve is in the midst of another All-Star campaign. The little second baseman has a .494 SLG and .845 OPS, generating a lot of those numbers recently. Over his last 17 games played, Jose has a .549 SLG and .889 OPS. That's really all you can ask for from someone in this price range, especially in such a tasty matchup. Houston and the Stros get to face Antonio Senzatela, who's got a 4.73 ERA and 1.41 WHIP. That's why Houston is projected for nearly six runs, making them one of the best stacks of the day.
Jeff McNeil FD - 2B 2900 DK - 2B 3800
Opponent - WSH (Joe Ross) Park - NYM
FD - 10.49 DK - 8.07
McNeil is one of the most underrated hitters in baseball. He's been in and out of the lineup with injuries all year, but he's proven to be a monster throughout his career. McNeil has a .308 AVG, .375 OBP, .479 SLG, and .855 OPS despite his recent struggles. That's not some small 11-game sample size either, with McNeil accumulating those averages across nearly 1,300 plate appearances. He's been even better against righties, too, making these price tags completely laughable. Joe Ross definitely has some shelling downside for the Nats, allowing eight runs twice this year and five runs or more on four different occasions. One of those happened to come against the Mets!
Shortstop

Trea Turner FD - SS 3600 DK - 2B/SS 6100
Opponent - PHI (Kyle Gibson) Park - PHI
FD - 14.38 DK - 11.07
Picking shortstops on this slate was tough, so we're going to ride Turner. This dude is one of the best players in fantasy, developing a ridiculous speed-power combo that can't be matched by many. That's a scary thought since he's batting atop the best lineup in baseball, and he could easily lead the league in runs from here on out. TT has been cruising recently, too, providing a .362 AVG, .624 SLG, and 1.040 OPS over his last 36 games played. That doesn't even consider that he might be the best base stealer in baseball, too, making him an easy option against a struggling Gibson.

Dansby Swanson FD - SS 3200 DK - SS 4600
Opponent - CIN (Wade Miley) Park - ATL
FD - 11.48 DK - 8.71
People outside of Atlanta might not realize it, but Swanson is one of the hottest hitters in baseball right now. Over his last 18 games played, Dansby has donned a .361 BA, .625 SLG, and 1.028 OPS. That has earned him a top-5 spot in this order, and that's awesome to be hitting behind guys like Freddie Freeman and Austin Riley. What we love here is that he gets to face a soft-tossing lefty. That gives Swanson the platoon advantage from the right side, making it hard to believe he remains so affordable. It's not like Miley is scary either, owning a 6.9 K/9 rate for the season.
Third Base

Austin Riley FD - 3B 3400 DK - 3B 5000
Opponent - CIN (Wade Miley) Park - ATL
FD - 11.6 DK - 8.75
We just mentioned how we like Swanson in the heart of this Braves order, and it'd be wise to stack all of these righties against Miley. The Cincinnati southpaw has done a good job of limiting hard contact, but that's going to be tough to do against this hot lineup. Just like Dansby, Riley hits from the right side too. Riley has slaughtered southpaws throughout his career, compiling a .502 SLG against them. That's terrifying for Miley with the way Austin is swinging the bat right now, collecting a 1.211 OPS over his last 16 fixtures. All of that makes Atlanta one of the best stacks of the day, and we'll get to our final piece a little later!
Abraham Toro FD - 3B 2700 DK - 2B 3800
Opponent - TEX (Spencer Howard) Park - SEA
FD - 9.66 DK - 7.3
The Mariners made a surprising move by shipping off their closer at the trade deadline, but it's a good indicator of how much they value Toro. It's easy to see why when you look at his Minor League numbers, with AT amassing a .392 AVG, .497 OBP, .600 SLG, and 1.097 OPS at Triple-A. That's a 150-plate appearance sample size, and it's just a matter of time before he starts raking at this level. He's shown flashes of that brilliance recently, totaling a .386 OBP and 1.002 OPS over his last 21 games. That has put him in a prominent part of this order, and we definitely don't want to avoid him against Howard. This season, the Rangers righty has a 6.16 ERA and 1.53 WHIP, which is sadly below his ugly career averages.
Outfield

Eloy Jiménez FD - OF 3800 DK - OF 4500
Opponent - MIN (Bailey Ober) Park - MIN
FD - 13.34 DK - 10.11
Eloy is on his way to becoming a household name because he's going to lead the Majors in homers sometime over the next decade. For his Minor League career, Eloy established a .310 AVG, .517 SLG, and .875 OPS. He's shown similar power at this level, attaining a .542 SLG and .867 OPS. What's scary is that he's finally fully healthy and swinging the hottest bat of his career. Over the last five games, Jimenez has four doubles, four homers, and 11 RBI. We certainly want to exploit that form against a guy like Bailey Ober, with the Twinkies arm owning a 4.99 ERA.

Yordan Alvarez FD - OF 3700 DK - OF 4800
Opponent - COL (Antonio Senzatela) Park - HOU
FD - 15.32 DK - 11.43
Out of all the pricing out there, Yordan has to have the biggest gripe. Since his call-up, this dude has been one of the best hitters in baseball, and he's not being priced like it. The 24-year-old has a .298 AVG, .379 OBP, .587 SLG and .967 OPS for his career. That's amazing since his numbers are a little down this year, but any player would give anything to have a .878 OPS. He's also been killing right-handed pitching throughout his career to the tune of a .900 OPS and we certainly don't anticipate a guy like Senza to slow him down. If you're going to stack Stros, Alvarez needs to be the first guy in your build.

Jorge Soler FD - OF 3200 DK - OF 3600
Opponent - CIN (Wade Miley) Park - ATL
FD - 12.62 DK - 9.4
Soler struggled mightily with the Royals this year, but a change of scenery has done this guy wonders. Over his last 18 games played, Soler has a .400 OBP while bopping nine dingers. That power is something we've been waiting for, with Jorge blasting 72 homers since 2019. That's obviously one of the highest marks in baseball, and it's becoming clear that he loves hitting in SunTrust Park. What adds to his intrigue here is the fact that he gets to face a lefty. In that same span, Soler has a SLG north of .500 with the platoon advantage in his favor.
GRAB A FREE TRIAL OF OUR PROJECTION SYSTEM, AND CHECK OUT DFSR PRO!
FREE EBOOK
SECRETS TO CRUSHING DAILY FANTASY FOOTBALL!
DON'T SET ANOTHER LINEUP BEFORE YOU READ THIS BOOK.