Baseball Picks Daily Fantasy
Expert Advice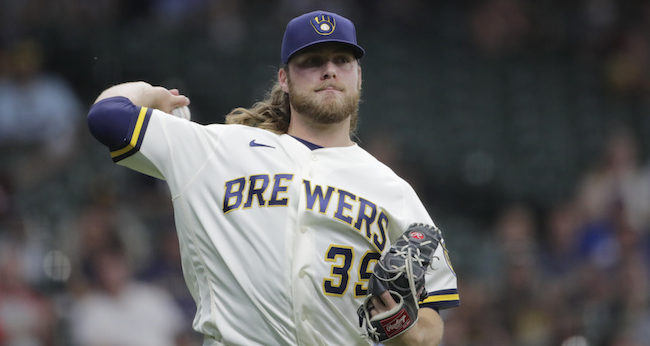 DraftKings and FanDuel MLB Picks for Tuesday 8/24/21 - Main slate
Now's your chance to get DFSR PRO, which will give you access to our MLB, NBA, PGA, NHL, and NFL optimizers and our new player lab! Get started for free by clickiang the button below.
Pitchers

Corbin Burnes FD 11500 DK 10600
Opponent - CIN (Tyler Mahle) Park - CIN
FD - 48.12 DK - 27.9
Burnes doesn't draw the best matchup here against the Reds, but he is the best overall pitcher on this slate, and really just one of the best ones in baseball. On the season he has struck out close to 12.5 batters per nine and has a ridiculous 7.6:1 K:BB ratio. The 2.33 xFIP is elite and just a little behind the 2.13 ERA. He is almost matchup-independent at this point considering just how dominant he is on the mound. He is a -191 home favorite against Cincinnati and has the highest K upside on the slate.
Jack Flaherty FD 10300 DK 9600
Opponent - DET (Casey Mize) Park - DET
FD - 39.95 DK - 22
Flaherty has better win odds than Burnes on this slate as a -225 home favorite against the Tigers. He isn't as good an arm as Burnes, but the matchup against Detroit is better considering the latter strikes out 26% of the time and is a bottom-third offense on the season. Flaherty has a 2.68 ERA but the 3.80 xFIP is trailing by more than a run. I still think the matchup is good enough to consider him over Burnes, but the latter is a much, much better arm.
Strongly consider Luis Garcia (FD $8300 DK $9700) on FanDuel.
Catcher/First Base

Anthony Rizzo FD 3600 DK 3400
Opponent - ATL (Charlie Morton) Park - ATL
FD - 11.21 DK - 8.39
Rizzo is coming too cheap on DraftKings even in a tougher matchup against Charlie Morton. Rizzo should be hitting second in the Yankees' lineup and remains a very dangerous bat. Though the OPS is sitting around .800, he is still making contact around 75% of the time, is very tough to strike out, and has actually run a little bad on BABIP this season. Again, the DK price at $3400 is simply too cheap even for a tougher matchup.
Jared Walsh FD 3000 DK 4600
Opponent - BAL (Spenser Watkins) Park - BAL
FD - 12.79 DK - 9.59
The Angels' lineup, outside of Ohtani, isn't all that imposing, but Walsh is actually a solid bat that should be hitting cleanup in this matchup against Watkins. The former has a .814 OPS on the season with 22 home runs. Walsh strikes out at an unhealthy 28% clip, but that isn't nearly a concern against Watkins who has a 5.36 xFIP on the season and is striking out batters at only a 14% rate through his 40 innings this season.
Second Base
Ramón Urias FD 2200 DK 2900
Opponent - LAA (Dylan Bundy) Park - LAA
FD - 10.61 DK - 8.09
We aren't usually in the habit of writing up Orioles for cash games, but they are in a good spot against Dylan Bundy here with an implied run line around five. Considering some of their price points, and that we might be paying up for pitching then the Baltimore guys could be in handy here. Urias should be hitting fifth in the lineup today and is coming near the minimums on both sites. That plays fine for a mid-700s OPS and a little power in the bat.

David Fletcher FD 2700 DK 4700
Opponent - BAL (Spenser Watkins) Park - BAL
FD - 10.77 DK - 8.42
Fletcher is a light-hitting second base option but should, once again, be hitting second in the order behind Ohtani. The OPS sits under .700 but he does make contact at a crazy 87% rate. With Watkins lacking any kind of K stuff, the ball should be in play here. And when he has been able to get on base, Fletcher has swiped 11 bags on the season. The DraftKings price is a little too expensive considering the lack of power, but I like the FanDuel option the cheap.
Shortstop

Carlos Correa FD 4000 DK 4500
Opponent - KC (Brady Singer) Park - KC
FD - 13.17 DK - 9.91
Correa has moved up some in the Astros' lineup and does project to hit third in this matchup against Brady Singer. Correa has the OPS into the mid-800s with 19 home runs on the season. He has a career-best 12.4% walk rate and is tough to put down on strikes. Singer is better than the 5.23 ERA would suggest with an xFIP more than a run lower, but he is still a below-average pitcher all things considered. The Astros are in a good spot here.
José Iglesias FD 2300 DK 4100
Opponent - BAL (Spenser Watkins) Park - BAL
FD - 10.5 DK - 8.2
We have another light-hitting option but this is all in an effort to try to fit in some higher-priced arms on the slate. Iglesias is another contact hitter, rarely taking walks but rarely striking out either. Because the Angels' lineup is so compromised he is getting a chance to hit around the middle of the order even though the power is on the softer side. But coming near the minimum on FanDuel does give you the chance to afford some other bats and arms on this slate.
Third Base

Rafael Devers FD 4000 DK 5900
Opponent - MIN (Griffin Jax) Park - MIN
FD - 15.37 DK - 11.64
Devers has moved up into the second slot in the lineup for the Red Sox and is having one of the best seasons of his career. He is on pace for a career-high power mark with 29 home runs already on the season (career-best is 32) and he has an .899 OPS which would be the second-best number for the 24-year-old. Griffin Jax has struggled at the major league level with only 7.16 K's per nine and a 5.36 xFIP through his first 44 innings on the mound. Devers rings in as one of the best pay-up options on offense for this slate.

Ke'Bryan Hayes FD 2800 DK 3900
Opponent - ARI (Madison Bumgarner) Park - ARI
FD - 11.01 DK - 8.45
I think Devers is far and away the best play at third base on this slate, but do think it is somewhat worth rostering Hayes here against Bumgarner. The latter has turned into a below-average pitcher over the last couple of seasons and sports a 4.65 xFIP. Meanwhile, Hayes is significantly better against lefties for his career with an .841 OPS and 127 wRC+ in that platoon. The overall numbers aren't great this season, but he is also coming pretty cheap on FanDuel for hitting in the better split.
Outfield

J.D. Martinez FD 3900 DK 5200
Opponent - MIN (Griffin Jax) Park - MIN
FD - 14.48 DK - 10.88

Kyle Schwarber FD 3700 DK 4500
Opponent - MIN (Griffin Jax) Park - MIN
FD - 14.37 DK - 10.64
The Red Sox have one of the highest implied run lines on the slate facing off against Griffin Jax and if we can fit the salaries then this is going to be one of the spots we are going to want to stack. Schwarber has turned into a great pick-up for the Red Sox with a .923 OPS with 25 home runs in just 329 plate appearances between Washington and Boston. The K rate is a little high at 29% but that is less of a concern against a guy like Jax. The DraftKings price is particularly attractive in the mid-$4K range and should fit in no matter which way you go with the arms.
Meanwhile, Martinez is much better against lefties for his career but we can make the exception against the righty Jax here. Though J.D. has moved down the lineup a bit, he should still be in the fifth spot today. The power has dipped some this season but he still has an OPS in the high .800s. He is a little expensive all things considered, but the Red Sox should definitely put up runs in the game.
Plus you can consider Alex Verdugo (FD $3000 DK $3500) who is now hitting much lower in the lineup but is also coming really cheap on DraftKings especially.
Anthony Santander FD 2900 DK 2800
Opponent - LAA (Dylan Bundy) Park - LAA
FD - 11.91 DK - 9.07
I don't mind going a little cheap with a few Orioles bats on this slate against Dylan Bundy. There is some power here with 12 home runs already on the season though it is worth noting that he is basically a power or bust kind of guy. The OBP is pretty low. But that is what keeps the price down as well and he should be hitting second in the lineup.
FREE EBOOK
SECRETS TO CRUSHING DAILY FANTASY FOOTBALL!
DON'T SET ANOTHER LINEUP BEFORE YOU READ THIS BOOK.