Baseball Picks Daily Fantasy
Expert Advice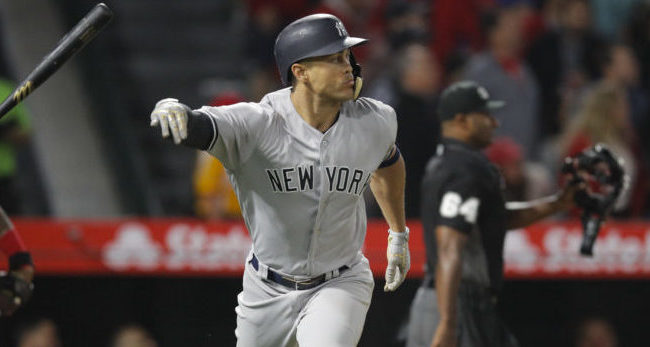 DraftKings and FanDuel MLB Picks for Saturday 9/4/21
Now's your chance to get DFSR PRO, which will give you access to our MLB, NBA, PGA, NHL, and NFL optimizers and our new player lab! Get started for free by clicking the button below.
Pitchers
Early

Jordan Montgomery FD 8400 DK 8800
Opponent - BAL (Chris Ellis) Park - BAL
FD - 35.78 DK - 18.96
Montgomery comes is in a massive -327 home favorite against the lowly Baltimore Orioles. The Yankees are in a tremendous spot here on the early slate of games. Montgomery has been decent this season, striking out close to a batter an inning, though you'd like to see the walks trend down just a little. The 3.52 ERA is about a half-run better than the 4.03 xFIP. The Orioles rank in the bottom-third of the league on offense and strike out about 24% of the time on the season.
Tanner Houck (FD $7600 DK $8500) is in a good spot against the Indians on the early slates.
I could also go with Chris Archer (FD $7000 DK $8100) who had the innings tick up some last game and has been excellent in his return to the Rays.
Main
Tyler Mahle FD 9600 DK 10200
Opponent - DET (Matthew Boyd) Park - DET
FD - 36.52 DK - 20.08
Mahle comes in as the clear moneyline favorite from the early posted odds. And it makes sense considering he is facing off against a Detroit team that ranks in the bottom-third on offense this season and strikes out 26% of the time. Mahle, for his part, has been very good this season, sporting a solid 3.73 xFIP and striking out batters at a 28% clip. Four of his last five games have been excellent as well and he's been able to go seven or more innings in three of those. This is a solid matchup against a weak offense and Mahle won't break the bank for you on FanDuel.
Catcher/First Base
Early

Anthony Rizzo FD 3800 DK 4300
Opponent - BAL (Chris Ellis) Park - BAL
FD - 13.68 DK - 10.24
When I said the Yankees were in a great spot against the Orioles, I didn't just mean the pitching. The offense is set to put up some runs here as well against Chris Ellis. Rizzo has climbed the OPS to around .800 and he remains very difficult to strike out at 15.8% on the season. Hitting near the top of the Yankees' lineup is such an advantage in terms of plate appearance expectation and run-scoring. The price isn't in line with that opportunity, especially on DraftKings where he is too cheap.
Main

Freddie Freeman FD 4200 DK 5800
Opponent - COL (German Márquez) Park - COL
FD - 15.27 DK - 11.42
We will try to get some Braves' bats in here considering they are playing in Coors again, though their prices are going to make that just a little tough. Freeman is having another elite season at the plate with a .886 OPS and 28 home runs. He's also managed to swipe eight bags as well. He is tough to strike out and is just one of the better hitters in the whole game. Again, we are paying a premium on Atlanta bats, but they are worth it on this slate.
Second Base
Early

DJ LeMahieu FD 3600 DK 4600
Opponent - BAL (Chris Ellis) Park - BAL
FD - 14.82 DK - 11.45
Much of what I said about Rizzo applies here for LeMahieu as well. He is still hitting leadoff for the Yanks despite some of the struggles he has had at the plate on the season. The OPS is only around .700 on the season with the Slugging % the major culprit. He's seen a decided drop in power this year. But he only goes down on strikes 14% of the time and this is looking like a bullpen game for the Orioles.
Main

Brendan Rodgers FD 3000 DK 4300
Opponent - ATL (Ian Anderson) Park - ATL
FD - 11.82 DK - 9.1
It is hard to pass up the FanDuel price on Rodgers who will be hitting second in Coors against Ian Anderson. Rodgers has been a solid bat on the season with an OPS pushing over .800. He is worse against righties which is a problem against Anderson, but he is also much better at home which begins to even things out some. The FD price is almost too low to pass up if he is hitting second considering the situation.
Shortstop
Early
Wander Franco FD 4100 DK 5500
Opponent - MIN (Andrew Albers) Park - MIN
FD - 12.33 DK - 9.54
Franco should be hitting third for the Rays on Saturday against Andrew Albers and are expected to put up some runs in this matchup. Wander is another solid contact guy, putting the ball in play close to 80% of the time this season. He has the OPS right around .800 with just enough power to keep him relevant here. In his 130 major league innings, Albers has shown almost no ability to consistently strike out batters, leaving the Rays set to put the ball in play a lot here.
Main
Shortstop on the main slate is looking a bit tougher at this point. On the one hand, you could pay all the way up for Trevor Story (FD $3800 DK $5800) though he is facing a righty and that isn't always where we want to be with him at peak pricing. Rodgers qualifies at SS on DraftKings, so that might be the way to go.
You can totally punt the position with someone like Thairo Estrada (FD $2100 DK $2100) who will be hitting lower in the Giants lineup against the lefty, but it is Urias who is a good arm.
Third Base
Early

Rafael Devers FD 4200 DK 6200
Opponent - CLE (Eli Morgan) Park - CLE
FD - 14.5 DK - 10.98
Eli Morgan has a 4.85 xFIP through more than 60 innings this season and the Red Sox could be in a spot to light him up on Saturday. Devers has moved up to the second slot in the lineup at times and projects to hit no lower than third depending on how Boston staggers its order today. He has had an excellent season with an .888 OPS thanks to a career-high 32 home runs which ties him with 2019 but in many fewer plate appearances. The price is very expensive, and for good reason. The Red Sox could make for a popular stack in the afternoon slate of games.
Main

Eugenio Suárez FD 3100 DK 4100
Opponent - DET (Matthew Boyd) Park - DET
FD - 11.03 DK - 8.19
It's really been a struggle for Suarez this season with an OPS only in the mid-600s this year. Somehow he has that low of a number despite hitting 25 home runs, which feels pretty improbable. But he has always been better against lefties throughout his career with an .846 OPS in that split and a 123 wRC+. Against Matthew Boyd who has turned into a below-average arm, this is still a time to take a stab at Suarez who should hit around fifth for the Reds.
Outfield
Early

Kyle Schwarber FD 3700 DK 5500
Opponent - CLE (Eli Morgan) Park - CLE
FD - 13.97 DK - 10.34
Schwarber has moved into the leadoff slot for the Red Sox over the last week or so and it is the perfect slot for him. He has a .366 OBP to go with the .578 SLG and has been a pretty deadly hitter on the season. His per plate appearance power rates are the best of his career and the Red Sox definitely got something at the trade deadline when they acquired him. The price has climbed, but not enough on FanDuel considering the opportunity and returns.

Giancarlo Stanton FD 4100 DK 5400
Opponent - BAL (Chris Ellis) Park - BAL
FD - 16.57 DK - 12.26
We prefer Stanton against lefties, but we can still make a case here on the afternoon slate against Ellis. He has the OPS in the upper .800s now and the second half of the season has been better than the first. In August he tore the cover off the ball with a 1.045 OPS and .436 wOBA. It will be hard to fit all of the Yankees bats because of the increased prices, but Stanton is one to target.
Main
Shohei Ohtani FD 4500 DK 6300
Opponent - TEX (Kolby Allard) Park - TEX
FD - 12.97 DK - 9.77
Ohtani will be back in the leadoff slot (hopefully) for the Angels here against Allard and even though he is as expensive as it gets, it is likely still worth it. Allard has a 4.64 xFIP on the season and is striking out batters less than 20% of the time. Ohtani meanwhile is about as good as it gets with a .970 OPS and 42 home runs. Sure he strikes out more than 30% of the time, but who cares? And against Allard that expectation is greatly reduced anyway.

Jorge Soler FD 3900 DK 3800
Opponent - COL (German Márquez) Park - COL
FD - 13.94 DK - 10.39
Soler remains in the two spot for the Braves and is coming way, way too cheap on DraftKings considering he is hitting in the thin air of Coors Field. He has pop in the bat with 22 home runs and the OPS is trending lower this season partly because his BABIP is almost 60 points below his career average. Again, the DraftKings price is kind of a joke considering the circumstances.
FREE EBOOK
SECRETS TO CRUSHING DAILY FANTASY FOOTBALL!
DON'T SET ANOTHER LINEUP BEFORE YOU READ THIS BOOK.