Baseball Picks Daily Fantasy
Expert Advice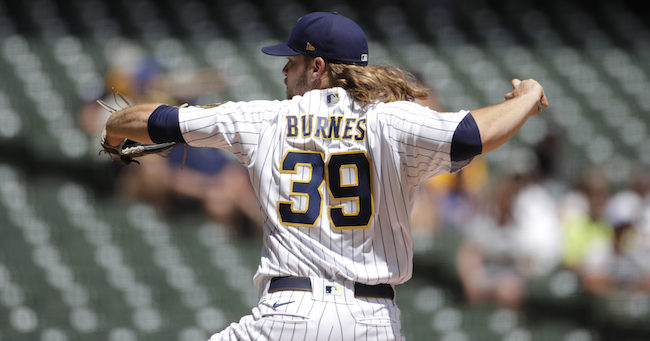 DraftKings and FanDuel MLB Picks for Sunday, 9/5/21
Now's your chance to get DFSR PRO, which will give you access to our MLB and NBA optimizers and our new player lab! Get started for free by clicking the button below.
If you're addicted to sports like I am, this is a crazy time. We've literally seen every sport over the last month, and it's scary that there's still a month in the MLB season. It does have us ready to kill this final month because there will be a lot of dead money in these DFS tourneys with football right around the corner. There's a lot to discuss, though, so let's go ahead and get into it!
Pitchers

Corbin Burnes FD - P 11500 DK - RP 9700
Opponent - STL (Jon Lester) Park - MIL
FD - 46.92 DK - 27.02
Talking about players in the Cy Young running can be a bit frivolous at this time of the season, but Burnes is surely one of the frontrunners for NL Cy Young. We say that because he's got a 2.27 ERA and 0.94 WHIP, striking out 189 batters across 139 innings of action. That makes him a dominant option against anyone, but we love him against the struggling Cardinals. St. Louis currently ranks 25th in runs scored and 24th in wOBACON. That's on full display when you see what Burnes has done to them in three starts this year, generating a ridiculous 0.65 ERA and 0.53 WHIP.

Luis Castillo FD - P 9900 DK - SP 8900
Opponent - DET (Casey Mize) Park - CIN
FD - 34.79 DK - 19.12
Castillo was one of the worst pitchers in baseball through the first two months, but he's been an absolute beast since the calendar turned to June. Over his last 17 starts, Castillo has compiled a 2.84 ERA, 1.18 WHIP, and 9.4 K/9 rate. That even includes one eight-run disaster, with Luis allowing three runs or fewer in the other 17 starts. That's the stud we saw last season and the year before, and we believe he can continue that sparkling form against the Tigers. Detroit ranks 27th in K rate and 23rd in wOBA, with Castillo and the Reds entering this matchup as a -260 favorite.
If you're feeling crazy, Zach Davies is a decent punt play with the way he limits hard contact. He should be fine against a Pirates club that owns the worst offense in baseball.

Catcher/First Base

Vladimir Guerrero Jr. FD - 1B 4500 DK - 1B 6000
Opponent - OAK (Cole Irvin) Park - TOR
FD - 14.22 DK - 10.78
Vlad is about to finish second in AL MVP voting, and it's truly amazing what he's been doing. The slugging third baseman is hitting .315 this season, en route to a .407 OBP, .598 SLG, and 1.005 OPS. That's scary since he's scorching right now, tallying a .395 AVG and 1.083 OPS over his last nine games played. All of that makes him a worthy option against anyone, but we love that he has the platoon advantage against a struggling lefty. Cole Irvin has allowed at least seven hits and three runs in each of his last four starts, generating a 5.79 ERA and 2.04 WHIP in that span.

Luke Voit FD - 1B 3300 DK - 1B 4000
Opponent - BAL (Keegan Akin) Park - NYY
FD - 14.28 DK - 10.67
It's never apparent when Voit will be in the starting lineup, but it doesn't mean that his price should be this low. We're still talking about a guy who nearly snatched an AL MVP last season, totaling a .948 OPS. That's pretty much the guy we've seen recently, with Voit verifying that consideration with a 1.113 OPS over his last 18 games played. All of that makes it hard to believe that he's this cheap on both sites, especially in such a premium matchup. The Yankees are the highest projected offense on the slate, and we'll explain why later on!
If you need a catcher, Yasmani Grandal has been raking since his return from the IL.
Second Base

Marcus Semien FD - 2B 4100 DK - 2B 5400
Opponent - OAK (Cole Irvin) Park - TOR
FD - 13.34 DK - 10.11
Semien actually finished third in MVP voting a few years back, and some believe he might be in the running again. What's made him so amazing are his counting statistics, totaling 94 runs, 34 homers, 81 RBI, and 14 steals this year. That actually has him as the second-highest scoring middle infielder in baseball, averaging 9.5 DK points per game. All of that makes him hard to avoid with his recent form, homering in two of his last three games. Not to mention, Semien has traditionally been much better against lefties throughout his career and faces a struggling one here.
Brandon Lowe FD - 2B 3400 DK - 2B 5500
Opponent - MIN (Griffin Jax) Park - TB
FD - 13.47 DK - 10.13
This DraftKings price has gotten to a crazy number, but Lowe has earned every bit of it. We're talking about a guy with 32 homers and 79 RBI, typically batting atop this lineup against right-handers. It's easy to understand why when looking at his splits, with Brandon boasting a .365 OBP, .559 SLG, and .925 OPS with the platoon advantage in his favor this season. Much of that damage has come recently, with Lowe knocking out 11 of those homers since the end of July. It's not like Griffin Jax is someone we need to fade either, with the Twins righty owning a 6.71 ERA.
Shortstop

Bo Bichette FD - SS 4000 DK - SS 5500
Opponent - OAK (Cole Irvin) Park - TOR
FD - 13.63 DK - 10.46
Let's keep the Blue Jays bats rolling with Bichette! Much like Semien, this dude has been accumulating stats at ease in the heart of this lineup, collecting 101 runs, 21 homers, 81 RBI, and 21 steals. That's led to him leading all shortstops with 9.2 DK points per game, killing lefties throughout that impressive run. In fact, Bo has a .392 OBP and .938 OPS with the platoon advantage in his favor since his call-up. We already talked about how badly Irvin is struggling, too, and it'll be tough for him to navigate this tough Toronto lineup.
Willy Adames FD - SS 2900 DK - SS 4300
Opponent - STL (Jon Lester) Park - MIL
FD - 10.92 DK - 8.33
Man, it's crazy how bad Jon Lester has been. He's actually pitched well in his last two starts, but it's brought his season averages to a 5.05 ERA and 1.58 WHIP. That WHIP is utterly disastrous, and it's making us believe that this could be the end of the road for the lefty. Those horrific averages make Adames one of the best plays on the board, with Adames amassing a .955 OPS since joining the Brewers a few months back. This is one of the best stacks of the day because of the pricing, and Adames would have to be the heart of it in the middle of this lineup.
Third Base

Rafael Devers FD - 3B 4200 DK - 3B 6000
Opponent - CLE (Zach Plesac) Park - BOS
FD - 13.93 DK - 10.55
Is there a more underrated duo than Xander Bogaerts and this guy? Both players have been mashing all season long, with Devers totaling 33 homers and 100 RBI this season. That power has made him one of the most dangerous players in baseball, with Rafael registering a .518 SLG over his last 13 games played. What we really love is that gets to face a righty, with the 24-year-old providing a .606 SLG and .969 OPS against righties since 2019. This is not a pitcher we need to worry about either, with Plesac pitching to a 4.93 ERA over his last eight starts.

Yoán Moncada FD - 3B 3500 DK - 3B 4700
Opponent - KC (Brady Singer) Park - KC
FD - 10.35 DK - 7.83
It's safe to say that Moncada has had a down year, but we have to get some exposure to this White Sox team. We say that because they have one of the highest projections on the board, facing a struggling Brady Singer. This season, the Royals righty has a 1.60 WHIP and is likely to struggle with Chicago dropping 10 runs on Saturday. That puts all of these guys in play, but Yoan is one of the only ones you can get for cheap. We're still talking about a solid hitter, though, with Moncada maintaining a .781 OPS for his career. Many people believe he can be a .900 OPS guy at some point, and this is a good way to start adding to that potential. He's found some of that form recently, hitting .338 over his last 17 games en route to a .850 OPS.
Outfield

Aaron Judge FD - OF 4400 DK - OF 6000
Opponent - BAL (Keegan Akin) Park - NYY
FD - 17.44 DK - 12.9

Giancarlo Stanton FD - OF 4100 DK - OF 5300
Opponent - BAL (Keegan Akin) Park - NYY
FD - 16.8 DK - 12.43
If you want to fade the Yankees today, Good Luck! This has been one of the best offenses in baseball over the last month, and these two guys are a major reason why. Judge is one of the league leaders with a .923 OPS and has obliterated left-handers throughout his career. Stanton has been even better recently, collecting a .397 OBP and 1.057 OPS over his last 28 games played. That means these are some of the hottest hitters in baseball, and it's scary to think what these righties could do against a lefty like Akin. The O's southpaw has slumped his way to a 6.90 ERA and 1.65 WHIP this season. That has New York projected for about six runs, and if they do that, these guys will surely play a part in that damage.
Austin Meadows FD - OF 3400 DK - OF 4700
Opponent - MIN (Griffin Jax) Park - TB
FD - 12.86 DK - 9.76
The Rays are always one of the best stacks on the board, and Meadows is probably the most important piece when they face a righty. We already talked about how much Jax has been struggling since his call-up, and he's likely to keep that going against Meadows. The lefty slugger has a .912 OPS against right-handers since 2019 and has even better splits this year. All of that is good news since Austin enters this matchup in the midst of a four-game hitting streak, collecting an RBI in each of those.
Avisaíl García FD - OF 3200 DK - OF 3800
Opponent - STL (Jon Lester) Park - MIL
FD - 10.57 DK - 8.11
We discussed just how bad Lester had been this season earlier, and it makes many of these Brewers intriguing options. Avi is actually the best option of the bunch at his price, accruing a .408 OBP and .978 OPS over his last 31 games played. He's been doing a lot of that damage against lefties, with Garcia gobbling up a .421 OBP and .964 OPS against them this season. All of that is terrifying for a guy like Lester, especially with Avi sitting below $4K on both sites.
GRAB A FREE TRIAL OF OUR PROJECTION SYSTEM, AND CHECK OUT DFSR PRO!
FREE EBOOK
SECRETS TO CRUSHING DAILY FANTASY FOOTBALL!
DON'T SET ANOTHER LINEUP BEFORE YOU READ THIS BOOK.