Weekly Fantasy Football Picks Daily Fantasy
Expert Advice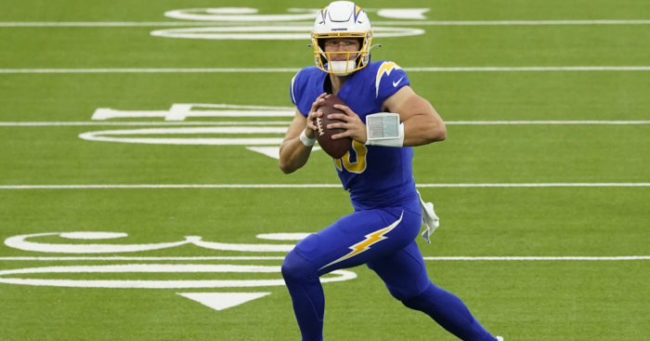 Daily Fantasy Football Cash Game Picks for FanDuel and DraftKings Week 2
Want access to the projections that power these picks? For a limited time we're offering a free one-week trial to all the sports that we cover - that's optimal lineups for NFL and MLB - for the same low price. Get started now!
Quarterbacks
Justin Herbert FD 7600 DK 6700
Opponent DAL
Proj Points FD - 24.49 DK - 25.18
The Chargers and Cowboys have the highest implied total of the slate at 55 and this one could turn into a real shootout. Herbert had to throw 47 times in the opener against the Washington Football Team, squeaking out a win on the road. Now, they are back at home and hosting the Cowboys who look like they are just going to play in track meets all season. Herbert could be a popular option on the game script alone and it helps that he still gets out and runs a bit.

Josh Allen FD 8100 DK 7200
Opponent MIA
Proj Points FD - 25.3 DK - 26.02
There are a couple of really good quarterback options this week, which will likely be the case the whole season considering how much these guys are throwing. And honestly, Allen might go a bit overlooked here even though we are only one week into the season. That's because he struggled some against the Steelers in Week 1 throwing for *only* 270 yards on a whopping 51 attempts. That is an inefficient number and the offense looked out of sorts at times. But this is a dude coming off a peak season and the Bills have one of the highest implied totals on the slate. I'm going back to the well here considering you can save a few hundred off of Kyler Murray. Remember, the latter's team ran the ball a whopping 28 times in the win on Sunday. There will be no such issue with the Bills in that department.

Teddy Bridgewater FD 7000 DK 5400
Opponent JAX
Proj Points FD - 20.02 DK - 20.84
If you are looking for a lower-cost option, especially on DraftKings in order to spend up for some of the skill position guys below, then Bridgewater is an interesting option. He completed 77% of his passes in Week 1, the first with the Broncos, and went for 264 yards and two touchdowns against the Giants. And now he's facing the Jags who just allowed 291 yards and two touchdowns plus another 40 on the ground to Tyrod Taylor and the lowly Texans. We might be able to pick on Jacksonville all season long.
Running Backs

Chris Carson FD 6700 DK 6100
Opponent TEN
Proj Points FD - 15.22 DK - 16.4
Rashaad Penny has already been ruled out for this Sunday (and for a couple of weeks) leaving what should be the bulk of the carries to Carson. The latter is coming off a Week 1 that saw him play 42 of the 52 offensive snaps, carry the ball 16 times and see three targets through the air. He is a fantastic price on FanDuel especially and the Seahawks come in as -5.5 home favorites against a Tennessee team that just got shredded on the ground by the Cardinals in Week 1. While many will look to Wilson as a cash game play, I love the spot Carson is in especially if the Seahawks get rolling downhill here.

Nick Chubb FD 8400 DK 7800
Opponent HOU
Proj Points FD - 18.58 DK - 19.56
The good news first: Chubb and the Browns are massive home favorites against the Houston Texans who likely looked a lot better than expected against the Jaguars in Week 1. Chubb chunked off more than 5.5 yards per carry in Week 1 against the Chiefs and one would think that we see the Browns run downhill in this matchup as such big favorites. The bad news is that he and Kareem Hunt basically split carries in Week 1 and that could be a theme going forward as the Browns balance the attack. It's a lot to pay for a guy who won't be the every down back. But the matchup is a great one.
Najee Harris FD 6100 DK 6300
Opponent LV
Proj Points FD - 13.86 DK - 14.93
The Steelers' top pick was mostly as advertised in Week 1, at least with the workload with Pittsburgh playing him 100% of the offensive snaps against the Bills. It is a great sign even if the production 16/45 on the ground and three targets for just four yards didn't live up to the hype. But that keeps the price in check for Week 2 and the Steelers are -5.5 home favorites against the Raiders who just gave up 189 yards on the ground to the Ravens. Understanding that Baltimore is a little bit of a different animal in that respect, but I still like Harris here in the middle tier.
He didn't get it done in Week 1, but Austin Ekeler
is in a great spot going into Week 2. You would really have to think the zero targets in the first game was a total anomaly.
Wide Receivers

Amari Cooper FD 7800 DK 6800
Opponent LAC
Proj Points FD - 16.53 DK - 20.13
CeeDee Lamb FD 6800 DK 6400
Opponent LAC
Proj Points FD - 14.78 DK - 17.69
Cooper saw a crazy 16 targets in Week 1, instantly getting back on the same page with Dak Prescott. Even against a stout Tampa Bay defense, the Cowboys were just fine, totaling 403 yards through the air with Cooper amassing a 13/139/2 line that somehow wasn't the best of the week. And now, the Cowboys are going to be without WR3 Michael Gallup, which should help at least sustain some of the target share. You can't project Cooper (or Lamb's 15 targets) for more obviously, but this is probably going to be the plan and if that's the case we are still buying a bit low. And Lamb is in the same boat. There could be a lot to go around for these two dynamic receivers especially if the Cowboys are just fully committed to the pass.

Chris Godwin FD 8000 DK 6600
Opponent ATL
Proj Points FD - 17.56 DK - 21.08
Look, I can make cases for a lot of receivers on this slate. There were 18 pass-catchers who saw double digit targets last week as more and more teams embrace the pass. I do think Godwin against Atlanta is coming a little too cheap on DraftKings and he was the clear WR1 in Week 1. Tom Brady targeted him 14 times total and he finished with a 9/105/1 line. There are a lot of mouths to feed in Tampa which is my biggest concern, but the matchup against the Falcons is another good one for the Bucs.
Cole Beasley FD 5400 DK 4600
Opponent MIA
Proj Points FD - 12.32 DK - 15.16
Mike Williams FD 5600 DK 6100
Opponent DAL
Proj Points FD - 13.44 DK - 15.98
If you are looking for some middle/ lower tier options for Week 2 to cut some some costs, both of these guys are coming off of massive target share in Week 1. Beasley saw 13 targets and Williams saw 12 in their respective games. Both come in with good matchups in this game and Williams, as mentioned above with Herbert and Ekeler, is likely to be in a shootout.
Tight Ends
Darren Waller FD 7000 DK 7600
Opponent PIT
Proj Points FD - 14.45 DK - 17.61
I mean, how do you watch that Monday night game and not play Darren Waller everywhere in cash in Week 2? Derek Carr only had eyes for his tight end in that game, targeting Waller a whopping 19 times before it was all said and done. That is just a stupid amount and Carr showed his willingness to even force it into tight spots if it meant avoiding throwing to the wide receivers. Pittsburgh could throw a lot Waller's way here after seeing the first game, but man that target share was just absurd.
Kyle Pitts FD 5500 DK 5200
Opponent TB
Proj Points FD - 10.42 DK - 12.7
People will look at the chalk ownership on DraftKings and the disappointing outcome as reasons to maybe avoid Pitts going into Week 2. That could be a mistake. The rookie underperformed his ownership for before leaving more than a few fantasy folks out in the cold. But he still tied for the lead in targets with eight and played on 70% of the offensive packages with Matt Ryan in the game. It's a tough matchup against the Bucs, but the Falcons will be throwing again and Pitts now has a full game under his belt. I can see going back to the well here.
Defense / Special Teams
Saints FD 4300 DK 3100
Opponent CAR
Proj Points FD - 6.24 DK - 6.24
The Saints are a really good deal on DraftKings this week and have a good matchup against the Carolina Panthers. The latter was only able to muster up 19 points against the Jets while the Saints made Aaron Rodgers and the Packers look like a D2 NCAA team. I am not convinced the offensive output for the Panthers is dramatically improved with Darnold there and the Saints are coming at something of a bargain on DK.
Browns FD 4200 DK 3500
Opponent CAR
Proj Points FD - 6.24 DK - 6.24
I know that the Texans looked "good" against the Jags in week one, but that latter team might be a total mess. The Brown were solid against the best offense in football allowing 33 points sure, but that is the Chiefs we are talking about. Cleveland is such big favorites here and stacking Chubb/ CLE DST could be the cash way to go.
Strongly consider the Denver Broncos of course against the lowly Jaguars, though they are a bit more expensive that the teams above.
GRAB A FREE TRIAL OF OUR PROJECTION SYSTEM, AND CHECK OUT DFSR PRO!
FREE EBOOK
SECRETS TO CRUSHING DAILY FANTASY FOOTBALL!
DON'T SET ANOTHER LINEUP BEFORE YOU READ THIS BOOK.