Baseball Picks Daily Fantasy
Expert Advice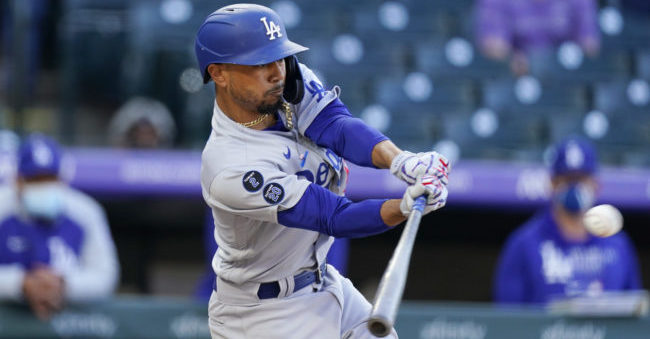 DraftKings and FanDuel MLB Picks for Tuesday 9/21/21 - Main Slate
Now's your chance to get DFSR PRO, which will give you access to our MLB, NBA, PGA, NHL, and NFL optimizers and our new player lab! Get started for free by clicking the button below.
Pitchers

Brandon Woodruff FD 10200 DK 10400
Opponent - STL (Jake Woodford) Park - STL
FD - 39.82 DK - 22.83
Woodruff is in a good spot here on Tuesday against the Cardinals, coming in as a -225 home favorite. The Brewers have a playoff spot locked up, but that didn't stop them from throwing Freddy Peralta 96 pitches on Monday, meaning they aren't exactly treating the starting pitchers with kid gloves heading into the post-season. That's a good sign in considering a pitcher for cash. Woodruff has had a masterful season, striking out batters at a 10.5 K/9 clip and rocking a 2.55 ERA (3.05 xFIP). He's been able to average more than six innings per start on the season and has a high floor in this matchup. He is likely to be the chalkier play on the slate.

Jordan Montgomery FD 8800 DK 8300
Opponent - TEX (Dane Dunning) Park - TEX
FD - 35.66 DK - 18.87
The Yankees are in the final week of the season battling for a Wildcard spot in the American League. It's going to come down to the wire with them, the other teams in the AL East and maybe even some AL West teams as well. Montgomery faces the lowly Rangers in this one as a -262 home favorite, currently the best win odds on the slate. He's had a solid season with a 3.91 xFIP and a strikeout rate more than a batter per inning. You'd like to see the 2.94 BB/9 rate come down a bit, but beggars can't be choosers here. Considering the opponent and the odds, he makes for a very good SP2 on DraftKings where he is reasonably priced.
Catcher/First Base

Max Muncy FD 4100 DK 5800
Opponent - COL (Antonio Senzatela) Park - COL
FD - 16.28 DK - 11.99
Look, we are going to be working overtime to get Dodgers' bats into our lineups on Tuesday, with them making their way into Coors Field for a series. They start things off facing Antonio Senzatela, who is among the weaker arms in the league. And Los Angeles has, by far, the highest implied run like at 6.6. It is going to cost of course, but we will try to find cheaper options in some other spots when it is all said and done. Muncy has had another excellent season with a .909 OPS and is closing in on a career-best home run mark. He has 34, needing just one more to tie his personal best. Coors is just the place to do it.

Yuli Gurriel FD 3000 DK 4100
Opponent - LAA (Packy Naughton) Park - LAA
FD - 13.98 DK - 10.72
Gurriel remains cheap on FanDuel at $3000 and the Astros are in a great spot against Packy Naughton. The latter hasn't been able to strike out really anyone at the major league level and has almost as many walks as K's in his first 16 innings on the mound. That won't play against Gurriel who puts the ball in play around 80% of the time this season, one of the best contact rates in all of the majors. He doesn't have a ton of power (keeping the price in check) but does hit in the middle of the Astros' lineup.
Second Base

Jonathan Villar FD 2800 DK 3600
Opponent - BOS (Eduardo Rodriguez) Park - BOS
FD - 10.89 DK - 8.42
Villar is coming a bit cheaper on both sites, and while I don't love the matchup against the lefty E-Rod, I do like the price on him all things considered. While not a perfect "real life" leadoff hitter, he has fantasy upside with power (18 home runs) and speed (13 stolen bases) on the season. The Nets aren't eliminated yet (though they are close) and will be trying to win this one for sure.

DJ LeMahieu FD 3700 DK 3800
Opponent - TEX (Dane Dunning) Park - TEX
FD - 12.9 DK - 9.96
Look, I get it, LeMahieu has really struggled this season, taking a major downturn compared to his first two seasons in a Yankees' uniform. The OPS has struggled to stay over the .700 mark and the power is down as well thanks to a reduced hard contact rate. But despite the struggles, the Yankees have kept him in the leadoff spot and he is still getting on base 35% of the time. That is worth a lot considering who is hitting behind him and Dane Dunning is an average arm at best. The DraftKings price is still in play for LeMahieu.
Shortstop

Trea Turner FD 4300 DK 5900
Opponent - COL (Antonio Senzatela) Park - COL
FD - 16.4 DK - 12.62
Corey Seager FD 4000 DK 4600
Opponent - COL (Antonio Senzatela) Park - COL
FD - 15.58 DK - 11.75
Turner should be in the third spot in the lineup once again for the Dodgers and is in the perfect place to rack up a ton of fantasy points. Hitting behind Betts and Muncy and about as good as it gets in the majors and Turner has all of the fantasy tools. Sure, he's expensive, but this is a guy with 22 home runs and 30 stolen bases on the season, making contact 76% of the time and letting his legs do the rest. Again, like Muncy (and other Dodgers) the price point is tough, but getting the top of this order into your lineup should be the goal.
Meanwhile, Seager should be in the cleanup spot on Tuesday and is coming a bit cheaper than Turner. That is for good reason, Seager doesn't have quite the fantasy upside. But he gets on-base a ton with a .379 OBP and is very tough to strike out at 16%. That will be trouble for Senzatela. Seager represents a way to save just a bit and is in such a great spot in the middle of this Dodgers' lineup.
Third Base

Alex Bregman FD 3900 DK 4200
Opponent - LAA (Packy Naughton) Park - LAA
FD - 15.22 DK - 11.33
Bregman just remains too cheap on both sites, with FanDuel and DraftKings failing to bump his price sufficiently after a bad start to the season. But the second half of the year has been gangbusters for Bregman. He has an .890 OPS and .385 wOBA in the second half, cutting the strikeouts down to under 10% to go with a 149 wRC+. Again, the price is just too low for Bregman especially considering the Astros have one of the highest implied run lines on the slate and he's moved back up towards the top of the order full-time now.

Justin Turner FD 3700 DK 5800
Opponent - COL (Antonio Senzatela) Park - COL
FD - 13.91 DK - 10.51
Look, I know you are going to run out of spots at some point for the Dodgers guys, and the best dude is yet to come, but we'd be remiss by not mentioning Justin Turner here. He is just a solid hitter, sporting a mid-800s OPS, is very tough to strikeout and gets on base more than 36% of the time. He doesn't have tremendous power, but it's there. He is a bit cheaper than Bregman on FanDuel as well, making him a better play there.
Outfield

Mookie Betts FD 4100 DK 6400
Opponent - COL (Antonio Senzatela) Park - COL
FD - 18 DK - 13.55
He's the priority in cash games on both sites. Hitting at the top of the Dodgers' lineup against Senzatela is just too good a spot to pass up even with the crazy prices, especially on DraftKings, in mind. But Betts just walks into the optimal spot, leading off in Coors with the power/ speed combination you dream about in fantasy. He is so tough to strikeout meaning the ball should be in play all over the place and Senzatela doesn't have much, if any, swing and miss stuff to talk about.

Jorge Soler FD 3200 DK 3800
Opponent - ARI (Luke Weaver) Park - ARI
FD - 13.16 DK - 9.81
Eddie Rosario FD 2800 DK 2900
Opponent - ARI (Luke Weaver) Park - ARI
FD - 11.61 DK - 8.85
I'm not exactly sure why Jorge Soler hits leadoff for the Braves, but he does, and that makes him a pretty good play at these prices. Both the OPS and OBP are on the lower side though some of that is explained with the worst BABIP of his career. He's coming cheap on DraftKings though and is moderately priced on FanDuel considering he gets to hit in front of Freddie Freeman and Ozzie Albies. And Luke Weaver is an average, at-best-arm these days.
Meanwhile, Rosario has found himself back in the Braves lineup and is coming pretty cheap on both sites. He has an OPS in the mid-700s with 18 home runs on the year. Both numbers play well at these price points and he offers a way to save a little in your lineup.
FREE EBOOK
SECRETS TO CRUSHING DAILY FANTASY FOOTBALL!
DON'T SET ANOTHER LINEUP BEFORE YOU READ THIS BOOK.