News Daily Fantasy
Expert Advice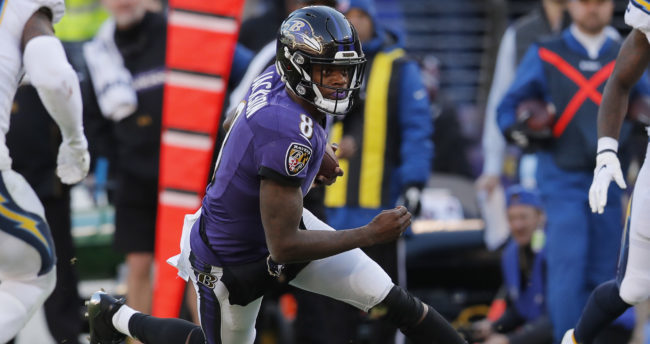 Daily Fantasy Football Cash Game Picks for FanDuel and DraftKings Week 3
Want access to the projections that power these picks? For a limited time we're offering a free one-week trial to all the sports that we cover - that's optimal lineups for NFL and MLB - for the same low price. Get started now!
Quarterbacks

Lamar Jackson FD 8400 DK 7800
Opponent DET
Proj Points FD - 27.02 DK - 27.77
Through the first two weeks of the season, Lamar Jackson has the second-most rushing yards in the league behind only Derrick Henry and Joe Mixon. He's gotten the ground game going early and often and is coming off a huge come-from-behind victory over the Chiefs on Sunday night. The Ravens are likely riding high coming into this one against the Lions and are -8 road favorites. Going into Detroit I'm not as worried about the blowout and the Ravens are likely to continue just sticking with Jackson as the primary option. He's got such a high floor based on how he scores points and should be the safest cash quarterback on this slate.
Daniel Jones FD 7400 DK 5800
Opponent ATL
Proj Points FD - 21.66 DK - 22.46
Daniel Jones is QB8 on DraftKings through the first two weeks, getting by mostly on his legs. In the first two games, Jones has the second-most rushing yards among quarterbacks, trailing only the aforementioned Lamar Jackson and Jalen Hurts. He's gotten slightly more accurate this season and is averaging more yards per attempt as well. He's facing an Atlanta defense that's been brutalized on the defensive side of the ball so far this season and the Giants are -3 home favorites in this one. Jones is coming at a really advantageous DraftKings price and I think we can consider him in cash games there.
Running Backs

Dalvin Cook FD 9500 DK 8400
Opponent SEA
Proj Points FD - 22.65 DK - 24.81
It's not a total surprise, but through two weeks Dalvin Cook is 4th overall in usage in 6th overall in total yards from scrimmage. And this included games with the Vikings trailing AND a brief exit in Week 2 with an injury. He is just the guy for Minnesota, and is priced as such. This game has a massive 55.5 total and a thin spread with the Seahawks -2 road favorites. I love Cook's DraftKings price and think he is a pretty easy play over there considering the potential game script and how the Vikings use him in the offense. It's a little closer on FanDuel, but still think you can pay all the up over there.
Darrell Henderson Jr. FD 6300 DK 5900
Opponent TB
Proj Points FD - 16.89 DK - 18.3
After playing 49 of the 52 offensive snaps in Week 1, Henderson had to leave the game with a rib injury in Week 2. His status is a bit up in the air as of this writing, but the assumption is that he will play. If so, I think we can continue counting on significant usage for him in the Ram's offense, though I am moderately concerned that Sony Michel was somewhat effective in his injury fill-in time. Before exiting in Week 2, Henderson had 18 looks (13 carries and five targets) in just 40 snaps. The Tampa Bay run defense is stout, but this game has a very high total and Henderson is advantageously priced on both sites. Note: If Henderson were to sit, Sony Michel would be the logical punt play.
Running back is an iffy position on this main slate of games. A number of teams are in full committee approaches at this point and some others who aren't like the Bengals with Joe Mixon are in tough matchups. Let's run through some of the situations quickly.
Clyde Edwards-Helaire would seemingly be in a good spot as more than a touchdown favorite at home against the Chargers. But he only played in 65% of the snaps in Week 2, got vultured on a rushing TD by Williams and the Chiefs don't look 100% committed to him.
Mike Davis is seeing decent overall usage for the Falcons when you factor in the receiving targets, but Cordarrelle Patterson looked great in the receiving game as well last week.
If Josh Jacobs sat again, then Kenyan Drake would see similar on-field time like he did in Week 2 when he played 72% of the snaps. But he only touched the ball 13 times, couldn't do anything on the ground and is facing a very good Miami defense.
Wide Receivers
Cooper Kupp FD 7900 DK 6800
Opponent TB
Proj Points FD - 18.68 DK - 22.94
Through two weeks, Cooper Kupp is the second-highest scoring player, overall on DraftKings. The three touchdowns have a lot to do with that, but there is no denying he is the target favorite for Matthew Stafford coming in. He has 21 looks through the two games and has converted those to 16 receptions and 271 yards (3rd). This is a tougher matchup against Tampa, but the total is very high in this one and with the Bucs throwing a lot they've actually allowed the second-most opponent plays per game. The DraftKings price will once again make Kupp chalk there.

Keenan Allen FD 6900 DK 6600
Opponent KC
Proj Points FD - 14.32 DK - 17.49
Mike Williams FD 6000 DK 6400
Opponent KC
Proj Points FD - 13.81 DK - 16.55
Don't look now, but these guys rank 4th (Williams) and 6th (Allen) overall in targets through the first two weeks. Williams has been the big surprise, carrying over his Week 1 usage into Week 2 and he now has 22 targets for 173 yards and two touchdowns on the season. If this is going to keep up then he is signficantly underpriced, especially on FanDuel. Long an inefficient deep threat, Williams has just turned into a reliable chains-mover now.
And Keenan Allen has just been his regular-old target-friendly wide receiver. With this game starting at a huge total and the Chargers likely to be playing catchup against the Chiefs, we could see a high volume of passes once against from the Bolts. That would put Allen in play as well. In fact, stacking these two guys might be the way to go considering the game script.
Courtland Sutton FD 6900 DK 6000
Opponent NYJ
Proj Points FD - 14.76 DK - 17.86
With Jerry Jeudy out, Courtland Sutton became Teddy Bridgewater's weapon of choice in Week 2. Sutton finished with a slate-breaking line of nine catches for 159 yards. He was masterful and should look to continue some of that success in Week 3. The price on DraftKings hasn't come up enough to reflect the opportunity and the quarterback play is so improved in Denver that they now have a consistent, and viable offense against a weaker Jets team.
Tight Ends

T.J. Hockenson FD 6300 DK 5200
Opponent BAL
Proj Points FD - 12.13 DK - 15.16
It appears Jared Goff likes throwing to T.J. Hockenson so far. The latter ranks second among tight ends in targets through the first two weeks and third in years behind Kelce and Waller. He isn't priced in that tier, though he's butting up against their production. The Lions figure to be playing from behind again in this game and should have to take to the air again. I'm a little worried about the overall pace considering how much the Ravens run the ball, but this should still be a good spot for Hockenson.
Kyle Pitts FD 6200 DK 4900
Opponent NYG
Proj Points FD - 11.04 DK - 13.56
The DraftKings price is still a little too low here and Pitts has been solid in his first two games in the NFL. He is averaging seven targets through the first two weeks and is second overall in targets for the Falcons. I think this is set to increase moving forward and the snap count is encouraging, having played 86% of the snaps in Week 2. I think we are still buying relatively low on DK and there is still red zone equity considering he does have a couple of Red Zone looks as well so far.
Defense / Special Teams
Bills FD 4100 DK 3800
Opponent WAS
Proj Points FD - 8.38 DK - 8.38
The Bills have allowed only 16 total points through the first two weeks, coming off the shutout of the Dolphins in Week 2. Granted, that was with Miami losing Tua relatively early, but the Buffalo defense has been stout. The Redskins aren't rollovers with Heineke behind center, but they don't project to be a high-powered offense either. The Bills are a very good price on DraftKings especially.
DEN FD 4200 DK 4300
Opponent NYJ
Proj Points FD - 10.14 DK - 10.14
The Jets and Zah Wilson have been a hot mess on offense to start the season and I'm not sure all that much will change going forward. They have five turnovers through the first two weeks with Wilson operating like an interception machine in Week 2. Denver hasn't been able to get after the quarterback all that much this season, but that could change with New York having taken the most sacks through the first two weeks. The Broncos are expensive for a reason in this matchup.
GRAB A FREE TRIAL OF OUR PROJECTION SYSTEM, AND CHECK OUT DFSR PRO!
FREE EBOOK
SECRETS TO CRUSHING DAILY FANTASY FOOTBALL!
DON'T SET ANOTHER LINEUP BEFORE YOU READ THIS BOOK.