Baseball Picks Daily Fantasy
Expert Advice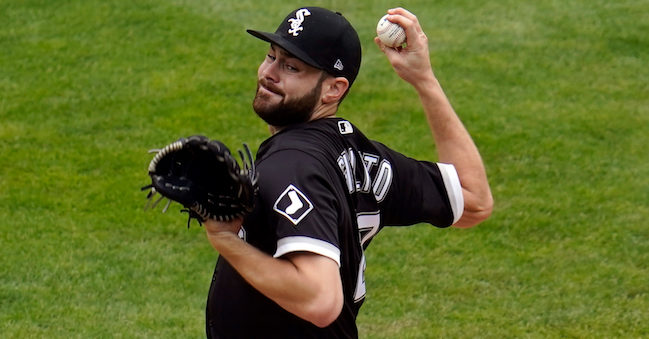 DraftKings and FanDuel MLB Picks for Sunday, 9/26/21
Now's your chance to get DFSR PRO, which will give you access to our MLB and NBA optimizers and our new player lab! Get started for free by clicking the button below.
We have only one week left! What's bizarre about this time of the year is that we have numerous starters facing weird pitch counts. It's hard to know what to expect because of that volatility, but we're going to lean on many contenders to avoid any of that silliness. There's a lot to discuss, though, so let's kick things off with one of the best pitchers for one of the best teams in baseball!
Pitchers

Lucas Giolito FD - P 9500 DK - SP 10900
Opponent - CLE (Triston McKenzie) Park - CLE
FD - 37.43 DK - 20.09
Giolito went from being underrated to overrated back to underrated. For some reason, no one talks about him when discussing the White Sox, but he's a major reason why they have the best record in the AL Central. The right-hander has a 3.70 ERA and 1.12 WHIP in yet another sparking year, bringing his three-year averages to a 3.54 ERA and 1.08 WHIP. That doesn't even include his ridiculous 29 percent K rate as well, making him a dangerous option against this terrible Indians offense. Cleveland currently ranks 21st in runs scored and 28th in OBP. That was on full display when Gio gobbled up seven scoreless innings in their one matchup earlier this season.
John Means FD - P 8900 DK - SP 8200
Opponent - TEX (Dane Dunning) Park - BAL
FD - 32.49 DK - 17.08
Means has been slumping a bit since the All-Star break, but it's hard to overlook numbers like his in a matchup like this. Let's kick things off by talking bout his opposition, with the Rangers ranked dead-last in wOBA, runs scored, and OBP. That makes them the best matchup in baseball, and we certainly believe Means can add to that. We say that because the left-hander has a 3.17 ERA and 0.97 WHIP for the season. Those brilliant averages look even better when you see that Means threw seven scoreless innings in his one matchup with Texas earlier this year, striking out nine batters in one of the best starts of his career.
If you're looking for someone cheaper, Shane Baz is a -280 favorite against a team with the worst xwOBA in baseball. Not to mention, he's got a WHIP below 0.80 in over 80 innings this year between the minors and majors.

Catcher/First Base

Max Muncy FD - 1B 4000 DK - 1B 5100
Opponent - ARI (Humberto Mejía) Park - ARI
FD - 15.06 DK - 11.09
It looks like Harper is the man for NL MVP, but Muncy is right there in the Top-5. In an everyday role this season, Muncy has maintained a .370 OBP, providing 35 homers, 91 runs scored, and 90 RBI. Those are utterly brilliant averages, and it makes him a good value in this price range. What's even more encouraging is the fact that his power stroke is working right now, registering a .571 SLG over his last 15 games played. The best part about all of this is that he gets to face a crappy righty, with Muncy batting from the left side. We'll discuss that bad pitcher later on!

Paul Goldschmidt FD - 1B 4300 DK - 1B 3800
Opponent - CHC (Keegan Thompson) Park - CHC
FD - 11.6 DK - 8.73
This DraftKings price has to be a mistake! Goldy has been one of the best hitters in baseball for two months now, and it makes no sense why he's below $4K over there. Over his last 45 games played, Paul has put together a .358 AVG, .432 OBP, .688 SLG, and 1.120 OPS. That's downright ridiculous, and it makes the 14-game winning streak from St. Louis far from surprising. All of that makes him very intriguing against a guy like Thompson, totaling a 1.49 WHIP in limited time this season. Just use Goldy on DraftKings and build from there!
Second Base

José Altuve FD - 2B 4400 DK - 2B 5800
Opponent - OAK (Paul Blackburn) Park - OAK
FD - 12.67 DK - 9.69
The Astros will be a significant theme in this article, and if that's the case, Altuve needs to be an essential piece to our stack. The diminutive second baseman is having yet another monster season, generating a .278 AVG, .354 OBP, .490 SLG, and .844 OPS. Those are typical numbers from Altuve, amassing a .424 OBP and 1.072 OPS over his last 18 games played. That's quite the stretch from an already good player, and we absolutely adore him atop this lineup with Houston projected for five runs. Their projection is so lofty because of Paul Blackburn, and we'll dive into his numbers a little later.

Jonathan India FD - 2B 3500 DK - 2B 5400
Opponent - WSH (Josh Rogers) Park - CIN
FD - 12.14 DK - 9.29
India is a lock for NL Rookie of the Year, and it's scary to think how dominant this guy will be atop this Reds lineup for the next decade. What makes him so impressive is his eye, compiling a .375 OBP for the season. That's a rare sight to see from a rookie, and it's even more remarkable when you realize that he has legit 30-20 potential. We like that he gets to face a lefty as well, with India posting a .393 OBP against them this season. It appears that he's going to be a .400 OBP guy against southpaws throughout his career, and it makes him an easy pick against them. Not to mention, Rogers had an 8.65 ERA before this season and a 5.12 ERA and 1.44 WHIP at the minors between 2018-21.
Shortstop

Trea Turner FD - SS 4100 DK - 2B 5600
Opponent - ARI (Humberto Mejía) Park - ARI
FD - 15.18 DK - 11.68
We foreshadowed how we like Muncy in that matchup with Mejia, so let's go ahead and get into that! This season, the Arizona righty is pitching to a 7.20 ERA and 1.80 WHIP, putting him in line for an ugly start against this potent lineup. Trea is actually at the top of this scary lineup, averaging nearly 10 DK points per game. The most important thing here is that LA is projected for almost six runs, making their leadoff hitter the most valuable guy on the board. This isn't a typical leadoff hitter either, with Turner tallying 22 homers and 31 steals. That's even more terrifying versus Arizona here, with Turner totaling a .440 OBP and 1.071 OPS over his last 10 games played.
Wander Franco FD - SS 3800 DK - SS 5700
Opponent - MIA (Jesús Luzardo) Park - TB
FD - 10.31 DK - 7.98
I don't necessarily like this pricing, but Franco is about to be this expensive for the next decade. The simple fact is, this kid will be one of the best all-around players in baseball. He's set a precedent with a 40-game on-base streak, flirting with Frank Robinson's 43-game record for someone under 21. I was a mess when I was 20, and this kid is just casually getting on base every day against Major League pitchers. He gets a matchup with a guy who shouldn't be a Major Leaguer here, too, with Luzardo tallying a 7.01 ERA and 1.67 WHIP. Don't be afraid to stack the Rays, with Franco and Cruz being the essential pieces.
Third Base

Nolan Arenado FD - 3B 3800 DK - 3B 3900
Opponent - CHC (Keegan Thompson) Park - CHC
FD - 11.3 DK - 8.53
Stacking Arenado and Goldy has been a profitable endeavor for a month now, and it makes it easy to see why the Cards win every day. The former Rocky has 33 homers and 103 RBI in a typical Arenado season, quieting many skeptics who thought he could only rake in Coors Field. He's done a lot of that damage recently, posting a .503 SLG and .809 OPS over his last 44 games played. The most important thing when evaluating Arenado is considering this price, sitting below $4K on both sites. That makes no sense, and stacking Goldy and Nolan could be the most profitable stack on the board with how poorly they're being mispriced.

Alex Bregman FD - 3B 3700 DK - 3B 4700
Opponent - OAK (Paul Blackburn) Park - OAK
FD - 13.16 DK - 9.8
Altuve and Bregman have been a fantastic two-man stack for three years now, and this is another excellent spot for them to succeed. We already talked about how we want to exploit Blackburn, and it's easy to understand why when you see his 5.17 ERA and 1.60 WHIP. He's struggled with the Stros, too, allowing 13 runs across 6.1 innings in his two starts against them. That's brilliant news for Bregman, with the third baseman accruing a .296 AVG, .385 OBP, .500 SLG, and .885 OPS over his last 15 games played. Those aren't too far off his impressive career averages, making him an easy play at this diminished price tag.
Outfield

Yordan Alvarez FD - OF 4200 DK - OF 5300
Opponent - OAK (Paul Blackburn) Park - OAK
FD - 13.69 DK - 10.21
Let's cap off our Astros stack with Mr. Alvarez. This dude has developed into one of the best all-around hitters in baseball, and it's a wonder why more people don't talk about it. We're talking about a 24-year-old kid with a .292 AVG, .375 OBP, .583 SLG, and .958 OPS for his career. That's pretty much on par with his 2021 numbers, but we love the way that Yordan is seeing the ball right now. Over his last 14 games played, Alvarez has accumulated a .435 OBP and 1.095 OPS. That's scary since he's one of the only guys with the platoon advantage in his favor, mashing right-handers throughout his career.

Nelson Cruz FD - OF 3400 DK - OF 5100
Opponent - MIA (Jesús Luzardo) Park - TB
FD - 11.63 DK - 8.7
You probably knew this was coming after the Franco write-up. We already talked about how bad Luzardo has been, and he could be in for a very long night against this disciplined lineup. Cruz is the critical piece for them, destroying left-handers throughout his career. Nelson has nailed down a .421 OBP, .673 SLG, and 1.094 OPS against southpaws since 2019. That's a long stretch of success, and it extends even further! My favorite part about using Cruz might be this pricing, though. The big man should never be $3400 on FanDuel, and it's hard to understand what they're thinking in such a tasty matchup.
Nick Castellanos FD - OF 3800 DK - OF 5700
Opponent - WSH (Josh Rogers) Park - CIN
FD - 13.52 DK - 10.24
This dude hit a walk-off home run as I was writing this, and that has to be a good omen for this article! The Reds right-handed masher is having a career year, registering a .308 AVG, .561 SLG, and .921 OPS. His home run swing has been rocking recently, too, knocking out 14 homers over his last 44 games played. We believe he can continue that stretch here, with Castellanos collecting a .371 OBP and .989 OPS against lefties since 2019. Those are some of the best splits around, and we already talked about how bad Rogers has been outside of a couple of starts this season.
GRAB A FREE TRIAL OF OUR PROJECTION SYSTEM, AND CHECK OUT DFSR PRO!
FREE EBOOK
SECRETS TO CRUSHING DAILY FANTASY FOOTBALL!
DON'T SET ANOTHER LINEUP BEFORE YOU READ THIS BOOK.