Baseball Picks Daily Fantasy
Expert Advice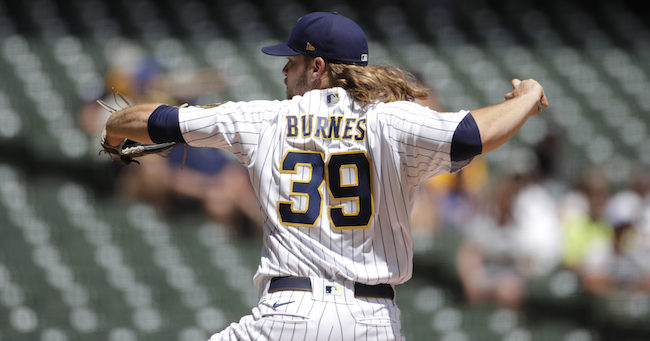 DraftKings and FanDuel MLB Picks for Tuesday 4/19/22 - Main Slate
Now's your chance to get DFSR PRO, which will give you access to our MLB, NBA, PGA, NHL, and NFL optimizers and our new player lab! Get started for free by clicking the button below.
Pitchers

Corbin Burnes FD - P 10800 DK - RP 10500
Opponent - PIT (JT Brubaker) Park - MIL
FD - 45.35 DK - 25.42
Burnes is coming off a Cy Young season in 2021 thanks to just an insane 36% K rate while never really walking anyone. It was one of the great pitching seasons we've seen in a while. Things haven't started quite at the same rate this year, though he's still been solid in the first two outings. The Pirates have been better than expected at the plate this season, ranking in the top 3rd in terms of wOBA, but it's hard to imagine that continuing over the course of the season. They just don't have the bats up and down the lineup. I like this spot for Burnes who comes in as a -250 favorite, the best win odds on this slate.

Robbie Ray FD - P 9900 DK - SP 9800
Opponent - TEX (Jon Gray) Park - SEA
FD - 43.13 DK - 24.09
Ray has struggled in his first two games as a Toronto Blue Jay this season, walking a bunch of guys last games and not dialing the K's up to where he was last season. He comes into this one as a -139 home favorite against the Rangers who have improved their offense this season and aren't striking out a ton. But the 7.5 run line is lower here and Ray is simply coming too cheap for how he projects over the course of the season. This is a guy who's struck out more than 11.5 batters per nine over the last couple of years and last season finally got the walks under control. I'm going back to the well here on the lefty.
Catcher/First Base

J.T. Realmuto FD 3900 DK 5300
Opponent - COL (Kyle Freeland) Park - COL
FD - 13.97 DK - 10.66

Rhys Hoskins FD 3800 DK 5500
Opponent - COL (Kyle Freeland) Park - COL
FD - 14.22 DK - 10.55
The Phillies will play in Coors here on Tuesday with the chance to put up a bunch of runs in the mile-high air. Their 6.0 implied run line is the highest of the day, facing off against the lefty Kyle Freeland. The top of the order will feature some righties on the better side of their platoons and all are in good spots here. From a fantasy perspective, Realmuto is one of the best offensive catchers in baseball and is coming off a 17 home run, 13 stolen base season in 2021. Things have started a bit slowly this year, but the sample size is small. Realmuto is mostly platoon neutral for his career, but has a higher ISO against lefties. He also takes more walks in this split. The price is adjusted to play in Coors, but I think we can still fit him in for cash games.
The same can be said for Hoskins who should hit second in the lineup against the southpaw. For his career, Hoskins has a 20% walk rate against lefties and has tagged this split to the tune of a .922 OPS and .390 wOBA. Those numbers bode well against who only strikes out around seven batters per nine for his career and carries in a lifetime 4.51 xFIP. Again, the Phillies are going to be a popular stack because of the location of the game and the pitcher they are facing. It's just a matter of how many you can fit into lineups.
Strongly consider Rowdy Tellez (FD $2400 DK $2900) on both sites, but especially DraftKings.
Second Base
Kolten Wong FD 2500 DK 4100
Opponent - PIT (JT Brubaker) Park - PIT
FD - 10.11 DK - 7.78
The Brewers are in one of the best non-Coors spots of the day, facing off against JT Brubaker who's really struggled out of the gate this season. The righty has walked as many batters as he's struck out and has mostly just gotten rocked. It won't be this bad for the whole season of course, but he's an average arm at best anyway. Wong has struggled in his own right to start the season, getting on base only 24% of the time, but he's still hitting leadoff for this crew and is coming very cheap on FanDuel. I'm playing the matchup here and the understanding that we see Wong turn things around to be more like the .800+ OPS guys he was in 2021.

Jorge Polanco FD 3100 DK 3600
Opponent - KC (Carlos Hernández) Park - KC
FD - 10.42 DK - 7.97
Some Twins bats at the top of the order are coming pretty cheap and Polanco is one of those guys. He should hit third against Carlos Hernandez and is coming off a truly astonishing year at the plate. Polanco walloped a crazy 33 home runs, easily the most of his career, and finished the season with an .825 OPS. He's been very tough to strike out over the course of his career (19%) though has been swinging and missing a bit more to start this season. I'm not that worried about it and the power has still been there with a couple of home runs in his first 40 plate appearances. He's coming just a bit too cheap on both sites for the upside he provides.
Shortstop
Willy Adames FD 2900 DK 4700
Opponent - PIT (JT Brubaker) Park - PIT
FD - 11.85 DK - 8.97
Adames continues to come too cheap on FanDuel at sub-$3K and I think there is actually a ton of upside on this price. He is coming off a 25 home run season in 2021 that saw him get the OPS over .800. The dude hasn't started this season in quite the same fashion but there shouldn't be any huge alarm bells going off just yet. He's actually been much better over his career against righty pitching, sporting a .347 wOBA and 121 wRC+ in that split, much, much higher than what he's done against lefties. Hitting second in the lineup, he makes a great part of a Brewers stack against Brubaker.

Xander Bogaerts FD 3500 DK 5000
Opponent - TOR (Yusei Kikuchi) Park - TOR
FD - 13.11 DK - 9.96
I'm putting him after Adames here but it's only because of the price. Xander is clearly the better fantasy option, but at some point, the cost becomes a bit prohibitive on a slate like this one. That being said, Bogaerts has been much better against lefties for his career, with the .851 OPS fifty points higher than what he does against righties. The .366 wOBA and 128 wRC+ are considerably higher as well. Kikuchi has struggled to start this season, though does have K stuff in the repertoire for sure.
Third Base
Bobby Witt Jr. FD 2800 DK 2900
Opponent - MIN (Chris Archer) Park - MIN
FD - 10.09 DK - 7.76
Still looking for some cheaper ways to go in order to fit the ace arms and Coors bats means we might have to find a few more punt plays along the way. The Royals are in the best spot in the world against Chris Archer, but Witt should still be hitting second and does project to have significant fantasy impact even if he hasn't shown it yet. He's struggled to start his rookie season, but he rates as one of the best prospects in the game and in the minors flashed a power/speed combo that has folks looking the upside. I think it's fine to buy low here especially if people have already jumped off the wagon because of the slow start.
Luis Arraez FD 2800 DK 2500
Opponent - KC (Carlos Hernández) Park - KC
FD - 9.51 DK - 7.44
Again, if we are rostering some expensive arms and Coors bats, we have to find some savings somewhere in the lineup. Arraez presents one way to do that, especially on DraftKings where he's coming close to the minimum. It plays though because he's projected to hit leadoff for the Twins with Byron Buxton on the shelf. Carlos Hernandez has been terrible in his 104 major league innings, sporting a 5.02 xFIP and K's fewer than seven batters per nine. Arraez's big thing is that he makes a ton of contact, putting the ball in play more than 80% of the time for his career. He'll need to do that, get on base, and score to hit value, but this is the right matchup to make it happen. And hitting leadoff gives the higher plate appearance expectation.
Outfield
Nick Castellanos FD 4100 DK 5900
Opponent - COL (Kyle Freeland) Park - COL
FD - 14.8 DK - 11.23
Castellanos should be hitting cleanup for the Phillies on Tuesday when they face the lefty Freeland and there's a reason he's really up there in price. He's started off the season in excellent fashion, already sporting an OPS over .900 and for his career has been excellent against lefties in general. In that platoon, Castellanos has an .896 OPS, .376 wOBA, and 136 wRC+. He's tough to put down on strikes and is coming off his most home runs in a season last time out with 34. Things are lining up to make him a great play here on Tuesday.

Christian Yelich FD 2900 DK 4800
Opponent - PIT (JT Brubaker) Park - PIT
FD - 12.31 DK - 9.31
I don't think 2019 Christian Yelich is ever walking back through that door, but that's okay because he's not priced like the guy who looked like a young Barry Bonds for one season. Last year was a real struggle for the dude, but he's started off ok this time around, getting the walk rate up to 19% and the OPS in the low-800s. For a guy hitting third in this lineup against a weaker arm, the sub-$3K FanDuel price is more than fine.

Charlie Blackmon FD 3100 DK 3900
Opponent - PHI (Kyle Gibson) Park - PHI
FD - 12.59 DK - 9.65
Sam Hilliard FD 2500 DK 2700
Opponent - PHI (Kyle Gibson) Park - PHI
FD - 10.96 DK - 8.29
I don't mind grabbing a couple of lefty Rockies bats here against Kyle Gibson who has struggled to get batters to swing and miss over his career. Sure, he generates a ton of ground balls which helps mitigate that lack of K stuff some, but this is Coors and mistakes get punished early and often if you give up a lot of contact. The Rockies guys are coming pretty cheap all things considered and as a team, the 5.5 implied run line is one of the highest of the day.
FREE EBOOK
SECRETS TO CRUSHING DAILY FANTASY FOOTBALL!
DON'T SET ANOTHER LINEUP BEFORE YOU READ THIS BOOK.