Baseball Picks Daily Fantasy
Expert Advice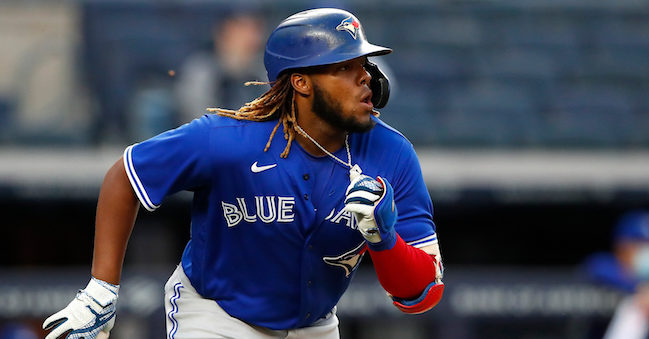 DraftKings and FanDuel MLB Picks for Wednesday, 4/20/22
The opening two weeks of the MLB season have been fantastic. My season-long leagues are cruising, and I've also had some profitable days in DFS. The volatility in MLB DFS can be frustrating at times, but it's essential to battle it every day and just power through the tough times. We haven't really gotten to those yet, but we want to keep our heads down and keep chugging along. With that in mind, let's get started with this Wednesday card!
Now's your chance to get DFSR PRO, which will give you access to our MLB, NBA, PGA, NHL, and NFL optimizers and our new player lab! Get started for free by clicking the button below.
Pitchers

Brandon Woodruff FD - P 9700 DK - SP 9700
Opponent - PIT (Mitch Keller) Park - MIL
FD - 42.17 DK - 23.05
We're going to have pitchers against the Pirates all season. This club had one of the worst lineups in baseball last year, sitting bottom-three in runs scored, OPS and xwOBA. That's scary since this lineup might be even worse, making Woodruff one of the easiest plays out there. Woodruff threw five scoreless innings in his most recent outing and provided a 2.56 ERA and 0.96 WHIP last season. He also went crazy against this putrid Pittsburgh lineup, averaging 41 FanDuel points per game in their previous three matchups. That has Woodruff entering this matchup as a -250 favorite, with the Buccos projected for fewer than 3.5 runs.
Logan Gilbert FD - P 9500 DK - SP 9800
Opponent - TEX (Dane Dunning) Park - SEA
FD - 33.9 DK - 18.29
Gilbert worked with Jacob deGrom in the offseason, and it looks like the best pitcher in baseball gave this kid some amazing tips. Gilbert has scored 33 FanDuel points in each of his first two games, pitching to a 0.90 ERA and 0.80 WHIP. We don't believe those absurd averages will maintain, but this kid has the stuff to be one of the best pitchers in baseball. He definitely showed that in the minors, generating a 2.12 ERA and 0.92 WHIP since 2019. Getting to face Texas might be the best part of this, though, with the Rangers ranked dead-last in OBP and OPS last season. The oddsmakers agree with this assessment, making Gilbert a -150 favorite, with Texas projected for a 3.5-run total.
Merrill Kelly has been outstanding in the first two weeks and should continue that success against a weak Nationals lineup.
Catcher/First Base

Vladimir Guerrero Jr. FD - 1B 4100 DK - 1B 5800
Opponent - BOS (Nick Pivetta) Park - BOS
FD - 14.71 DK - 11.08
We could probably have Vlad in here every day, and it would work about 50 percent of the time. We want to use him whenever he has a good matchup, and facing Nick Pivetta in Fenway Park is certainly that. The Red Sox righty has a 9.39 ERA and 1.83 WHIP through his first two starts and now owns a 5.22 ERA and 1.44 WHIP for his career. Those are disastrous numbers against a guy like Guererro, with Vlad tying the league lead with his fifth homer on Saturday. That's gotten him to an impressive 1.071 OPS, which isn't far from his 1.003 OPS from last season.

Rowdy Tellez FD - 1B 2400 DK - 1B 3000
Opponent - PIT (Mitch Keller) Park - MIL
FD - 10.79 DK - 8.15
It's hard not to root for a guy named Rowdy. He's not just a goofy name, though, because Tellez can rake. In fact, he's got a .465 SLG and .774 OPS for his career. Those are exceptional averages from such an affordable player, and he's done most of that damage against right-handed pitching. Tellez has a .230 ISO and .779 career OPS with the platoon advantage in his favor, typically batting fourth or fifth in these circumstances. Mitch Keller is undoubtedly a guy we want to exploit, too, with the Pirates righty registering a 6.17 ERA ad 1.76 WHIP in 178 career innings. How is that even possible?
Daulton Varsho is way too cheap on both sites hitting atop Arizona's lineup, and is one of the safest bets at catcher.
Second Base

Jorge Polanco FD - 2B 3100 DK - 2B 4000
Opponent - KC (Daniel Lynch) Park - KC
FD - 10.77 DK - 8.24
This pricing makes no sense. I used to think Eduardo Escobar was the most underrated hitter in baseball when he played for the Twins, but Polanco has usurped him for that spot. Polanco picked up 35 doubles, 33 homers, 98 RBI, and 11 steals in an unbelievable 2021 campaign. That alone makes it hard to understand why he's this cheap, especially since he's got a .368 OBP, .500 SLG, and .868 OPS over his last nine games played. A matchup with Daniel Lynch is the icing on the cake, though, with the Royals lefty lamenting a 6.04 ERA and 1.66 WHIP through 16 career starts.

Ketel Marte FD - 2B 2900 DK - 2B 5100
Opponent - WSH (Erick Fedde) Park - WSH
FD - 11.08 DK - 8.48
This is another guy that's way too cheap. His FanDuel price is particularly mind-boggling, sitting below $3K over there. Marte should never be below $4,000 on either site, totaling a .313 AVG, .370 OBP, .532 SLG, and .902 OPS since 2019. That's four years of elite play, and it doesn't even consider some sneaky speed. The best part of this is a matchup with Erick Fedde. The Nationals righty posted a 5.47 ERA and 1.44 WHIP last season, which is sadly right on par with his career averages. Not many people will be on Ketel because of his poor play so far this season, but it's just a matter of time before he gets rolling.
Shortstop

Carlos Correa FD - SS 3000 DK - SS 4900
Opponent - KC (Daniel Lynch) Park - KC
FD - 11.08 DK - 8.39
Correa has been one of the best shortstops in baseball since 2015, and he's going to start smashing sooner rather than later. He's batting in the heart of this talented Twins lineup and gets one of the best possible matchups here. We already talked about Lynch's 6.04 ERA and 1.66 WHIP, but Correa is a wizard against southpaws. Since 2020, Correa has a .385 OBP with the platoon advantage in his favor. He's been doing that sort of damage throughout his career, and a matchup with Lynch could be the thing to get him going.

Gleyber Torres FD - SS 2400 DK - 2B 4400
Opponent - DET (Eduardo Rodriguez) Park - DET
FD - 9.13 DK - 6.99
We're not sure that Torres is the masher that everyone was anticipating, but he's developing into one of the best platoon guys in the game. Most of his damage throughout his career has come against left-handed pitching, accumulating a .350 OBP, .505 SLG, and .855 OPS against them in nearly 500 at-bats. Those are dominant numbers from such an affordable player, and we're certainly not worried about him facing Eduardo Rodriguez. The former BoSox lefty has a 5.87 ERA and 1.83 WHIP through two starts and has never posted a WHIP below 1.26 since debuting in 2015. In 23 career at-bats against E-Rod, Gleyber has a .448 OBP, .870 SLG, and 1.318 OPS.
Third Base

Manny Machado FD - 3B 3900 DK - 3B 5000
Opponent - CIN (Vladimir Gutierrez) Park - SD
FD - 12.82 DK - 9.72
Manny needs to step up this season in the absence of Fernando Tatis Jr, and he's certainly done that through the first two weeks. Machado has mashed his way to a .365 AVG, .411 OBP, .635 SLG, and 1.046 OPS. He's also added three steals and looks well on his way to a career year across the board. All of that makes him a worthy option no matter the salary, and a matchup with Vlad Gutierrez is pretty grand as well. The Reds righty has a 1.92 WHIP through his first two starts, accruing a 4.78 ERA and 1.45 WHIP for his career.

Josh Donaldson FD - 3B 3000 DK - 3B 5100
Opponent - DET (Eduardo Rodriguez) Park - DET
FD - 10.67 DK - 7.95
Using Yankees is going to be a popular trend on this slate. That will be the case anytime they face a lefty because they have the best group of right-handed hitters in the league. Donaldson is certainly one of those, slaughtering southpaws throughout his career. JD has a .383 OBP, .561 SLG, and .944 OPS against left-handed pitching. That's nearly 1,400 plate appearances of pure dominance, and it'll surely earn him a prominent spot in this dangerous lineup. We already talked about how bad Rodriguez has been this year, and it has the Brox Bombers projected for nearly five runs.
Outfield

Giancarlo Stanton FD - OF 3600 DK - OF 5300
Opponent - DET (Eduardo Rodriguez) Park - DET
FD - 11.33 DK - 8.47
Let's cap off this Yankees stack with one of the biggest bombers. Stanton is simply one of the best power hitters around, providing a .358 OBP, .542 SLG, and .899 OPS in the 12 years of bludgeoning baseballs. That's an amazing run, and he's actually been even better with the platoon advantage in his favor. Giancarlo has a .388 OBP, .609 SLG, .997 OPS, and .320 ISO against lefties throughout his career. Those are Barry Bonds-like numbers, and we certainly don't expect a guy like Rodriguez to slow him down.

Charlie Blackmon FD - OF 3100 DK - OF 4100
Opponent - PHI (Zach Eflin) Park - COL
FD - 13.21 DK - 10.12
Blackmon has gotten off to a rough start this season, but he's starting to turn it on. Hitting in Coors Field will do that, with Chuck Nasty scoring at least 12 FanDuel points in three of his last four games. That's no surprise when you see his home splits, with Blackmon compiling a .338 AVG, .398 OBP, .567 SLG, and .966 OPS at Coors Field throughout his career. That sadly means that he's a product of hitting in that hitter's haven, but that's been the case for many Rockies bats. Facing Zach Eflin also gives Charlie the platoon advantage, with Blackmon owning a .863 OPS against them throughout his career.

Jesse Winker FD - OF 2700 DK - OF 4800
Opponent - TEX (Dane Dunning) Park - SEA
FD - 11.03 DK - 8.32
Let's cap off the article with Mr. Winker. This guy proved to be one of the best lefty mashers in baseball last season, tallying a .413 OBP, .591 SLG, and 1.003 OPS against righties since 2020. That's a lengthy term of success, and it earned him a monster contract with the Mariners. It also has hit batting third, and we love that against a guy like Dane Dunning. The Rangers righty has a 1.73 WHIP in the early going of this season and a 1.46 WHIP since the beginning of last season. That makes it hard to believe that he's just $2,700 on FanDuel, one of the best values of the day.
FREE EBOOK
SECRETS TO CRUSHING DAILY FANTASY FOOTBALL!
DON'T SET ANOTHER LINEUP BEFORE YOU READ THIS BOOK.