Basketball Picks Daily Fantasy
Expert Advice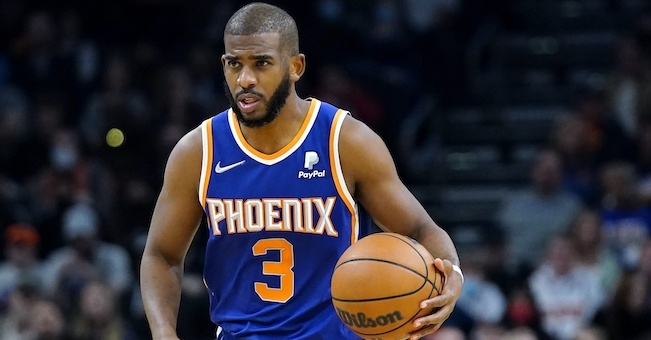 DFS NBA Picks for FanDuel and DraftKings - Sunday 5/8/22
Head on over for your chance to get DFSR PRO, which will give you access to our NBA FanDuel and DraftKings optimizer, NFL optimal lineups, and our NHL Optimizer. Plus our new player lab! Get started for free by clicking the button below. START YOUR FREE TRIAL NOW! First time with NBA or NFL? Be sure to read our free NBA and NFL Ebooks on building lineups, general strategy, and more. We've got you completely covered.
Point Guard / Shooting Guard

Luka Doncic FD - $11500 DK - $11000
Opponent - PHO
Proj Pts FD - 60.08 DK - 64.22

Jalen Brunson FD - $6700 DK - $6600
Opponent - PHO
Proj Pts FD - 35.03 DK - 36.07
For the Mavericks to pull out this series, both of these guys are going to need to go off. It's not going to be good enough for just Luka to carry the team. Dallas is going to need a secondary scorer, something they got out of Brunson in Game 3. He put up 21 shots to Luka's 25 and ended up with a team-high 28 points to go with five assists and four rebounds. It's exactly what they needed and it worked to throw the Suns' defense out of rhythm in the idea that it wasn't just Luka.
And Doncic, for his part, is still the prime guy to go after on this slate. Heck, this is a dude who in an "off" game went for 26 points 13 rebounds and nine assists. He's just everything you could want in a fantasy basketball player and the floor is as high as it gets. Is he expensive? Sure. But it's worth it and there's a chance he comes back here to drop 40+. On these playoff slates, fading the superstars is almost never the right answer. These are the ride-or-die guys and Doncic is one of the best to do it.

Chris Paul FD - $9700 DK - $8100
Opponent - DAL
Proj Pts FD - 44.38 DK - 45.79
The DraftKings price is just daring you to play the guy, especially in relation to the FanDuel price which does feel a little bit on the high side. Coming off the 14 for 14 game to close out the New Orleans series, CP3 has mostly been solid in this Mavericks' series though the latter did everything they could to limit him last game and he only finished with 9 shots total. Still, this is a guy averaging a 20/6/5 line in the worst of times and there is definite upside if things get rolling.
Small Forward

Jimmy Butler FD - $10400 DK - $8900
Opponent - PHI
Proj Pts FD - 45.78 DK - 45.21
Considering what he's done in this series, he's simply too cheap to pass up on DraftKings. The FanDuel price is a bit too much, but on DK he's just a straight-up bargain. For the series, the 76ers have had really no answer for this guy and he's averaged 23 points, eight assists, and six rebounds. Last time out he jacked up 22 shots and scored 33 points with only one other Heat guy getting into double digits. Sure, it was a funnel game, but it's more a testament to him getting what he wants here. I'm playing him on DraftKings without hesitation.

Dorian Finney-Smith FD - $5500 DK - $5500
Opponent - PHO
Proj Pts FD - 29.29 DK - 29.94

Reggie Bullock FD - $5200 DK - $5200
Opponent - PHO
Proj Pts FD - 24.28 DK - 25.65
For the Mavericks to win this series, they are going to basically need 40+ quality minutes out of both of these guys. That's essentially what happened last time out with both Bullock and Finney-Smith playing 41 minutes each. DFS took the third-most shots on the team with 15, going 4-11 from three. He's going to need to put up similar numbers the next time out. And then there's Bullock who's also coming in the middle tier. He jacked up 10 threes in this game and the Mavericks' offense works in balance because he's a lights-out three-point shooter who can space the floor around the two guards. Again, there's a reason these two need to play an absolute ton in order for Dallas to have a chance and I'm riding their fantasy performance because of it.
Power Forward/ Center

Deandre Ayton FD - $7400 DK - $7300
Opponent - DAL
Proj Pts FD - 42.09 DK - 43.3
It's been an up and down series for Ayton following a very solid performance against the Pelicans in the first round. In that one he averaged nearly a double-double with 21 points and just about 10 rebounds. In this series, it's been a different story with the gifted center putting up just 17 points and seven rebounds through the first three games. I know the Mavericks are going to want to keep things as small as possible considering what's working for them and their personnel. But I don't think they can fully take Ayton out of the mix here and he's just coming at too cheap a price to ignore.

Jae Crowder FD - $5800 DK - $5400
Opponent - DAL
Proj Pts FD - 28.51 DK - 28.46

Mikal Bridges FD - $6300 DK - $6000
Opponent - DAL
Proj Pts FD - 32.91 DK - 32.95

Maxi Kleber FD - $4500 DK - $4900
Opponent - PHO
Proj Pts FD - 23 DK - 22.96
I'm piling all three of these guys together because like I said with a few other wings in this game, these teams are going to need crazy minutes out of all of them in order to stay in these games. Bridges we already know is among the league leaders in minutes and is still tasked with trying to at least speed-bump Luka in any shape or form. While the defensive presence doesn't necessarily translate to the offensive end, I'll continue thinking that the court time is sufficient in helping to pay off these salaries.
Meanwhile, Crowder bumped his minutes to 36 last game after we told you he was in line for more run. It more than paid off and he finished with a team-high 19 points on 7-12 shooting and 5-8 from behind the arc. That's a bit of an outlier, but the minters aren't going the in close games.
And there there is Kleber who is coming off a 33-minute game that saw him score 14 points while pulling down four rebounds and adding three assists. While I hate playing non-starters in cash on these slate, it looks like Kleber is fully part of the plan her for Dallas and should be coming off the bench in a series where they want to stay competitive.
GRAB A FREE TRIAL OF OUR PROJECTION SYSTEM, AND CHECK OUT DFSR PRO!
FREE EBOOK
SECRETS TO CRUSHING DAILY FANTASY FOOTBALL!
DON'T SET ANOTHER LINEUP BEFORE YOU READ THIS BOOK.