Baseball Picks Daily Fantasy
Expert Advice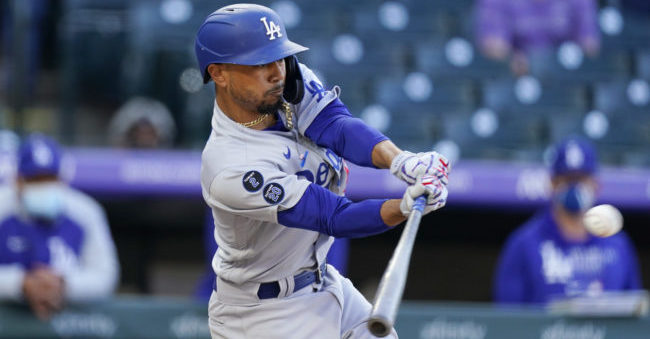 DraftKings and FanDuel MLB Picks for Wednesday, 5/11/22
These Wednesday cards are some of the toughest to manage. It always feels like there are games spread evenly throughout the day, so we try our best to sprinkle plays for all the different slates. The good news is that every team is in action, so there's plenty to pick between. With that in mind, let's get started with our favorite pitcher of the day!
Now's your chance to get DFSR PRO, which will give you access to our MLB and NBA optimizers and our new player lab! Get started for free by clicking the button below.
Pitchers
Sandy Alcantara FD - P 9100 DK - SP 8600
Opponent - ARI (Merrill Kelly) Park - ARI
FD - 35.33 DK - 18.62
Alcantara has been one of the best pitchers in baseball for three years now, and it's hard to understand why he's still sitting around $9,000. The right-hander has a 3.14 ERA and 1.12 WHIP since 2020, striking out 271 batters across 283 innings. Those are tough averages to find from a player in this price range, and we certainly don't expect this atrocious Arizona lineup to bump them at all. The Diamondbacks rank 24th in runs scored, 23rd in OPS, and 25th in K rate. The oddsmakers love Sandy too, making this a seven-run total between two of the best arms in baseball.
Alex Cobb FD - P 7300 DK - SP 6700
Opponent - COL (Chad Kuhl) Park - SF
FD - 35.02 DK - 18.13
Cobb was clobbered in his first start off the IL, but this guy has been great aside from that. In fact, Alex has a 4.40 ERA, 1.12 WHIP, and 13.8 K/9 rate in his other three starts this year. It's easy to understand why because Cobb's velocity has gone from 93 MPH all the way up to 97 this season. If he's throwing his fastball with that velocity and mixing in his best pitch, nicknamed "the thing", Cobb could be in for a bounceback season. All of that makes him difficult to avoid against Colorado, with the Rockies ranked bottom-three in runs scored, OBP, and OPS on the road last year. That has Cobb entering this matchup as a -200 favorite in a game with a 7.5-run total.
Shohei Ohtani (FD $10800 DK $8800) just saw Reid Detmers throw a no-hitter against a struggling Rays lineup and remains a good option despite the expensive price tags.
Catcher/First Base

Ty France FD - 1B 3700 DK - 1B 4200
Opponent - PHI (Bailey Falter) Park - SEA
FD - 12.51 DK - 9.54
Viva La France has become a cult hero in Seattle, and the rest of the country needs to realize how special this guy is. Over the last three seasons, Ty has tallied a .296 AVG, .370 OBP, .451 SLG, and .821 OPS. Those are ridiculous averages, and his numbers are even better this year. The biggest reason we love him is this matchup, though. France has a .469 SLG and .815 OPS against lefties in that same span. This is not a southpaw that we expect to slow him down, with Falter generating a 5.49 ERA in just 41 innings at this level.

Rowdy Tellez FD - 1B 3400 DK - 1B 4300
Opponent - CIN (Vladimir Gutierrez) Park - CIN
FD - 11.35 DK - 8.57
Rowdy has always been a target of ours when he faces right-handers, and that's undoubtedly going to be the case with the way he's swinging the bat right now. Tellez has totaled six doubles, four homers, and 17 RBI over his last 10 games played. That equates to a .775 SLG and 1.152 OPS in that span, one of the best stretches for any player all season. Almost all of that damage has come against righties, with Tellez accruing a .603 SLG and .924 OPS against them this season. He also bats cleanup in these spots, making him tough to fade against a guy like Vlad Gutierrez. We'll dive into his ugly numbers later!
Second Base

José Altuve FD - 2B 3400 DK - 2B 5200
Opponent - MIN (Chris Archer) Park - MIN
FD - 11.53 DK - 8.79
Altuve has been one of the best options in fantasy for nearly a decade now. The diminutive second baseman has been unbelievable since being activated off the IL, entering this matchup amid a six-game hitting streak. Altuve has a .474 AVG, .565 OBP, .947 SLG, and 1.513 OPS in that span. We've seen him go on stretches like that, and they usually last longer than just six games. It looks more likely to continue against a pitcher like Chris Archer, with the righty registering a 4.61 ERA and 1.38 WHIP since 2018.
Tommy Edman FD - 2B 3400 DK - 2B 5100
Opponent - BAL (Spenser Watkins) Park - STL
FD - 11.1 DK - 8.68
The Cardinals have been one of the best teams in baseball, and Edman hitting atop this lineup is a significant reason why. He was dropped down in the order earlier in the year, but they couldn't keep him down there with the way he was hitting. In fact, Tommy has tallied a .292 AVG, .393 OBP, .458 SLG, and .851 OPS so far this year. That doesn't even include his seven steals and 18 runs, making him one of the best options in fantasy. A matchup with Watkins is wonderful, too, with Spencer sporting a 6.66 ERA and 1.61 WHIP across 77 total innings and Edman batting from the left side
Shortstop

Javier Báez FD - SS 3000 DK - SS 4700
Opponent - OAK (Zach Logue) Park - DET
FD - 11.86 DK - 9.08
Javy is always one of our top targets on the board when he gets a matchup with a subpar southpaw. That certainly appears to be the case here, with Zach Logue making his second career start. It's not like he was mowing down hitters at Triple-A either, compiling a 5.63 ERA and 1.81 WHIP there before his call-up. That makes it hard to understand why he's even pitching, but it puts Baez in play against him. Javy has a .281 AVG, .350 OBP, .516 SLG, and .866 OPS with the platoon advantage in his favor since 2020. Those are massive splits, making Baez about $500 too cheap on both sites.
Willy Adames FD - SS 3700 DK - SS 4300
Opponent - CIN (Vladimir Gutierrez) Park - CIN
FD - 12.79 DK - 9.69
Adames got off to an awful start this season, but he's finding it recently. Willy has seven homers, and 19 RBI over his last 16 games played, producing a .352 OBP, .661 SLG, and 1.013 OPS in that span. That's the guy we saw in the second half last year, accumulating a .929 OPS over the final 75 games. That directly correlates with the Tampa trade, and it's evident that Adames loves raking in a hitter's haven like Miller Park. We also discussed that Gutierrez is a grand matchup, with the righty pitching to an 8.86 ERA and 2.02 WHIP this year.
Third Base

José Ramírez FD - 3B 4400 DK - 3B 5900
Opponent - CHW (Vince Velasquez) Park - CHW
FD - 12.28 DK - 9.28
Ramirez is one of the most expensive players out there, but he's earned it with his stellar play. The switch-hitting third baseman is averaging 29 homers, 22 steals, 35 doubles, 88 runs scored, and 84 RBI over the last five seasons. That's some of the best stat-stuffing you'll see in baseball, and it's no surprise that he has a .406 OBP, .607 SLG, and 1.013 OPS this season. Plenty of that production has come recently, with J-Ram supplying a .400 OBP and .935 OPS over his last 12 games played. Getting to bat on his more favorable left side is enormous against Vince Velasquez, with Jose having a 1.167 OPS against right-handers this year.

Eugenio Suárez FD - 3B 3500 DK - 3B 4600
Opponent - PHI (Bailey Falter) Park - SEA
FD - 9.98 DK - 7.42
We already discussed how Falter has thrown just 41 innings at this level, and it could make the Mariners one of the sneakiest stacks on the board. This is one of the few teams that you can stack the middle of the order and save some salary, with Eugenio being an intricate part of that stack. This is simply one of the best power hitters in baseball, smashing 161 homers since 2017. He's also got a .494 SLG and .250 ISO in that span, and we obviously don't mind that he has the platoon advantage against an inexperienced lefty. He's starting to get hot right now, too, posting a .375 OBP, .684 SLG, and 1.059 OPS over his last six games.
Outfield

Mookie Betts FD - OF 4300 DK - OF 5600
Opponent - PIT (Dillon Peters) Park - PIT
FD - 12.35 DK - 9.3
Stacking the Dodgers is almost impossible with how pricey these guys are, but we believe Mookie is the best option of the bunch. This guy always bats leadoff atop the best lineup in baseball, regularly providing a .400 OBP, .500 SLG, and .900 OPS. The reason we like him is that he's started to get hot, picking up a hit in 14 of his last 16 games. Mookie has maintained a .323 AVG, .411 OBP, .581 SLG, and .981 OPS in that span. That's rough news for Peters, with the left-hander amassing a 5.16 ERA and 1.49 WHIP across 176 innings.

Yordan Alvarez FD - OF 3900 DK - OF 5900
Opponent - MIN (Chris Archer) Park - MIN
FD - 11.66 DK - 8.74
It's crazy that this kid is just 24-years-old! Yordan has been one of the most consistent hitters since his call-up, collecting a .287 AVG, .372 OBP, .577 SLG, and .949 OPS since 2019. Those are absurd averages across 1,075 plate appearances and his worst season in that stretch was an .877 OPS. Most of that damage has come against right-handers, with Yordan posting a .714 SLG and 1.094 OPS against them this year. We already discussed how bad Archer has been for most of his career, and it makes the Stros one of the sexiest stacks out there.
Tyler O'Neill FD - OF 3300 DK - OF 4100
Opponent - BAL (Spenser Watkins) Park - STL
FD - 12.91 DK - 9.76
O'Neill has struggled for most of this season, but it's just a matter of time before he gets rolling. We're talking about a masher who provided 26 doubles, 34 homers, 80 RBI, and 15 steals en route to a .352 OBP, .560 SLG, and .912 OPS last season. His numbers are well below that this year, but it's lowered his price to a number where we can't fade him. What's killed him are his duds, going scoreless in seven games this year. He's got at least 16 FanDuel points in seven games as well, and we're going to bank on one of those happening here against one of the worst pitchers in baseball.
FREE EBOOK
SECRETS TO CRUSHING DAILY FANTASY FOOTBALL!
DON'T SET ANOTHER LINEUP BEFORE YOU READ THIS BOOK.