Baseball Picks Daily Fantasy
Expert Advice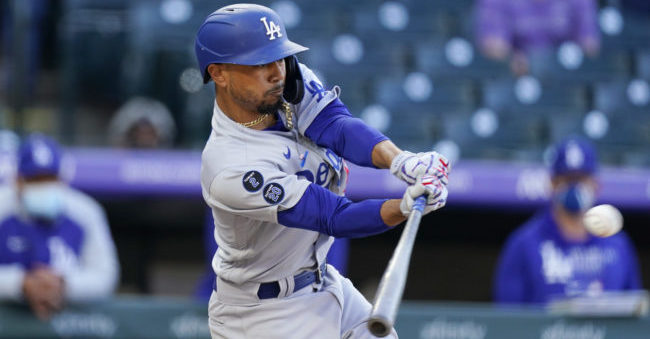 DraftKings and FanDuel MLB Picks for Wednesday, 5/25/22
The NBA Conference Finals have been terrible so far, so we're lucky to still have baseball! There are always good games in MLB every night, with the Mets-Giants game last night being one of the craziest matchups I've ever seen. It ended 13-12, and most of those runs were scored in the final two innings. That can cause chaos for DFS purposes, but it's fun nonetheless. With that in mind, let's dive into this Wednesday card!
Now's your chance to get DFSR PRO, which will give you access to our MLB, NBA, PGA, NHL, and NFL optimizers and our new player lab! Get started for free by clicking the button below.
Pitchers

Robbie Ray FD - P 9300 DK - SP 8000
Opponent - OAK (Paul Blackburn) Park - SEA
FD - 37.94 DK - 20.56
Ray hasn't been quite as good as he was last year, but it's hard to follow up any type of Cy Young season. The left-hander has disappointed with a 4.77 ERA this season but has a 3.71 xFIP and 27 percent K rate. That means some positive regression is headed his way, and we anticipate him getting closer to his 2.84 ERA, 1.04 WHIP, and 32 percent K rate from last year. We expect him to pitch more like that in this matchup, with Oakland ranked dead-last in OBP, wOBA, and xwOBA. All of that has Ray entering this matchup as a -175 favorite, with the A's projected for just 3.5 runs.

Dylan Bundy FD - P 6900 DK - SP 9300
Opponent - DET (Rony García) Park - MIN
FD - 32.31 DK - 16.46
This is undoubtedly a risky play, but Bundy is my favorite GPP option of the day. His biggest asset in this spot in his matchup, facing a Detroit club that has one of the worst lineups in baseball. They actually rank last in runs scored and OPS, sitting 32 runs behind the team with the third-worst mark in baseball (123-102)! That puts any pitcher in play against them, particularly a talented guy like Bundy. The Twins righty has a 3.16 ERA this season and a 23 percent career K rate. Those two tell you that this guy has some serious upside in this matchup, mainly since he's a -190 favorite in a game with a 7.5-run total.
Julio Urías (FD $9800 DK $8600) has been terrible recently, but a matchup as a -230 favorite against a bad Washington lineup might be the way to get him back on track.
Catcher/First Base

Freddie Freeman FD - 1B 3800 DK - 1B 5700
Opponent - WSH (Erick Fedde) Park - WSH
FD - 14.35 DK - 10.82
Freddie Freeman facing Fedde. Try saying that three times fast! Despite the funny alliteration, Freeman is a fantastic matchup against this wretched Washington pitcher. The Dodgers first baseman has been one of the best hitters in baseball for a month now, tallying a .315 AVG, .408 OBP, .500 SLG, and .908 OPS over his last 34 games played. He's done a ton of that damage against righties, with Freddie posting a .896 OPS against them since 2020. The matchup with Fedde is the icing on the cake, and we'll dive into his numbers when we get into some more Dodgers later on! Not to mention, FF has a .524 OBP in 21 at-bats against Fedde.

Luke Voit FD - 1B 2600 DK - 1B 2900
Opponent - MIL (Aaron Ashby) Park - SD
FD - 0.11 DK - 0.09
Voit has been horrible since he was signed by San Diego, but his price is ridiculous. The $2,900 price tag on DraftKings is laughable because most players in that price range don't get off the bench or are in Triple-A. This guy doesn't deserve that sort of reputation, with Voit accruing a .360 OBP, .504 SLG, and .864 OPS since 2018. That's over 1,200 plate appearances of dominance, and it's just a matter of time before his pricing reflects his actual upside. Getting a matchup with a rookie lefty is the best part of this, with Luke posting even better splits against southpaws.
Second Base

Jorge Polanco FD - 2B 3200 DK - 2B 5100
Opponent - DET (Rony García) Park - MIN
FD - 11.61 DK - 8.88
Polanco is a guy that's featured in a ton of my articles, and it's easy to understand why. He's always priced below the top-tier guys, but he's been an elite fantasy option for a few years now. In fact, Jorge has a .274 AVG, .463 SLG, and .798 OPS since 2019. Those numbers might not jump off the page, but he's had an .834 OPS or higher in two of those last three years. That has consistently earned him a prominent spot in this talented lineup, with Polanco providing a .788 OPS over his last 15 games. We don't mind that his OPS is 200 points higher against righties this year either, especially since he faces a journeyman fill-in with a 5.59 career ERA.
Jeff McNeil FD - 2B 3100 DK - 2B/OF 4400
Opponent - SF (Jakob Junis) Park - SF
FD - 8.16 DK - 6.28
McNeil is another guy that's regularly featured in my articles. This has simply been one of the most reliable hitters throughout his career, collecting a .323 AVG, .376 OBP, .458 SLG, and .834 OPS this season. That's pretty much the guy we've seen in his five-year career, with all of those sitting within 21 points of his career averages. He's been even better against righties, registering a .373 AVG, .534 SLG, and .948 OPS against them this season. That's scary since he has a .979 OPS over his last nine games, making McNeil a menacing opponent for Jakob Junis' 4.72 career ERA.
Shortstop

Trea Turner FD - SS 4000 DK - SS 6100
Opponent - WSH (Erick Fedde) Park - WSH
FD - 14.78 DK - 11.38
Recommending Trae Turner is like telling you that ice cream tastes good. Sometimes, these things need to be reiterated because it's essential to enjoy the best things in life! Trae is certainly one of them, establishing himself as the top pick in season-long fantasy leagues. He's obviously a top option in DFS, likely finishing Top-10 in runs scored, AVG, and steals while excelling in HRs and RBI as well. That will happen when you bat third in the best lineup in baseball, with Turner totaling a .356 AVG, .435 OBP, .559 SLG, and .994 OPS over his last 15 games. That's terrible news for Fedde, pitching to a 1.46 WHIP this season. If he allows three baserunners every two innings, Fedde will get obliterated against the best offense in baseball.

Francisco Lindor FD - SS 3600 DK - SS 5400
Opponent - SF (Jakob Junis) Park - SF
FD - 10.33 DK - 7.84
Lindor has struggled at times this season, but we're going to bank on his recent form continuing for the remainder of the season. Franky Smiles has 12 runs and 11 RBI over his last 10 games, accumulating a .404 OBP and ..930 OPS in that span. That's the stud we've become accustomed to, with Lindor owning an .820 OPS for his career while establishing himself as a speedster. The best part is that Lindor gets to bat from the left side, posting better splits from that end for most of his career. We already discussed how Junis has a career ERA approaching 5.00, and that's bad news with the Mets dropping 25 runs in the first two games of this series. This is simply one of the hottest offenses around, and you can't fade Franky if they stay hot. Don't overlook the fact that Lindor has a 1.556 OPS in 36 at-bats against Junis either.
Third Base

Ke'Bryan Hayes FD - 3B 2900 DK - 3B 4500
Opponent - COL (Ryan Feltner) Park - PIT
FD - 9.42 DK - 7.26
I love this guy. Hayes won't jump off the page with 30 homers or 40 steals, but this is just a great hitter. The youngster has a .282 AVG and .372 OBP this season. That has earned him the three-hole in this lineup, providing 14 steals in 135 games at this level. The power has yet to come around, but it's just a matter of time since he had an .891 OPS at Triple-A and a 1.124 OPS at this level in 2020. My favorite part about this play is the matchup with Ryan Feltner. This is another horrible Rockies pitcher making a spot start, compiling a 9.03 ERA and 2.03 WHIP since debuting last year. I live in Colorado and have watched this guy, and let me tell you, he's horrific!
Luis Arraez FD - 3B 2900 DK - 1B 4000
Opponent - DET (Rony García) Park - MIN
FD - 9.79 DK - 7.66
The Twins are one of the few affordable stacks with a monster upside. This is one of the best lineups in baseball and Arraez batting second is a significant reason why. The utility man is hitting .354 this season, amassing a .318 AVG, .384 OBP, and .789 OPS for his career. That's a lengthy term of raking, and it's hard to understand why he remains so cheap on both sites. The matchup is the icing on the cake, with Arraez accumulating a .486 OBP and .963 OPS against right-handers this year. We certainly don't expect some random rookie from Detroit to slow him down.
Outfield

Mookie Betts FD - OF 4500 DK - OF 5900
Opponent - WSH (Erick Fedde) Park - WSH
FD - 15.03 DK - 11.32
Let's cap off our Dodgers stack with their best hitter. Yes, stacking Los Angeles can be expensive, but this is quite simply the best lineup in baseball. Mookie is the straw that stirs the drink, leading off for this unbelievable lineup. The former MVP got off to a slow start, but a .352 AVG, .417 OBP, .769 SLG, and 1.197 OPS over his last 22 games shows you where he's at right now. In addition, he's got a .510 OBP, 1.047 SLG, and 1.556 OPS over his last 11 games. That makes him the hottest hitter in baseball, and he'd be impossible to fade if you want to stack against Fedde.
Bryan Reynolds FD - OF 2900 DK - OF 4100
Opponent - COL (Ryan Feltner) Park - PIT
FD - 11.28 DK - 8.59
I really want to get some stacks against Feltner today. I just know this guy will get blown up sooner rather than later, filling in for the injured Antonio Senzatela. We already told you that he has a WHIP above 2.00, making Pittsburgh one of the sneakiest stacks of the day. If you're going to stack the Pirates, Reynolds would have to be the heart of it since he's their best hitter. If you take out his shortened 2020 COVID season, Reynolds has a .296 AVG, .375 OBP, .495 SLG, and .870 OPS for his career. Those are All-Star averages, earning him one of the best seats in this lineup!

Max Kepler FD - OF 3200 DK - OF 4000
Opponent - DET (Rony García) Park - MIN
FD - 10.01 DK - 7.52
Kepler has always been a target of ours when the Twins face a righty, and they have a date with an inexperienced one here. The Twins get to face the Eduardo Rodriguez fill-in and enter this matchup with a run total above four. We expect Kepler to do a ton of that damage, producing a .341 OBP, .484 SLG, and .825 OPS against right-handers since 2020. He's really found that power stroke recently, accruing a .333 AVG, .442 SLG, .485 SLG, and .927 OPS over his last 10 games played. That makes it hard to understand why he's so affordable, making him a great pairing with some of the Dodgers studs.
FREE EBOOK
SECRETS TO CRUSHING DAILY FANTASY FOOTBALL!
DON'T SET ANOTHER LINEUP BEFORE YOU READ THIS BOOK.