Baseball Picks Daily Fantasy
Expert Advice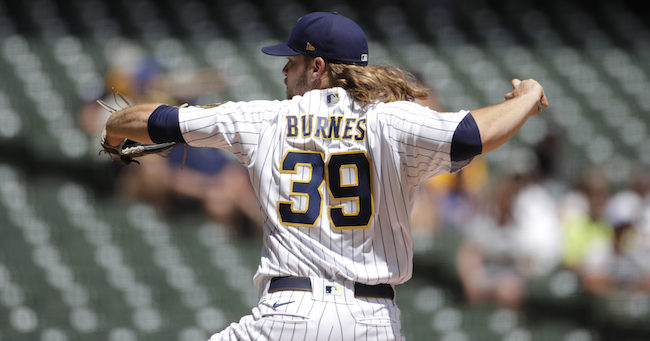 DraftKings and FanDuel MLB Picks for Sunday, 5/29/22
How nice is it that we're back in summer weather? Not worrying about the weather on every slate is a treat for DFS, and it's undoubtedly screwed me a few times this year. The fewer variables you have to deal with, the easier this racket gets. We've got another Sunday slate to look forward to, with every team in action. All but four teams take the field between 1ET and 5ET, which leaves us with plenty of players to pick from. With that in mind, let's get started with the 2021 NL Cy Young!
Now's your chance to get DFSR PRO, which will give you access to our MLB, NBA, PGA, NHL, and NFL optimizers and our new player lab! Get started for free by clicking the button below.
Pitchers

Corbin Burnes FD 10200 DK 10200
Opponent - STL (Miles Mikolas) Park - STL
FD - 42 DK - 23.89
Not enough people talk about Burnes when discussing the best pitchers in baseball. This guy has been just that, totaling a 2.31 ERA and 0.94 WHIP since 2020. Amazingly, he's been even better this year, amassing a 2.18 ERA and 0.87 WHIP. That doesn't even consider that he's one of the best strikeout pitchers in baseball, striking out 389 batters across those 284 innings. Some of you might be worried about this matchup with the Cardinals, but Burnes has buried them throughout his career. In fact, Corbin had a 1.64 ERA, 0.86 WHIP, and 11.5 K/9 rate in his four matchups with the Cards last year.
Triston McKenzie FD 9000 DK 7600
Opponent - DET (Elvin Rodriguez) Park - DET
FD - 35.16 DK - 18.52
It's fantastic seeing someone so skinny dominate a professional sport. This string bean has been one of the best pitchers in the AL this season, pitching to a 2.45 ERA, 0.87 WHIP, and 8.0 K/9 rate in his seven starts. That's no surprise with the way Cleveland churns out starters, and McKenzie has shown glimpses of this form in the past. He had a 3.62 ERA, 0.92 WHIP, and 9.6 K/9 rate over his final nine starts of last year and should be able to continue that against Detroit. The Motor City Kitties rank 29th in both OBP and OPS while sitting dead-last in runs scored. That was on full display when Triston surrendered just two total hits in his two matchups with the Tigers last year, completing 13 scoreless innings!
Max Fried (FD $9200 DK $9200) is a quality start machine and should pick up an easy one against a terrible Marlins lineup as a -250 favorite.
Catcher/First Base

Matt Olson FD 3400 DK 4400
Opponent - MIA (Elieser Hernandez) Park - MIA
FD - 12.17 DK - 9.06
Olson has struggled in his first season with the Braves, but it's just a matter of time before this guy gets rolling. This is simply one of the best power hitters in baseball, generating a .509 SLG, .859 OPS, and .260 ISO since 2017. He's actually had a .900 OPS in two of the last three years, doing most of that damage against righties. Matt has maintained a .545 SLG and .899 OPS against them in that same span. All of that is rough news for Elieser Hernandez, with the Marlins arm compiling 5.45 ERA and 1.31 WHIP. He's faced the Braves twice this season, surrendering six runs across 9.2 innings.
Luis Arraez FD 2900 DK 4600
Opponent - KC (Zack Greinke) Park - KC
FD - 9.68 DK - 7.58
We love Arraez. This guy has established himself as one of the best pure hitters in baseball, and it's hard to understand why these DFS sites keep him so affordable. He's got a .318 AVG and .384 OBP for his career. His numbers this year are even more absurd, attaining a .349 AVG and .450 OBP. That has earned him a prominent spot in this talented Twins lineup, and we anticipate these guys going off on Zack Greinke. The former All-Star is a shell of himself, generating a 7.32 ERA and 1.78 WHIP over his last four starts. He's also got one of the worst K rates in baseball, which is horrifying news against one of the best BABIP guys I've ever seen.
Second Base
Trevor Story FD 4100 DK 5700
Opponent - BAL (Bruce Zimmermann) Park - BAL
FD - 13.29 DK - 10.08
Story got off to a rough start in Boston, but all of that has been forgotten with his ridiculous three-week stretch. The former All-Star has 17 runs, nine homers, 27 RBI, and five steals over his last 16 games. That equates to a .370 OBP, .738 SLG, and 1.108 OPS in that span. That's one of the best stretches for any player all year, and it's clear he's finally comfortable with his new team. He should be even comfier in this spot, with Story sustaining a .380 OBP, .617 SLG, and .997 OPS against lefties since 2020. This is not a scary southpaw either, and we'll dive into his numbers later on!

Ketel Marte FD 3200 DK 4700
Opponent - LAD (Tyler Anderson) Park - LAD
FD - 9.59 DK - 7.34
It feels like every switch-hitter out there is better against right-handers, but that's not the case for Marte. This guy is sensational against southpaws, tallying a .382 AVG, .649 SLG, and 1.074 OPS in 205 at-bats against them since 2020. That's a large sample size of dominance, and he'd truly be an All-Star player if he faced lefties every time out. Tyler Anderson has been good this season, but he's still got a 4.53 career ERA. Marte has absolutely mauled him throughout their careers, too, producing a .450 AVG, .522 OBP, .950 SLG, and 1.472 OPS against him in 23 at-bats.
Shortstop

Xander Bogaerts FD 3900 DK 5400
Opponent - BAL (Bruce Zimmermann) Park - BAL
FD - 14.22 DK - 10.81
This guy is the most underrated superstar in baseball. No one ever mentions him among the best hitters, but he's a perennial All-Star in the heart of one of the best lineups in our sport. The shortstop has a .320 AVG, .390 OBP, .465 SLG, and .855 OPS so far this season. That's the guy we've seen throughout Xander's career, accruing a .373 OBP and .891 OPS since 2018. All of that makes him tough to fade against a lousy lefty, with Bogaerts posting even better splits against lefties. Zimmermann is one we want to exploit, too, allowing nine combined runs over his last two starts.

Dansby Swanson FD 3400 DK 4500
Opponent - MIA (Elieser Hernandez) Park - MIA
FD - 1.17 DK - 0.89
Swanson was stuck in the bottom of this Atlanta order for the first month of the season, but they can't keep him so low with the way he's swinging the bat. The shortstop has hit first or second for a week now, tallying a .351 AVG, .400 OBP, .596 SLG, and .996 OPS over his last 15 games played. That makes him a bit too cheap on both sites, and we already discussed how good of a matchup Hernandez is. This Braves offense is projected for nearly five runs in this spot, and they make for one of the best stacks of the day!
Third Base

José Ramírez FD 4300 DK 5600
Opponent - DET (Elvin Rodriguez) Park - DET
FD - 13.3 DK - 10.05
Ramirez has been one of the best players in fantasy throughout his career, and he's always been one of the safest plays in DFS. The third baseman is averaging 29 homers, 88 runs, 84 RBI, and 23 steals since 2017, providing a .365 OBP and .911 OPS in that span. That always makes him a Top-5 choice for DFS, and we obviously love him against an inexperienced righty. That puts Jose on his more favorable left side, providing a 1.174 OPS against right-handers this year. He's scorching this week, too, generating a .467 OBP and 1.582 OPS over his last seven games played.

Alex Bregman FD 3500 DK 4700
Opponent - SEA (Marco Gonzales) Park - SEA
FD - 11.03 DK - 8.28
We always have Bregman in here when he gets a matchup with a subpar southpaw. That's certainly the case here, with Marco Gonzales getting his WHIP above 1.50 in his most recent start. That's horrifying against one of the most talented lineups in baseball, with Gonzales posting a 1.55 WHIP in his career against the Astros. Bregman has been doing plenty of that damage, accumulating a .313 AVG, .500 SLG, and .840 OPS in 33 at-bats against Marco. That's no surprise when looking at Bregman's career splits, producing a .399 OBP, ..559 SLG, and .958 OPS against left-handed pitching.
Outfield

Mookie Betts FD 4500 DK 5900
Opponent - ARI (Zach Davies) Park - ARI
FD - 13.83 DK - 10.41
If you think Trevor Story is the hottest hitter in baseball, wait until you see Mookie's month. The former MVP has a .362 AVG, .430 OBP, .809 SLG, and 1.238 OPS over his last 23 games played. That's a surprise for most players, but it's not for someone like this. This is simply one of the best hitters in our game, batting atop the most dangerous lineup in baseball. All of that makes him tough to fade against anyone, but a soft-tosser like Davies is a dandy matchup. The D'Backs righty has a 4.81 ERA and 1.37 WHIP this season, which is sadly better than his 2021 averages. The Dodgers will score some runs here, and Mookie will be a significant part of it.

J.D. Martinez FD 4000 DK 5400
Opponent - BAL (Bruce Zimmermann) Park - BAL
FD - 14.27 DK - 10.8
It's no surprise that the BoSox are streaking when you look at Story and Bogey's numbers, but their record is even more surprising when looking at how impressive this dude has been. J.D. has been one of the best mashers throughout his career, and he's amid one of the best stretches of it. Martinez has a .432 AVG, .486 OBP, .653 SLG, and 1.139 OPS over his last 24 games played. That's alarming for a pitcher like Zimmermann because Martinez has a career OPS above .900 against left-handers. This is one of the hottest hitters in one of the hottest lineups in a premium spot. You can't ask for any more!

Nelson Cruz FD 3000 DK 3900
Opponent - COL (Kyle Freeland) Park - COL
FD - 11.88 DK - 8.97
As someone who lives in Colorado, I really don't like Freeland. He's popular here because he's from Denver, but he's never impressed me on the mound. The left-hander has a 5.10 ERA and 1.48 WHIP since 2019. That's a long stretch of terrible pitching, and it'll surely continue against a streaky hitter like Cruz. The 41-year-old is hitting .356 over his last 21 games, providing a .420 OBP and .927 OPS in that span. That's terrifying for Freeland when you look at Nelson's career splits, smashing southpaws to the tune of a .384 OBP, .564 SLG, and .948 OPS.
FREE EBOOK
SECRETS TO CRUSHING DAILY FANTASY FOOTBALL!
DON'T SET ANOTHER LINEUP BEFORE YOU READ THIS BOOK.