Baseball Picks Daily Fantasy
Expert Advice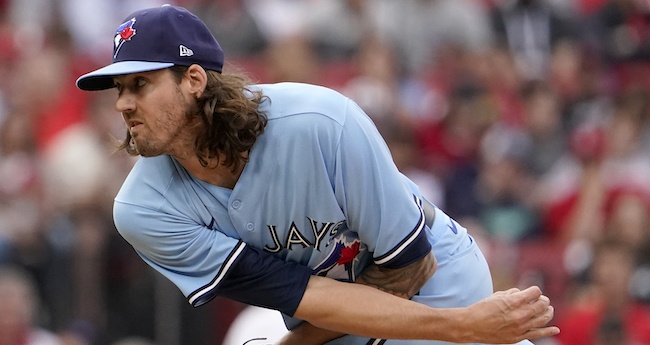 DraftKings and FanDuel MLB Picks for Tuesday 5/31/22 - Main Slate
Now's your chance to get DFSR PRO, which will give you access to our MLB, NBA, PGA, NHL, and NFL optimizers and our new player lab! Get started for free by clicking the button below.
Pitchers
Kevin Gausman FD 10200 DK 9700
Opponent - CHW (Lucas Giolito) Park - CHW
FD - 43.35 DK - 23.5
Gausman has now put together a four-year stretch of ace-level pitching and this season might be his best yet. He's got his K% right around 30% and he's walking only 2.3% of batters-faced. That's just ridiculous and it's why he's easily the league-lead in WAR among pitchers so far on the year. He's a -183 home favorite against the White Sox who rank third-to-last in the league in team offense, though they don't strike out that often. No bother, Gausman is easily the top cash game arm on the slate.
Blake Snell FD 7000 DK 8100
Opponent - STL (Adam Wainwright) Park - STL
FD - 32.42 DK - 17.73
Snell is making a comeback after an early-season injury and comes into this game as a slight underdog to the Cardinals. This is a guy who's struck out around 11.5 batters per nine over the last couple of seasons and if he can keep the walks in check he's an elite arm in the game. This play is more about his price on DraftKings where he's coming pretty cheap all things considered and we are going to almost definitely want to spend up on some bats for this slate. There is a risk, for sure, but I do think it's warranted in this case.
Catcher/First Base
Keston Hiura FD 2600 DK 3100
Opponent - CHC (Justin Steele) Park - CHC
FD - 10.51 DK - 7.94
It looks like the wind is blowing out again in Wrigley on Tuesday, and we've got another higher run line game headed our way. It worked out well in one of these tilts on Monday and not so much in the other. Regardless, we press on. Hiura should be hitting fifth against the lefty Justin Steele and this makes for an interesting matchup. On the one hand, Hiura is striking out a crazy 41% of the time this season and Steele does has some swing-and-miss stuff. But the former also has an OPS in the 800s and there's some power. He's coming cheap and the wind is blowing out. We'll take it.

Matt Olson FD 3400 DK 4700
Opponent - ARI (Humberto Castellanos) Park - ARI
FD - 12.74 DK - 9.48
The Braves haven't quite gotten what they thought they were paying for with Matt Olson in the off-season with the Freddie Freeman replacement only scraping over an .800 OPS so far to start the season. His ground ball rate is up and the Hr/FB rate is down, neither good signs, but it's led to a price dip and I do think this is the right time to buy on the guy. The Braves have a run line over 5.0 and he's coming at a solid price on both sites for hitting fifth in this lineup.
Second Base

Christopher Morel FD 2600 DK 3400
Opponent - MIL (Eric Lauer) Park - MIL
FD - 10.83 DK - 8.28
Morel qualifies at 2B on DraftKings and the 22-year-old should be hitting leadoff for the Cubs once again on Tuesday. He gets a tough matchup against Lauer who has pulled some shocking K stuff out of nowhere for this season, but Morel has been solid so far with an .855 OPS, 12% walk rate, and a couple of home runs in his first 57 major plate appearances. The price is cheaper on both sites and the slot in the batting order really helps him here.

Marcus Semien FD 2900 DK 4200
Opponent - TB (Ryan Yarbrough) Park - TB
FD - 12 DK - 9.08
Yes, I'm aware that this season has been about as disappointing (understatement) as one could ever imagine for Semien who came over as a big off-season addition for the Rangers. The OPS is in the toilet the contract is looking a little bit yikes. But he's started to turn it around just a bit of late, getting his first home run, hitting in four games straight, and starting to get on base more. We could be in line for something of a turnaround and it's worth noting that Semien has been much better against lefty arms for his career.
Shortstop

Francisco Lindor FD 4300 DK 5700
Opponent - WSH (Patrick Corbin) Park - WSH
FD - 11.92 DK - 9.04
The Mets are facing off against Patrick Corbin whose 6.30 ERA is way worse than the 4.40 ERA, but he's still very much an average arm these days and there's a reason the Mets have one of the highest implied run lines on the slate. Lindor has been better this season with an OPS right around .800 and for his career has been much better against lefty arms. The switch-hitter strikes out less and has a higher OPS in that split.
I prefer Lindor to the rest of the field, kind of by a lot. I would think about Miguel Rojas (FD $2800 DK $3200) coming for cheap at the bottom of the Marlins' order heading into Coors. Plus, Luis Urias who we'll mention shortly is SS eligible on DK.
Third Base

Ryan McMahon FD 3700 DK 5100
Opponent - MIA (Undecided) Park - MIA
FD - 8.57 DK - 6.48
The Rockies head back home to Coors for this series and are in a decent spot against Edward Cabrera. As with all Colorado guys, McMahon has been much better at home for his career with an .843 OPS and .357 wOBA in the friendly confines of Coors. And he's also been much better against righties as well, so this is the old-double dip on his platoons. He's getting expensive, but that's for good reason considering the park and matchup.
Luis Urías FD 3400 DK 4500
Opponent - CHC (Justin Steele) Park - CHC
FD - 11.66 DK - 8.83
Brewers are going to be something of a theme on this slate with the wind in Wrigley projecting to be blowing out and their run line pushing towards 5.0. Urias has put together a solid season so far with a .766 OPS thanks to five home runs and a 10% walk rate. He's been way better against lefties for his career with a .838 OPS and 124 wRC+ in that split. The ISO spikes as well and we are getting him at something of a bargain considering he should be hitting second in the lineup.
Outfield

Andrew McCutchen FD 3100 DK 3300
Opponent - CHC (Justin Steele) Park - CHC
FD - 13.36 DK - 10.01
Tyrone Taylor FD 2600 DK 3100
Opponent - CHC (Justin Steele) Park - CHC
FD - 10.9 DK - 8.3
McCutchen and Taylor should be hitting first and fourth respectively on Tuesday when Milwaukee faces off against the lefty Steele. McCutchen has been elite in this split for his career, raking lefties to the tune of a .947 OPS and .403 wOBA. Those numbers are completely elite though to be fair, things have dropped off this season. He's getting a bit long in the tooth, though the price is down with the production so it's not going to cost to slot him into lineups.
And then there is Taylor who has definitely shown some power in his major league time, swatting 18 home runs in his last 400 plate appearances. He's pretty tough to put down on strikes though it's worth noting that for his limited major league time he has been much better against righties than against southpaws.
Consider Lorenzo Cain (FD $2100 DK $2300) along with these guys.
Connor Joe FD 3700 DK 4600
Opponent - MIA (Undecided) Park - MIA
FD - 12.35 DK - 9.33
He's been solid at home this season with an .832 OPS and 151 ISO, plus Joe is much better for his career against righties, leading to a lot of nice advantages for him as a cash game play on this slate. He's coming a bit more expensive, but it won't break the bank and he should be hitting second for the Rockies when they go lefty-lefty at the top of the order.
GRAB A FREE TRIAL OF OUR PROJECTION SYSTEM, AND CHECK OUT DFSR PRO!
FREE EBOOK
SECRETS TO CRUSHING DAILY FANTASY FOOTBALL!
DON'T SET ANOTHER LINEUP BEFORE YOU READ THIS BOOK.