Baseball Picks Daily Fantasy
Expert Advice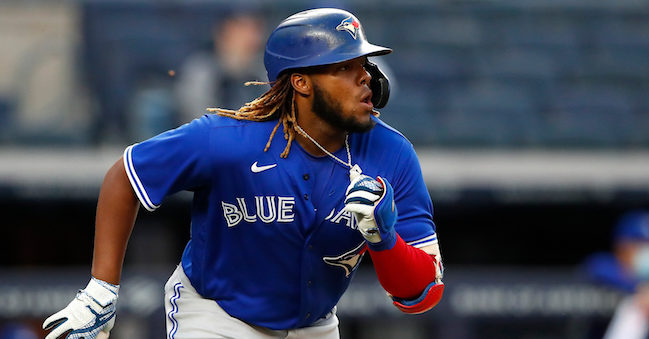 DraftKings and FanDuel MLB Picks for Monday 6/6/22
Now's your chance to get DFSR PRO, which will give you access to our MLB, NBA, PGA, NHL, and NFL optimizers and our new player lab! Get started for free by clicking the button below.
Pitchers

Carlos Carrasco FD - P 8500 DK - SP 9300
Opponent - SD (Blake Snell) Park - SD
FD - 31.13 DK - 15.91
The pitching on Monday is average-at-best so let's start things off by jumping into the game with the lowest total(7) on the slate. In his second season with the Mets, Carrasco has been terrific posting a 3.63 ERA/3.58 xFIP and while he has seemingly alternated good start/bad start for some time, he has provided a very solid PTS/$ floor with 16 or more DraftKings points in five of his last six starts. He also gets a matchup against a slightly below-average Padres offence that has been much worse against right-handed pitching(.286 wOBA/86 wRC+). All things considered, he is my top pitcher on this slate.
Hunter Greene FD - P 7300 DK - SP 7600
Opponent - ARI (Madison Bumgarner) Park - CIN
FD - 29.23 DK - 15.19
If you looking for safety, I can see a pairing Carrasco with Javier but if you want an upgrade on your bats and can handle a bit of risk, give some consideration to the Reds' top prospect. He already owns the major league record for most 100+ mph pitches in a game(39) and despite a 6.19 ERA, he has tallied 12 or more DraftKings points in seven of 10 starts and 20 or more three times. What really stands out here and the reason I will take on some risk is the matchup against the D-backs who strike out a slate-high 25% of the time and rank in the bottom third in almost all hitting stats.
Also consider: Cristian Javier(HOU) who has a slate-low 2.61 ERA and is the 2nd biggest favourite or Ross Stripling(TOR) who is getting a spot start for the Jays and gets a plus matchup(-173 fav) against the Royals

Catcher/First Base

Vladimir Guerrero Jr. FD - 1B 4200 DK - 1B 4900
Opponent - KC (Daniel Lynch) Park - KC
FD - 15.3 DK - 11.52
While the Jays' prices are trending back up, Vlad is still stuck below $5K on DraftKings and leads off the hitter portion of our article on Monday. There finally appears to be some life in Vlad's bat after a prolonged slump as he starts the week on a five-game hit streak that includes three home runs. The Jays also get the best matchup on the board tonight against Daniel Lynch who has put a ton of baserunners on(1.56 WHIP) and been punished to the tune of a 4.81 ERA/4.96 xFIP while giving up a 45% hard contact rate and 11% barrel rate. Guerrero is top 3 in our overall projections and easily my top play at first tonight.
Jared Walsh FD - 1B 3400 DK - 1B 3600
Opponent - BOS (Michael Wacha) Park - LAA
FD - 10.85 DK - 8.18
At first glance, this may not look like a great matchup for the Angels as Michael Wacha is rocking a smooth 2.43 ERA but I am not buying it as he is more than overdue for regression. It starts a BABIP that is below .200 and explains the xFIP(4.40) which is two runs higher than the ERA. The biggest area of regression comes against lefties and that is where Jared Walsh enters the picture. He has been hitting cleanup recently and comes in red-hot with hits in seven straight and 11 of his last 12 games. I will have exposure in all formats.
Second Base

Enrique Hernández FD 3000 DK 4200
Opponent - LAA (Noah Syndergaard) Park - LAA
FD - 7.84 DK - 5.91
The overall numbers may be hard to look at it(.207 average, 75 wRC+) but he checks a ton of boxes here and it starts with an affordable price on both sites. The next thing that stands out is the short-term form as he enters the night with hits in 14 of his last 15 games(.277 average/137 wRC+) and gets a ton of opportunities as the leadoff hitter for one of the most productive offences in baseball. All things considered, Hernandez is one of our top PTS/$ plays at the position and in play in all formats.
Santiago Espinal FD 2800 DK 3700
Opponent - KC (Daniel Lynch) Park - KC
FD - 8.55 DK - 6.66
Espinal has been an unsung hero for the Blue Jays this season and has also provided some nice PTS/$ value for daily fantasy. I am not a fan of him hitting down the lineup most nights but comes in with an excellent 115 wRC+ as he always seems to pick a huge hit at a crucial point in the game. He has been even better in the short-term with hits in four of his last five games including three multi-hit efforts with two doubles and a home run. At these prices, with limited options on a smaller slate, Espinal is in play for me in all formats.
Shortstop

Amed Rosario FD 2600 DK 4600
Opponent - TEX (Jon Gray) Park - TEX
FD - 10.63 DK - 8.33


Andrés Giménez FD 3600 DK 4400
Opponent - TEX (Jon Gray) Park - TEX
FD - 9.07 DK - 7.04
There are almost more shortstops over $5K on DraftKings tonight than actual games on the slate and the trouble is that neither of them have a great or even above-average matchup. This sends me to Cleveland to target a pair of infielders who check a lot of boxes. Let's start with Rosario whose value is centered around his opportunity hitting in the two-hole right ahead of Jose Ramirez. he isn't going to break any slates on his own but he has been consistent hitting .286 over his last 20 games.
While his teammate, Andres Gimenez, is hitting down the lineup most nights he is most definitely on my radar for fantasy and likely under-owned. He comes into Monday red-hot with hits in eight straight pushing his average up over .300 for the season and since the start of May, he has tallied an impressive .364 wOBA and 142 wRC+.
I will have exposure to both tonight while loading up at other positions.
Third Base

José Ramírez FD 4600 DK 6000
Opponent - TEX (Jon Gray) Park - TEX
FD - 14.19 DK - 10.72
Ramirez is the most expensive bat on both sites and for good reason as he is currently the betting favourite for the AL MVP award. While Aaron Judge has more home runs(21-14), JRam has 11 more runs batted in(53) and the big one for me is the minuscule 7% K rate which almost ensures at least one trip to first every game. With the shortage of top plays at third combined with plenty of value throughout, JRam should be fairly high owned tonight and in play in all formats.
Matt Duffy FD 2200 DK 2500
Opponent - BOS (Michael Wacha) Park - BOS
FD - 8.83 DK - 6.86
One of those value plays that helps us get to JRam or any other top-priced play is Matt Duffy who is seeing some added opportunity with injuries throughout the Angels lineup(Rendon/Ward on IL). He has hit leadoff in each of the last two games and is projected there again tonight and that is just the icing on the cake as he also comes in hot with hits in eight of his last nine starts with five multi-hit efforts. At these prices, he is a near-lock for us in all formats if back in the leadoff spot. Stay tuned for lineups.
Outfield

George Springer FD - OF 4000 DK - OF 5000
Opponent - KC (Daniel Lynch) Park - KC
FD - 15.75 DK - 11.83

Teoscar Hernández FD 3700 DK 4200
Opponent - KC (Daniel Lynch) Park - KC
FD - 11.16 DK - 8.46
The Jays prices are trending back up but they are still going to be the chalk build tonight on this smaller slate. It comes down to the terrific matchup as they face off with Daniel Lynch who allows a ton of baserunners(1.56 WHIP) and a ton of hard contact(43% & 8% barrel rate). My Jays exposure almost always starts with Springer who is one of the best leadoff hitters of all time(yes, I said it) and has been terrific in 2022 with a .377 wOBA, 148 wRC+, and he comes in with hits in five straight including two doubles and two home runs.
Coming off a tremendous breakout season, Teoscar faced some injuries to start 2o22 which really slowed him down upon return. The good news is that he is now coming into form hitting .359 with an elite .434 wOBA and 189 wRC+ over his last 10 games. Both of these outfielders are in top targets in the outfield and elite plays in all formats.
Jarren Duran FD 2200 DK 2600
Opponent - LAA (Noah Syndergaard) Park - LAA
FD - 9.1 DK - 7.02
One more value play to close things out here and allow us to spend all the money on studs of the slate. This is a bit speculative as Duran got called back up with Jackie Bradley Jr. going on the paternity list but isn't expected back until around mid-week. This presents another opportunity for Duran to show his all-around skillset and best of all, he has hit out of the leadoff spot in each of his two games since the callup, picking up three hits. Stay tuned for lineups but he very likely one of our top PTS/$ plays if back at the top of the Red Sox lineup.
GRAB A FREE TRIAL OF OUR PROJECTION SYSTEM, AND CHECK OUT DFSR PRO!
FREE EBOOK
SECRETS TO CRUSHING DAILY FANTASY FOOTBALL!
DON'T SET ANOTHER LINEUP BEFORE YOU READ THIS BOOK.