Weekly Fantasy Football Picks Daily Fantasy
Expert Advice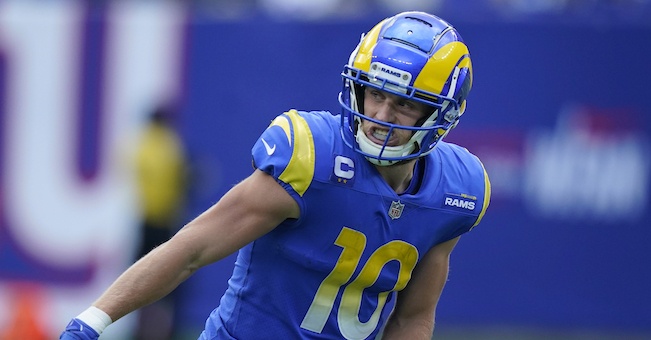 Week 2 Daily Fantasy Football Cash Game Picks for FanDuel and DraftKings - Main Slate
Want access to the projections that power these picks? For a limited time, we're offering a free one-week trial to all the sports that we cover - that's optimal lineups for NFL and MLB - for the same low price. Get started now!
Quarterbacks

Joe Burrow FD 7900 DK 6600
Opponent DAL
Proj Points FD - 21.19 DK - 22.03
The Bengals threw the ball a whopping 53 times in Week 1 against the Steelers though they only put up 20 points on the day. It was an inefficient game for Burrow though he did manage to end up well over 300 yards passing. In this game, they are going against a beat-up Cowboys team who will give the QB trouble, but ultimately are probably a dead team walking without Dak. I like Burrow's price on both sites and can see Cincy wanting to get going in this game early and often. Plus, I have some concerns about other QBs in this top tier.
Trey Lance FD 7500 DK 5700
Opponent SEA
Proj Points FD - 19.75 DK - 20.57
It was a less than inspiring first game of the season for Trey Lance who went into Chicago and lost to a game the 49ers were favored to win. There were some extenuating circumstances though, namely that the conditions were terrible. While I don't know if Lance is the answer at real-life quarterback, I do like him from a fantasy perspective this week, especially on DraftKings. For starters, he ran the ball 13 times against the Bears, and even if that number is in the 7-9 range "normally" the floor will be high enough to sustain him in this price tier. And on a week where we have lots of spend-ups at other positions, getting the DraftKings savings on Lance is pretty important.
Running Backs

Joe Mixon FD 8300 DK 7200
Opponent DAL
Proj Points FD - 17.18 DK - 19.06
From a running back sweet spot perspective, where we usually want to be is at home as big favorites with a back who sees workhorse usage. Check, check, and check for Mixon. He played 73% of the snaps in Week 1, carrying the ball 27 times while getting nine targets. That's just crazy opportunity. Now, the Bengals aren't going to run as many plays in this game so the role will reduce some, but they are still big favorites against the Cowboys and I want to have exposure to this offense for sure.
Darrell Henderson Jr. FD 6200 DK 5700
Opponent ATL
Proj Points FD - 14.26 DK - 15.71
In something of a surprise, Henderson became the workhorse back for the Rams in Week 1, playing 82% of the snaps while carrying the ball 13 times and seeing five targets in the passing game. Akers was MIA and though it might not remain that way, I think we can play Henderson in cash this week. The Rams are -10.5 home favorites against the Falcons, and from a running back perspective that's right where we want to be. Again, there's risk this turns back into a timeshare but we aren't paying through the nose on Henderson to begin with.
Jeff Wilson Jr. FD 6300 DK 5100
Opponent SEA
Proj Points FD - 13.24 DK - 14.37
Elijah Mitchell is going to be out for at least the next couple of months with a knee injury, opening up a spot in the running game for Jeff Wilson. The letter ended up in the game for about 60% of the 49ers' snaps in Week 1, carrying the ball nine times and seeing a couple of targets in the passing game. He wasn't efficient at all, though the field conditions were also terrible. I don't think he turns into a bell-cow here with Trey Lance also running and Deebo Samuel taking RB work. But Wilson should see 12-15 touches at least and at these prices, a game the 49ers are favored at home, that's enough to sustain these prices.
Wide Receivers
Week 1 saw some truly wild target shares. 18 players saw at least double-digit targets which is just nuts. We'll get into some of them below, but the continued shift towards passing offenses has these numbers continuing to rise.
Because of that, I think you are going to need to play at least two of the big-money WR options in cash this week. They are just too safe at this point. I present the next few guys almost in no particular order.
Cooper Kupp FD 9700 DK 9900
Opponent ATL
Proj Points FD - 20.81 DK - 25.25
Kupp picked up right where he left off following his record-setting 2021 campaign. In the first game of the season, a loss to the Bills, he saw 15 targets which he turned into 13 catches, 128 yards, and a touchdown. There's no reason to think this target share is going to dip much over the course of the season and we want to have exposure to the Rams offensive attack in cash games this week. Kupp is expensive, but it's obviously for good reason.

Deebo Samuel FD 8000 DK 7800
Opponent SEA
Proj Points FD - 18.6 DK - 21.09
The 49ers are in an interesting spot here. They are big favorites at home against the Seahawks which would normally mean we want all in on their running game and maybe not their WRs. But Deebo is half a running back at this point and with no Elijah Mitchell could see even more carries. He finished a sloppy Week 1 with 8 carries and 8 targets and obviously is coming off a massive year last season. The running attack gives him a higher floor even if you don't totally trust Trey Lance and even with Wilson around, Deebo could see double-digit carries.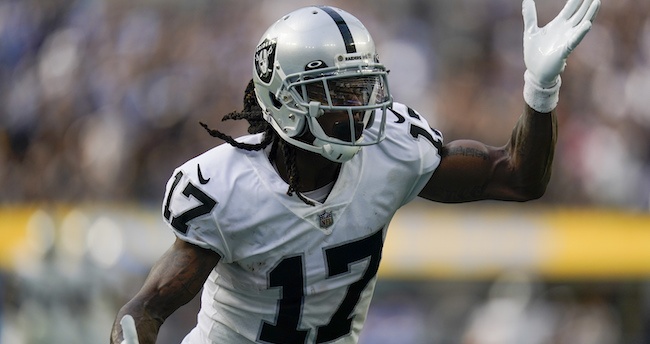 DaVante Adams FD 8800 DK 8600
Opponent ARI
Proj Points FD - 20.58 DK - 25.06
There aren't going to be many weeks in which A: DaVante Adams is 3rd on any WR list and B: Is 3rd following a week with 17 targets. Again, this is more about having to have guys in some order and if I could have put all three next to each other, I would have. Adams cleared away any potential doubt about his fit with Derek Carr in a Week 1 loss to the Chargers. He finished the game with 10 catches, 141 yards, and a touchdown. This week it could honestly get even better against the Cardinals. He's a top option and a very tough fade. You are going to want two of these guys and if there's a way to fit three, then even better but that's asking a lot.
There are some cheaper options to possibly fit in if salaries are getting tight.

Curtis Samuel FD 5700 DK 4600
Opponent DET
Proj Points FD - 12.08 DK - 14.77
He could be a popular play on the main slate after a great showing in Week 1. With Carson Wentz under center, Samuel saw a ton of usage with four carries and 11 targets in all while playing 71% of the snaps. If they are going to use him in the running attack and if the Commanders are going to sustain three-WR sets like this then Samuel should maintain a high floor. I would caution a bit that this is an outlier, but the price didn't move enough to make it all that risky.

Donovan Peoples-Jones FD 5800 DK 4400
Opponent NYJ
Proj Points FD - 11.12 DK - 13.56
Saw 11 targets, easily the tops on the team from Jacoby Brissett and could be the nominal WR1 in Cleveland now. Even with Amari Cooper there, it's tempting to think this could be repeatable for DPJ, though like Samuel I would caution that it's a one-week sample size.
Tight Ends
Pat Freiermuth FD 5400 DK 4400
Opponent NE
Proj Points FD - 9.42 DK - 11.71
Only two tight ends had double-digit targets in Week 1, Freiermuth and Tyler Higbee. The former is still coming cheap on both sites and if he's going to be a top look with Mitch Trubisky under center then we are still buying pretty low here. I think he could see solid ownership this week because of the Week 1 usage and they definitely looked his way in the RedZone as well.
Kylen Granson FD 4700 DK 2600
Opponent JAX
Proj Points FD - 5.38 DK - 6.8
This is a speculative play in an effort to save even more money on DraftKings. I don't think I want to spend through the nose at tight end, so rolling the dice with a punt play should make sense here. Granson saw 55% of the offensive snaps for the Colts in Week 1 and actually had seven targets in all. He didn't turn them into much, 3/22 but I do like the usage from Matt Ryan.
Defense
CIN FD 3900 DK 2200
Opponent DAL
Proj Points FD - 8.25 DK - 8.25
We've gotten some Bengals on the list already so why not a full cash game stack with the defense too? The case here is pretty easy in that the Cowboys are now without Dad Prescott and will turn to Cooper Rush as their quarterback. There's a reason that Cincy is big favorites here and the price, especially on DraftKings, isn't adjusted at all for the new QB issues in Dallas. They will be a chalk selection.
After the Bengals, I think can consider both the New England Patriots and the Pittsburgh Steelers who are facing off against each other in a low-spread game with a 40.5 over/under.
FREE EBOOK
SECRETS TO CRUSHING DAILY FANTASY FOOTBALL!
DON'T SET ANOTHER LINEUP BEFORE YOU READ THIS BOOK.