Baseball Picks Daily Fantasy
Expert Advice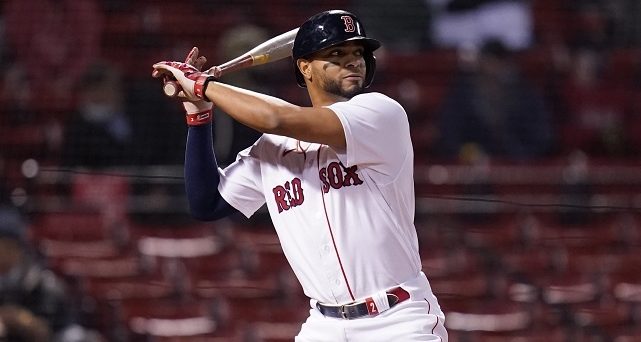 DraftKings and FanDuel MLB Picks for Friday 9/16/22
Now's your chance to get DFSR PRO, which will give you access to our MLB, NBA, PGA, NHL, and NFL optimizers and our new player lab! Get started for free by clicking the button below.
Pitchers

Justin Verlander FD 11000 DK 11000
Opponent - OAK (Adrián Martínez) Park - OAK
FD - 47.25 DK - 26.47
Verlander is a huge favorite against the Athletics today and for good reason. The guy had been having an excellent season with a 1.84 ERA while striking out more than a batter per inning. Sure, the ERA was run hot compared to the xFIP, but these are also the A's we are talking about. The concern here is that this is his first game back starting in the last couple of weeks and the Astros might limit him here. That's a tough pill to swallow seeing as how we are paying top dollar. But he might be worth the risk here as a -375 favorite against one of the worst offenses in baseball.
Jack Flaherty FD 7800 DK 7000
Opponent - CIN (Undecided) Park - CIN
FD - 38.75 DK - 20.99
Flaherty is another tough case here but not for the same reasons as Verlander. He gets an excellent matchup at home against the Reds and is a -275 favorite. Plus, he's coming so cheap on both FanDuel and DraftKings that you'll have no problem fitting in bigger bats. The issue is Flaherty is cheaper because he's really struggled in his five starts back this season. He's walked more batters than he's struck out which is brutal. Vegas still trusts him here and I want to put stock in that, but this isn't a for sure lock in cash.
Strongly consider Taijuan Walker (FD $9100 DK $8000) against the lowly Pirates.
Catcher/First Base

Paul Goldschmidt FD 4500 DK 6200
Opponent - CIN (Undecided) Park - CIN
FD - 15.87 DK - 12.03
The Cardinals have one of the highest implied run lines of the day even though the Reds' pitcher hasn't even been announced yet. It is sure to be someone bad so we are fine rolling these bats out in cash. Goldschmidt is having one of the best hitting seasons in the majors this year with a 1.015 OPS and 35 home runs. He's been elite and there's a reason he is so expensive. But in terms of safety for cash games, it doesn't get much better.
Triston Casas FD 2400 DK 2000
Opponent - KC (Jonathan Heasley) Park - KC
FD - 10.43 DK - 7.86
Casas should be hitting around 7th for the Red Sox when they face off against Heasley on this slate. He's coming at or near the minimums on both sites and Boston's 5.7 implied runs are the current highest on the day. Casas projects to take a lot of walks and to hit for some power based on the minor league numbers. It hasn't worked out on the major league level, but he's only 30 plate appearances into that stint.
Second Base

Brendan Donovan FD 3100 DK 3300
Opponent - CIN (Undecided) Park - CIN
FD - 11.25 DK - 8.69
Donovan should be hitting leadoff for the Cardinals on this slate and though he doesn't have a ton of power or speed, the dude has been able to flat-out get on base this season. With an 11.7% walk rate and just a 15% K rate, Donovan has a .390 OBP which is ranked seventh in the majors among players with 400 or more plate appearances. The price is in the middle tier because he doesn't do any of the high upside fantasy things, but he has a solid floor hitting high in the order in this offense.
Jon Berti FD 2500 DK 5200
Opponent - WSH (Josiah Gray) Park - WSH
FD - 9.62 DK - 7.46
We aren't usually all that high on the Marlins, but Berti is coming really cheap on FanDuel and should be hitting in the leadoff slot for Miami. He doesn't have a ton of power, but this dude has been all about the steals this season. He has 34 swipes on the season which is tops in the majors despite number two (Cedric Mullins) having more than 200 additional plate appearances. Basically, if Berti can get on base, he's off to the races. For a guy who's struggled to hit, that actually does give him a nice floor.
Shortstop

Xander Bogaerts FD 4000 DK 5300
Opponent - KC (Jonathan Heasley) Park - KC
FD - 13.24 DK - 10.06
We are going to want some Red Sox here seeing as how their 5.7 implied run line is the highest of the slate. Bogaerts is having another solid season with an .858 OPS thanks to 14 home runs and a sub-20% strikeout rate. He's running a little hot in the BABIP department, which helps, but I still like him a lot here against Heasley who brings in a 5.51 ERA and 6.28 K/9 rate into this game. The dude isn't good and there's a reason the Red Sox are expected to score runs.
Ha-Seong Kim FD 2500 DK 4100
Opponent - ARI (Madison Bumgarner) Park - ARI
FD - 10.54 DK - 8.05
Kim is another light-hitting guy whose major fantasy case comes from being able to hit at the top of a good offense. That's the case with him likely leading off again for the Padres. The good news here also is that he is significantly better against lefties for his career with a .745 OPS and 111 wRC+ in that split, numbers way higher than what he does against righties. I like the price on both sites as long as he is in the top lineup slot.
Third Base

Rafael Devers FD 3900 DK 5200
Opponent - KC (Jonathan Heasley) Park - KC
FD - 14.14 DK - 10.68
Devers could be a staple in cash games here seeing as how the Red Sox have the best matchup (currently) on the slate in Heasley. On the season, Devers has an .873 OPS and is very tough to strike out at just 18%. His 26 home runs are running a bit behind the power output from last season, but this is still one of the more dangerous hitters in the game. He is coming a bit more on the expensive side all things considered, but this is a weaker position and we are usually either spending all the way up or punting it completely.
Brian Anderson FD 2400 DK 2700
Opponent - WSH (Josiah Gray) Park - WSH
FD - 9.33 DK - 7.08
Again, we usually aren't on the Marlins, but if cost-cutting becomes key then they do offer some salary relief in a good matchup. Anderson has a little pop in the bat, though the OPS is on the lower side. But he should be hitting third here against Josiah Gray who has a 5.06 ERA on the season and really struggles with control.
Outfield
Juan Soto FD 2700 DK 5100
Opponent - ARI (Madison Bumgarner) Park - ARI
FD - 13.52 DK - 10.09
The FanDuel price just feels like a flat-out mistake. Sitting at just $2700 we are playing him there easy even against the lefty Bumgarner. Soto walks (21%) way more than he strikes out 14% and has an .843 OPS on the season. Sure, he's been significantly better against righties for his career, but his splits against southpaws are well above average with an .850 OPS and 127 wRC+ in that platoon. It's maybe a bit closer on DraftKings, but the FD price is a joke.
Alex Verdugo FD 3200 DK 4000
Opponent - KC (Jonathan Heasley) Park - KC
FD - 11.94 DK - 9.17
Verdugo should be hitting second in the order on Friday and is coming at fair prices on both sites. The mid-700s OPS is nothing to go crazy for, but this is a guy who puts the ball in play about 82% of the time in the season and is facing off against a pitcher who struggles to put anyone down on strikes, to begin with. I like him from a cash game perspective for sure seeing as there should be plenty of plate appearances in this one.
Corey Dickerson FD 2700 DK 2800
Opponent - CIN (Undecided) Park - CIN
FD - 10.13 DK - 7.87
Dickerson is slated to hit 6th in the Cardinals' lineup on Friday assuming the Reds trot out a righty. He could even hit higher depending on what St. Louis does. He has a .762 OPS on the season which plays well at these price points, and he's coming especially cheap on DraftKings at sub-$3K. We could be really looking for savings on this slate if spending all the way up for Verlander and Dickerson would fit the bill there.
GRAB A FREE TRIAL OF OUR PROJECTION SYSTEM, AND CHECK OUT DFSR PRO!
FREE EBOOK
SECRETS TO CRUSHING DAILY FANTASY FOOTBALL!
DON'T SET ANOTHER LINEUP BEFORE YOU READ THIS BOOK.