Weekly Fantasy Football Picks Daily Fantasy
Expert Advice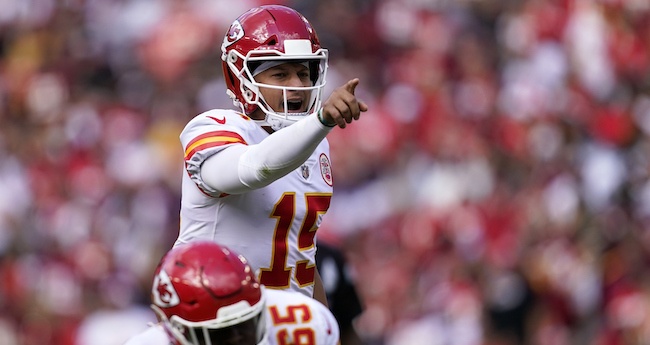 Daily Fantasy Football Cash Game Picks for FanDuel and DraftKings Divisional Round
Want access to the projections that power these picks? For a limited time, we're offering a free one-week trial to all the sports that we cover - that's optimal lineups for NFL and MLB - for the same low price. Get started now!
Quarterbacks

Patrick Mahomes FD 9200 DK 8000
Opponent JAX
Proj Points FD - 27.46 DK - 27.46
With the best fantasy quarterbacks going this weekend, it's going to be tough deciding who to roster on DraftKings and FanDuel. Patrick Mahomes, Josh Allen, and Jalen Hurts were QBs 1, 2, and 3 in DraftKings scoring this season with the three separated by only decimal points on a point-per-game basis. It makes for somewhat tough coin-flippy territory for this weekend's slate of games.
As a tie-breaker, the Chiefs have the highest implied total and we know that they will have Mahomes airing it out early and often. From a strategic standpoint, Mahomes can get there even without a WR1 like the others have and even though he does run less than the rest of the group, the floor is still very high here.

Jalen Hurts FD 9000 DK 7600
Opponent NYG
Proj Points FD - 26.47 DK - 26.47
Hurts has had multiple weeks to get healthy here and gets a fantastic matchup against the Giants in the Divisional Round. It wasn't good in Week 18, but that was after he'd sat for weeks leading into the game. Like we'll get into with Miles Sanders, a better proxy is the game on December 11th which saw him throw for 211 yards and two touchdowns, while also piling up 77 yards and a score on the ground as well.
The Giants let it up on the ground to opposing teams and the Eagles are built to take advantage there. Stacking Hurts and Sanders on this slate makes a lot of sense.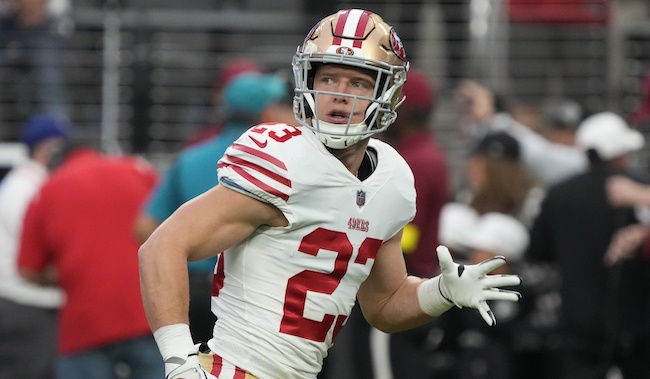 Running Backs

Christian McCaffrey FD 9200 DK 8000
Opponent DAL
Proj Points FD - 21.08 DK - 23.48
As long as the San Francisco 49ers are in the playoffs, Christian McCaffrey is going to be a tough fade. He's just too explosive, and too integral to the San Fran offense that there's just almost no scenario, short of them completely crushing teams, where he's going to be out of the mix.
On a full PPR site like DraftKings where he's $8K it's kind of a no-brainer to play him especially considering the state of the running back position going into this weekend. On FanDuel it's a little closer especially with the 49ers' touchdown equity so spread out, but he's a play there as well.

Miles Sanders FD 7200 DK 5700
Opponent NYG
Proj Points FD - 15.39 DK - 16.04
The Eagles come into this game as -7.5 home favorites and will be facing a Giants' defense ranked 32nd against the run. From a playoff (or really any) perspective, this is exactly where we want to be with running backs. Frankly, it's kind of amazing that it's happening in the playoffs.
The Week 18 game against the Giants was a weird one, but if we look back to Week 14, the Eagles leaned on Sanders and the run game when they crushed Big Blue 48-22. Sanders had 17 carries for 144 yards and two touchdowns. The Eagles actually put up 253 total rushing yards in that game. I think we can run him without hesitation here.
Travis Etienne Jr. FD 6800 DK 6400
Opponent KC
Proj Points FD - 16.75 DK - 17.92
The good news on Etienne is the Jags clearly want to play him on every snap in games that are close, or even if they are losing. That was the case in the Wild Card round against the Chargers when he played 86% of the snaps and carried the ball 20 times even though Jacksonville was getting rolled early. The kind of bad news is they just don't like throwing to the running backs in this scheme or at least haven't shown it much. Still, if Etienne is almost script independent then I think we can play him here in a game where they are big road dogs to the Chiefs.
Wide Receivers
Ja'Marr Chase FD 8500 DK 7800
Opponent BUF
Proj Points FD - 19.25 DK - 23.15
As with quarterback, there are some true stud wide receivers going on this slate and it's going to be tough choosing which one(s) to roster. Let's put Chase at the top of the list for now considering how much Burrow has wanted to look his way and how this game could play out for the Bengals. Chase has seen double-digit targets in eight of his last nine games and even when Cincy is winning he gets plenty of looks.
He ranked 15th in the NFL in overall targets this season despite playing 4-5 games fewer than anyone above him on the list. In this game, where the Bengals could be playing from behind, or trying to keep pace with the Chiefs, Chase has as much upside as anyone on the slate. Even at these prices, he's still a value.

Deebo Samuel FD 7100 DK 5900
Opponent DAL
Proj Points FD - 14.6 DK - 17.19
Deebo Samuel was fully back in the fold and balling out in the Wild Card round for the 49ers. We saw 77% of the snaps and a 30% target share with nine looks. He broke one to the house and finished with 133 yards through the air and another 32 on the ground. Because of the injury absence and some other factors, his price isn't where it should be on either site. He has as much upside as any of the top-tier wideouts and is coming at a lower salary across the board.
Isaiah Hodgins FD 6700 DK 4900
Opponent PHI
Proj Points FD - 14.56 DK - 18.5
I could also include Richie James and Darius Slayton here as value plays for the Giants going into this matchup against the Eagles. All three are still coming relatively cheap for the target share they've commanded from Daniel Jones in this offense. Philly is a tough matchup for sure, but the Giants are slated to be playing from behind in this game.
Hodgins has seen five or more targets in five of his last six games, getting into the end zone each time in those games as well. He's a high-floor option at a middle-tier salary which is saying a lot for a playoff slate.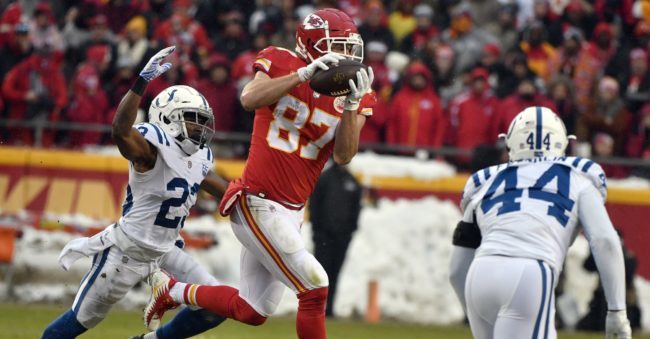 Tight Ends

Travis Kelce FD 8000 DK 7700
Opponent JAX
Proj Points FD - 18.9 DK - 23.02
Easily the best TE option going and it's not all that close, Travis Kelce should see solid ownership because of the relative positional scarcity. He finished the season as fantasy's TE1 by a country mile and had only one game this year with fewer than seven targets. His 30 red zone targets were the most at the position by a landslide and ranked him #1 overall in the league, wide receivers included. The case for Kelce is an easy one to make with the only real issue being whether you can fit the salary.

Evan Engram FD 6000 DK 4300
Opponent KC
Proj Points FD - 11.63 DK - 14.67
Dalton Schultz FD 6400 DK 4200
Opponent SF
Proj Points FD - 10.33 DK - 12.75
Both of these guys are coming at a price on DraftKings that help ease the lineup-building constraints you might have when trying to fit bigger salaries at the more premium positions. Engram is coming off playing 96% of the snaps in the Wild Card round with 11 targets (7/93) and we know he had some ceiling games to close out the season. Meanwhile, Schultz has a 24% target share last week and has become a top option for Dad Prescott in this offense. I would lean toward Engram on the matchup, but both make for good DK plays.
Defense
Philadelphia Eagles FD 1000 DK
Opponent NYG
Proj Points FD - 10.85 DK - 10.85
Buffalo Bills FD DK
Opponent CIN
Proj Points FD - 7.25 DK - 7.25
FREE EBOOK
SECRETS TO CRUSHING DAILY FANTASY FOOTBALL!
DON'T SET ANOTHER LINEUP BEFORE YOU READ THIS BOOK.