Baseball Picks Daily Fantasy
Expert Advice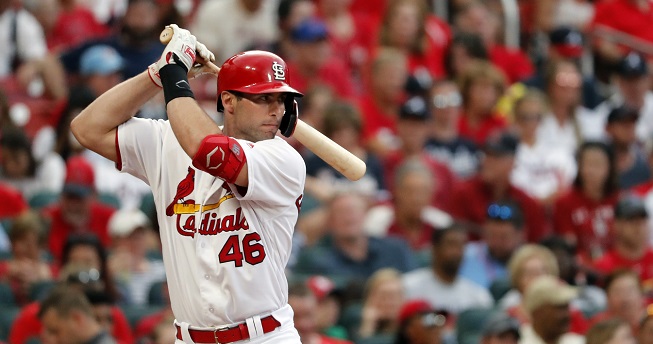 DraftKings and FanDuel MLB Picks for Tuesday 6/20/23 (Main Slate)
Now's your chance to get DFSR PRO, which will give you access to our MLB, NBA, PGA, NHL, and NFL optimizers and our new player lab! Get started for free by clicking the button below.
Pitchers

Gerrit Cole FD 10600 DK 10900
Opponent - SEA (George Kirby) Park - SEA
FD - 37.57 DK - 20.74
Despite the difficulty of the day's pitching matchups, Gerrit Cole of the New York Yankees stands out as an appealing option. He'll take the mound against the Seattle Mariners, and is pound-for-pound the best pitcher on the slate. Cole has pitched 91 innings in 2023, boasting a commendable ERA of 2.75, 98 strikeouts, and a WHIP of 1.11.
He comes up against a Mariners' lineup with a middling .692 OPS, and the opposing pitcher - George Kirby - has a less threatening ERA of 3.24. In addition, Cole's strikeout potential is immense, with an opponent's strikeout per 9 rate of 7.92. While he does carry a hefty price tag on both FanDuel ($10,600) and DraftKings ($10,900), the potential return on investment is considerable given Cole's proven dominance.

Justin Verlander FD 8200 DK 7300
Opponent - HOU (Framber Valdez) Park - HOU
FD - 34.73 DK - 19.19
Justin Verlander of the New York Mets has had an inconsistent 2023 season, but his alternating performance trend and favorable pricing on FanDuel ($8200) and DraftKings ($7300) make him an intriguing choice for today's slate. Despite some hiccups, Verlander has still managed to register 39 strikeouts over 45 innings of work with a 4.4 ERA and a 1.22 WHIP.
While he will be facing a formidable Houston lineup with a solid .712 OPS, the 9.4 strikeout per 9 rate of the Astros provides upside for Verlander's strikeout potential. Today's matchup also features opposing pitcher Framber Valdez, whose performance could provide a path to a win for Verlander. His relatively low price point on both DFS platforms could provide value if he continues to alternate with good games and earns the win.
Aaron Civale FD 8400 DK 7900
Opponent - OAK (Luis Medina) Park - OAK
FD - 33.57 DK - 17.68
Aaron Civale isn't necessarily known for his high strikeout rate, with only 22 punchouts in 27 innings of work this season. However, he boasts a solid ERA of 2.67, indicating his ability to limit the scoring of opposing teams.
Today, he faces an Oakland Athletics lineup that carries a modest .657 OPS. Additionally, Civale has the most favorable moneyline odds at -229, the best win odds on the slate. Even though his strikeout numbers may not be stellar, his ability to control games and the potential for a win make him an attractive DFS option, especially considering his reasonable price of $8400 on FanDuel and $7900 on DraftKings.

First Base

Paul Goldschmidt FD 3700 DK 5800
Opponent - WSH (MacKenzie Gore) Park - WSH
FD - 14.07 DK - 10.61
The St. Louis Cardinals boast one of the most formidable offenses in today's slate, with first baseman Paul Goldschmidt leading the charge. Batting second in the lineup, Goldschmidt has been on a tear this season, boasting 13 home runs and 37 RBI. His advanced metrics are equally impressive, with an OBP of .381, a slugging percentage of .502, and an OPS of .883.
Even more enticing is his performance against left-handed pitchers, as showcased by his monstrous 1.327 OPS against lefties in 2022. Today, he faces southpaw MacKenzie Gore of the Nationals, which bodes well for Goldschmidt. Despite Gore's impressive 10.49 strikeouts per 9 innings and 3.74 ERA, Goldschmidt's track record against left-handers and his form this season make him a prime DFS pick.
Josh Bell (FD $2700 DK $2600) is coming on the cheaper side and hitting fifth in a Cleveland lineup projected to put up runs here.
Second Base

Jonathan India FD 3600 DK 4500
Opponent - COL (Noah Davis) Park - COL
FD - 12.47 DK - 9.53
Jonathan India, the Cincinnati Reds' second baseman, has a favorable matchup today against Colorado's right-handed pitcher, Noah Davis. With the Reds holding the day's highest implied run line and playing in a superb hitter's park, India is well-positioned for a productive game. He's already notched 10 home runs and 39 RBI this season, with an OBP of .355 and a slugging percentage of .439.
His high walk rate of 9.00% and his 12 stolen bases also add to his appeal. Considering his current performance and the positive circumstances, India is a strong consideration for today's lineup, priced at $3600 on FanDuel and $4500 on DraftKings.
Andrés Giménez (FD $2600 DK $3700) is also a good option to run with Cleveland stacks.
Shortstop

Amed Rosario FD 2800 DK 3400
Opponent - OAK (Luis Medina) Park - OAK
FD - 12.33 DK - 9.67
Amed Rosario, the shortstop for the Cleveland Guardians, is positioned second in the lineup for today's game against the Oakland Athletics. His performance so far in the 2023 season is modest, with only one home run, 18 RBIs, and an OPS of .634. However, Rosario offers value in other ways.
His speed on the bases is a key attribute, with 8 stolen bases so far this year, while his .317 BABIP suggests a fair amount of success at putting balls in play. Despite his low OBP of .297, Rosario's advantageous lineup spot could provide additional opportunities for production, especially against Oakland's right-handed pitcher Luis Medina who has a hefty ERA of 7.55.
At his budget-friendly price of $2800 on FanDuel and $3400 on DraftKings, Rosario could be a cost-effective addition to your fantasy lineup.
Third Base

José Ramírez FD 4000 DK 5200
Opponent - OAK (Luis Medina) Park - OAK
FD - 15.17 DK - 11.47
José Ramírez, the Cleveland Indians' third baseman, continues to be a top-tier fantasy pick. Ramírez is facing Oakland's right-handed pitcher Luis Medina, against whom he has a promising implied run line of 5.43. His 2023 stats show an impressive balance of power and plate discipline, with 11 home runs, 43 RBI, a .349 OBP, and a slugging percentage of .502.
His 2022 splits further highlight his prowess against right-handers, with a .914 OPS and .382 wOBA. Factor in his considerable speed on the base paths (6 stolen bases this season, 20 last season), and it's clear why he's priced at $4000 on FanDuel and $5200 on DraftKings. Ramírez's consistency, power, and speed make him a strong fantasy play.
Strongly consider Nolan Arenado (FD $3200 DK $5500) with Cardinals stacks, especially with Goldschmidt.
Outfield

Fernando Tatis Jr. FD 4500 DK 6400
Opponent - SF (Anthony DeSclafani) Park - SF
FD - 13.33 DK - 10.04
Fernando Tatis Jr., San Diego's superstar outfielder, is a premium pick for your lineup, with superstar fantasy output. Despite being one of the pricier options, Tatis is worth the investment, considering his proven offensive abilities. Tatis, who typically bats first in the lineup, has already belted 14 home runs and driven in 34 runs in the 2023 season. His high OBP (.355), slugging percentage (.557), and OPS (.912) indicate a high run-producing capability.
Furthermore, his 12 stolen bases testify to his speed and agility on the base paths. His matchup against San Francisco's Anthony DeSclafani, who has an ERA of 4.31 and a lower strikeout rate per 9 innings (6.81), might provide Tatis the opportunity to add to his impressive numbers. Although the park factor in San Francisco is typically more pitcher-friendly, Tatis' power and speed make him a viable fantasy option in any environment.
TJ Friedl FD 2900 DK 4200
Opponent - COL (Noah Davis) Park - COL
FD - 13.16 DK - 10.1
Reds' outfielder TJ Friedl is in a great spot tonight, hitting leadoff against Colorado's right-handed pitcher, Noah Davis. With an impressive OBP of .368, slugging percentage of .465, and an OPS of .833 this season, Friedl demonstrates a consistent ability to get on base and hit for power. Despite his lower 2022 splits against right-handed pitchers, his current performance and favorable batting position suggest a high potential for fantasy points. At only $2900 on FanDuel and $4200 on DraftKings, he provides good value.
Steven Kwan FD 3000 DK 3800
Opponent - OAK (Luis Medina) Park - OAK
FD - 12.25 DK - 9.5
Steven Kwan, leading off for the Cleveland Guardians, holds promising potential for today's game against the Oakland Athletics. Kwan's 2023 season has seen him secure an OBP of .339, 2 home runs, and 24 RBIs, with a notable 12 stolen bases illustrating his upside on the base paths. A healthy walk rate of 10.60% and a BABIP of .293 show that he often gets on base, a significant advantage considering his leadoff position.
When facing right-handed pitchers like Luis Medina of Oakland, Kwan has a decent .811 OPS from 2022, indicating his ability to produce runs. Medina's high ERA of 7.55 could provide Kwan with the opportunity to capitalize. Given his advantageous lineup spot and a fair price on both FanDuel and DraftKings, Kwan is a valuable consideration for today's fantasy lineup.
GRAB A FREE TRIAL OF OUR PROJECTION SYSTEM, AND CHECK OUT DFSR PRO!
FREE EBOOK
SECRETS TO CRUSHING DAILY FANTASY FOOTBALL!
DON'T SET ANOTHER LINEUP BEFORE YOU READ THIS BOOK.