How to Win at Daily Fantasy Sports Without Spending All DAy Doing Research.
Are you sick of reading picks articles that seem to regurgitate the same advice without leading to consistent winning?
Let's face it. In the Daily Fantasy Sports industry, you get a lot of pretty similar advice. There's a reason for this,
of course... on a given night, there are typically 15-20 players that are a clear cut above the other options.
To really dig deeper, and have those huge scores? You're going to need more.
Featuring:

The DFSR Lineup Construction Tool
Gathers all relevant contextual data that might impact a player's performance on a given night

Each Player's 50th percentile projection is displayed in an easily sortable and searchable table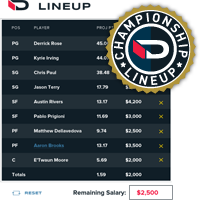 Mix and Match to create your optimal lineups for each day

And our users are crushing it.
"Took your advice and paid really close attention and used your picks with a few of my own and look what happened!"

"@dailyfantasysr thanks for the tools to win the moonshot!"

"Boom! Came up just short, but still a great night!"

Check out this video on how it works!
Note: There will be a .50 cent hold placed on your credit card so we can verify it's a real card. We refund this automatically, and it will be returned as quickly as your bank will refund it.
These algorithms have been painstakingly developed and tweaked over the course of two years, and we're willing to let you try them for free for three days.
And while seasons overlap, you'll get access to the MLB and NFL tools for the same price!
After that? It's just $15 a month. For $.50 a day, what do you have to lose?
Get your free 3-day free trial now!
Frequently Asked Questions