Baseball Picks Daily Fantasy
Expert Advice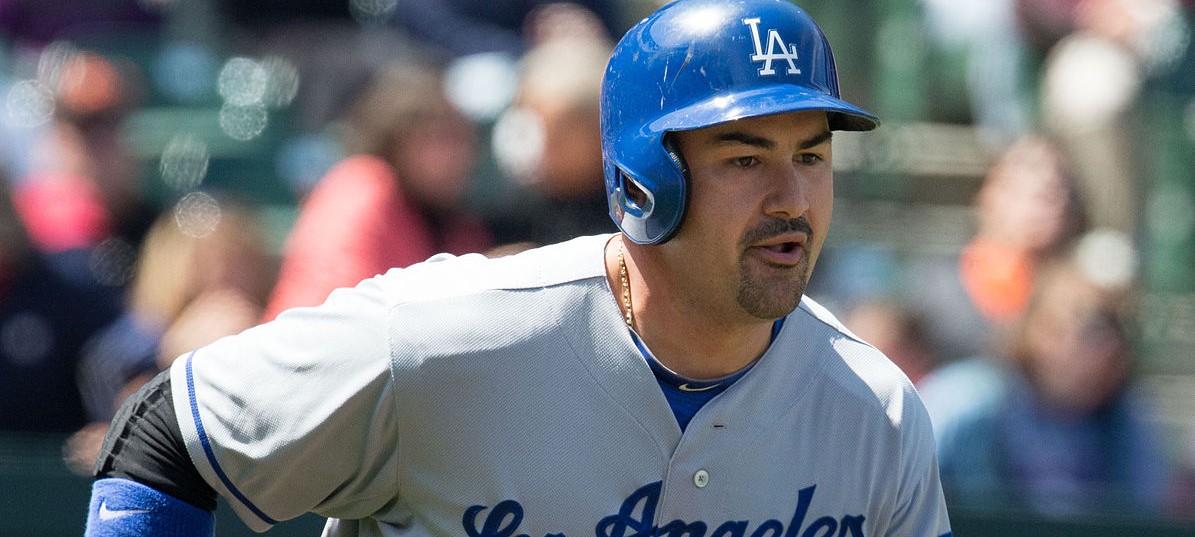 Daily Fantasy MLB Baseball Picks for FanDuel, DraftKings and Draftster 6/1/15
Go ahead and get access to the exclusive projection system that produces these picks. Sign up now and get a free 3 day trial to our lineup construction tool for FanDuel, DraftKings and Draftster.

Pitchers
Andrew Cashner - FD 8300 DK 8000
We promise, this is not the projection system's attempt at a hot take. It might be a little surprising to see the dude with a 2-7 record atop a pitching slate that includes some bona fide studs, but for a variety of reasons, we're not so high on the bigger names from a points-per-dollar perspective. Also, win-loss records hold neither predictive nor descriptive value, so who cares. Anyway, here's what we like about Cashner: No. 1, Petco. Cashner's been burned by the home run this year, with a HR-to-fly ball ratio that's double last season's rate and 50 percent higher than his career average. Even if that's not entirely luck-related, the fact that he'll be pitching in one of most pitcher-friendly stadiums in the majors should help keep the ball in the park tonight. He's also running on the bad side of his career BABIP allowed, hasn't pitched fewer than six innings in any start this season, and is striking out nearly a batter per inning. It adds up to a relatively safe play and potentially a good way to achieve differentiation in your tourney lineups.
Clay Buchholz - FD 7900 DK 7000
So if you thought we were trolling you with the first pick we probably can't convince you otherwise now. Buchholz has been kind of all over the place for going on two years now, but there's actually a lot to like in his peripherals. Pretty much every stat points to the fact that he's just been flat unlucky on BABIP. His K-rate is up (to a very nice 9.25 per 9), the walk rate is down, home runs are down and his strand rate is still slightly below his career average. Put simply: he's pitching better right now than he did when he went 12-1 in 2013 or when he won 17 games in 2010. Remember what we were saying about the uselessness of W/L records? As far as the matchup, the Twins' OPS vs. righties is in the bottom third of the league and their strikeout rate is in the top six. The value upside is there for Buchholz tonight.
Clayton Kershaw - FD 11800 DK 10700
I can't see myself pulling the trigger here, but like we said before his last start, Kershaw is among the very best in the game and has to be considered every time he takes the hill. Then again, Coors Field.
Just killing time until fantasy football season? Fantasy Pros has a pretty cool mock drafting software you can check out!

Catchers
DISCLAIMER: You're gonna see a whole lot of Dodgers in this column, so just get ready for that. FanDuel hasn't applied the Coors Field inflation on prices for the Rockies or Dodgers, but while the Rockies will be facing Kershaw, the Dodgers get Kyle Kendrick and his plus-5.00 xFIP. This has the potential to be a bloodbath and you're gonna have to get exposure to it. Fade at your own peril.
Yasmani Grandal - FD 2700 DK 4200
Grandal returned from his DL stint with a homer on Saturday and should be good to go for tonight. He's running a little hot on BABIP this season, but the fact that his already high BB rate is up a couple of notches this season really raises his floor. He's hit in the No. 5 and No. 2 holes a fair amount this year, and those spots would drive his value up further, but he seems to have settled in at the sixth spot for the time being, and that's not too bad, especially in a game when the lineup could turnover five times.
Jason Castro - FD 2400 DK 3400
This is a nice split situation for Castro, whose OPS against righties is north of .750 since 2012 and close to .800 at home during that span. Of course, if you believe Ubaldo has really solved his career-long control problems, that dampens Castro's prospects, but while Jimenez has put up good overall numbers in 2015, he's still been boom or bust for the most part. Against a team as selective as the 'Stros, I'm betting on bust tonight.
First base
David Ortiz - FD 2600 DK 4600
True FanDuel stories: David Ortiz can be had for the same price as some dude named Charlie Culberson. I'm tempted to just drop the mic now and move on to second base. As we've said plenty and will continue to say until order in the DFS universe is restored, 2015 Papi isn't the same guy he was 10, five or maybe even two years ago. That's ok, because at this price against Mike Pelfrey, you're getting a steal. Our projection system has him as the top value play at the position by a wide, wide margin, because even as his batting average has cratered over the last two seasons, Ortiz is still putting up a .864 OPS against right-handed pitching and walking nearly as often as he strikes out. He's a great play in any format tonight and approaching must-play for me if you're choosing to spend on pitching.
Adrian Gonzalez - FD 3800 DK 5000
His sky-high BABIP combined with the particulars of his batted ball profile tell us that Gonzalez is due for some negative regression in batting average. That's literally the only thing I don't love about him tonight. He's mashing everybody this year, but especially righties. He draws a ton of walks, and he's pacing toward 40-plus doubles for the fourth time in the last five years. Now close your eyes and picture all that uncovered territory in the Colorado outfield. All those baserunners. So much Kyle Kendrick.
Consider: Freddie Freeman
Second base
Howie Kendrick - FD 2800 DK 5000
On FanDuel, it's not a question of if you stack Dodgers, it's a question of which ones do you chose. Or if you're a true believer, the question is moot because you'll be employing every conceivable permutation in a GPP flood. Whatever your strategy, Kendrick is far and away our pick at second base tonight. Aside from the park and pitcher, there's still plenty more to like here. Hitting in the middle of a productive offense, Kendrick is sporting an OPS north of .800 against righties this year and the .350 BABIP is actually in line with his career averages, so we should be safe there. He's got modest power/speed, so he's not the type to carry a lineup, but there's enough upside in this matchup to confidently play him in any format.
Neil Walker - FD 2800 DK 3900
Walker's power potential is somewhat neutered by the park, but the long ball hasn't been part of his game this season and he's still managed to be a pretty steady producer for the Bucs. The projection system and I are still maintaining that the home runs will eventually come for Walker, but this pick is more about the matchup. The fortitude that brought Ryan Vogelsong back to the majors in 2011 after a five-year hiatus is the stuff of inspirational screenplays, but it ain't doing much to help out his 4.59 xFIP right now. He's had a decent run of starts lately, but the numbers say it won't hold. Watch out for Walker and Pirates tonight.
Consider: Robinson Cano
Shortstop
Starlin Castro - FD 2600 DK 4000 Starlin Castro
Castro's been pretty whatever this year. He's got decent pop for the position and he's running a little bit more, but not exactly setting the DFS world aflame. Then along comes Jose Urena. Listen, Urena can't possibly be as bad as he's looked in compiling a 9.39 ERA through seven-plus big-league innings. But he may not be that much better either, at least not in the short term. He doesn't miss bats, which against this Cubs lineup could be a big problem. His calling card is a low walk rate, but that couldn't matter less to Castro, who has no interest in walking anyway. It doesn't look like an especially good spot for a home run given the park, but there should be plenty of opportunity for run production and shortstop remains a wasteland about five nights per week, so you've gotta take whatever you can find.
Jimmy Rollins - FD 2700 DK 4300
Ugh. Why'd they have to move him to the bottom of the order? Rollins was finally showing the positive regression we've been calling for and then gets booted to the No. 8 hole, which seriously dings his value for our purposes. Still, he's a good value candidate at this beleaguered position especially given the matchup-park combo.
Consider: J.J. Hardy
Third base
Kind of an ugly night for the whole left side of the infield.
Pablo Sandoval - FD 2400 DK 4300
If you're a little gun shy on Panda and his .374 slugging percentage I get it. The projection system just wants you to know that it's really geeked about all these bargain-bin prices on dudes hitting in the middle of the order against Mike Pelfrey. Sandoval's performance has been stunted this season by a dramatic rise in ground ball rate and pop ups. It typically takes a while for those numbers to normalize, so there's good reason to believe improvement is imminent. More than anything, though, what we like here is the fact that Pelfrey (and his 4.52 xFIP) is overdue for a bruising.
Manny Machado - FD 3100 DK 4000
The projection system doesn't love him on a points-per-dollar basis, but you might find the Sandoval avoidance worth paying for. Machado is pretty much split-neutral and Oberholtzer has been sorta decent through 200-plus big-league innings, but the HR-upside of the park and Machado's newfound penchant for the stolen base add some alluring upside.
Consider: Aramis Ramirez
Outfield
Joc Pederson - FD 3400 DK 4900
Andre Ethier - FD 2600 DK 3800
I imagine Pederson will be in every line up I use on FanDuel, and Ethier will be there in any in which saving a couple of bucks is a concern. Minus a few stolen bases that may or may not translate from his minor league numbers, we're getting about what we'd hoped for from Pederson in his rookie year: a patient slugger whose stellar upside makes the high K-rate is worth suffering through. Against righties, he's closing in on a 1.000 OPS. Much more quietly, Ethier has also been excellent this season, posting a .956 OPS against righties. He doesn't have the same ceiling you get with Pederson, but he makes a really strong cash gamer in the right matchups, and this one would qualify as such.
Hanley Ramirez - FD 3400 DK 5000
The price on Ramirez is starting to climb, but probably still isn't where it should be. And as mentioned earlier, the projection system sees a real buying opportunity for any of Boston's middle-of-the-order guys against Pelfrey. Hanley came out of a long homerless stretch late last week and he's got loads of room for upward growth in batting average, as his BABIP is nearly .90 points off his career average.
Kole Calhoun - FD 2700 DK 4300
It doesn't require a deep dive to see what the projection system likes in Calhoun. Mostly, it's the price. He's not an All-Star, and his production is hampered by the Angels' offensive struggles, but Calhoun is a dependable guy with decent pop. He's pretty close to split neutral and what you read in his sturdy surface numbers are backed up by underlying stats that tell you to believe what you're seeing. If you've spent any amount of time trawling through the other outfield options in this price range, you know it's hard to do better than this.
Be sure to try out a free 3-day trial to the projection system that helps produce these picks for the MLB! And check out our free MLB ebook below.
FREE EBOOK
SECRETS TO CRUSHING DAILY FANTASY FOOTBALL!
DON'T SET ANOTHER LINEUP BEFORE YOU READ THIS BOOK.